Recent news that Madison's "total property values" top Milwaukee's for the first time piqued my interest in the growing $38,220,758,479.00 federal taxpayer subsidy to organizations purchasing electronic medical records. Note that the $38B has been spent since 2011.
I created a chart illustrating Madison's property tax base from 1977-2018 using data from the City Assessors office.
I displayed the federal taxpayer $38,220,758,479.00 (growing) subsidy from the date of the first payment (May, 2011) through June, 2018.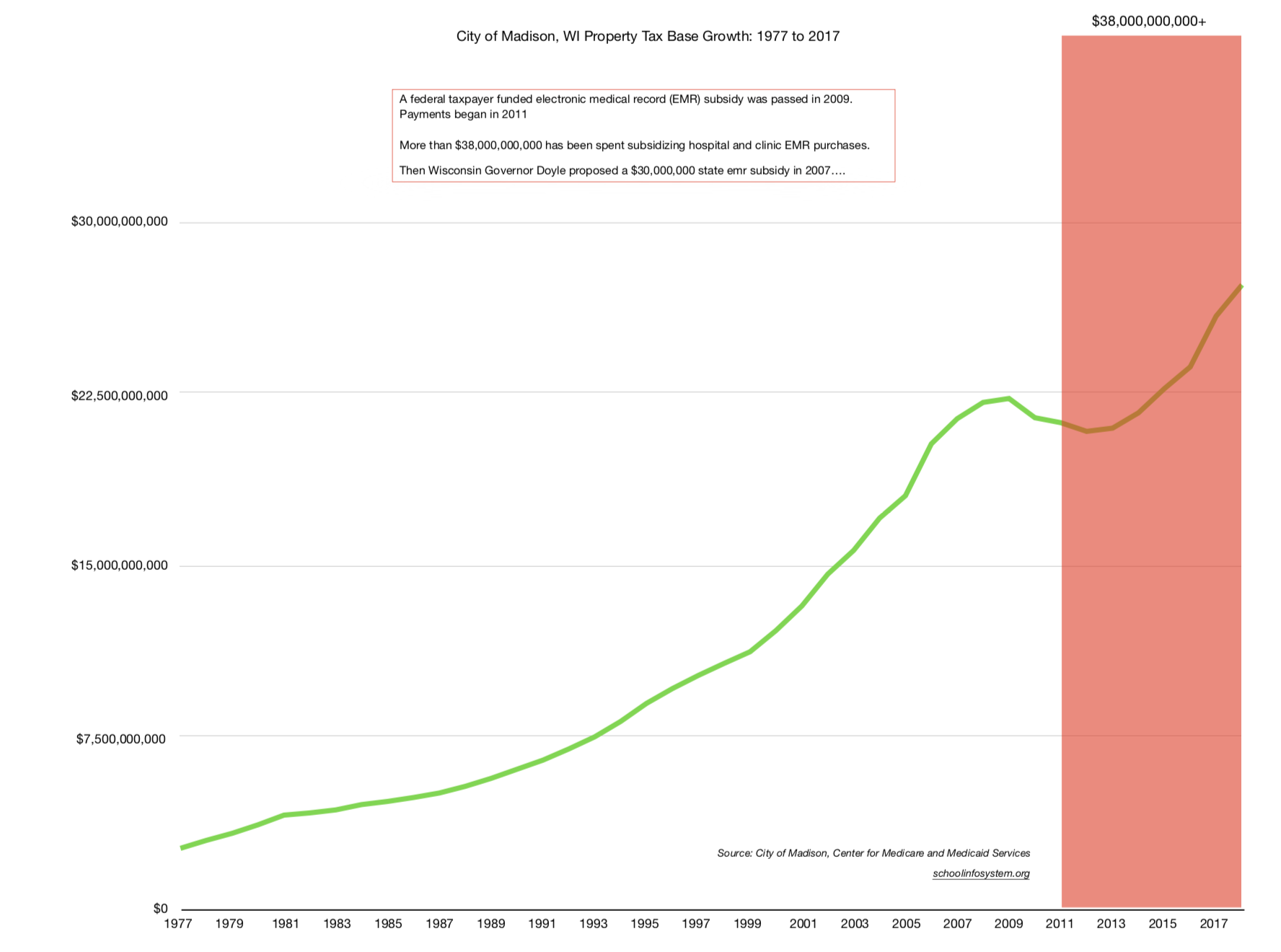 Tap for a larger version.
Background links:
How the Cleveland Clinic grows healthier while its neighbors stay sick .
Why Americans are avoiding the doctor.
On the Growth of Epic Systems:
Part of the company's recent growth has stemmed from $30 billion in federal incentives included in the recovery act passed in 2009 during the financial crisis.

The incentives were designed to give a final shove to hospitals and physicians to make the costly and difficult transition from paper records to electronic records.

In 2008, only 1.5% of U.S. hospitals had a comprehensive system for electronic records implemented in all major clinical units, and an additional 7.5% had a basic system that included certain features in at least one unit, according to the results of a survey published in the New England Journal of Medicine.

Even fewer physician practices had made the transition.

By 2014, 75.5% of hospitals had at least a basic system, according to an annual survey.

Before the federal incentives, academic medical centers, hospitals that were part of health systems and large physician practices were most likely to have begun the transition to electronic health records. Epic focuses on those customers. But the incentives have contributed to the surge in the company's growth.

That, though, has come at a price.

Epic's size and success have made it a target for critics of electronic health records and the way the $30 billion federal program has evolved.

Critics contend that the systems are difficult to use, that entering information is time-consuming and detracts doctors from focusing on patients, that the records frequently are cluttered with unneeded information and that hospitals and physicians often can't exchange information.
David Dranove, Craig Garthwaite, Christopher Ody, Bingyang Li:
In February 2009 the U.S. Congress unexpectedly passed the Health Information Technology for Economic and Clinical Health Act (HITECH). HITECH provides up to $27 billion to promote adoption and appropriate use of Electronic Medical Records (EMR) by hospitals. We measure the extent to which HITECH incentive payments spurred EMR adoption by independent hospitals. Adoption rates for all independent hospitals grew from 48 percent in 2008 to 77 percent by 2011. Absent HITECH incentives, we estimate that the adoption rate would have instead been 67 percent in 2011. When we consider that HITECH funds were available for all hospitals and not just marginal adopters, we estimate that the cost of generating an additional adoption was $48 million. We also estimate that in the absence of HITECH incentives, the 77 percent adoption rate would have been realized by 2013, just 2 years after the date achieved due to HITECH.
Subsidies given for computerizing, but no reporting required when errors cause harm:
President Obama and Congress poured $30 billion in taxpayer subsidies into the push for digital medical records beginning in 2009, with only a few strings attached and no safety oversight of the vendors who sell the systems.

The move was touted as a way to improve patient care and help rein in medical costs. Five years later, the explosion in the use of the electronic records has created the potential for efficiencies and safety benefits but also new risks for patients, the scope of which still is not fully understood.

But the scramble by doctors and hospitals to cash in on the incentives has thrust complex, balky, unwieldy, and error-prone computer systems into highly sensitive clinical settings at a record pace. From 2008 to 2013, the percent of US doctor's offices with electronic health records rose from 17 to 48 percent. Growth in hospitals was even more dramatic, from 13 to 70 percent.
Officials at Epic Systems are not commenting on a New York Times report Wednesday that the firm was central in lobbying Congress on a $19 billion "giveaway" (now $37B and growing) to convert all U.S. medical records from paper to computers.

The story contends that executives of the largest digital records companies — including Epic, Cerner and Allscripts — poured hundreds of thousands of dollars into a behind-the-scenes effort to promote the use of electronic records, effectively pushing aside smaller competitors.

Those efforts paid off handsomely in 2009, when legislation promoting the use of electronic medical records was included in President Obama's economic stimulus bill. The $780 billion package included nearly $20 billion in incentives aimed specifically at software made by Epic and others.

The stimulus package also included penalties for doctors who don't adopt the new technology. Providers who don't install electronic records by 2014 will face reductions in their Medicare reimbursements.
2007 Then Wisconsin Governor Doyle's proposed $30,000,000 state EMR subsidy.
Big Brother in the Exam Room: The Dangerous Truth about Electronic Health Records 1st Edition:
There are serious dangers lurking behind the government's $30 billion electronic health record (EHR) experiment. This omnipresent technology turns doctors into data clerks and shifts attention from patients to paperwork–while health plans, government agencies, and the health data industry profit. Patients who think the HIPAA "privacy" rule protects the confidentiality of their medical information will be shocked to discover it makes their medical records an open book.
City of Madison Assessor.
Unfortunately, this $38,220,758,479.00 and growing taxpayer subsidy has failed. We lack medical record interoperability and costs have continued to grow, substantially. US Federal Debt data…
I've found it curious that this far larger taxpayer subsidy has gone unmentioned when the $4B FoxConn subsidy has been tossed about within the political theatre.