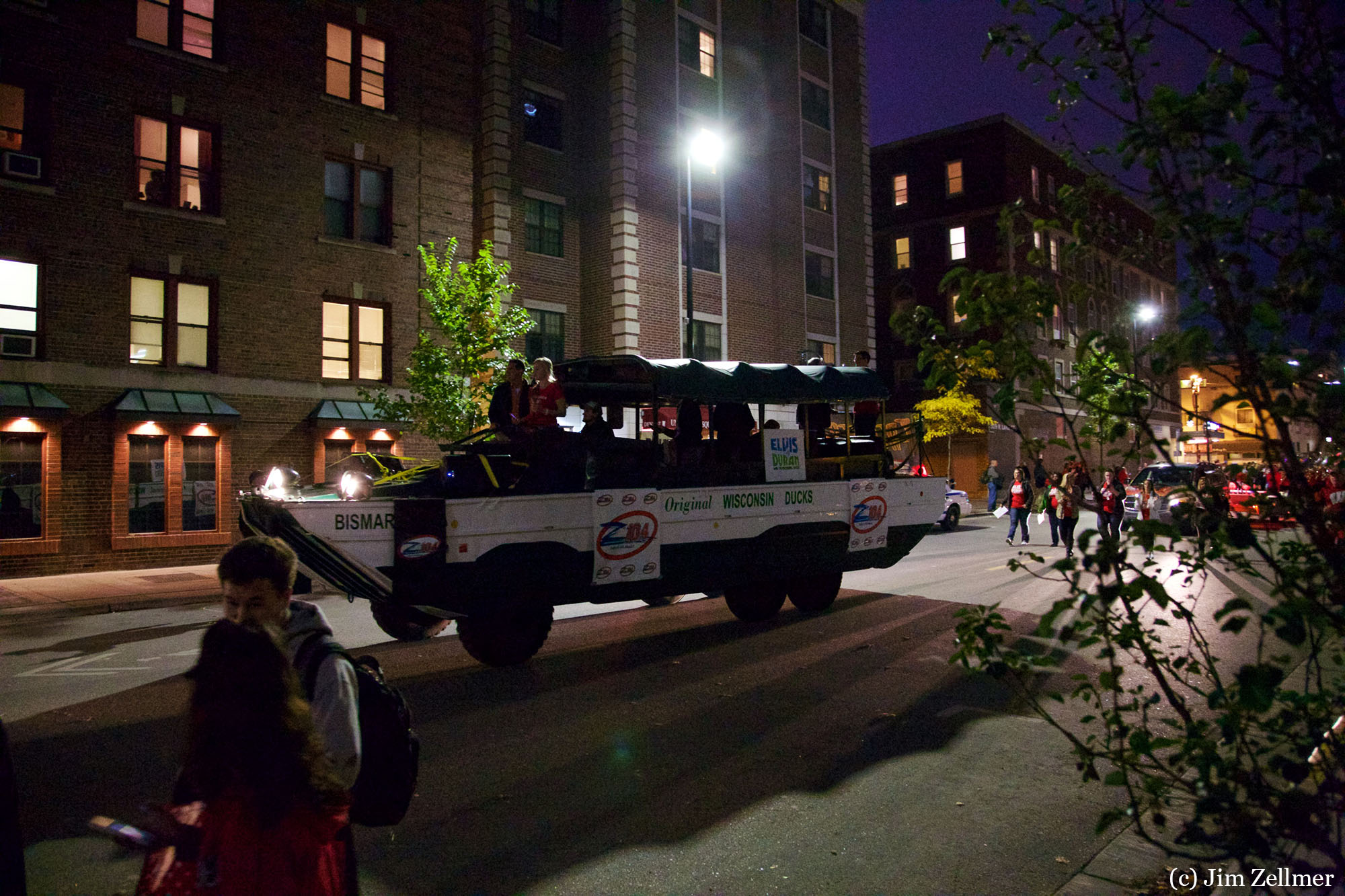 The photo was taken at the University of Wisconsin's 2014 Homecoming parade.
The Wisconsin Dells & the DUKW:
For over 50 years amphibious DUCKS have been the most unique means of touring Wisconsin Dells' famous rock formations. The DUCKS got their start from a Milwaukee man named Melvin H. Flath. Prior to starting the Duck tour in Wisconsin Dells, Melvin owned a trucking business on 2nd St. in Milwaukee. Right after WWII, Melvin read about some surplus trucks for auction in California. He wanted one, so he journeyed the 2,000 miles at great financial risk to buy some needed trucks for his business. Upon arriving in California, Melvin saw that the trucks being auctioned were the amphibious trucks (DUCKS) and not anything he had envisioned. His disappointment turned to adventure and against all common sense he bought a DUCK.

Two weeks later, Melvin drove the first olive drab half truck/half boat into his Milwaukee neighborhood. The neighbors as well as Melvin's pregnant wife and three children came out to greet him. He was received, but not with open arms. Everyone made fun of Melvin for wasting good money on a hunk of junk that he could use for what?

Melvin didn't know at that time what he was going to use his DUCK for. Despite the adversities, he carried on and bought some used Milwaukee bus seats which he installed in the DUCK. He took his buddies with him on it's maiden voyage out into Lake Michigan. Melvin had never owned a boat before and wasn't aware it had plugs, so his first splish-splash was almost his last. He made it to shore and quickly learned that this was no ordinary 2 1/2 ton truck.
The DUKW (colloquially known as Duck) is a six-wheel-drive modification of the 2-ton capacity "deuce" trucks used by the U.S. military in World War II amphibious truck, designed by a partnership under military auspices of Sparkman & Stephens and General Motors Corporation (GMC) for transporting goods and troops over land and water, and approaching and crossing beaches in amphibious attacks. Designed only to last long enough to meet the demands of combat, DUKWs were later used as tourist craft in marine environments.