While on travel recently, I encountered a couple of photographers taking portraits, bathed in pleasant natural and artificial light. They were well equipped with modern Canon 35mm DSLR bodies, the excellent 70-200mm 2.8L ii lenses and a nice wireless flash system – which worked most of the time.
One of the photographers sported an accessory, a "strap mounted" Gizmon covered iPhone.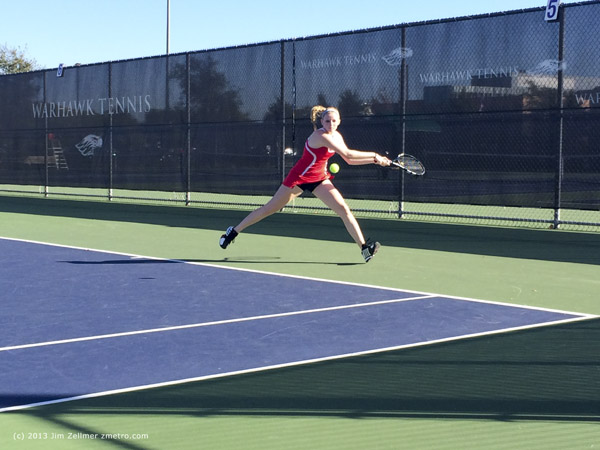 Intrigued, I asked the photographer about her iPhone experiences while displaying my airborne tennis player image (above), captured during a iPhone 5s 10 frames per second burst. I further mentioned that the iPhone's relentless imaging improvements have given Canon and Nikon a historic challenge. The low to mid range camera market is being eaten by iPhone.
The reaction to my inquiry was rather hostile, "beneath contempt" and included "I could name ten things wrong with that image". Indeed. But, the iPhone continues to improve, eating away at Canon & Nikon's traditional camera market (see Drew Gardner's latest). In addition, the legacy manufacturers further annoy customers with absurd pricing for features that should be standard and in fact are on the iPhone such as trivial file transfer and GPS. Canon's "WFT-e7" "wireless file transmitter" for the 5D mk iii DSLR costs a cool $849.99! GPS? well that's another $390.00. I was reminded of these painful prices after reading about Jennifer Szalai's portrait style in a recent 6th Floor article.


Szailai's portrait images are produced by two separate cameras that fire simultaneously. Remote wireless control would be useful for any number of applications.
Subsequently, I conversed with a professional photographer who was seeking input on features for a future dedicated camera from one of the usual suspects. I offered a few user interface improvements along with a recommendation for built in wifi and an sdk for iOS developers. One photographer responded that "wifi junks up the camera", which completely misses today's photographic (and video) reality. Fast sharing and remote control via an iOS device are essential to any camera that wishes to be purchased.
I further mentioned that the iPad Air may be used to create excellent videos in short order via iMovie and that future software will surely crunch raw photos with great speed.
I closed with "consider this a lifeline".
Sony's QX 10/QX 100 provide a glimpse of the possibilities that new thinking offers. I tried one and found it reasonable. Software polish, improved battery life and more responsive hardware will make this product more compelling. I enjoyed the ability to place the camera/lens and wonder around photographing and capturing video remotely via my iPhone.
My mind returned to the somewhat hostile photographer when I saw Apple's 1-24-14 film, shot entirely on the iPhone 5s. Beautiful work that illustrates what can be done with a bit of creative thinking, not to mention the "large format" version.
Change can be hard and the unknown frightening. Yet, the new thing brings opportunity to those who seize it. Market churn is essential to education, creativity, economic opportunity and societal improvement.
Stagnation is expensive.
As for me, I remain thankful for the many opportunities that new processes and technologies have brought to my life:

James 1:17 Every good and perfect gift is from above, coming down from the Father of the heavenly lights, who does not change like shifting shadows.
I look forward to the arrival of the iPhone 6s, now, God willing, less than two years away.