Turning the GTI south, over the lush hills south of Madison, past Paoli, near the New Glarus Brewery, Monroe's gruyere and meandering via country roads into Monticello has its rewards.
First, there's God's handiwork so evident on an August evening. A corn crop that appears to be epic, gorgeous hay and soybean fields along with plenty of country miles to be carved by the GTI.
Ah, the destination – the point of the journey. That would be Monticello's seventeen year young Dining Room.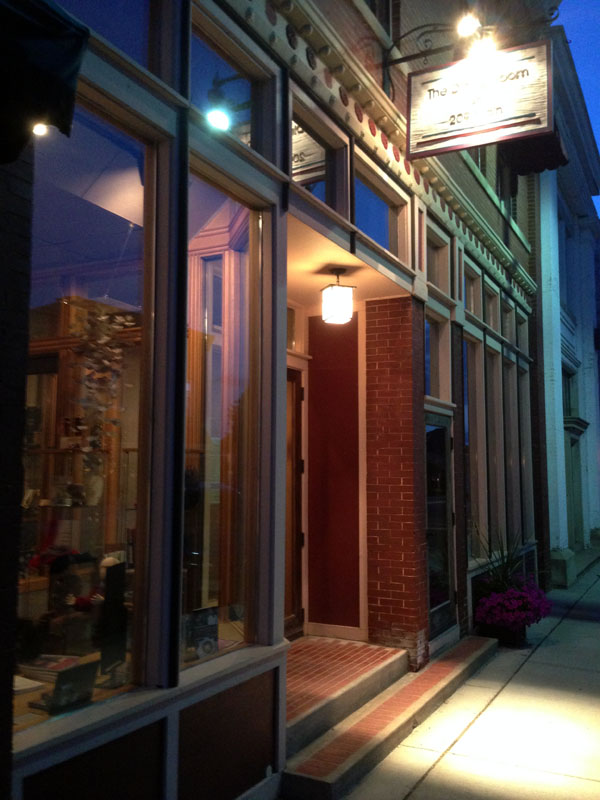 Lack of planning did not doom our outing. I called to inquire about a table for two on a recent Saturday evening. 7:15? "We can do that but you'll have to sit at a table adjacent to the bar". Done.
That table, well served by a veteran waiter, made easy conversation with one of the bartenders (who happened to be a one of the owners). I mentioned that we had been before, one month after it opened and a few times over the years. It has been too long since our last visit.
The food was as remembered: delicious and a great value. A satisfying salad and fresh vegetables accompanied the pork roast and beef tenderloin on our table.
Perhaps most impressive, was the establishment's "cadence". The operations expertise was particularly evident when the dining room was full and our entrees arrived at the right time and proper temperature. I mentioned this to one of the proprietors. She said that her husband – the chef – insists that the food is delivered immediately when the correct temperature is observed.
I first noticed the essence of a restaurant's cadence at La vie est belle six summers ago. Is it still there? Yes, thankfully. Who could forget the farmer delivering a slab of beef as we considered the menu? Nancy enjoyed beef carpaccio that evening.
The chef and his assistant did it all. Menu, drinks, cook, clean and forage. Fabulous. We learned of La vie est belle and Chat Plume via the excellent Le Blanc Manger. (a journey made possible by my generous parents!)
Heady company indeed. These memories and more streamed back while we finished a luscious dinner and conversation at Monticello's Dining Room. Highly recommended.