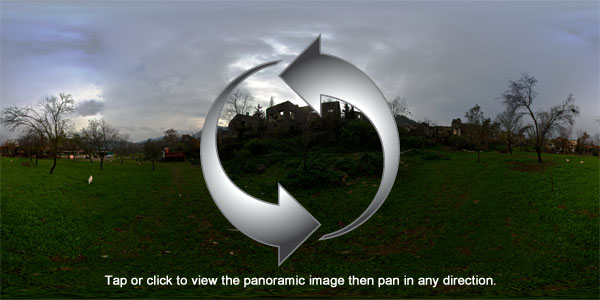 Tap or click on the image to view the panoramic scene. Then pan in any direction.

Wikipedia:
Kayaköy (Greek: ???????, Levissi or Greek: ???????????, Karmylissos, although modern English usage seems to be Karmylassos) is a village 8 km south of Fethiye in southwestern Turkey where Anatolian Greek speaking Christians lived until approximately 1923. The ghost town, now preserved as a museum village, consists of hundreds of rundown but still mostly intact Greek-style houses and churches which cover a small mountainside and serve as a stopping place for tourists visiting Fethiye and nearby Ölüdeniz.

It was built on the site of the ancient city of Carmylessus in the 18th century. It experienced a renewal after nearby Fethiye (known as Makri) was devastated by an earthquake in 1856 and a major fire in 1885. After the Greco-Turkish War, Kayaköy was largely abandoned after a population exchange agreement was signed by the Turkish and Greek governments in 1923. Many of the buildings were damaged in the 1957 Fethiye earthquake.