via a kind reader. "People are really bad at math" (the last 4 minutes discuss Wisconsin's weak cut scores). Related: A Critique of the Wisconsin DPI (creator of the oft-criticized WKCE) and Proposed School Choice Changes.
The district provided a comprehensive extended learning summer school program, K-Ready through 12th grade, at ten sites and served 5,097 students. At each of the K-8 sites, there was direction by a principal, professional Leopold, Chavez, Black Hawk and Toki, and oral language development was offered at Blackhawk and Toki. The 4th grade promotion classes were held at each elementary school, and 8th grade promotion classes were held at the two middle school sites. Students in grades K-2 who received a 1 or 2 on their report card in literacy, and students in grades 3-5 who received a 1 or 2 in math or literacy, were invited to attend SLA. The 6-7 grade students who received a GPA of 2.0 or lower, or a 1 or 2 on WKCE, were invited to attend SLA. As in 2012, students with report cards indicating behavioral concerns were invited to attend summer school. Additionally, the summer school criterion for grades 5K-7th included consideration for students receiving a 3 or 4 asterisk grade on their report card (an asterisk grade indicates the student receives modified curriculum). In total, the academic program served 2,910 students, ranging from those entering five-year-old kindergarten through 8th grade. High school courses were offered for credit recovery, first-time credit, and electives including English/language arts, math, science, social studies, health, physical education, keyboarding, computer literacy, art, study skills, algebra prep, ACT/SAT prep, and work experience. The high school program served a total of 1,536 students, with 74 students having completed their graduation requirements at the end of the summer. All academic summer school teachers received approximately 20 hours of professional development prior to the start of the six-week program. Kindergarten-Ready teachers as well as primary literacy and math teachers also had access to job embedded professional development. In 2013, there were 476 certified staff employed in SLA.
Jennifer Cheatham:
Key Enhancements for Summer School 2014 A) Provide teachers with a pay increase without increasing overall cost of summer school. Teacher salary increase of 3% ($53,887). B) Smaller Learning Environments: Create smaller learning environments, with fewer students per summer school site compared to previous years, to achieve the following: increase student access to high quality learning, increase the number of students who can walk to school, and reduce number of people in the building when temperatures are high. ($50,482) C) Innovations: Pilot at Wright Middle School and Lindbergh Elementary School where students receive instruction in a familiar environment, from a familiar teacher. These school sites were selected based on identification as intense focus schools along with having high poverty rates when compared to the rest of the district. Pilot character building curriculum at Sandburg Elementary School. ($37,529) D) Student Engagement: Increase student engagement with high quality curriculum and instruction along with incentives such as Friday pep rallies and afternoon MSCR fieldtrips. ($25,000) E) High School Professional Development: First-time-offered, to increase quality of instruction and student engagement in learning. ($12,083) F) Student Selection: Utilize an enhanced student selection process that better aligns with school's multi-tiered systems of support (MTSS) so that student services intervention teams (SSIT) have time to problem solve, and recommend students for SLA. Recommendations are based on student grades and standardized assessment scores, such as a MAP score below the 25th percentile at grades 3-5, or a score of minimal on the WKCE in language arts, math, science, and social studies at grades 3-5. (no cost) Estimated total cost: $185,709.00 Summer School Program Reductions The following changes would allow enhancements to summer school and implementation of innovative pilots: A) Professional development (PD): reduce PD days for teachers grades K-8 by one day. This change will save money and provide teachers with an extra day off of work before the start of summer school (save $49,344.60). B) Materials reduction: the purchase of Mondo materials in 2013 allows for the reduction of general literacy curricular materials in 2014 (save $5,000). C) Madison Virtual Campus (MVC): MVC is not a reimbursable summer school program as students are not in classroom seats. This program could be offered separate from summer school in the future (save $18,000). D) Librarians: reduce 3 positions, assigning librarians to support two sites. Students will continue to have access to the expertise of the librarian and can utilize library resources including electronic equipment (save $12,903.84). E) Reading Interventionists: reduce 8 positions, as summer school is a student intervention, it allows students additional learning time in literacy and math. With new Mondo materials and student data profiles, students can be grouped for the most effective instruction when appropriate (save $48,492). F) PBS Coach: reduce 8 positions, combining the coach and interventionist positions to create one position (coach/interventionist) that supports teachers in setting up classes and school wide systems, along with providing individual student interventions. With smaller learning sites, there would be less need for two separate positions (save $24,408). G) Literacy and Math Coach Positions: reduce from 16 to 5 positions, combining the role and purpose of the literacy and math coach. Each position supports two schools for both math and literacy. Teachers can meet weekly with literacy/math coach to plan and collaborate around curriculum and student needs (save $27,601.60). Estimated Total Savings: $185,750.04 Strategic Framework: The role of the Summer Learning Academy (SLA) is critical to preparing students for college career and community readiness. Research tells us that over 50% of the achievement gap between lower and higher income students is directly related to unequal learning opportunities over the summer (Alexander et al., 2007). Research based practices and interventions are utilized in SLA to increase opportunities for learning and to raise student achievement across the District (Odden & Archibald, 2008). The SLA is a valuable time for students to receive additional support in learning core concepts in literacy and math to move them toward MMSD benchmarks (Augustine et.al., 2013). SLA aligns with the following Madison Metropolitan School District (MMSD) Strategic Framework goals: A) Every student is on-track to graduate as measured by student growth and achievement at key milestones. Milestones of reading by grade 3, proficiency in reading and math in grade 5, high school readiness in grade 8, college readiness in grade 11, and high school graduation and completion rate. B) Every student has access to challenging and well-rounded education as measured by programmatic access and participation data. Access to fine arts and world languages, extra-curricular and co-curricular activities, and advanced coursework.
Tom Larson is one of the legislators responsible for reviewing the set of academic standards for public schools in Wisconsin, yet the rural Colfax assemblyman admitted last week that he was still trying to catch up with the arguments swirling around the "Common Core." In 2010, state schools Superintendent Tony Evers voluntarily agreed to adopt the Common Core State Standards, which cover math and English and promote literacy in history/social studies, science and technical subjects for students from kindergarten through high school. According to the Common Core website, the standards also define a vision of what it means to be a literate person in the 21st century. On paper, that all sounds good, but, in the real world, the Common Core standards have sparked a firestorm of controversy in the Badger State and elsewhere. Speaking Monday before a group of local education officials in Eau Claire, Larson said he had been selected as one of nine representatives to sit on the Assembly Select Committee on Common Core Standards.
Related: the oft criticized
WKCE
.
isconsin State Superintendent of Instruction Tony Evers used the platform of his annual State of Education speech Thursday to respond to skeptics of Common Core standards, whose ranks Republican Gov. Scott Walker joined just a few days earlier. "We cannot go back to a time when our standards were a mile wide and an inch deep, leaving too many kids ill prepared for the demands of college and a career. We cannot pull the rug out from under thousands of kids, parents and educators who have spent the past three years working to reach these new, higher expectations that we have set for them. To do so would have deep and far reaching consequences for our kids, and for our state," Evers said in remarks at the State Capitol that also touched on accountability for voucher schools. "We must put our kids above our politics. And we owe it to them to stay the course." Evers signed on to national Common Core curriculum standards for reading and math in 2010, making Wisconsin one of the first states to adopt them. School districts across the state, including Madison Metropolitan School District, are in the process of implementing them. Madison schools Superintendent Jennifer Cheatham has called Common Core standards "pretty wonderful," and says they are about critical thinking and applying skills to practical tasks. Walker had been pretty low-key about Common Core until a few days ago, when he issued a statement calling for separate, more rigorous state standards. Republican leaders of both houses of the state Legislature quickly announced special committees to weigh the Common Core standards, and public hearings on not-yet-adopted science and social studies standards will be held, according to one report.
Related:
Wisconsin's oft-criticized WKCE assessment
and
wisconsin2.org
The video that was posted online appeared to be a tour of the spa area at some swanky new hotel. There were cascading waterfalls into hot and cold pools. There was an arcade section. A smoothie bar. Flat-screen TVs adorned every open space. There were lockers the members at Augusta National would find acceptable. This was luxury, no doubt. But it was not at a hotel. Instead, this shaky video tour was of the inside of a college football team's training and lounge area. Specifically, it is the training, weight room and lounge area within the Mal Moore Athletic Complex on the campus of the University of Alabama. Pricetag: $9 million. (And that's just for the upgrades. The original facility, which opened in 2005, cost about $50 million.) We have lost our minds. And I say that not simply because a college football team's training area now has a waterfall and a smoothie bar, which would, I think, be reason enough for me to make that statement, but also because these $9 million in upgrades to facilities that were pretty darn good to start with occurred at a school that just raised tuition on the average student for the sixth consecutive year. This year, it went up 3 percent. Last year, it jumped 7 percent.
Related: Alabama participated
in the 2011 TIMSS global exam along with Minnesota and Massachusetts
. Wisconsin has never benchmarked our students via the global exams. We have been stuck with the
oft-criticized WKCE
.
In the most recent release of schools data by DPI, the agency gave the information to the media ahead of time -- a practice known as an embargo that gives journalists time to properly digest the data with an agreement not to publish until a certain deadline. But DPI highlighted all the voucher students' scores against all the Milwaukee Public Schools' students scores, instead of separating out the scores of low-income MPS students and comparing only those to the voucher students. That data was not included in the initial release. As a result, it was not included in the stories that the media initially wrote about the results, but was addressed in follow-up stories. The DPI said the income limit was moot because of a GOP-led law change that allowed more mixed-income children to use vouchers, meaning it was fair to compare all the students in voucher schools to all the children in public schools. Voucher advocates said DPI had an agenda and made their students' scores appear lower than they would have been against those of only the low-income MPS students. Other data that can be requested from DPI about voucher schools include: school policies, accreditation status, hours of instruction, the number of applications they have accepted and not accepted, their waiting list numbers, application numbers and payment amounts.
Related:
"Schools should not rely on only WKCE data to gauge progress of individual students or to determine effectiveness of programs or curriculum"
.
Lawmakers also want to expand school voucher programs beyond the borders of Milwaukee and eastern Racine County. The programs allow parents who meet income thresholds to send their children to religious schools and other private schools at taxpayer expense. Under the motion approved 12-4 along party lines by Republicans on the budget panel:

Public schools would receive $150 more per student in general aid this fall and another $150 increase the following year. The plan would cost $289 million over two years, with $231.5 million funded with state taxes and the rest with an additional $52 million in higher local property taxes and an increase in expected revenues from the state lottery. School districts would have the authority to spend this new money. Walker wanted to give schools $129 million in state aid but require all of it to go toward property tax relief, rather than be used for new expenses. Under the budget committee's proposal, total property taxes would increase by less than 1% per year, with school levies going up somewhat more than that.
A new voucher program would become available to all students outside Milwaukee and Racine. It would be limited to 500 students the first year and 1,000 students every year thereafter. Walker wanted no limits on the number of students in the program after the second year. If there are more students seeking slots in the program than allowed, the proposal would allocate the available slots by lottery. The slots would go to the 25 schools with the most applications, with each school getting at least 10 seats.
The new program would be available to students in any school district. Walker wanted to make it available in districts with 4,000 or more students that were identified as struggling on school report cards issued by the state.
No more than 1% of the students of any given school district could participate in the new program.
Over 12 years, the negative financial impacts for the Milwaukee Public Schools from the voucher program here would be phased out.
The new program would be available to students of families making 185% of the federal poverty level or less -- well below the income thresholds for Milwaukee and Racine. Those programs are available to families making up to 300% of the federal poverty level, with a higher threshold for married couples.
Voucher schools in all parts of the state would receive $7,210 per K-8 student and $7,856 per high school student -- up from $6,442 currently. Walker wanted to provide $7,050 for students in kindergarten through eighth grade and the same larger increase to high school students.
Wisconsin DPI Superintendent Tony Evers (PDF):
Today, Republican leaders are finalizing a deal to likely expand Wisconsin's private school voucher program statewide. While this dramatic proposal has significant implications for citizens and taxpayers across Wisconsin, it has been developed behind closed doors with no public input, no public hearings, and no public fiscal analysis. If this proposal becomes law, taxpayers across Wisconsin will be financing a new entitlement for private school children whose tuition is currently paid for by their parents. To address the lack of information about the potential fiscal effects of this program, the attached table estimates potential long-term costs of statewide subsidization of private school tuition on a district-by-district basis. Cost to subsidize current private school students only: up to $560 million annually While some lawmakers claim the purpose of the program is to provide educational choices to those who cannot afford it, the current school choice programs in Milwaukee and Racine provide vouchers to families who are already choosing to send their children to private schools. As many as 50% of the children participating in the Racine choice program were already in private schools when they began receiving a state-funded subsidy in 2011-12. If the voucher program is expanded statewide, it can be assumed that current private school families would also be eligible for this new entitlement.
Related:
ALEC is still at it, Julie Underwood, dean of the School of Education at the University of Wisconsin-Madison, cautions in "School Boards Beware," (PDF) a commentary in the May issue of Wisconsin School News. The model legislation disseminated by the pro-free market American Legislative Exchange Council's national network of corporate members and conservative legislators seeks to privatize education and erode the local control, Underwood says. "The ALEC goal to eliminate school districts and school boards is a bit shocking -- but the idea is to make every school, public and private, independent through vouchers for all students. By providing all funding to parents rather than school districts, there is no need for local coordination, control or oversight," she writes in the magazine of the Wisconsin Association of School Boards. Underwood, who says that Wisconsin public schools already face unprecedented change, last year co-authored a piece about ALEC's grander plans, a "legislative contagion (that) seemed to sweep across the Midwest during the early months of 2011." In her recent piece, Underwood argues that a push to privatize education for the "free market" threatens the purpose of public education: to educate every child to "become an active citizen, capable of participating in our democratic process."
Related:
The state this year will start rating each school on a scale of 0 to 100 based on student test scores and other measurables. The idea, in part, is to give parents a way to evaluate how a school is performing while motivating those within it to improve.
Several schools across the state -- including Madison's Shorewood Elementary, Black Hawk Middle and Memorial High schools -- are part of Wisconsin's new teacher and principal evaluation system, which for the first time will grade a teacher's success, in part, on student test scores. This system is to be implemented across Wisconsin in 2014-15.li>And instead of Wisconsin setting its own student benchmarks, the state is moving toward using Common Core State Standards, which have been adopted in 45 other states. State schools are starting new curricula this year in language arts and math so students will be prepared by the 2014-15 school year to take a new state exam tied to this common core and replacing the Wisconsin Knowledge and Concepts Examination.
Although Underwood says she generally backs most of these changes, she's no fan of the decision announced last month that makes it easier for a person to become a public school teacher -- even as those who are studying to become teachers must now meet stiffer credentialing requirements. Instead of having to complete education training at a place like UW-Madison en route to being licensed, those with experience in private schools or with other teaching backgrounds now can take steps to become eligible for a public teaching license.
"I think that's really unfortunate," says Underwood, who first worked at UW-Madison from 1986-95 before coming back to town as education dean in 2005.Related:
Among the most common rationales offered for the Common Core State Standards project is to eliminate differences in the definition of student proficiency in core academic subjects across states. As is well known, the federal No Child Left Behind Act of 2002 (NCLB) required states to test students annually in grades 3-8 (and once in high school), to report the share of students in each school performing at a proficient level in math and reading, and to intervene in schools not on track to achieve universal student proficiency by 2014. Yet it permitted states to define proficiency as they saw fit, producing wide variation in the expectations for student performance from one state to the next. While a few states, including several that had set performance standards prior to NCLB's enactment, have maintained relatively demanding definitions of proficiency, most have been more lenient. The differences in expectations for students across states are striking. In 2011, for example, Alabama reported that 77 percent of its 8th grade students were proficient in math, while the National Assessment of Educational Progress (NAEP) tests administered that same year indicated that just 20 percent of Alabama's 8th graders were proficient against NAEP standards. In Massachusetts, on the other hand, roughly the same share of 8th graders achieved proficiency on the state test (52 percent) as did so on the NAEP (51 percent). In other words, Alabama deemed 25 percent more of its students proficient than did Massachusetts despite the fact that its students performed at markedly lower levels when evaluated against a common standard. U.S. Secretary of Education Arne Duncan has gone so far as to accuse states like Alabama of "lying to children and parents" by setting low expectations for student performance.
Wisconsin's
oft-criticized WKCE
is similar to Alabama's proficiency approach, rather than Massachusetts. Yet,
Alabama has seen fit to compare their students to the world
, something Wisconsin has resisted.
Related:
www.wisconsin2.org
.
Recently, Step Up for Public Schools (SUPS) released a pamphlet titled "The Truth about Vouchers and Privately Run Charters." Unfortunately, a better title for their flier would have been "Half-Truths." SUPS raises several tired talking points about school choice in Wisconsin that have been repeatedly debated, disproven, and regurgitated over more than two decades of voucher discussion. Today, we'll break down their "Fast Facts" on how the Milwaukee Parental Choice Program and the Parental Private School Choice Program (Racine) have affected education in the Badger State. While there are also some interesting statements about non-instrumentality charter schools (the same schools that regularly outscore both regular public schools and instrumentality charter schools in Milwaukee, we'll save that for another day. Let's look at what the SUPS has to say about Wisconsin's voucher programs. 1. Students in the taxpayer-funded private school voucher program do not perform better than their peers in neighborhood public schools. A: In more than 20 years of operation, there has only been one apples to apples comparison of student growth between similarly matched students from MPS and the Milwaukee Parental Choice Program (MPCP). That study - the School Choice Demonstration Project (SCDP) - showed very few statistically significant differences between the two groups of pupils. What they did find was that voucher students were 4-7 percent more likely to graduate, attend a four-year college, and stay in that college than their peers. While factors like parental involvement may have played a role, the study strongly suggests that these schools were a significant force behind the improved attainment of the students that chose vouchers. One thing is clear - there's no evidence that these voucher schools are hurting students, despite having only 50 percent or less of the funding that their traditional public school peers have had in Milwaukee. As the state's data collection and standards improve and we learn more about student growth and the impact that individual teachers have, we'll develop a better understanding of where MPS and MPCP schools stand in terms to serving students on a year-to-year basis.
2013-2014 Madison School Board President Ed Hughes:
The proponents of the proposed expansion of Wisconsin's private-school voucher program have run out of substantive arguments. Governor Walker's "This is about children" illustrates how vacuous their efforts at persuasion have become. When Governor Walker's budget was first announced, his initial talking points in support of his voucher expansion plan featured the claim that schools in the nine targeted school districts were failing and vouchers were necessary to provide a lifeline to students who needed help to pursue other schooling options. Neither the governor nor his supporters are pushing that argument any more. It seems that they got the point that it is not a smart move politically for the governor to go around trashing the public schools in some of the larger urban areas of the state. While proponents have claimed that students in voucher schools do better academically, the wind has gone out of the sails of that argument as well. DPI has reported that students in voucher schools in Milwaukee and Racine performed worse on the WKCE than students in the public schools in those communities. Voucher school advocates can point to data that supposedly support their view, opponents can counter with contrary figures, and at best the evidence on improved student performance is a wash. There is no reason to think that students in the nine districts targeted for voucher expansion would do any better in the private schools in their area than they would in their neighborhood public schools. No one has offered an argument to the contrary. Voucher proponents sometimes try to construct a cost-savings argument around the fact that the per-pupil amounts that voucher students would receive are less than the average per-pupil expenditures by their school districts. But this argument goes nowhere because no one is proposing that the public schools shut down as voucher schools expand. Consequently, there's really not much of a response to the observation credited to former Governor Tommy Thompson that "We can't afford two systems of education." Additionally, voucher schools have not discovered a magic bullet that allows them to educate students across the spectrum of needs more economically. Here's a telling excerpt from an op ed by the Choice Schools Association advocating for much higher voucher payments and posted on line by the right-wing MacIver Institute:
Vouchers are hardly an existential threat to the Madison School District. Rather, the
District's long term disastrous reading scores
are the essential issue, one that merits endless attention and improvement. 2005:
When all third graders read at grade level or beyond by the end of the year, the achievement gap will be closed...and not before
.
Madison Superintendent Jennifer Cheatham (PDF):
This report includes data from the Fall 2012 Wisconsin Knowledge and Concepts Examination (WKCE). In this report, we focus on reading and math scores. Students in grades 4, 8, and 10 also take Science, Social Studies, and Language Arts tests, but these tests are not used for school accountability in the same manner as Reading and Math tests and are not aligned to the new rigorous standards, so they are not directly comparable. This year, WKCE results reflect the state's transition to the Common Core State Standards in that DPI has adjusted the cut scores for each performance level to reflect higher expectations for student proficiency. As a result, MMSD's scores (and scores for every district in the state) look very different from prior years. 1. The new cut scores can be applied to last year's scores to provide a more meaningful year-to-year comparison. Scores have remained roughly unchanged from last year when the same scale is used. 2. Achievement gaps between subgroups of students exist across grades and locations and show few signs of either increasing or decreasing. 3. Scores showed some changes from last year at the building level, but these changes were mostly small. 4. Schools with more students scoring "Advanced" in Fall 2011 faced smaller negative impacts from the new performance cut scores. In addition, overall proficiency rates in MMSD are close to state averages. Asian and White students in MMSD significantly outperform the state averages for their racial groups in both Reading and Math. In addition, large achievement gaps exist statewide as well as within MMSD.
Much more on
the oft-criticized WKCE, here
.
Madison School Board Member Ed Hughes:
Here in Madison, our attention is primarily focused on our troubling achievement gaps, and those gaps are achingly apparent in the new WKCE scores. Under new superintendent Jen Cheatham's leadership, we'll continue to pursue the most promising steps to accelerate the learning of our African-American, Latino and Hmong students who have fallen behind. At the same time, we also need to continue to meet the needs of our students who are doing well. I am going to focus on the latter groups of students in this post. In particular, I want to take a look at how our Madison students stack up against those attending schools in other Dane County school districts under the new WKCE scoring scale. The demographics of our Madison schools are quite a bit different from those of our surrounding school districts. This can skew comparisons. To control for this a bit, I am going to compare the performance of Dane County students who do not fall into the "economically disadvantaged" category. I'll refer to these students as "non-low income."
I took a quick look at property taxes in Middleton and Madison on a $230,000 home. A Middleton home paid $4,648.16 in 2012 while a Madison home paid 16% more, or $5,408.38. Local
efforts to significantly increase property taxes
may grow the gap with Middleton.
St. Marcus Superintendent Henry Tyson, via a kind reader's email:
Dear supporters of St. Marcus School, 

I need your help in setting the story straight. Perhaps you read the bold headline in the local section of the Journal Sentinel yesterday -- "Wisconsin voucher students lag in latest state test." That claim is not accurate. You need to understand that this is misinformation about the Choice program. I want you to know the truth -- and be our voices in sharing this with others. The state released the 2012 WKCE test scores this week, conveniently comparing the Milwaukee Parental Choice Program (MPCP) to all of Milwaukee Public Schools (MPS) and showing that MPS "beat" MPCP in every subject area. Unfortunately, this is a gross misrepresentation of reality and is not an "apples to apples" comparison. The information that was released FAILED to do the appropriate comparison of MPS low-income students to MPCP, whose students are almost ENTIRELY from low-income families. When doing an accurate comparison of MPCP to MPS's low-income population, choice schools beat MPS in all subjects except math. (Remember MPS has many students who are not in poverty and are high-achieving. By nature, almost allMPCP students are low-income.) Beyond the program averages, our St. Marcus students are doing tremendously well, outpacing both the MPS and MPCP numbers by wide margins:



This may seem unimportant, since people are often negative about the choice program. However, it is actually very important at this time to set the record straight. Legislators are reading this misinformation, our supporters are reading this misinformation and so is the general public. At a time when there is much debate about the amount of the choice voucher funding and the expansion of the program, it is essential that we set the record straight. We need to get correct information to our supporters and legislators immediately! At St. Marcus, it has been demonstrated that it is possible to educate the urban poor, even very poor children, in a highly effective manner. To protect the well-being of the Milwaukee Parental Choice Program and to enable St. Marcus to continue to grow and deliver excellent education to more students please take ACTION: Forward this e-mail to your friends and certainly any legislators you know. Contact your legislator directly and encourage them to support an increase in the voucher amount for MPCP schools. (Unbelievably, the current voucher amount of $6,451 is lower than the voucher amount back in 2006!) Thanks for acting in support of your friends at St. Marcus and the awesome students achieving great things in schools like ours. If you have any other questions or concerns, you can contact me. Blessings, Henry Tyson, Superintendent 414-303-2133 henry.tyson@stmarcus.org
Listen to a
2012 interview with Henry Tyson, here
.
The Wisconsin State Journal:
The lower scores do not reflect falling performance. Students just need to know more to rank as high as they used to. Most states are doing the same thing and will benchmark their exams to international standards. Just as importantly, the computerized assessments of the near future will adjust to the ability of students. That will give parents and educators much better, more detailed and timely information about what students know and what they still need to learn. Some critics will disparage any and all testing, pretending it will be the only measure Wisconsin will use for success. Others have lamented the increasing role of the federal government in the process.
Phil Hands
cartoon
.
The Madison Urban League, via a kind Kaleem Caire email:
FOR IMMEDIATE RELEASE April 23, 2013 Media contact: Kaleem Caire kcaire@ulgm.org 608.729.1249 Click Here for Urban League's 2013-14 Agenda State Test Scores Confirm Urban League's Concerns and Call to Action Madison, WI - Today, the Wisconsin Department of Public Instruction released students' results on the annual statewide achievement test, Wisconsin Knowledge and Concepts Exam (WKCE). The results confirm concerns raised by the Urban League of Greater Madison, that disadvantaged students and students of color are severely underperforming in many of Wisconsin's public schools, particularly in the Madison Metropolitan School District. All Wisconsin public school students completed the test in November 2012. This revised test raised the standards of performance for all students, thereby providing a more accurate picture of students who are on track to graduate from high school academically ready to succeed in college or a career. Test results show that all students, regardless of their race, socioeconomic status or disability, are struggling to achieve to high standards in Madison-area public schools. This afternoon, the Urban League of Greater Madison joined Madison Metropolitan School District Superintendent Jennifer Cheatham, and leaders of other community organizations, at a press conference where Cheatham shared MMSD's results. Cheatham presented data showing that an astounding 92% of African American and 85% of Latino students are reading below their grade level, and 90% of African American and 77% of Latino children are failing in mathematics. The data further showed that a large percentage of white students have fallen behind as well, with 42% are reading below grade level and 33% failing in math. In reflecting on the scores, Darrell Bazzell, the Chair of Urban League's Board of Directors said, "These numbers are a stark message that Madison's public schools are at a tipping point and that our community must embrace change. The implications for our region are profound. For the sake of our community and our children, Madison can, and must, do better for all students and families." Bazzell further stated that, "Every citizen in our community must say that 'we will no longer harbor these gaps; that we accept responsibility for addressing these challenges; and that we will commit to doing all that we can to ensure all of our children succeed. We must also acknowledge where we are not succeeding and commit to change in smart, innovative and effective ways that lead to real progress for our kids'." In response to these troubling statistics, Urban League President and CEO, Kaleem Caire, shared that, "When 90% of Black children cannot read at their grade level, we are significantly reducing the possibility of success for an entire generation. This issue negatively affects not only this generation of children, but also the vitality of our entire region. If not addressed quickly, it will affect the quality of the lives of all citizens who call Madison home." To address these challenges, Caire said "The Urban League is working to build a pipeline of high quality cradle to career educational and employment services that positively impact the entire family, move all children towards high performance, and prepare youth and adults for career success." He further highlighted, "We have already begun working with the Madison Schools, other area school districts, employers and community partners to ensure that we attack the persistence of underachievement and other contributing factors, such as poverty, at its core. " The Urban League's 2013-14 Strategic Plan creates opportunities that will help the community overcome these challenges. Caire enthusiastically shared that, "We are a community of great people, great teachers and great families who are passionate about helping others transform their lives. But our passion now must become our reality." About the Urban League of Greater Madison The Urban League of Greater Madison's mission is to ensure that African Americans and other community members are educated, employed and empowered to live well, advance professionally and contribute to the common good in the 21st Century. We are committed to transforming Greater Madison into the Best [place] in the Midwest for everyone to live, learn, and work. We are working to make this vision a reality through a comprehensive strategic empowerment agenda that includes programs & services, advocacy, and partnerships & coalition building. www.ulgm.org Urban League of Greater Madison | 2222 S. Park Street | Suite 200 | Madison | WI | 53713
Related:
The rejected Madison Preparatory Academy IB charter school
Madison's long term disastrous reading results
. The
recently released WKCE results
.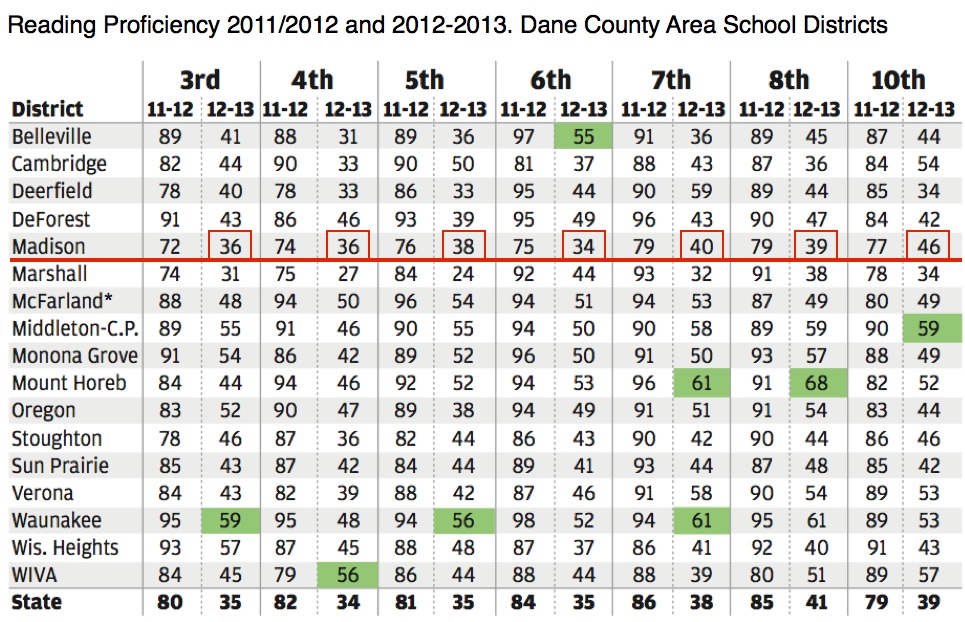 Tap or click to view a larger version.

Higher bar for WKCE results paints different picture of student achievement Matt DeFour Wisconsin student test scores released Tuesday look very different than they did a year ago, though not because of any major shift in student performance. Similar to recent years, the Wisconsin Knowledge and Concepts Exam results show gains in math and reading over the past five years, a persistent and growing performance gap between black and white students, and Milwaukee and Racine public school students outperforming their peers in the private school voucher program. But the biggest difference is the scores reflect a higher bar for what students in each grade level should know and be able to do. Only 36.2 percent of students who took the reading test last October met the new proficiency bar. Fewer than half, 48.1 percent, of students were proficient in math. When 2011-12 results were released last spring, those figures were both closer to 80 percent. The change doesn't reflect a precipitous drop in student test scores. The average scores in reading and math are about the same as last year for each grade level. Instead, the change reflects a more rigorous standard for proficiency similar to what is used for the National Assessment of Educational Progress. NAEP is administered to a sample of students in each state every other year and is referred to as "the nation's report card." The state agreed to raise the proficiency benchmark in math and reading last year in order to qualify for a waiver from requirements under the federal No Child Left Behind law. The benchmark did not rise for the language arts, science and social studies tests. "Adjusting to higher expectations will take time and effort," State Superintendent of Public Instruction Tony Evers said. "But these are necessary changes that will ultimately help our schools better prepare all students to be college and career ready and link with work being done throughout the state to implement new standards." Evers also called on the Legislature to include private voucher schools in the state's new accountability system. He highlighted that test scores for all Milwaukee and Racine students need to improve. Among Milwaukee voucher students, 10.8 percent in reading and 11.9 percent in math scored proficient or better. Among Milwaukee public school students, it was 14.2 percent in reading and 19.7 percent in math. Gov. Scott Walker has proposed expanding the state's voucher program, including to such districts as Madison. Changes in Dane County The state previously announced how the changing bar would affect scores statewide and parents have seen their own students' results in recent weeks, but the new figures for the first time show the impact on entire schools and districts. In Dane County school districts, the percentage of students scoring proficient or better on the test dropped on average by 42 percentage points in reading and 25 percentage points in math. Madison schools had one of the smallest drops compared to its neighboring districts. Madison superintendent Jennifer Cheatham noted schools with a higher number of students scoring in the "advanced" category experienced less of a drop. Madison's smaller drop could reflect a higher proportion of students scoring in the top tier. At the same time, Madison didn't narrow the gap between minority and white student test results. Only 9 percent of black sixth-graders and only 2 percent of sixth-grade English language learners scored proficient in reading. "It reinforces the importance of our work in the years ahead," Cheatham said. "We're going to work on accelerating student outcomes." Middleton-Cross Plains School Board president Ellen Lindgren said she hasn't heard many complaints from parents whose students suddenly dropped a tier on the test. Like Madison and other districts across the state, Middleton-Cross Plains sent home letters bracing parents for the change. But Lindgren fears the changing standards come at the worst time for public schools, which have faced tougher scrutiny and reduced state support. "I'm glad that the standards have been raised by the state, because they were low, but this interim year, hopefully people won't panic too much," Lindgren said. "The public has been sold on the idea that we're failing in our education system, and I just don't believe that's true." Next fall will be the last year students in grades 3-8 and 10 take the paper-and-pencil WKCE math and reading tests. Wisconsin is part of a coalition of states planning to administer a new computer-based test in the 2014-15 school year. The proposed state budget also provides for students in grades 9-11 to take the EXPLORE, PLAN and ACT college and career readiness tests in future years.
Superintendent Cheatham
is to be commended for her informed, intelligent and honest reaction to the MMSD's results when compared to those of neighboring districts. View a
WKCE summary here (PDF)
.
Motoko Rich in the New York Times describes the federal lawsuit, initiated by seven Florida teachers with support from local NEA affiliates, which contends that the Florida DOE's system of grading teachers based on student outcomes "violates teachers' rights of due process and equal protection."
Much more on "
value added assessment, here
". Madison's value added assessment scheme relies on
the oft-criticized WKCE
.
At long last the New Jersey Department of Education has released its "NJ School Performance Reports," which replace the old School Report Cards. Details on school performance is greatly expanded now includes, according to the Christie Administration's press release, "brand new data on college and career readiness and provide comparison to "peer schools" in order to provide a more complete picture of school performance for educators and the general public." Here's coverage from the Star-Ledger, The Record, the Courier-Post, Asbury Park Press, Press of Atlantic City, NJ Spotlight, and the Philadelphia Inquirer. The state also released the annual Taxpayers' Guide to Education. Annual per pupil spending in NJ (if you use the state's algorithm; others say it inflates costs) is $18,045, up 4.2% since last year. Of course, there's enormous range within that average. Fairview Boro (Bergen), for example, spends $13,317 per pupil. Asbury Park City spends $30,502. The plush magnet schools in Bergen County spend $35,900.
The Wisconsin DPI..... April, 2013:
Chief among them has been this notion from state superintendent Tony Evers that the state's new accountability system, known as state report cards, shouldn't be used to determine which districts get vouchers.
. March, 2013:
Evers on report cards: this last year was a pilot year. It's just not ready for prime time
. June, 2008:
"Schools should not rely on only WKCE data to gauge progress of individual students or to determine effectiveness of programs or curriculum"
.
Chief among them has been this notion from state superintendent Tony Evers that the state's new accountability system, known as state report cards, shouldn't be used to determine which districts get vouchers. Under Walker's plan, districts with at least 4,000 students and two or more schools getting a D or an F under a new rating system would be eligible for vouchers. Evers -- no fan of vouchers anyway -- says the report cards were not intended for such use and need more refinement over several years. But what was the purpose of spending more than a year working with a diverse group of education and business groups and state elected officials to create the report cards -- which replaced the widely panned No Child Left Behind system -- if not to use them to make consequential decisions about education? On Thursday, Department of Public Instruction director of Education Information Services John Johnson called the report cards a "work in progress" that aren't an appropriate tool for making a "major policy decision." Among their current limitations are that they are based on tests that are expected to change two years from now, they can't show growth in high school student achievement, some schools weren't rated, and there's too little data to reliably identify trends in school performance. Adam Gamoran, director of the UW-Madison-based Wisconsin Center for Education Research and a skeptic on voucher programs, agrees that the tool isn't perfect and may well change, but "that doesn't mean we shouldn't use them now" to rate schools. It's also not as if DPI itself didn't expect to use the report cards. Its budget request -- which Walker didn't include in his budget -- included about $10.3 million over the next two years to replicate best practices from schools deemed high-performing by the report cards, as well as to help schools deemed low-performing by the report cards get better.
John Nichols
appears to support the present DPI approach
.
Status Quo K-12 vs a Little "Reform" Rhetoric at a Wisconsin Budget Hearing
. Related: The Wisconsin DPI in 2008: "Schools should not rely on only WKCE data to gauge progress of individual students or to determine effectiveness of programs or curriculum".
http://www.schoolinfosystem.org/archives/2013/03/wisconsin_educa_14.php
A citizen, parent, voter and taxpayer might ask what the DPI has been with state and federal taxpayer dollars since 2008? Meanwhile, Alabama (!), Minnesota, Florida and Massachusetts are continuing to aim high and compare their students to the world.
http://nces.ed.gov/Timss/benchmark.asp
And, Vietnam is teaching computer science concepts in primary school.
http://www.schoolinfosystem.org/archives/2013/03/primary_school_.php
The state's top education official warned the Legislature's budget committee Thursday that Gov. Scott Walker's proposal to tie funding and voucher expansion to new state report cards could undermine bipartisan reform efforts already underway. State Superintendent of Public Instruction Tony Evers said the new report cards "aren't ready for prime time" and will look "a lot different eight years from now." Evers agreed with Sen. Luther Olsen, R-Ripon, a member of the Joint Finance Committee and chairman of the Senate Education Committee, that the report cards should be used "as a flashlight and not a hammer." "If we use them as a hammer it's going to make all the other transformative efforts we're doing more difficult," Evers said, referring to new curriculum, testing and teacher evaluation systems that were developed by a bipartisan coalition of teachers, administrators, school boards and political leaders in recent years. "Teachers will back off," he said.
2008:
"Schools should not rely on only WKCE data to gauge progress of individual students or to determine effectiveness of programs or curriculum"
. Parents, students and taxpayers might wonder what precisely the DPI has been doing since 2008? The WKCE has
been long criticized for its lack of rigor
. Related: Matthew DeFour's
tweets from Mr. Evers recent budget appearance
.