One advantage to redrawing the lines is that it could delay the financial hit of having to build a new school. Some school officials are already talking referendum. Plus, with space available in the district, is there really any good reason any student should be forced to attend class in what was formerly a closet, as some at Sandburg Elementary do? More troubling is the effect crowding could have on low-income students who, statistically at least, struggle academically and might benefit from better learning environments. According to data collected by the Department of Public Instruction, 48.9 percent of Madison elementary students were considered "economically disadvantaged" last school year. For the five schools over capacity now, that percentage was 48.4. But two of those schools are more affluent and are expected to see their enrollments drop below 100 percent capacity by 2018-19. Most of the seven schools expected to be over capacity in 2018-19 serve less affluent areas of Madison, and collectively, the seven had a student population that was 57.8 percent economically disadvantaged last year.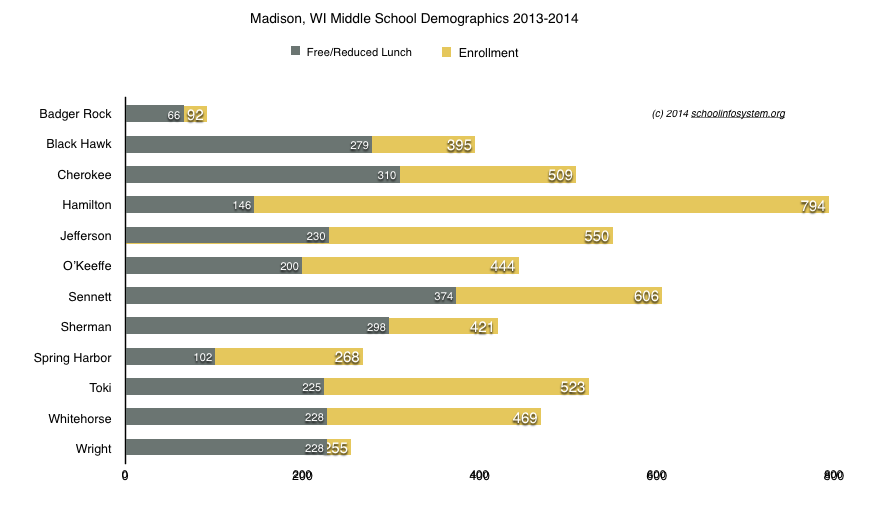 Madison has long supported a wide variation in school demographics. The chart above, created from 2013-2014 Madison School District middle school demographic data, illustrates the present reality, with the largest middle school - near west side Hamilton - also featuring the smallest percentage low income population
.
A word rarely uttered on college tours sits atop the website of St. Olaf, a small liberal-arts college south of Minneapolis with an annual estimated cost of $51,860. Next to clickable categories about arts and athletics appears the unlikely word "outcomes.'' And if you click on the word, a headline materializes promising "The Return on Investing in a St. Olaf Education.'' A few more clicks and you can learn what becomes of graduates after four years on its sylvan campus along the Cannon River. For example: Where will a St. Olaf education lead? Then there is "What Happens After Graduation: Recent Alumni Data,'' along with retention and graduation rates, and "evidence of learning." This new level of candor sounds like an answer to growing concerns of parents, politicians, and foundations concerned about the value for money of a higher education--and of students worried about finding jobs and repaying college loans. And it's part of a new wave in higher education. Concerns that the rising costs are leaving too many behind are increasingly accompanied by fears that today's college graduates lack sufficient workforce skills--or that they aren't learning enough.
In his press conference introducing Carmen Fariña as New York City's next schools chancellor, Mayor Bill de Blasio suggested that he had picked her over several other candidates because she was on the same page with him in opposing Bloomberg-era education reforms. Most of the city's education reporters took the new mayor's spin and ran with it, even though Fariña had served loyally as Michael Bloomberg's second-highest-ranking education official. Daily News columnist Juan Gonzalez predicted that Fariña would now bring "revolutionary" changes to the department of education that she left in 2006. A headline in The Hechinger Report claimed that Fariña wanted DRAMATIC--EVEN JOYFUL--DEPARTURE FROM BLOOMBERG ERA. But that depends on what Bloomberg era you're talking about: during the years that she served in the administration, Fariña was fully on board with its education policies. In fact, considering Fariña's pivotal role during the first Bloomberg term in shaping the Department of Education's radical initiatives, portraying her as a dissident from within seems absurd. Mayor Bloomberg took control of the schools in June 2002, but he knew little about what actually went on in the city's classrooms. He appointed Joel Klein, a corporate lawyer with no background in instructional issues, as his first schools chancellor. Bloomberg and Klein deferred virtually all decision-making on classroom instruction and curriculum to a cadre of veteran progressive educators led by Diana Lam, Klein's first deputy chancellor for teaching and learning. Lam and Fariña convinced Klein to introduce the constructivist "balanced-literacy" reading and writing program, developed by Lucy Calkins of Columbia Teachers College, along with a fuzzy constructivist-math program called Everyday Math, into just about every elementary school classroom in the city. (Klein would eventually realize that adopting balanced literacy was a serious mistake.) In an early 2003 speech presenting his administration's new education reforms, Mayor Bloomberg declared that the "experience of other urban school districts shows that a standardized approach to reading, writing, and math is the best way to raise student performance across the board in all subjects," and therefore that "the chancellor's office will dictate the curriculum." And so it did. Lam soon became embroiled in a nepotism scandal and had to resign. Fariña then took over as deputy chancellor for instruction. She became the DOE's enforcer, making sure that all teachers in the elementary schools toed the line and implemented Calkins's constructivist methods for teaching reading and writing. Teachers received a list of "nonnegotiable" guidelines for arranging their classrooms, including such minute details as the requirement that there must be a rug on the floor for students to sit on in the early grades and that nothing but student work be posted on the walls. Balanced literacy has no track record of raising the academic performance of poor minority children. No independent research study has ever evaluated its methodology. Nevertheless, it was popular in education schools because it promulgated two of progressive education's key commandments: that teachers must abandon deadening "drill and kill" methods and that students are capable of "constructing their own knowledge." Progressives such as Calkins evoked ideal classrooms, where young children naturally find their way to literacy without enduring boring, scripted phonics drills forced on them by automaton teachers. Instead, in a balanced-literacy classroom, students work in small groups and follow what Calkins calls the "workshop model" of cooperative learning. The program takes for granted that children can learn to read and write naturally, with minimal guidance. Calkins rejects E.D. Hirsch's finding (based on an overwhelming consensus in cognitive-science research) that the key to improving children's reading comprehension is grounding them in broad knowledge, which she and other progressives dismiss as "mere facts." Calkins also believes that her model classrooms promote "social justice" for all. In an interview I conducted with her at the time the DOE selected her program, she told me that "It's a great move to social justice to bring [balanced literacy] to every school in the city." That's what Fariña tried to accomplish in the early years of the Bloomberg administration--including the social-justice part. She was instrumental in creating the most centralized, top-down instructional system in the recent history of American public education. Agents of the deputy chancellor (euphemistically called "coaches") fanned out to almost all city elementary schools to make sure that every teacher was marching in lockstep with the department of education's new pedagogical approach. Under the rubric of "professional development," DOE central headquarters launched an aggressive campaign to force teachers to teach literacy and math only one way--the progressive way. Each of the city's 80,000 teachers got a six-hour CD-ROM laying out the philosophy behind the new standardized curriculum and pedagogy. The CD portrayed the world of progressive education writ large, with all its romantic assumptions about how children learn. In addition to inculcating Calkins's balanced literacy, the DOE's training manual celebrated the theories of an obscure Australian education guru--Brian Cambourne of Wollongong University in New South Wales, a leader of the whole-language movement (a cousin of balanced literacy) then dominating Australian public schools. Cambourne's ideas gave city teachers not only more balanced literacy (or whole language) theory, but also a warrant for social-justice teaching. Cambourne claims that as a young teacher, he discovered that many of his poorly performing students were actually quite bright. To his surprise, almost all demonstrated extraordinary competence in performing challenging tasks. The son of the local bookie, for example, "couldn't learn basic math," according to Cambourne, "but could calculate the probability the Queen of Spades was in the deck faster than I could." Cambourne decided that children learn better in natural settings, with a minimum of adult help--a staple of progressive-education thought. Thus the role of the educator should be to create classroom environments that stimulate children but also closely resemble the way adults work and learn. Children should no longer sit in rows facing the teacher; instead, the room should be arranged with work areas where children can construct their own knowledge, much as in Calkins's workshop model of balanced literacy. Such constructivist assumptions about how to teach literacy were enforced with draconian discipline in city schools for several years. Progressives like Calkins, Cambourne, and Fariña don't insist that more learning occurs when children work in groups and in "natural" settings because they've followed any evidence. To the contrary, as much as it tells us anything on this issue, science makes clear that, particularly for disadvantaged children, direct, explicit instruction works best. But under Fariña, reeducation sessions for teachers were meant to overcome dissenting opinion and drive home the progressive party line. To quote the directives to teachers included on the CD: "Your students must not be sitting in rows. You must not stand at the head of the class. You must not do 'chalk and talk' at the blackboard. You must have a 'workshop' in every single reading period. Your students must be 'active learners,' and they must work in groups." As I reported at the time, some brave teachers objected. At Junior High School 44 in Manhattan, a teacher tried to point out to his supervisor, quite reasonably, that some teachers feel more comfortable with and get better results through direct instruction and other traditional methods. The school's literacy coach, sent by the DOE, then responded: "This is the way it is. Everyone will do it this way, or you can change schools." Calkins was grateful for Carmen Fariña's efforts in advancing her instructional agenda, her career, and her organization's bottom line. (Calkins's Readers and Writers Program at Teachers College received over $10 million in no-bid contracts from the city.) Calkins expressed her appreciation in a forward she penned for Fariña's book, A School Leader's Guide to Excellence, coauthored with Laura Koch, Fariña's closest associate and collaborator at the DOE. "When Carmen and Laura took the helm of New York City's school system, teachers, staff developers, and principals across the entire city let out a collective cheer of enthusiasm," Calkins writes. She conjures a glorious history: "Within a week [of Fariña's promotion to deputy chancellor for instruction] our education system began to change. Educators at every level could feel possibility in the air; the excitement was palpable." And because of Fariña's magic, "sound practices in the teaching of reading and writing became the talk of the town--the subject of study groups and hallway conversations in every school . . . The entire city began working together afresh to meet the challenge of improving education for all children." In reality, though, the balanced-literacy advocates failed in this task. The city's eighth-grade reading scores on the National Assessment of Educational Progress (NAEP) tests barely budged over 12 years, despite a doubling of education spending--from $12 billion to $24 billion. There was no narrowing of the racial achievement gap. (In sounding his tale of two cities theme, Mayor de Blasio makes no accounting for the failure of progressive education programs to reduce the academic achievement gap between poor and middle-class children.) Recognizing balanced literacy's meager results, Chancellor Klein reverted to a system of more autonomous schools, giving principals far more discretion over instructional matters. Klein apparently came to believe that he had been misled by Fariña and Calkins. The chancellor then became a supporter of Hirsch's Core Knowledge curriculum, with its focus on direct instruction and the teaching of broad content knowledge. He set up a three-year pilot program, matching ten elementary schools using the Hirsch early-grade literacy curriculum against a demographically similar cohort of ten schools that used balanced literacy. The children in the Core Knowledge schools significantly outperformed those in the schools using the Calkins approach. Still opposing the direct teaching of factual knowledge, Fariña recently shrugged off the pilot study, saying that not enough schools were involved. But if Fariña is serious about that criticism, she now has an opportunity to run a much larger evaluation of Core Knowledge. As a result of the city's adoption of the Common Core State Standards and of aligned curricula emphasizing the "rich content knowledge" that the standards require, 71 elementary school principals have chosen to use Hirsch's Core Knowledge literacy program in their schools. Let Fariña visit and study those schools over the next year. If she really is committed to changing the tale of two cities, as she and the new mayor claim to be, one way to start would be to cast aside ideology and judge whether those Core Knowledge classrooms, drenched in "mere facts," are actually the key to narrowing the devastating knowledge gap between middle-class kids and poor children, who begin school with little knowledge of the world and with a stunted vocabulary. She might also find that there is at least as much "joy" in classrooms in which children get taught explicitly about the world around them as there is in classrooms in which children "construct" their own knowledge.
All students in the Madison School District would have their own tablets or notebook computers by the 2018-19 school year under a five-year, $31 million plan proposed by Superintendent Jennifer Cheatham. If approved, the plan would increase the district's current $1.5 million annual technology budget to $4.2 million in the 2014-15 school year to start upgrading the district's network infrastructure, upgrade or equip classrooms and libraries with new technology or computers, and provide notebook computers to all district teachers and administrators. Elementary teachers also would get tablet computers under the plan. Costs to upgrade are projected to increase each of the five years of the plan for a total of $31 million spent in that time. Afterward, the annual budget for technology would be about $7 million per year going forward. ..... Madison School Board members, who formally received the plan at their meeting Monday, were mostly optimistic about the plan. Board member T.J. Mertz questioned whether the program needed to be as extensive as it's proposed given what he said were other unmet needs in the district and given research that he called "universally disappointing" surrounding such initiatives. Mertz said in an interview after Monday's board meeting that he agrees with the majority of the investments in technology under the plan, "but then there's a third or a quarter where I think it's going overboard." As an example, Mertz said he questions whether every kindergarten student needs their own tablet computer.
Prior to spending any additional taxpayer funds on new initiatives, I suggest that the District consider (and address) the status of past expensive initiatives, including:
Infinite Campus
: is it fully implemented? If not, why? Why continue to spend money on it? "
Standards based report cards
".
Connected Math
.
Small Learning Communities.
And of course, job number one, the
District's long term disastrous reading scores
. Madison already spends double the national average per student ($15k). Thinning out initiatives and refocusing current spending on reading would seem to be far more pressing than more hardware.
The district provided a comprehensive extended learning summer school program, K-Ready through 12th grade, at ten sites and served 5,097 students. At each of the K-8 sites, there was direction by a principal, professional Leopold, Chavez, Black Hawk and Toki, and oral language development was offered at Blackhawk and Toki. The 4th grade promotion classes were held at each elementary school, and 8th grade promotion classes were held at the two middle school sites. Students in grades K-2 who received a 1 or 2 on their report card in literacy, and students in grades 3-5 who received a 1 or 2 in math or literacy, were invited to attend SLA. The 6-7 grade students who received a GPA of 2.0 or lower, or a 1 or 2 on WKCE, were invited to attend SLA. As in 2012, students with report cards indicating behavioral concerns were invited to attend summer school. Additionally, the summer school criterion for grades 5K-7th included consideration for students receiving a 3 or 4 asterisk grade on their report card (an asterisk grade indicates the student receives modified curriculum). In total, the academic program served 2,910 students, ranging from those entering five-year-old kindergarten through 8th grade. High school courses were offered for credit recovery, first-time credit, and electives including English/language arts, math, science, social studies, health, physical education, keyboarding, computer literacy, art, study skills, algebra prep, ACT/SAT prep, and work experience. The high school program served a total of 1,536 students, with 74 students having completed their graduation requirements at the end of the summer. All academic summer school teachers received approximately 20 hours of professional development prior to the start of the six-week program. Kindergarten-Ready teachers as well as primary literacy and math teachers also had access to job embedded professional development. In 2013, there were 476 certified staff employed in SLA.
Jennifer Cheatham:
Key Enhancements for Summer School 2014 A) Provide teachers with a pay increase without increasing overall cost of summer school. Teacher salary increase of 3% ($53,887). B) Smaller Learning Environments: Create smaller learning environments, with fewer students per summer school site compared to previous years, to achieve the following: increase student access to high quality learning, increase the number of students who can walk to school, and reduce number of people in the building when temperatures are high. ($50,482) C) Innovations: Pilot at Wright Middle School and Lindbergh Elementary School where students receive instruction in a familiar environment, from a familiar teacher. These school sites were selected based on identification as intense focus schools along with having high poverty rates when compared to the rest of the district. Pilot character building curriculum at Sandburg Elementary School. ($37,529) D) Student Engagement: Increase student engagement with high quality curriculum and instruction along with incentives such as Friday pep rallies and afternoon MSCR fieldtrips. ($25,000) E) High School Professional Development: First-time-offered, to increase quality of instruction and student engagement in learning. ($12,083) F) Student Selection: Utilize an enhanced student selection process that better aligns with school's multi-tiered systems of support (MTSS) so that student services intervention teams (SSIT) have time to problem solve, and recommend students for SLA. Recommendations are based on student grades and standardized assessment scores, such as a MAP score below the 25th percentile at grades 3-5, or a score of minimal on the WKCE in language arts, math, science, and social studies at grades 3-5. (no cost) Estimated total cost: $185,709.00 Summer School Program Reductions The following changes would allow enhancements to summer school and implementation of innovative pilots: A) Professional development (PD): reduce PD days for teachers grades K-8 by one day. This change will save money and provide teachers with an extra day off of work before the start of summer school (save $49,344.60). B) Materials reduction: the purchase of Mondo materials in 2013 allows for the reduction of general literacy curricular materials in 2014 (save $5,000). C) Madison Virtual Campus (MVC): MVC is not a reimbursable summer school program as students are not in classroom seats. This program could be offered separate from summer school in the future (save $18,000). D) Librarians: reduce 3 positions, assigning librarians to support two sites. Students will continue to have access to the expertise of the librarian and can utilize library resources including electronic equipment (save $12,903.84). E) Reading Interventionists: reduce 8 positions, as summer school is a student intervention, it allows students additional learning time in literacy and math. With new Mondo materials and student data profiles, students can be grouped for the most effective instruction when appropriate (save $48,492). F) PBS Coach: reduce 8 positions, combining the coach and interventionist positions to create one position (coach/interventionist) that supports teachers in setting up classes and school wide systems, along with providing individual student interventions. With smaller learning sites, there would be less need for two separate positions (save $24,408). G) Literacy and Math Coach Positions: reduce from 16 to 5 positions, combining the role and purpose of the literacy and math coach. Each position supports two schools for both math and literacy. Teachers can meet weekly with literacy/math coach to plan and collaborate around curriculum and student needs (save $27,601.60). Estimated Total Savings: $185,750.04 Strategic Framework: The role of the Summer Learning Academy (SLA) is critical to preparing students for college career and community readiness. Research tells us that over 50% of the achievement gap between lower and higher income students is directly related to unequal learning opportunities over the summer (Alexander et al., 2007). Research based practices and interventions are utilized in SLA to increase opportunities for learning and to raise student achievement across the District (Odden & Archibald, 2008). The SLA is a valuable time for students to receive additional support in learning core concepts in literacy and math to move them toward MMSD benchmarks (Augustine et.al., 2013). SLA aligns with the following Madison Metropolitan School District (MMSD) Strategic Framework goals: A) Every student is on-track to graduate as measured by student growth and achievement at key milestones. Milestones of reading by grade 3, proficiency in reading and math in grade 5, high school readiness in grade 8, college readiness in grade 11, and high school graduation and completion rate. B) Every student has access to challenging and well-rounded education as measured by programmatic access and participation data. Access to fine arts and world languages, extra-curricular and co-curricular activities, and advanced coursework.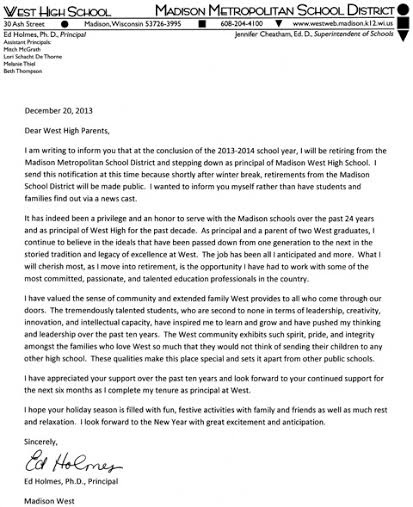 Madison West High School Principal Ed Holmes (PDF), via a kind reader's email. A number of controversial curricular initiatives occurred during Holmes' reign, including the implementation of "one size fits all" English 10, a parent TAG complaint, small learning communities and various "high school redesign" plans.
Polls show that smaller class sizes are incredibly popular with parents and teachers. But with the Great Recession forcing school budget cuts, class size is once again a matter of debate, with Education Secretary Arne Duncan, megaphilanthropist Bill Gates, and New York Mayor Michael Bloomberg all suggesting that larger class sizes could be a good idea. What do we really know about how class size affects student learning? Is there an ideal class size? In this episode, I talk to Larry Ferlazzo, a public school teacher and blogger, and Matthew Chingos, a class-size researcher at the Brookings Institution.
Students in a lecture class can give the impression of lethargy: Maybe a student sleeps in the back of the classroom, maybe others fidget and doodle. The students who are paying attention may be too focused on their notebooks to flash a look of understanding and inspiration. Perhaps because of this negative initial impression, lectures are under attack these days. The Common Core standards place far greater value on small-group discussion and student-led work than on any teacher-led instruction. The term "lecture" is entirely out of fashion, as is the unqualified word "lesson." On recent planning templates released by New York's Department of Education, only the term "mini-lesson" is used. The term gets its diminutive status because of the fact that only 10 to 15 minutes on the hour are allotted for teacher-disseminated information, while the rest of the class period is focused on student-centered practice in groups or project based learning. But the mini lesson is not even accepted as the most progressive way of teaching. Champions of the "flipped classroom" relegate lectures to YouTube channels. In a recent interview here at The Atlantic, futurist David Thornburg declared that lectures created a depressing experience for him in school. The tendency to see lecture-based instruction as alienating and stifling to student creativity is not altogether new. In Paulo Friere's 1970 Pedagogy of the Oppressed, the lecturing teacher was cast as an arrogant imperialist. Alison King coined the flip expression "sage on the stage" in a 1997 article and, although more than half of King's article consists of ideas for working small group approaches into otherwise lecture-centric courses, demonstrating that she was in no way looking to eliminate the lecture entirely, everyone from Common Core advocates to edtech disrupters has co-opted "sage on the stage" as license to heckle the "out-of-touch expert." Nevertheless, there is immense value in lecture, and it must not be written off as boring and ineffective teaching.
Time zones away from the quads of Cambridge, Mass., and Palo Alto, Calif., there's a curious educational evolution happening. Though the modern massive open online course movement (MOOCs) originated in North America, two-thirds of their users live abroad--in places like Rwanda, China, and Brazil. Foreign users are adapting the courses produced at Harvard, MIT, and Stanford to fit their local communities and cultures. And in the process, they're creating an entirely new education model. Instead of toiling at MOOCs alone with the dim light of a laptop, communities around the world are combining screen time with face time. In these small-group, informal, blended-learning environments, students work with the support of peers and mentors and compete online on a level playing field with the new elite of the world. "It gave me a taste of what is first world education," said Alejandra B., a 21-year-old studying business at a Catholic university in La Paz, Bolivia, and a MOOC participant in such a setting, told me.
A few years ago when I walked the hallways of a high school with my five-year-old niece Evie, she remarked, without prompting: "There's the principal's office: you only go there if you are in trouble." As an educator and an aunt, I wondered how the office of an educational professional had come to be symbolized in such a decisive way in the mind of a child, particularly a child who had yet to enter formal schooling. As I scanned popular representations of the school principal, I found that Evie's impression was hardly unusual. Across popular and professional cultures, the figure of the school principal is commonly reduced to a small, often disagreeable functionary of bad news, the wet blanket of progressive teacher practice, the prison guard of students' freedom. As I asked friends and colleagues about their impressions of school principals, few actually knew what principals did, and many people confused the role of school building principal with school district superintendent. Most remarkably, those very people who did not understand what a principal did were often the first to argue for the abolition of the role. In American public schools, the principal is the most complex and contradictory figure in the pantheon of educational leadership. The principal is both the administrative director of state educational policy and a building manager, both an advocate for school change and the protector of bureaucratic stability. Authorized to be employer, supervisor, professional figurehead, and inspirational leader, the principal's core training and identity is as a classroom teacher. A single person, in a single professional role, acts on a daily basis as the connecting link between a large bureaucratic system and the individual daily experiences of a large number of children and adults. Most contradictory of all, the principal has always been responsible for student learning, even as the position has become increasingly disconnected from the classroom. The history of the principal offers even more contradictions. Contemporary principals work in the midst of unique modern challenges of ever-changing fiscal supports, school law and policy, community values, and youth culture. At the same time, the job of the contemporary principal shares many of the characteristics of their predecessors two centuries ago. While social and economic contexts have changed, the main role of the principal has remained essentially the same over time: to implement state educational policy to the school and to maneuver, buffer, and maintain the stability of the school culture at the local level.
Lant Pritchett, Rukmini Banerji & Charles Kenny:
For the last ten years, the major focus of the global education community has been on getting children into school. And that effort has been a success: most of the world's children live in countries on track to meet the Millennium Development Goal of universal primary completion by 2015. But behind that progress is a problem--one that grows with each additional child that walks through the classroom door. Some children in those classes are learning nothing. Many more are learning a small fraction of the syllabus. They complete primary school unable to read a paragraph, or do simple addition, or tell the time. They are hopelessly ill-equipped for secondary education or almost any formal employment. The crisis of learning is both deep and widespread. It is a crisis for children, too many of whom leave school believing they are failures. And it is a crisis for their communities and countries, because economic analysis suggests it is what workers know--not their time in school--that makes them more productive and their economies more prosperous.
Three recent anecdotes that I think point to something important: First: A friend told me her fifth-grade daughter, a high-performing student in a high-performing school, picked up an art project from a counter. It fell to the floor. She let out a four-letter expletive that begins with "s." This prompted a phone call from the school to the parent to discuss the daughter's conduct. Second: Someone else told me about a teacher she knew who worked for years in challenging schools. She was dedicated, but she got worn down, so she retired, somewhat earlier than she might otherwise have. The clinching factor in her decision? She couldn't take the students' language any longer. Third: I visited a small private high school on a recent Monday. The students are required to wear uniforms -- polo shirts with the school logo and khakis, that sort of thing. But the previous week had been "spirit week" and students were allowed to wear other stuff. The principal said she was relieved to have them wearing uniforms again because it reduced the number of behavior problems she had to deal with. What do these anecdotes suggest? This is just the view of one increasingly old person, but if I'm in a school where learning is particularly serious and energetic, I'm probably in a school that is a pretty buttoned-down place. The culture of a school is critical to its success. It generally involves things that don't show up easily in data -- how healthy and constructive the environment is, how well everyone knows how to treat each other and so on. Furthermore, classroom management is a huge challenge -- oh, today's kids and all that. The thing new teachers usually find the hardest to master is getting kids to focus on their work. I've been in classrooms where the pursuit of order took huge chunks of time away from the pursuit of education.
Atlas doesn't shrug. But he teeters, loses his grip, stutters and staggers. His task one afternoon is to clear a debris field. After many agonizing moments, in a set of abrupt and jerky movements, he crouches and with painstaking precision manages to grasp a two-by-four board and then drop it to his right. At the rate he is moving, completing the chore might take days. Atlas in this case is an imposing, six-foot-tall humanoid robot that evokes the bipedal "Star Wars" robot C-3PO. It stands in a cluttered robotics laboratory here at Worcester Polytechnic Institute where a team of students, engineers and software hackers are training the 330-pound bundle of sensors, computers, metal struts, joints and cables. Seven teams are working with Atlas robots, manufactured by Boston Dynamics, a small military-funded research firm based in Waltham, Mass. Like the others, the Worcester team is preparing for a December contest held by the Pentagon's Defense Advanced Research Projects Agency. The contest is meant to accelerate work in the field of robotics by prototyping machines that can work effectively and autonomously in extreme emergencies, like the failure of a nuclear power plant. The vision evokes decades of sci-fi movies like "I, Robot" in which self-directed walking machines glide through the world with grace and precision. At the moment the gap between that dream and reality is daunting. The immensity of the challenge is underscored by the fact that, here in the lab, Atlas remains tethered -- "on belay," in the mountain climbing sense. Like a toddler learning to walk, it wears a safety harness, and whenever it moves, its human operators, equipped with safety glasses, position themselves behind a transparent plastic enclosure.
Motoko Rich (NYT) Nearly two decades ago, a landmark study found that by age 3, the children of wealthier professionals have heard words millions more times than those of less educated parents, giving them a distinct advantage in school and suggesting the need for increased investment in prekindergarten programs. Now a follow-up study has found a language gap as early as 18 months, heightening the policy debate. The new research by Anne Fernald, a psychologist at Stanford University, which was published in Developmental Science this year, showed that at 18 months children from wealthier homes could identify pictures of simple words they knew -- "dog" or "ball" -- much faster than children from low-income families. By age 2, the study...
That's what Bill Gates said on Sept. 21 (see video below) about the billions of dollars his foundation has plowed into education reform during a nearly hour-long interview he gave at Harvard University. He repeated the "we don't know if it will work" refrain about his reform efforts a few days later during a panel discussion at the Clinton Global Initiative. Hmmm. Teachers around the country are saddled every single year with teacher evaluation systems that his foundation has funded, based on no record of success and highly questionable "research." And now Gates says he won't know if the reforms he is funding will work for another decade. But teachers can lose their jobs now because of reforms he is funding. In the past he sounded pretty sure of what he was doing. In this 2011 oped in The Washington Post, he wrote:
Related:
Small Learning Communities
.
STARTING pre-school poses tests for any four-year-old: sitting still, the risk of a yucky lunch, missing home. The stakes are still higher for 700 small Texans due to enter pre-kindergarten centres being opened by the city of San Antonio on August 26th. They are pioneers who will be watched all the way to the White House. Not so long ago there was broad, bipartisan support for government provision of pre-school (called "pre-K", since it precedes kindergarten): a year of classes and play designed to ensure that children are ready for the serious business of learning. Alas, pre-K has joined the long list of issues capable of provoking partisan rage. Critics include shrink-the-government types growling about expensive "babysitting", joined by social conservatives arguing that young children are best off when cared for by married mothers, at home.
As we begin a new school year, this story reminds us that our struggling with learning is not any indicator of a lack of intelligence. Alex Spiegel In 1979, when Jim Stigler was still a graduate student at the University of Michigan, he went to Japan to research teaching methods and found himself sitting in the back row of a crowded fourth-grade math class. "The teacher was trying to teach the class how to draw three-dimensional cubes on paper," Stigler explains, "and one kid was just totally having trouble with it. His cube looked all cockeyed, so the teacher said to him, 'Why don't you go put yours on the board?' So right there I thought, 'That's interesting! He took...
Next spring, seniors at about 200 U.S. colleges will take a new test that could prove more important to their future than final exams: an SAT-like assessment that aims to cut through grade-point averages and judge students' real value to employers. The test, called the Collegiate Learning Assessment, "provides an objective, benchmarked report card for critical thinking skills," said David Pate, dean of the School of Arts and Sciences at St. John Fisher College, a small liberal-arts school near Rochester, N.Y. "The students will be able to use it to go out and market themselves." The test is part of a movement to find new ways to assess the skills of graduates. Employers say grades can be misleading and that they have grown skeptical of college credentials.
Start with the student population that was using the Udacity courses; many of them were high school students or in the military. These people were not substituting a MOOC for sitting in a college classroom; they were substituting them for not taking the class at all. Even if only 12 percent of students passed one of the classes, that represents a substantial number of people who might otherwise never have learned the material at all. But possibly even more important is that MOOCs can change the whole approach to learning. In a traditional college classroom, you put a small number of kids in a room and the professor attempts to herd every one of them past the finish line of a passing grade. (Then they mostly forget almost everything they've learned.) It's an intensive approach with a very low failure rate. MOOCs will always have a very high failure rate. But that's OK, as long as the cost of trying is low. Don't have time for class right now? Drop out and come back when you have more time. Didn't master Taylor Polynomials this time around? Do the course again. As I'll talk about in my forthcoming book, failure is often the best way to learn. More tries and more failures are almost always better than fewer tries and a lower failure rate. Letting people try a bunch of stuff, and fail at a lot of it, and then try again, is what makes the U.S. so innovative. We should welcome the ability to try this approach in education. And it's not just cost that makes software a particularly effective way to harness the learning power of failure. Software is very good at targeting exactly where a student is going wrong. Unlike a lecturer, or a teaching assistant, software can identify exactly what fundamental concepts a student hasn't grasped, and let them practice over and over again until they master that concept. And practice, of course, makes perfect.
Ben Velderman The Match Education organization has developed a reputation over the past 12 years for operating several high-quality charter schools throughout the Boston area. Now the organization is garnering national attention for its approach to training future teachers. It all began in 2008, when Match officials opened a two-year teacher training program for graduate students, known as Match Teacher Residency (MTR). The MTR program only recently graduated its fifth group of students, but it already has a reputation among school leaders for producing the best and most effective first-year teachers in the nation. "Their teachers are the best from any graduate school of education in America," says Scott Given, CEO of Unlocking Potential, an organization dedicated to turning around...