I'm glad to see the apparent focus on doing a few things well. This is the only way forward given the District's disastrous reading results. That said, I was disappointed when the new Superintendent largely continued the "same service" budget approach
during the 2013-2014 financial discussions
. The District's 2x per student spending (above the national average) has supported numerous initiatives, likely preventing a focus on those that are truly meaningful for our students. For example,
Kerry Motoviloff noted that Madison Schools Administration has "introduced more than 18 programs and initiatives for elementary teachers since 2009"
.
Steven Sinofsky's latest
is also worth reading in this context.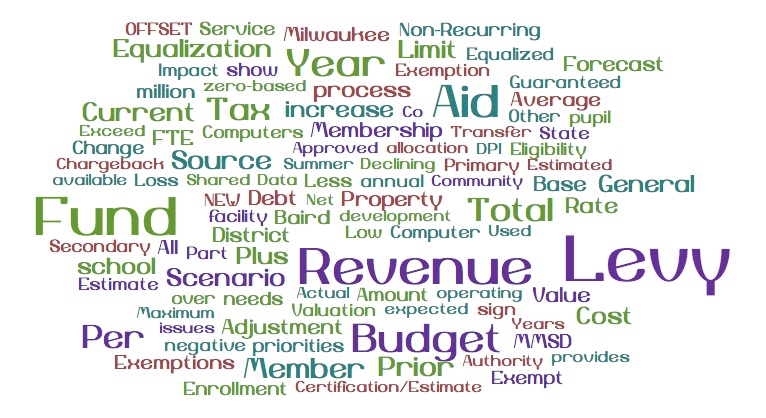 Madison School District (PDF):
This budget forecast and those that will follow are intended to keep the board informed as the budget development process unfolds. The forecasts also provide an opportunity for board discussion and input into important budget development issues. MMSD's Strategic Framework establishes the direction of the school district. The framework is supported by the annual budget, which is simply the resource strategy behind the Strategic Framework. The budget process begins with a thorough review of district priorities, current spending patterns, and outcomes. The zero- based budget process requires a critical examination of all budget practices and how those practices influence resource deployment. Based upon our budget work thus far, we believe there are opportunities to make the staffing process more responsive to individual school needs, to shift non- personnel resources from central office budgets to school budgets, and to improve budget accuracy by clarifying and simplifying account structures. We're excited to explore these and other opportunities throughout the 2014-15 budget process. Zero-based Approach to Budget Development: A zero-based approach is being used to develop the expenditure budget. Unlike an 'historical cost' budget or a 'cost to continue' budget, the zero-based process is intended to go beyond marginal refinements of existing budgets and existing structures. For example, MMSD has used essentially the same staffing allocation process for over ten years under the 'cost to continue' approach, with only minor modifications along the way. While the existing allocation process is uniform and consistent, it can be improved by making it more responsive to the challenges presented by individual schools. The senior leadership team, with input from the principals, is assessing the staffing allocation process this month before any allocation decisions are put into motion in February. The existing staff allocation process consists of a series of departmental layers, with separate staffing allocations for regular education, special education, Title 1, OMGE, pupil services, PBS, etc. We are hopeful that a more integrated and responsive staffing allocation process, beginning this year and refined continuously in subsequent years, will produce a more tailored fit for each school. The zero-based approach is designed to uncover such opportunities. The zero-based process also includes in-depth reviews of each central office department. We are particularly interested in identifying inter-departmental overlaps, gaps, and even redundancies. We are optimistic that this effort will produce new efficiencies and help push resources from the district office into the schools. Strategic Priorities Drive the Budget: The resource decisions contained in the annual budget are subject to continuous review, either directly through the zero-based budget process, or indirectly through the SIP process, district surveys, targeted studies (such as the Principal Pipeline study [PDF] and High School Reform study), and several active advisory committees. These are the sources which inform the budget development process. The Strategic Framework identifies five key priorities which are aimed at providing schools with the tools, processes and resources they need to serve children and their families better than ever before. The five priorities are: (1) Coherent Instruction, (2) Personalized Pathways, (3) Family and Community Engagement, (4) A Thriving Workforce, and (5) Accountability at All Levels. Each of the priorities in the Strategic Framework includes a set of high-leverage actions that have cost implications. A preview of some of the major actions with cost implications, organized by Priority Area, will be developed and refined throughout the budget development process. A preview of the major actions will be presented to the Operations Work Group along with this Budget Forecast.
The word cloud is interesting, particularly in light of the District's job number one,
addressing its long term disastrous reading results
. Related: numerous links on the
District's 2013-2014 budget, here
. Madison spends about twice the national average per student ($15k).
For the past 31 years, since I stumbled across amazing things happening at Garfield High School in East Los Angeles, my main topic as an education writer has been schools whose low-income students have been raised to unexpected heights of academic achievement. There are many schools in the Washington area that have done that. What about those that haven't? By my count, in about 20 predominantly low-income high schools in the District and Prince George's County, the passing rates on Advanced Placement exams have been stuck below 10 percent. Yet other high schools full of impoverished kids in those same two school districts have done better on the challenging college-level tests. Why are some succeeding and others not? The Eli and Edythe Broad Foundation has released a remarkable study answering these questions from a national perspective. It found six districts among contenders for its annual Broad Prize for Urban Education where black students in AP "were improving passing rates quickly enough to gain on their white peers while increasing or keeping participation levels steady." They were: Cobb County and Fulton County in Georgia, the Garland Independent district in Texas, Jefferson County in Kentucky, Orange County in Florida and the San Diego Unified district in California. The researchers identified four reasons for their success: 1. Searching for more academic talent: In many cases, this meant enlarging gifted programs for younger students far beyond the designations based on high IQ scores that most districts use. In Fulton County, the settlement of a court-ordered desegregation plan in the early 2000s included a big expansion. The district went from two to 58 elementary schools with gifted-education teachers, and from 300 to almost 2,000 elementary school students getting gifted services. 2. Giving more high school students access to challenging courses: A surprising finding, at least to me, was that the move to smaller high schools in some urban districts reduced the variety of course offerings, including AP. I know of some small charter high schools that have plenty of AP courses, but I can see how smaller schools in big districts might be shortchanged. The researchers said: "San Diego has opened several small schools and is now moving back to large ones in part because of the lack of opportunities for specialized courses." The districts doing well with AP tend to give PSAT tests to all students to identify the many who are overlooked for AP but whose test scores show they are ready. The researchers said that approach is based on this fact: "A College Board study showed only a 0.28 correlation between AP exam passage and grade point average, while the correlation with PSAT scores was 0.5 to 0.7."
As public schools nationwide embrace instruction via iPads, laptops and other technologies, many are realizing they lack the necessary broadband speed to perform even simple functions. This is crimping classroom instruction as more teachers pull lesson plans off the Internet and use bandwidth-hungry programming such as video streaming and Skype. An estimated 72% of public schools have connections that are too slow to take full advantage of digital learning, according to EducationSuperHighway, a nonprofit that tests school broadband speeds and works to upgrade Internet access. The average school has about the same speed as the average American home, while serving 200 times as many users, according to the Obama administration. Expanding high-speed Internet in schools involves upgrading wiring, expanding Wi-Fi capabilities or simply spending more money to purchase faster service. Adding to the worries: 45 states and the District of Columbia adopted the new Common Core math and reading standards and most will take the new online assessments in the 2014-15 school year. The test results will be used to evaluate teachers, make student promotion and graduation decisions and rate schools. "Just as people are getting excited about the power of what the Internet offers to students and teachers, they are running into the buzz saw of infrastructure," said Evan Marwell, CEO of EducationSuperHighway.
Erin Richards and Jason Stein:
Wisconsin could see a dramatic rise in the number of charter schools operating outside of districts and without teachers unions, under a new Assembly bill brought by Republicans that would take independent charters statewide. The proposed legislation would eliminate district-staffed charters and empower a new slate of authorizers to approve independent charters: all four-year and two-year University of Wisconsin System institutions, as well as all the state's regional educational service agencies and technical college district boards. The measure comes as Republican lawmakers intensify their efforts to pass a charter-school bill in the remaining months of the session. Independent charters are controversial because they are public schools run like private businesses; they don't employ unionized staff and don't have to answer to school boards. They exist through a contract, or charter, with an approved nondistrict entity. Advocates see the schools as important to reform efforts because they're not bogged down by school system bureaucracy and have more flexibility in curriculum and staffing. Opponents criticize the schools for not having to follow the same rules as traditional districts, and for being the darlings of business interests. The schools also, in effect, reduce funding for traditional public schools the charter pupil otherwise might have attended.
The Madison School District (PDF):
BOARD POLICIES and PROCEDURES represent the BOARD's vision for the DISTRICT and set the general direction for the DISTRICT. It is an essential function of the BOARD to establish BOARD POLICIES and the BOARD PROCEDURES necessary to eaffect those POLICIES and PROCEDURES. In order to carry out this function in an effective, efficient, consistent and transparent manner, the BOARD believes it is imperative to have a well-defined procedure for creating, maintaining and modifying such POLICIES and PROCEDURES as needed. ... Beginning in the 2014-2015 school year, except for POLICIES and PROCEDURES that are reviewed on an annual basis, see IV.H, below, the SUPERINTENDENT or his/her designee shall review all BOARD POLICIES and PROCEDURES shall be reviewed pursuant to the following three-year review cycle: Year 1: Chapter 4000 (Pupils), Chapter 5000 (Auxiliary Services), Chapter 6000 (Operations) Year 2: Chapter 2000 (Administration), Chapter 3000 (Instruction), Chapter 7000 (Community Relations), Chapter 10000 (Charter Schools) Year 3: Chapter 1000 (Board of Education), Chapter 8000 (Personnel), Chapter 9000 (Ethics) Following said review, the SUPERINTENDENT shall present his/her recommendations at a WORK GROUP meeting for review and approval by the BOARD. The review cycle does not preclude the BOARD from taking action on any POLICY determined to be in need of revision. During the course of the three-year review cycle, all 3 Formatted: Indent: First line: 0" Formatted: Indent: Left: 1.5" Formatted: Normal POLICIES and PROCEDURES shall be translated into Spanish and additional languages, as possible. Translated POLICIES and PROCEDURES shall be subject to the same revisions as their English-language counterparts.
But voting down a bill with a relatively minor tax increase, one that was less than the maximum allowed by the district, makes it look like she might offer an austerity budget if she sat in the governor's chair. That's why Burke made sure to toss a little red meat to the deep blue crowd. "My concern is that very little of it (the property tax increase) went into increasing pay for teachers," she said. Ta-da! She voted against the budget because it wasn't paying teachers enough! There's another campaign slogan: "Mary Burke: She fights to pay teachers more!"
Yet, the
same service tax, spending and curricular approach
continues in Madison, despite
long term disastrous reading results
. Rhetoric and vote parsing does nothing for the thousands of young people who cannot read.
Bread & circuses
.
Clayton Christensen & Michael Horn, via a kind Rick Kiley email:
WHEN the first commercially successful steamship traveled the Hudson River in 1807, it didn't appear to be much of a competitive threat to transoceanic sailing ships. It was more expensive, less reliable and couldn't travel very far. Sailors dismissed the idea that steam technology could ever measure up -- the vast reach of the Atlantic Ocean surely demanded sails. And so steam power gained its foothold as a "disruptive innovation" in inland waterways, where the ability to move against the wind, or when there was no wind at all, was important. In 1819, the technology vastly improved, the S.S. Savannah made the first Atlantic crossing powered by steam and sail (in truth, only 80 of the 633-hour voyage was by steam). Sailing ship companies didn't completely ignore the advancement. They built hybrid ships, adding steam engines to their sailing vessels, but never entered the pure steamship market. Ultimately, they paid the price for this decision. By the early 1900s, with steam able to power a ship across the ocean on its own, and do so faster than the wind, customers migrated to steamships. Every single transoceanic sailing-ship company went out of business. Traditional colleges are currently on their hybrid voyage across the ocean. Like steam, online education is a disruptive innovation -- one that introduces more convenient and affordable products or services that over time transform sectors. Yet many bricks-and-mortar colleges are making the same mistake as the once-dominant tall ships: they offer online courses but are not changing the existing model. They are not saving students time and money, the essential steps to disruption. And though their approach makes sense in the short term, it leaves them vulnerable as students gravitate toward less expensive colleges.
The pressure of the year's first exam-and-essay crunch is driving some students at Canadian universities to look for help in study drugs. A dealer might charge $20 for a single pill of the prescription Adderall, but students under stress are willing to pay. A few weeks ago, before midterm season, that same pill might have cost $5. Students who have used a range of medications commonly prescribed to treat attention deficit hyperactivity disorder, or ADHD, say they can help casual users focus for hours, study stacks of material or write papers through the night without fatigue. Nearly 4 per cent of students who have no medical need for the drugs take them to cope with academic demands, despite risks to their health, according to a major national study released this year. Many buy them from friends or classmates with legitimate prescriptions. Schools are aware of the problem - and the ethical questions - but have few tools to combat it. The Globe and Mail asked student journalists across the country to probe the use of study drugs on their campus. In more than 20 interviews, students said they turned to the drugs, often before exams, because they had too many non-academic commitments or felt anxious to get good marks to be accepted to graduate school. Others confessed that they had procrastinated. Nearly every one said the drugs gave them a clear boost. The Globe contacted the students to verify the interviews. All of them declined to be identified on the record, out of concern about harming their academic or job prospects.
More important than whether UW-Madison might take a chance on Madison Prep, though, is whether such a school chartered by UW-Madison would work. Caire said "higher education institutions tend to be more careful about who gets a charter and tend to charter some high-quality schools." There appears to be some evidence of this. Ten of 11 UW-Milwaukee-authorized charters have an average state report card score some 14 points higher than the Milwaukee Public Schools generally, with one charter school not rated. The MPS and charter schools have comparable rates of poverty, although MPS schools have higher proportions of disabled students and English language learners. A special state test for disabled students and other accommodations can help mitigate the negative effect on a school's overall performance but not necessarily completely, according to James Wollack, an associate professor and expert in testing and evaluation at UW-Madison.
Much more on the
Madison Preparatory Academy, an IB charter school
proposal rejected by a majority of the Madison School Board. Madison's non-diverse K-12 governance model
spends about double the national average per student
yet has sustained
disastrous reading results
for some time. The "
same service
" governance model has long run its course.
I've lived here since the mid-1980s and self-awareness is a very rare quality among the tech companies and techno-elite. They don't see much and they fantasize about doing great things on a grand scale but achieve nothing locally. Hypocrisy runs rampant. For example, Twitter execs a couple of years ago were making public comments about how they were changing the world and how Twitter was empowering individuals and communities and how the Arab Spring was a great example. Yet at the same time they were willing to hold San Francisco hostage, threatening to move hundreds of jobs unless they received special tax relief on payroll taxes and on profits from an IPO. The city government gave in and Twitter got what it wanted and it agreed to move into the mid-Market/Tenderloin area, one of the poorest neighborhoods, that the city has been trying to gentrify for decades. But there's not much gentrification going on, since Twitter keeps hundreds of staff inside, with free gourmet meals, plus a slew of free services, dry cleaning, even cleaning staff apartments. It is competing with local businesses rather than helping support them -- it's the opposite of gentrification.
Google has partnered with EdX, the platform founded by Harvard and Massachusetts Institute of Technology, to develop an online education site where anyone can create and post courses. Open EdX will allow businesses, governments and individuals, as well as universities, to build massive open online courses, known as MOOCs, where tens of thousands of students from anywhere in the world can enrolin the same class. Anant Agarwal, president of EdX, compared the new site, which will launch next year, to YouTube, Google's online video platform. The technology company's developers would assist with building the site, host it on its cloud computing service and help the organisation work out how to generate revenue, he said. "It is very exciting that the leader inthe MOOC movement and the leader in the web space are teaming up to help online education. I think it is a really good thing for the world," he added.
In one exchange with a particularly pharisaical special education teacher in Chicago I asked if she could tell me her story of choosing a school for her black children. Sadly, that ended our conversation. I've asked the question of others too. Still, no response. It isn't meant to be a rude question. I'm willing to answer it because it forms the bases for why I care about education policy. Two factors combined inspire all of my educational activism. The first is my own unremarkable k-12 career, and the second is the fear, worry, and great aspirations I had as a young father. During my own time in K-12 I witnessed the real disparities in schools. I gained insight, as a kid, into the obvious differences between public and private, rich and poor, safe and dangerous, and so on. This included time in a west coast hippy school, a few poor southern schools, a working class Catholic school, a middle-class Midwestern school, and an ultra-wealthy school for children of privilege. If we all carry our own experiences (and sometimes baggage) into family decisions about education, that's mine. When my first son was born I had all of the normal insecurities a young first-time father might have. But the normal anxieties were accelerated by love, fear, and low income. Suddenly I cared for someone so much more than myself, and I didn't want my own experience to be his. Specifically, I didn't want him to work in the service industry as I had up to that point. There was only one real way to launch him toward his God-given potential, beyond the limitations of income, neighborhood, and demography. Education. It was my one shot at getting him on more equal footing with the children of millionaires I was working for at the time. Now, many years later, many lessons later, and many confounding choices later, I've transformed from unremarkable student, to desperate father, to damn near full-time education activist. Not because my story is special. It's not. Indeed, my story is too common. Having seen the immense power of school choice, and the real need for parents to have options when they encounter an educational crossroads for their child, how could I be anything other than a school choice advocate?
via
Laura Waters
. Related: A
Majority of the Madison school board rejected the proposed Madison preparatory Academy IB charter school
.
Judge Barbara Crabb (PDF), via a kind Susan Vogel email:
Dear Raymond, new graduates and their proud guests. I start today with rousing congratulations to the new graduates. I realize that some of you may be thinking that condolences are more in order, but I don't agree. Yes, the market is not great for new lawyers. Yes, many of you have large student loans to worry about. But you are the holders of a degree many people can only dream of acquiring. And that degree is more than a piece of paper. It is evidence that you think differently today--you've been taught to do so critically and analytically. You attack problems differently because you have new tools for doing so. You demand proof of propositions you used to take for granted. Best of all, you understand that every complicated problem will, when properly studied, turn out to be even more complicated. You've had three years of study with some great teachers. They've opened your minds to new possibilities. They've forced you to think harder than you thought you ever could. You may have worked on a law review. You may have taken part in moot problems you might never have imagined. You may have had internships--some of which were in federal court, which has given me a chance to get to know you-- and those have enabled you to put into practice your classroom learning. And now, after what loomed as an eternity three years ago, you're joining the ranks of the legal profession. Many people have contributed to make this day a reality: parents, spouses, partners, teachers, professors, friends, the taxpayers of the state of Wisconsin. All of them believe that their investment in you is a valuable one. Yes, the future is uncertain. But uncertainty is a fact of life. I can assure you that you are not the first or the last class to graduate into uncertainty. I always keep in mind that Nathan Heffernan, who was chief justice of the Wisconsin Supreme Court from 1983 to 1995, started his career in the only job he could find at the time of his law school graduation, which was as an insurance claims adjuster. What is certain is that the world as we know it today will not be the world of tomorrow. Fifty years ago, people graduating from law school were worried about the war in between the words of the Constitution and the reality of life for so many of the nation's citizens, but they had no idea of the protests that would take place in a few years as more people began to claim their rightful place in American society. In 1963, those graduates were mostly unaware of the civil rights movement that was simmering in Nashville and that would eventually change our country forever. The world you are entering is in its usual and fractious state, although the causes and the disagreements are different. It seems possible that governmental functions will reach a permanent condition of stasis unless courageous and enlightened people can find areas in which they can cooperate and compromise. The middle east poses a multitude of threats and opportunities, as do many other areas of the world. The widening income gap in the United States is worrisome, as is the diminution of personal privacy. The point is that life is never settled or determinable in advance. The next fifty years are as unknowable to you as the last fifty were in 1963 to those, like me, who graduated from law school then. None of us graduates with a script; we all improvise and adjust as we perform our roles in a play in which there are no rehearsals, often finding about. But it is this very uncertainty for which lawyers are trained. Big challenges, seemingly insoluble problems, conflict of all kinds, confrontations--they're all grist for the lawyer's mill. Mediating disagreements, finding common ground, defending the rights of minorities, holding those in power accountable when they abuse their power, finding solutions to problems, helping businesses grow, expand and create jobs, advising nonprofit corporations, defending the Constitution--that's what your training has prepared you to do. It is wholly improbable that lawyers will be underemployed for long, given the need for them in every area. With your law degree, you have skills too valuable to go unused for long. Some of you will find those skills indispensable in a job outside the legal profession; some of you will take the more traditional routes of working for a firm, or the government or a nonprofit organization providing legal services. Some of you will end up teaching. Some of you will make your contribution in politics, a field perennially in need of smart, well educated lawyers who understand the world and the Constitution about finding work. You may have to be innovators and the inventors of your own jobs, as the media keeps predicting. That seems to be part of the future: the stars of the future will be those who can invent not just new products but whole new ways of working. For those of you with these skills, I challenge you. Imagine a way of integrating technology with legal skills and information. Think about providing legal help to the hundreds of thousands, even millions, of people in our country who need lawyers and cannot afford them. It is a daunting challenge, especially because the only way to make it work is to make it profitable. But it is enormously important. How can it be good for a democracy to have the kind of mismatch between legal needs and underutilized lawyers that we do? Consider these realities: The vast majority of people seeking a divorce are unrepresented. Parents who face the loss of their children in court actions to terminate parental rights have no right to appointed counsel. Few persons facing foreclosure have counsel, including members of the armed forces while they are deployed. Legal aid agencies are overworked and lack the funding to add lawyers. It is clear that the present fee-for-service model isn't working for these people. It is also clear that reliance on governmental or philanthropic funding is not an answer. We know how untreated medical problems can drag people down; unfilled legal needs can have the same effect. This country needs to learn how to help the millions of people whose lives could be improved and who could be contributors to society if their legal problems were be resolved. Perhaps it's time to rethink the assumption that legal services always have to be individualized. Maybe ideas like LegalZoom.com an answer--or at least a marker on the road to something better. Are there other, better ways of delivering and paying for legal services? I challenge you to come up with new ideas for other problems and to question everything. Does law school have to be three years long? Should lawyers continue to better ways to organize and provide legal services? Can courts be more effective and productive? Are the prison and probation systems doing as good a job as they could of reducing crime rates and turning out offenders ready to take their proper place in the community? You are in the position to take a fresh look at what is not working as well as it could be in our country. You can help effect change. You can do your part in making the words of the Constitution a reality for more people. You have the legal education and you have a big advantage most of us older lawyers do not, which is an innate awareness of the possibilities of electronic media. On a personal note, my wish for each of you is to find work to do that will engage all of your talents, provide you challenges and satisfaction, free you from the shadow of debt--and even give you time for a life. The law has given me unimaginable opportunities. From the vantage point of the judge's bench, I have seen drama more exciting than any movie; I have seen lawyers of amazing talent. I have had fascinating cases to decide (along with many not so fascinating); some of these cases have been of great interest to the public; others have been important only to the parties. I have learned more about our society than I would have thought possible, about criminal schemes to defraud, about drug conspiracies, about family feuds over money and property, about patent litigation and about all forms of discrimination. I have had a glimpse into the unimaginable misery of the lives of some of the poorest and most deprived members of our society and have seen as well bits of the lives of some of the most fortunate and prominent members. I have seen firsthand how important the law is to people at every level of society and how every person values fairness and a chance to be vindicated. I have seen how lawyers have given them that chance and how hard the lawyers have worked in doing so. I still believe that the law is an honorable profession and that those who practice it are among the luckiest people I know. Even with its flaws and shortcomings, it remains the bulwark of our society. I hope that you, too, will find your careers rewarding. I hope you will continue the work of your predecessors in improving the profession and in making legal services more accessible to more people. Good luck and congratulations.
Taobao Classmates (not official translation) , an online course market, was launched recently. Teachers, education organizations or agencies, or third-party online education services can set up Taobao stores to sell live broadcasts, recorded videos, offline courses or events, or courses on third-party sites (including Tmall) -- in short, anyone is allowed to set up a store selling online educational content or related physical goods such as offline event tickets. Just the same with buying physical goods on Taobao, consumers need to log into Taobao and pay with Alipay -- not a problem to the majority of Chinese. There is, of course, no delivery fee unless a store charges you for delivering physical tickets and the like.
By Morris Andrews former Executive Secretary Wisconsin Education Association Council (WEAC) 1972-1992 Lost in the two-month maelstrom at the state Capitol is the role of teachers and their union, WEAC, as the chief advocates for school quality in Wisconsin. Scott Walker and the Fitzgeraids paint WEAC as a destroyer. They say eradicate WEAC, an organization they know almost nothing about except that it opposes their antisteacher agenda. Should they succeed in killing the voice of organized teachers, the real loser wilt be our public schools. Teachers have fought hard to make schools better over the past four decades. And it was Republican and Democratic votes in support of WEAC issues that resulted in the passage of pro-education bills. Such bipartisanship is but one casualty of today's polarized politics. Beginning in the 1970s WEAC became a political force, mainly by deciding to start backing legislative candidates. To receive WE/C's endorsement, a candidate had to support a list of education-related issues. Many Republicans did support these school improvement issues. And WEAC members consequently worked to help them win election or reelection. One Republican who received a WEAC endorsement was Tommy Thompson when he was in the Assembly. Today it seems unbelievable that the 1977 collective bargaining bill now reviled by the governor passed with Republican support. At the time, there were 11 Republicans in the Senate; five of them supported the bill. When the law's three-year trial period was about to expire, a group of Senate Republicans voted to extend it--despite a veto by Republican Governor Lee Dreyfus. Notably, Mike Ellis (then in the Assembly) was among a group of Republicans who jumped party lines on procedural votes that saved it. Our members then also reflected views across the spectrum. They identified themselves this way: Independents, 37%; Democrats, 35%; and Republicans, 27%. This spectrum was reflected at the annual WEAC convention, held a few days before the 1976 presidential election, when Gerald Ford and Walter Mondale both spoke to the huge assembly. Today, these numbers have changed as the Republicans shift further and further to the extremes. Did WEAC work to improve teacher pay and benefits? Yes, of course. But we were also committed to changing the wide variation in school quality from district to district. At the top of WEAC's school improvement list was getting a set of minimum educational standards that applied to every school district. In 1974, with Republican support, we succeeded. Today these standards are taken for granted. Among the many changes were requirements that every district must: establish a remedial reading program for underachieving Ke3 student offer music art, health, and physical education. have a kindergarten for five-year olds. ensure that school facilities are safe. (Many aging buildings were crumbling) provide emergency nursing services. require teachers in Wisconsin to go through continuing education and to have their licenses renewed once every five years. (Prior to enactment of minimum standards. districts were empbying unlicensed teachers for whom they secured an emergency license that they would hold year after year). On this foundation of programs Wisconsin students rose to the top of the national ACT scores for decades. The state Department of Public instruction (DPI), headed by State Superintendent Barbara Thompson, was charged with implementing the minimum standards. She accepted most of WEAC's recommendations. WEAC backed Thompson, a Republican with strong GOP support for her reelection in 1977. We sought common ground with Republicans. When Democratic Governer Pat Lucey proposed strict cost controls on school budgets in 1975, it was Republicans and Democrats in the Senate 110 coalesced with WEAC and school boards against Democrats on the Joint Finance Committee to ease the restrictions. Years later, when Republican Governor lee Dreyfus vetoed a measure to raise the cost control ceiling, the WEAC-supported override succeeded with the votes of 23 Assembly Republicans and eight Senate Republicans against the Republican governor. As late as 1984, Wisconsin had no uniform high school graduation requirements. WEAC supported Gov. Tony Earl's efforts requiring graduates to have a specified number of credits in English, maths science, social studies, physical education, health, and computer science. To curb underage drinking, WEAC Joined with a coalition of organizations on a bill that gave teachers and administrators legal protection to remove students suspected of drinking from school premises and events. All Assembly Democrats and all but three Republicans voted for the bill. In the Senate all Republicans voted for it and all but two Democrats voted for it. WEAC allied with Republicans and Democrats to repeal a longestanding provision that gave city councils in 41 of our largest cities veto power over their school boards' budgets. The fate of students with special needs also concerned WEAC in 1973, four years before Congress passed the federal special education law, WEAC successfully lobbied the Wisconsin Legislature for a state special education law that required every district to have a special education program. The chief sponsor was James Devitt, a Republican state senator. In 1976, the Legislature approved WEAC-backed bills to require tests of newborns for signs of mental retardation, and require children under age five to undergo a test for visual impairment. During this time WEAC successfully supported a bill that required teachers to report suspected child abuse, which has helped protect children across the state from life-altering harm. In the 1970s, sex discrimination in school athletics was a major issue. In most school districts many sports were for boys only. This changed after WEAC joined with women's groups to ensure that girls who wanted to play in sports have the same opportunity as boys. There were less than half as many WIAA-sponsored statewide tournaments for girls as there were for boys 14 for boys, six for girls. WEAC filed sex discrimination lawsuits against both the Wisconsin Interscholastic Athletics Association (WIAA) and the DPI that helped correct this inequality. WEAC also convinced the Legislature to budget the additional state funding needed to add programs for girls. Working with the Great Lakes lnter-Tribal Council, which represents Native Americans on ten reservations, WEAC successfully lobbied for a bill that provided state aid to districts that employed home/school coordinators for Native American students. And for passage of a law allowing Native Americans without certification to teach native culture and endangered native languages. Citizens who wanted to add new or replace old school buildings asked WEAC to help them pass local bond referendums. Monroe was one district where WEAC's help resulted in passage of a school bond for a much needed elementary school. The measure had failed in four previous elections. With WEAC help it won by a huge margin on the fifth attempt. Property taxes are a major source of school funding. VVEAC recognized that tax increases place a burden on low income homeowners, especially retirees on fixed incomes. To help these people, we backed an expanded homestead tax-relief program. Another action in support of low income citizens was creation of the Citizens Utility Board (CUB). CUB fights for affordable electricity and telephone service on behalf of Wisconsin customers before regulatory agencies, the Legislature, and the courts. Two organizations that fought hardest for CUB were WEAC and the United Auto Workers. All Wisconsin utilities opposed it. The key to these achievements in the 1970s and '80s was the cooperative spirit between WEAC and politicians of both parties. People from different sides of the aisle respected and listened to one another. We socialized outside of the Capitol. We grew to like each other, even if we disagreed on political issues. Today there is no middle ground. Compromise is deemed "caving in." Winning is not enough for the extremists. The "enemy must be completely destroyed. But if teacher unions are silenced, who will replace them as effective advocates for students? ----- I appreciate Mr. Andrews sharing this piece. I recently talked with him about the history of WEAC and where he sees the K-12 world going. I plan to post the interview this week.
MMSD School Board President Ed Hughes said that public education these days is under a lot of pointed criticism if not under an outright attack. "Initiatives like the voucher expansion program are premised on the notion that urban traditional public schools are not up to the task of effectively educating a diverse body of students," Hughes says. "We're out to prove that they are wrong. We agree with Superintendent Cheatham that in Madison all of the pieces are in place for us to be successful. Following the framework that she will describe to you, we set the goal for ourselves to be the model of a thriving urban school district that is built on strong community partnerships as well as genuine collaboration of teachers and staff. As we do that, we will be the school district of choice in Dane County." Cheatham said that Madison has a lot of great things going for it, but also had its share of challenges. "A continually changing set of priorities has made it difficult for our educators to remain focused on the day-to-day work of teaching and learning, a culture of autonomy that has made it difficult to guaranteed access to a challenging curriculum for all students," Cheatham said. "The system is hard for many of our students to navigate which results in too many of our students falling through the cracks." It starts with a simple but bold vision that every school is a thriving school that prepares every student for college, career, and community. "From now on, we will be incredibly focused on making that day-to-day vision become a reality," she said. "Many districts create plans at central office and implement them from the top down. Instead, schools will become the driving force of change in Madison," Cheatham said. "Rather than present our educators with an ever-changing array of strategies, we will focus on what we know works -- high quality teaching, coherent instruction, and strong leadership -- and implement these strategies extremely well."
Related:
The Dichotomy of Madison School Board Governance: "Same Service" vs. "having the courage and determination to stay focused on this work and do it well is in itself a revolutionary shift for our district"
.
"The notion that parents inherently know what school is best for their kids is an example of conservative magical thinking."; "For whatever reason, parents as a group tend to undervalue the benefits of diversity in the public schools...."
.
Madison's long term, disastrous reading results
.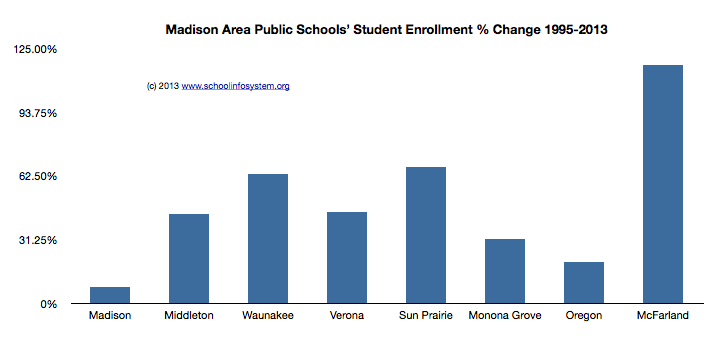 he gist of her framework is hard to argue. It calls for a renewed focus on learning, a school system that makes curriculum consistent across the district and better measures student and teacher performance. In sum, it is a back-to-basics approach that does not require new money, at least for now. Madison, of course, has been grappling with its changing demographics where many students, especially minority children, struggle academically. In shorthand, it's called the "achievement gap," and the approach to date has been a long list of seemingly laudable, logical programs. Now comes Cheatham saying we don't need more money, at least not yet, but instead we need to rebuild the foundation. Might some see that as counterintuitive, I wonder? "It might be," she responds. "My take is that we were adding on with a big price tag to an infrastructure that was weak. ... Does that make sense? The bones of the organization were weak and we didn't do the hard work of making sure that the day-to-day processes ... were strong before deciding to make targeted investments on top of a strong foundation." She continues: "That doesn't mean that there won't be some targeted investments down the line. I suspect that will be in things like technology, for instance, which is a real challenge ... and is going to have a price tag later. I need to make sure that the foundation is strong first." Cheatham alludes to her Chicago experience. "Having worked with lots of schools -- and lots of schools that have struggled -- and worked with schools targeting narrowing and closure of the achievement gap, these fundamental practices" make the biggest difference. "It's that day-to-day work that ultimately produces results and student learning."
We shall see. Local media have greeted prior Superintendents, including
Cheryl Wilhoyte
with style points, prior to the beginning of tough decision-making. Related:
The Dichotomy of Madison School Board Governance: "Same Service" vs. "having the courage and determination to stay focused on this work and do it well is in itself a revolutionary shift for our district".
Another interesting governance question, particularly when changes to the
157 page teacher union contract
, or perhaps "handbook" arise, is where the school board stands? Two seats will be on the Spring, 2014 ballot. They are presently occupied by
Marj Passman
and
Ed Hughes
. In addition,
not all members may vote on teacher union related matters due to conflict of interests
. Finally,
Mary Burke's
possible race for the Governor's seat (2014) may further change board dynamics. I hope that Superintendent Cheatham's plans to focus the organization on teaching become a reality. Nothing is more important given the
District's disastrous reading results
. That said, talk is cheap and we've seen this movie before.
The ill-fated charter school Madison Preparatory Academy would have cost Madison School District taxpayers about $17.5 million over five years to start addressing the district's long-standing minority and low-income achievement gaps. The achievement gap plan introduced by former superintendent Dan Nerad shortly after Madison Prep crashed and burned would have cost about $105 million over five years. Before being adopted, it was whittled down to about $49 million. And the so-called "strategic framework" proposed last week by new superintendent Jennifer Cheatham? Nada. "The really exciting news is we have all the ingredients to be successful," she told this newspaper. No doubt that could be thinking so wishful it borders on delusion or, worse, code for "we're not really all that interested in closing the gap anyway." But it could also be a harbinger of real change. "The framework isn't meant to be compared to the achievement gap plan," district spokeswoman Rachel Strauch-Nelson said. It's "not about an array of new initiatives with a big price tag" but about focusing "on the day-to-day work of teaching and learning" and "what we know works."
Related:
The Dichotomy of Madison School Board Governance: "Same Service" vs. "having the courage and determination to stay focused on this work and do it well is in itself a revolutionary shift for our district".
.
The dichotomy that is Madison School Board Governance was on display this past week. 1. Board Member TJ Mertz, in light of the District's plan to continue growing spending and property taxes for current programs, suggests that "fiscal indulgences":
Tax expenditures are not tax cuts. Tax expenditures are socialism and corporate welfare. Tax expenditures are increases on anyone who does not receive the benefit or can't hire a lobbyist...to manipulate the code to their favor.
be applied to
certain school volunteers
. This proposal represents a continuation of the Districts' decades long "
same service
" approach to governance, with declining academic results that spawned the rejected
Madison Preparatory IB Charter School
. 2. Madison's new Superintendent,
Jennifer Cheatham
introduced her
"Strategic Framework" at Wednesday's Downtown Rotary Club meeting
. The Superintendent's letter (
jpg version
) (
within the "framework" document
) to the Madison Community included this statement (word cloud):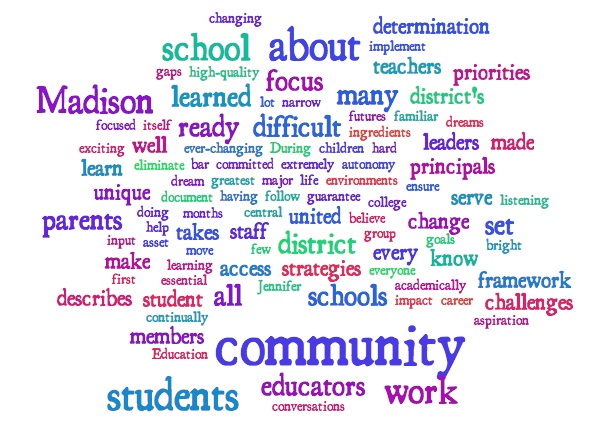 Rather than present our educators with an ever-changing array of strategies, we will focus on what we know works and implement these strategies extremely well. While some of the work may seem familiar, having the courage and determination to stay focused on this work and do it well is in itself a revolutionary shift for our district. This is what it takes to narrow and eliminate gaps in student achievement.
The Madison School Board's letter (
jpg version
) to the community includes this statement:
Public education is under sustained attack, both in our state and across the nation. Initiatives like voucher expansion are premised on the notion that public schools are not up to the challenge of effectively educating diverse groups of students in urban settings. We are out to prove that wrong. With Superintendent Cheatham, we agree that here in Madison all the ingredients are in place. Now it is up to us to show that we can serve as a model of a thriving urban school district, one that seeks out strong community partnerships and values genuine collaboration with teachers and staff in service of student success. Our Strategic Framework lays out a roadmap for our work. While some of the goals will seem familiar, what's new is a clear and streamlined focus and a tangible and energizing sense of shared commitment to our common goals. The bedrock of the plan is the recognition that learning takes place in the classroom in the interactions between teachers and students. The efforts of all of us - from school board members to everyone in the organization - should be directed toward enhancing the quality and effectiveness of those interactions. There is much work ahead of us, and the results we are expecting will not arrive overnight. But with focus, shared effort and tenacity, we can transform each of our schools into thriving schools. As we do so, Madison will be the school district of choice in Dane County.
Madison School Board word cloud: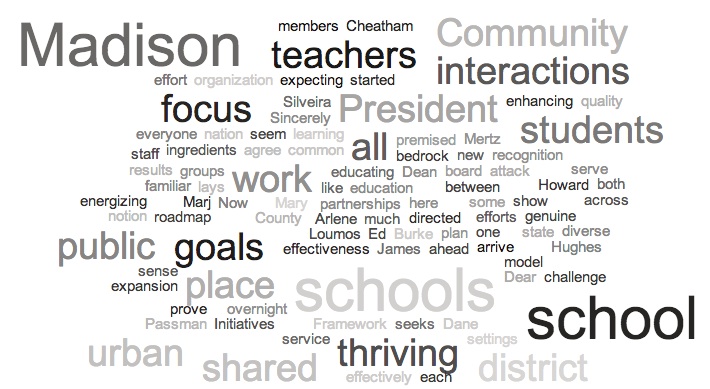 Related:
North Carolina Ends Pay Boosts for Teacher Master's Degrees; Tenure for elementary and high-school teachers also eliminated
North Carolina Gov. Pat McCrory, a Republican, signed a budget bill Friday that eliminates teacher tenure and--in a rare move--gets rid of the automatic pay increase teachers receive for earning a master's degree. The legislation targets a compensation mechanism that is common in the U.S., where teachers receive automatic pay increases for years of service and advanced degrees. Some research has suggested those advanced degrees don't lead to improved teaching. Although a few other states have talked about doing away with the automatic pay increase for advanced degrees, experts say North Carolina is believed to be the first state to do so. The budget bill--which drew hundreds of teachers to the Capitol in protest earlier this week--also eliminates tenure for elementary and high-school teachers and freezes teacher salaries for the fifth time in six years. It comes as states and districts across the country are revamping teacher evaluations, salaries and job security, and linking them more closely to student performance. These changes have been propelled, in part, by the Obama administration and GOP governors.
The challenge for Madison is moving away from long time governance structures and practices, including a heavy (
157 page pdf
&
revised summary of changes
) teacher union contract. Chris Rickert's
recent column on Madison's healthcare practices
provides a glimpse at the teacher - student expenditure tension as well. Then Ripon Superintendent
Richard Zimman's 2009 Madison Rotary speech offers important background on Madison's dichotomy
:
"Beware of legacy practices (most of what we do every day is the maintenance of the status quo), @12:40 minutes into the talk - the very public institutions intended for student learning has become focused instead on adult employment. I say that as an employee. Adult practices and attitudes have become embedded in organizational culture governed by strict regulations and union contracts that dictate most of what occurs inside schools today. Any impetus to change direction or structure is met with swift and stiff resistance. It's as if we are stuck in a time warp keeping a 19th century school model on life support in an attempt to meet 21st century demands." Zimman went on to discuss the Wisconsin DPI's vigorous enforcement of teacher licensing practices and provided some unfortunate math & science teacher examples (including the "impossibility" of meeting the demand for such teachers (about 14 minutes)). He further cited exploding teacher salary, benefit and retiree costs eating instructional dollars ("Similar to GM"; "worry" about the children given this situation).
"Budget Cuts: We Won't Be as Bold and Innovative as Oconomowoc, and That's Okay"
.