All over the state, public executives are exercising new authority. Instead of raising teachers' salaries, the Mequon-Thiensville School District, near Milwaukee, froze them for two years, saving $560,000. It saved an additional $400,000 a year by increasing employee contributions for health care, said its superintendent, Demond Means. And it is starting a merit pay system for teachers, a move that has been opposed by some teachers and embraced by others. Ted Neitzke, school superintendent in West Bend, a city of 31,000 people north of Milwaukee, said that before Act 10 his budget-squeezed district had to cut course offerings and increase class sizes. Now, the district has raised the retirement age for teachers and revamped its health plan, saving $250,000 a year. "We couldn't negotiate or maneuver around that when there was bargaining," Mr. Neitzke said. "We've been able to shift money out of the health plan back into the classroom. We've increased programming." James R. Scott, a Walker appointee who is chairman of the Wisconsin Employment Relations Commission, which administers the law regarding public-employee unions, said that "as a result of Act 10, the advantages that labor held have been diminished." He added: "It's fair to say that employers have the upper hand now." In Oshkosh, Mark Rohloff, the city manager, says the law has saved his city $1.2 million a year, largely because employees are now paying more of their pension and health contributions. But he said state aid cuts of $2 million a year left his city with an $800,000 shortfall. Among the city's 560 city workers, union membership has fallen to 225, down from 450. The police and the firefighters, who were exempted from Act 10's restrictions on collective bargaining, make up most of the remaining union members. Mr. Rohloff said his city's police and firefighters have averaged annual raises of 2.5 percent, while the other workers had no across-the-board raises from 2010 to 2012, and received a 1 percent increase in 2013. "Some of the employees who are not represented feel they're second-class citizens compared to other employees," Mr. Rohloff said. Demoralization is the flip side of Act 10. In Oneida County in northern Wisconsin, the county supervisors jettisoned language requiring "just cause" when firing employees. Now, said Julie Allen, a computer programmer and head of the main local for Oneida County's civil servants, morale is "pretty bad" and workers are afraid to speak out about anything, even safety issues or a revised pay scale. "We don't have just cause," she said. "We don't have seniority protections. So people are pretty scared."
Much more on
Act 10, here
.
"I'm an academic," says Slekar, a Pittsburgh-area native whose mother and grandmother were elementary school teachers and who was a classroom teacher himself before earning a Ph.D. in curriculum from University of Maryland. "I understand scholarship, I understand evidence, I understand the role of higher education in society," he says. "When initiatives come through, if we have solid evidence that something is not a good idea, it's really my job to come out and say that." Michael Apple, an internationally recognized education theorist and professor at University of Wisconsin-Madison agrees. In the face of conservative state legislators' push to privatize public education, "it is part of my civic responsibility to say what is happening," says Apple. "In a society that sees corporations as having all the rights of people, by and large education is a private good, not a public good," he says. "I need to defend the very idea of public schools." Both Apple and Julie Underwood, dean of the School of Education at UW-Madison, share Slekar's concern over the systematic privatization of education and recognize a role for scholars in the public debate about it. ... A wide-ranging, animated, sometimes loud conversation with Slekar includes familiar controversies hotly debated around the country and in the Wisconsin Capitol, like high-stakes testing, vouchers and Common Core standards. The evidence, Slekar says flatly, shows that none of it will work to improve student learning. The reform initiatives are instead part of a corporate takeover of public education masquerading as reform that will harm low-income and minority students before spreading to the suburbs, says Slekar, in what he calls the civil rights issue of our time. A 30-year attack has worked to erode the legitimacy of the public education system. And teachers are taking much of the blame for the stark findings of the data now pulled from classrooms, he says. "We're absolutely horrible at educating poor minority kids," says Slekar. "We absolutely know that." But neither the so-called reformers, nor many more casual observers, want to talk about the real reason for the disparities in achievement, Slekar says, which is poverty. "That's not an excuse, it's a diagnosis," he says, quoting John Kuhn, a firebrand Texas superintendent and activist who, at a 2011 rally, suggested that instead of performance-based salaries for teachers, the nation institute merit pay for members of Congress.
Local Education school academics have long had interactions with the Madison School District. Former Superintendent
Art Rainwater
works in the UW-Madison School of Education
.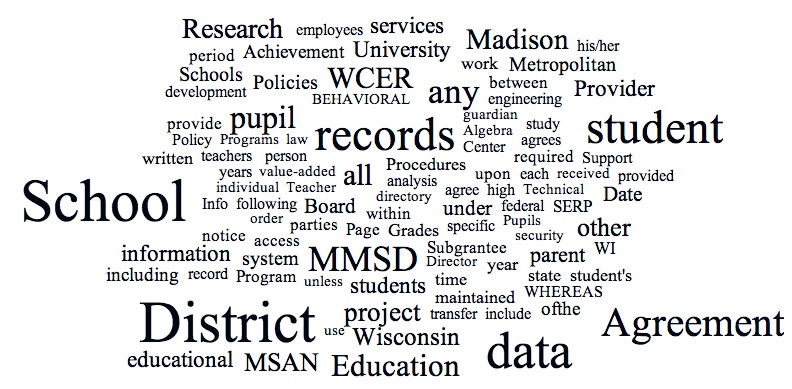 Further,
this 122 page pdf (3.9mb) includes contracts (not sure if it is complete)
between the UW-Madison School of Education and the Madison School District between 2004 and 2008. Has this
relationship improved achievement
? Related:
Deja Vu? Education Experts to Review the Madison School District
and
When A Stands for Average: Students at the UW-Madison School of Education Receive Sky-High Grades. How Smart is That?
Teacher merit pay. It's one of those perennially popular policy ideas that, historically, hasn't worked very well. A few years ago, New York City offered teachers in select schools $3,000 if the entire school's test scores went up. But scores at the merit pay schools did not improve any faster than scores at control schools. (In some of the merit-pay schools, scores actually went down.) In Nashville, teachers who volunteered for a merit pay experiment were eligible for $5,000 to $15,000 in bonuses if kids learned more. Students of those teachers performed no better on tests than students in a control group. And in Chicago, teachers were paid more if they mentored their colleagues and produced learning gains for kids. Again, students of the merit-pay teachers performed no better than other kids. That's why the results of a new study, the Talent Transfer Initiative, financed by the federal government, are so important. Surprisingly, this experiment found merit pay can work. In 10 cities, including Los Angeles, Miami, and Houston, researchers at Mathematica identified open positions in high-poverty schools with low test scores, where kids performed at just around the 30th percentile in both reading and math. To fill some of those positions, they selected from a special group of transfer teachers, all of whom had top 20 percent track records of improving student achievement at lower poverty schools within the districts, and had applied to earn $20,000 to switch jobs. The rest of the open positions were filled through the usual processes, in which principals select candidates from a regular applicant pool.
Less than a decade ago, Ravitch promoted many of the same policies she now rails against. As assistant secretary of education under George H.W. Bush, and then as head of the federal testing program, she led the charge for state and national academic standards and supported ideas of "choice" and merit pay. "I believed in those things because in theory they made a lot of sense," Ravitch says when I ask about her dramatic about-face. "It sounds right that if you pay teachers a bonus they'll get higher scores. It just doesn't work." Ravitch went public with her change of heart in her 2010 book The Death and Life of the Great American School System: How Testing and Choice Are Undermining Education. In her new book, she uses data to rebut arguments for market-based solutions to education problems. "When you look at the data, the test scores have never been higher in the last 40 years," says Ravitch. "Dropouts have never been lower than they are today." Real gaps "The achievement gap is real," Ravitch told me when I brought up Madison's racial and economic disparities. She points to research showing the only time the black-white achievement gap has narrowed was in the late 1970s and early 1980s because of concerted efforts to desegregate schools, reduce class size, increase access to early childhood education and target federal resources to schools with low-income students. But today's leaders have abandoned solutions that work, says Ravitch, who comes down as hard on President Barack Obama and Education Secretary Arne Duncan as she does on conservatives. "Our policymakers have given up on reducing class size," she adds, saying she visits classes with up to 40 students. "Are there expanding opportunities for African American families? Our society has thrown up its hands, and we're resegregating
After years of hefty tuition increases, a few colleges are cutting prices and trying to wean families from discounts. More than a half-dozen schools have slashed their sticker prices starting this fall or next as part of simplifying the college-financing process, which has become a patchwork of aid deals and discounts for families. Administrators say the price cuts could actually make schools money by attracting more new students and helping retain cost-conscious ones. Published tuition rates have soared in the last decade, but only a small percentage of families actually pays full freight. Between grants to needy students and merit scholarships to entice other desirable candidates, schools these days are giving back nearly 50% of gross tuition revenue in the form of aid and awards, according to the National Association of College and University Business Officers. Such discounting has become so widespread that many small, private colleges say they are stuck in a vicious cycle: They won't meet enrollment goals if they charge full price, even to affluent families, but they can't afford to continue cutting everyone a deal.
Max Russell had always been a conscientious student, but when his father died during his junior year of high school, he had to take on a 25-hour-per-week job to help his family pay the bills. The gig inevitably ate into the time he spent on homework, and Russell's G.P.A. plummeted from 3.5 to 2.5, which complicated his ability to get the aid he needed to attend a four-year college. So he ended up at Ivy Tech Community College in Indianapolis. Last year, after finally qualifying for student loans and cobbling together some grant money, he transferred to Purdue University, one of the state's top public schools. At Purdue, Russell reconnected with Christopher Bosma, a friend from high school. Bosma's family was considerably wealthier, but his entire tuition was free -- as will be medical-school costs. An outstanding high-school student, he received a prestigious merit scholarship that covered both. Russell told me that he believed the two friends are about "equivalent in intelligence" but acknowledged that Bosma studied much harder in high school. He was unusually driven, he said, but it probably didn't hurt that Bosma had the luxury of not having to help support his family. Over the years, many state-university systems -- and even states themselves -- have shifted more of their financial aid away from students who need it toward those whose résumés merit it. The share of state aid that's not based on need has nearly tripled in the last two decades, to 29 percent per full-time student in 2010-11. The stated rationale, of course, is that merit scholarships motivate high-school achievement and keep talented students in state. The consequence, however, is that more aid is helping kids who need it less. Merit metrics like SAT scores tend to closely correlate with family income; about 1 in 5 students from households with income over $250,000 receives merit aid from his or her school. For families making less than $30,000, it's 1 in 10. Schools don't seem to mind. After years of state-funding cuts, many recognize that wealthy students can bring in more money even after getting a discount. Raising the tuition and then offering a 25 percent scholarship to four wealthier kids who might otherwise have gone to private school generates more revenue than giving a free ride to one who truly needs it. Incidentally, enticing these students also helps boost a school's rankings. "The U.S. News rankings are based largely on the student inputs," said Donald Heller, dean of Michigan State University's College of Education. "The public universities in general, and the land grants in particular, are moving away from their historical mission to serve a broad swath of families across the state."
With their relentless pursuit of prestige and revenue, the nation's public and private four-year colleges and universities are in danger of shutting down what has long been a pathway to the middle class for low-income and working-class students. This report presents a new analysis of little-examined U.S. Department of Education data showing the "net price" -- the amount students pay after all grant aid has been exhausted -- for low-income students at thousands of individual colleges. The anal- ysis shows that hundreds of colleges expect the neediest students to pay an amount that is equal to or even more than their families' yearly earnings. As a result, these students are left with little choice but to take on heavy debt loads or engage in activi- ties that lessen their likelihood of earning their degrees, such as working full-time while enrolled or dropping out until they can afford to return.
Nearly a year after voters trounced Tom Luna's Students Come First proposals in a referendum, the state schools superintendent acknowledged he did not do enough to make the plan transparent or to involve Idahoans. "Our plan under Students Come First was a legislative plan," Luna said Monday in a meeting with the Idaho Statesman Editorial Board. "We had 105 (legislators) and one governor to convince." Voters saw it differently, and after lawmakers passed three sweeping laws that narrowed collective bargaining, instituted merit pay and would have put laptops in the hands of all Idaho high-schoolers, they knocked all three down last fall. "What I learned ... is that we should have been far more aware of a more broad discussion amongst the general public and not just focus on a strategy that would have legislative success," Luna said.
The case for market-driven reforms in education rests on two key premises: The public school system is in crisis, and the solution is to let the market pick winners and losers. Market strategies--high-stakes teacher accountability, merit pay, shuttering "failing" schools--are believed to be essential if public schools are ever going to get better. And these maxims underlie the commitment to charter schools and vouchers. Freed from the dead hand of bureaucracy and the debilitating effects of school board politics, the argument runs, schools are free to innovate. If you follow education debates, you've heard that again and again. Here's what's new: A spate of new books undercuts both propositions, simply decimating the argument for privatizing education. Since The Death and Life of the Great American School System, her 2010 best-seller, Diane Ravitch has been the most prominent critic of the market-minded reformers. Americans love apostates, and the fact that, as assistant secretary of education in the first Bush administration, Ravitch acknowledged that she had "fallen for the latest panaceas and miracle cures and drunk deeply of the elixir that promised a quick fix," has given her considerable credibility. Now she pops up everywhere, keynoting national conventions, urging on teachers at an Occupy the Department of Education rally, being profiled flatteringly in The New Yorker, deluging her supporters with emails, and sparring with ex-D.C. Schools Chancellor Michelle Rhee, the darling of the privatizers, about how to "fix" education.
James Piereson & Naomi Schaefer Riley:
For the latest evidence of the town-gown divide, look no further than New Jersey, where earlier this summer residents of Princeton banded together to sue the prestigious school in their backyard. The residents argued that Princeton University, which boasts the largest endowment per student in the country, should no longer be entitled to its tax-exempt status because the school makes money--from its scientific patents, ticketed concerts, on-campus eateries and more. The Ivy League school is operating like a business, the plaintiffs say, so the tax code should treat it like one. The conflict isn't going away. In June, a state tax court judge said the case had merit and refused the school's request to dismiss the case. Princeton officials don't seem worried: Reacting to the judge's decision, a school vice president said that he expected any adjustments to its tax bill to be "quite modest." Perhaps, but the townies still have a point. According to the lawsuit, the university took in over $115 million from patents in 2011, of which $35 million was given to various faculty members. The lawyer for the plaintiffs told the Times of Trenton that "People in Princeton pay at least one-third more in taxes because the university has been exempt all of these years." If all of the school's property were taxed, the bill would come to roughly $28 million a year, instead of the roughly $10 million the university is now contributing voluntarily to town coffers.
For a glimpse into Newark's educational politics, Newark Teacher Union President Joseph Del Grosso barely squeaked out a victory in this week's contentious battle for the top spot in the association: he won by a scant nine votes. However, his opposition - represented under a new faction called "NEW Vision" or "Newark Education Workers Caucus" - won 18 of 31 seats on NTU's Executive Board. NJ Spotlight, in recounting the story, says that this will be the "first time since his first term that Del Grosso's slate will not control the board." Del Grosso has been widely criticized by by some NTU members for agreeing to a merit pay structure in NTU's new contract and associating with Newark Superintendent Cami Anderson. Consorting with the enemy, if you will. So what does NEW Vision want? Handily, Intercepts has posted NEW Vision's "manifesto," a thoughtful and well-written strategic plan that defines this union's activism as "a movement of social justice, a "supreme act of devotion" to schoolchildren in Newark and the city's future. Part of that devotion is declaring enmity to "the privatization of public schools, the corporatization of public life, and the commodification of human life in general."
It's been an excellent state budget season for lousy voucher schools. Of course, it's been an excellent budget season for all private schools that want public financial support -- statewide expansion of vouchers, tax deductions for those who pay tuition to elementary and high schools, big jumps in state payments for each voucher student a year from now, some last-minute helpful surprises. But the lousy operators must be feeling especially good. Why? Because nothing was done to drive them to improve or stop taking state money. Come this fall, a cluster of low performing, poorly run voucher schools will still enroll thousands of kids and take millions of dollars in state money. Even the most adamant voucher supporters agree that there are schools in Milwaukee that don't merit public support. There is a large range of quality among the 110+ schools that take voucher students. Some are excellent, many are of average quality. And some really stand out when it comes to being bad. Somehow, a solution that promotes quality and responsible use of public money seems off the table in Wisconsin. I regard myself as one of the few people on Earth who has no pro or con position on vouchers. A professional obligation -- I'm neutral. But I've followed the program closely for 15 years and visited something around 100 voucher schools. I'm not neutral when it comes to quality.
Do we apply the same governance standards to all publicly funded schools?
Madison Teachers, Inc. Solidarity Newsletter (PDF), via a kind Jeannie Bettner email:
As he described it in February, 2011, Governor Scott Walker "dropped a bomb" on Wisconsin's public employees, attempting to strip them of their rights to collectively bargain. Now he's aiming at our kids. Walker's 2013 biennial budget goes a long way in his plan to crush public education in Wisconsin; a move to privatize via VOUCHERS (i.e. providing funding from the area public school to enable parents to pay tuition to send their children to private or religious schools). In its press conference on May 17, the Forward Institute released their study of the impact of school funding on educational opportunity. The study found that schools with higher poverty levels have experienced greater loss in funding when compared to more affluent schools across the state. The number of students in Wisconsin living in poverty has doubled since 2007, and since 2007 state funding of public education has fallen to its lowest level in 17 years. Walker's biennial budget proposes to further exacerbate the situation by expanding voucher schools into nine additional areas, including Madison. Expanding voucher schools will take away funding from our public schools. Not only are school districts required to pay 38.4% of the cost of each voucher; they lose the ability to count the student attending private/parochial schools in the state aid formula on which the amount of revenue is based. In Madison, a person would receive $6,442 from the MMSD to send their child to a private or parochial school. Yet Madison would receive no additional state aid to offset that cost, so payments come directly from money that would have supported education in Madison public schools. It is projected that in the first five years of vouchers, Madison schools could lose nearly $27 million to vouchers.
....
MTI has received several concerns regarding the calendar, as recently released by the District, for the 2013-14 school year. Among the demands by the District, enabled by Governor Walker's Act 10, in last year's negotiations, was that one of the Voluntary Days, August 28, be converted to a mandatory attendance "development day". It is specifically designated as "development", not "staff development". The latter is designated for August 29. Since the 1970's the Contract provided returning teachers three Voluntary Days, days for which they are paid, but did not have to be at their assigned work site. The new Contract, effective July 1, 2013, reduces that to two days. "All Staff Day" is August 30. Secondly, an agreement provides that the District has full discretion as to whether to enable Ready, Set, Goal Conferences. The agreement provides teachers compensation or flex time for engaging parents in such conferences. Because of the proposed cut in State aid under Governor Walker's Budget, MMSD may not authorize RSG Conferences this fall. They ask that teachers prepare letters inviting parents for such conferences, should funding enable them. Third, is the issue of Parent-Teacher conferences. The Contract provides that there will be two evenings for conferences and that the day following conferences will also be for conferences with no students present to enable conferences which were not held on the prior evening. The District has failed to list November 13 as being with no students, while they scheduled evening conferences on November 12. The District has proposed to MTI changing the day following each conference to be with students, and having the only "no student" day be November 27, the day before Thanksgiving.
Vouchers are not an existential threat to our local public school structure.
Long-term disastrous reading scores are
, and merit everyone's full attention.
2013-2014 Madison School Board President Ed Hughes:
The proponents of the proposed expansion of Wisconsin's private-school voucher program have run out of substantive arguments. Governor Walker's "This is about children" illustrates how vacuous their efforts at persuasion have become. When Governor Walker's budget was first announced, his initial talking points in support of his voucher expansion plan featured the claim that schools in the nine targeted school districts were failing and vouchers were necessary to provide a lifeline to students who needed help to pursue other schooling options. Neither the governor nor his supporters are pushing that argument any more. It seems that they got the point that it is not a smart move politically for the governor to go around trashing the public schools in some of the larger urban areas of the state. While proponents have claimed that students in voucher schools do better academically, the wind has gone out of the sails of that argument as well. DPI has reported that students in voucher schools in Milwaukee and Racine performed worse on the WKCE than students in the public schools in those communities. Voucher school advocates can point to data that supposedly support their view, opponents can counter with contrary figures, and at best the evidence on improved student performance is a wash. There is no reason to think that students in the nine districts targeted for voucher expansion would do any better in the private schools in their area than they would in their neighborhood public schools. No one has offered an argument to the contrary. Voucher proponents sometimes try to construct a cost-savings argument around the fact that the per-pupil amounts that voucher students would receive are less than the average per-pupil expenditures by their school districts. But this argument goes nowhere because no one is proposing that the public schools shut down as voucher schools expand. Consequently, there's really not much of a response to the observation credited to former Governor Tommy Thompson that "We can't afford two systems of education." Additionally, voucher schools have not discovered a magic bullet that allows them to educate students across the spectrum of needs more economically. Here's a telling excerpt from an op ed by the Choice Schools Association advocating for much higher voucher payments and posted on line by the right-wing MacIver Institute:
Vouchers are hardly an existential threat to the Madison School District. Rather, the
District's long term disastrous reading scores
are the essential issue, one that merits endless attention and improvement. 2005:
When all third graders read at grade level or beyond by the end of the year, the achievement gap will be closed...and not before
.
School principals should know who their best teachers are, and those top performers deserve higher pay. Jeff Charbonneau, honored last week by President Barack Obama at the White House as national teacher of the year, helps show why. Charbonneau teaches chemistry, physics, engineering and architecture at Zillah High School in Zillah, Wash. "I fight a stigma," Charbonneau wrote in his award application. "Students hear the words 'quantum mechanics' and instantly think 'too hard' and 'no way.' It is my job to convince them that they are smart enough, that they can do anything." He's succeeding. About two-thirds of juniors and seniors at the small, rural school are signing up for chemistry and physics. And nearly every student is graduating with some college credit, according to the Associated Press. Charbonneau can award college credits to his high school students because he attained adjunct faculty status with local universities, and many of his fellow teachers at Zillah now are doing the same. Zillah offers 72 classes that can lead to college credits, and 90 percent of students go on to college, an apprenticeship or the military.
Much
more, here
.
By now it's evident that leaders of the national education "reform" movement like to compare outcomes and hand out grades, whether looking at teacher pay, school test results or just trying to show how Florida is doing in comparison to Illinois. Florida education commissioner (and former basketball coach) Tony Bennett likes the concept so much he keeps an actual scoreboard in his office. As he said his first day in office, "Today, I brought out the infamous student achievement scoreboard that I kept outside my office as Indiana's State Superintendent of Public Instruction. In my new position as Florida's Commissioner of Education, I will keep the scoreboard up as a constant reminder to me and my colleagues of the importance of accountability in measuring teacher and student success."
There are plenty of reasons why it is time to ditch defined-benefit pensions (as well as the rest of traditional teacher compensation) -- and not just because of the at least $1.1 trillion in long-term deficits (including unfunded retired healthcare benefits often handled by state pension systems) that are being borne by taxpayers and the nation as a whole. One of them lies with the fact that the political power inherent in pension systems (including the ability to sway boards of publicly-held companies, as well as the role they play in picking money managers) allow for those who sit on their boards to engage in mischief that hurts markets and taxpayers alike; this includes requiring pensions to invest funds in alternative energy schemes that won't ever pan out. This is especially true when board seats are held by leaders of National Education Association and American Federation of Teachers affiliates looking for any way to defend their ever-declining influence in education policy. So your editor wasn't surprised when the national AFT released what it called a "Retirement Security Report" earlier this week targeting money managers who happen to also be among key players in the school reform movement. Among the targets: Index fund investing pioneer Dimensional Fund Advisers (because one of its cofounders -- who no longer runs the organization's day-to-day operations -- heads up Missouri's Show-Me State Institute, a key player in advancing systemic reform in the Midwest); the investment firm Gilder, Gagnon, whose cofounder is chairman emeritus of the Manhattan Institute, a longstanding critic of the AFT and education traditionalists in general; and SLX Capital, whose foundation also donated to the conservative think tank. And, of course, Eagle Capital Management, whose boss, Ravenel Boykin Curry, is on the board of Manhattan Institute as well; his son, R. Boykin Curry Jr., cofounded (with Kevin Chavous and Whitney Tilson) Democrats for Education Reform, which has helped reduce the AFT's and NEA's influence over Democratic Party politics at the national level.
HAVING a choice is generally a good thing, and being able to choose among several college acceptances should be a wonderful thing indeed. But let's face it: the cost of a college education these days ranges from expensive to obscenely expensive. So the decision is likely to be tougher and more emotional than most parents and children imagined as they weigh offers from colleges that have given real financial aid against others that are offering just loans. While some students will be able to go to college only if they receive financial aid and others have the resources to go wherever they want, most fall into a middle group that has to answer this question: Do they try to pay for a college that gave them little financial aid, even if it requires borrowing money or using up their savings, because it is perceived to be better, or do they opt for a less prestigious college that offered a merit scholarship and would require little, if any borrowing? It's not an easy decision.
WITH Republican control of state government now firmly consolidated, Mississippi is poised for wholesale education reform. In his state-of-the-state address in January, Governor Phil Bryant proposed a robust, if rather familiar, basket of reforms: expansion of the state's current (and highly restrictive) charter-school laws, merit pay for teachers, and higher standards for teacher training. More controversially, Mr Bryant proposed allowing students to enroll in schools outside of the district in which they live (so-called open enrollment), as well as privately-funded scholarships for students to attend private schools. With the exception of these last, the proposals have been enthusiastically embraced by the state legislature. The question is whether they will work. Some charter schools have proven successful and the much-touted KIPP programme has produced marked improvement in test scores for low-income children. The worst fears of sceptics (that charter schools would siphon better teachers and better prepared students away from traditional public schools; that the result would intensify economic and ethnic segregation) have not been realised. But taken as a whole, school choice has failed to produce across-the-board improvements in student learning.
Kaleem Caire, via a kind email
March 6, 2013 Dear Madison Leaders. As the 2013 Madison school board race continues, we (the Urban League) are deeply concerned about the negative politics, dishonesty and inaccurate discussions that have shaped the campaign. While I will not, as a nonprofit leader, speak about the merits of individual candidates, we are concerned about how Madison Prep has become a red herring during the debates. The question of all the candidates has been largely narrowed to, "Did you support Madison Prep or did you not?"...as if something was horribly wrong with our charter school proposal, and as though that is the most important issue facing our school children and schools. While the Urban League has no interest in partaking in the squabbles and confusion that has unfortunately come to define public conversation about our public schools, we do want to set the record straight about deliberations on Madison Prep that have been falsely expressed by many during this campaign, and used to dog individuals who supported the school proposal more than one year ago. Here is how things transpired. On May 9, 2011, Steve Goldberg of the CUNA Mutual Foundation facilitated a meeting about Madison Prep, at my request, between Madison Teacher's Incorporated President, John Matthews and me. The meeting was held in CUNA's cafeteria. We had lunch and met for about an hour. It was a cordial meeting and we each discussed the Madison Prep proposal and what it would take for the Urban League and MTI to work together. We didn't get into many details, however I was sure to inform John that our proposal of a non-instrumentality charter school (non-MTI) was not because we didn't support the union but because the collective bargaining agreement was too restrictive for the school model and design we were proposing to be fully implemented, and because we desired to recruit teachers outside the restrictions of the collective bargaining agreement. We wanted to have flexibility to aggressively recruit on an earlier timeline and have the final say on who worked in our school. The three of us met again at the Coliseum Bar on August 23, 2011, this time involving other members of our teams. We got into the specifics of negotiations regarding the Urban League's focus on establishing a non-instrumentality school and John's desire to have Madison Prep's employees be a part of MTI's collective bargaining unit. At the close of that meeting, we (Urban League) offered to have Madison Prep's teachers and guidance counselors be members of the collective bargaining unit. John said he felt we were making progress but he needed to think about not having MTI represent all of the staff that are a part of their bargaining unit. John and I also agreed that I would email him a memo outlining our desire to work with MTI, and provide the details of what we discussed. John agreed to respond after reviewing the proposal with his team. That memo, which we have not released previously, is attached [336K PDF]. You will see clearly that the Urban League initiated dialogue with MTI about having the teacher's union represent our educators. John, Steve and I met for a third time at Perkins restaurant for breakfast on the West Beltline on September 30, 2013. This time, I brought representatives of the Madison Prep and Urban League Boards with me: Dr. Gloria Ladson Billings, John Roach and Derrick Smith. It was at the close of this meeting that John Matthews told all of us that we "had a deal", that MTI and the Urban League would now work together on Madison Prep. We all shook hands and exchanged pleasantries. Our team was relieved. Later that evening, I received calls from Matt DeFour, a reporter with the Wisconsin State Journal and Susan Troller of The Capital Times. They both asked me to confirm what John had told them; that we had a deal. I replied by confirming the deal. The next day, The Capital Times ran a story, Madison Prep and MTI will work together on new charter school. The State Journal ran an article too, Prep School agrees to employ union staff. All was good, or so we thought. Unfortunately, our agreement was short-lived. The very next day after the story hit the newspapers, my team and I began receiving angry letters from social workers and psychologists in MMSD who were upset that we did not want to have those positions represented by MTI. We replied by explaining to them that our reasoning was purely driven by the fact that 99% of the Districts psychologists were white and that there were few social workers of color, too. For obvious reasons, we did not believe MMSD would have success hiring diverse staff for these positions. We desired a diverse staff for two reasons: we anticipated the majority of our students to be students of color and our social work and psychological service model was different. Madison Prep had a family-serving model where the school would pay for such services for every person in a family, if necessary, who needed it, and would make available to families and students a diverse pool of contracted psychologists that families and students could choose from. That Monday evening, October 3, 2011, John Matthews approached me with Steve Goldberg at the School Board hearing on Madison Prep and informed me that his bargaining unit was very upset and that he needed to have our Physical education teacher be represented by MTI, too. Our Phy Ed model was different; we had been working on a plan with the YMCA to implement a very innovative approach to ensuring our students were deeply engaged in health and wellness activities at school and beyond the school day. In our plan, we considered the extraordinarily high rates of obesity among young men and women of color. However, to make the deal with MTI work, that evening I gave MTI the Phy Ed teaching position. But that one request ultimately became a request by MTI for every position in our school, and a request by John Matthews to re-open negotiations, this time with a mediator. At first, we rejected this request because we felt "a deal is a deal". When you shake hands, you follow through. We only gave in after current school board president, James Howard, called me at home to request that the Urban League come back to the negotiating table. James acknowledged not feeling great about asking us to do this after all we had been through - jumping through hoop after hoop. If you followed the media closely, you would recall how many times we worked to overcome hurdles that were placed in our way - $200K worth of hurdles (that's how much we spent). After meeting with MMSD leadership and staff, we agreed to come back to the table to address issues with MTI and AFSCME, who wanted our custodial and food service workers to be represented by the union as well. When we met, the unions came to the negotiation with attorneys and so did we. If you care to find out what was said during these negotiations, you can request a transcript from Beth Lehman, the liaison to the MMSD Board of Education who was taking official notes (October 31 and November 1, 2011). On our first day of negotiations, after all sides shared their requests and concerns, we (ULGM) decided to let AFSCME represent our custodial and food service staff. AFSCME was immediately satisfied, and left the room. That's when the hardball towards us started. We then countered with a plausible proposal that MTI did not like. When we couldn't get anywhere, we agreed to go into recess. Shortly after we came back from recess, former MMSD Superintendent Dan Nerad dropped the bomb on us. He shared that if we now agreed to have our staff be represented by MTI, we would have to budget paying our teachers an average of $80,000 per year per teacher and dedicating $25,000 per teacher to benefits. This would effectively increase our proposal from $15M over five years to $28M over five years. Why the increased costs? For months, we projected in our budgets that our staff would likely average 7 years of teaching experience with a Master's degree. We used the MTI-MMSD salary schedule to set the wages in our budget, and followed MMSD and MTI's suggestions for how to budget for the extended school day and year parts of our charter school plan. Until that day, MMSD hadn't once told us that the way we were budgeting was a problem. They actually submitted several versions of budgets to the School Board, and not once raising this issue. Superintendent Nerad further informed us that MMSD was going to now submit a budget to the Board of Education that reflected costs for teachers with an average of 14 years' experience and a master's degree. When we shockingly asked Nerad if he thought the Board of Education would support such a proposal, he said they likely would not. We did not think the public would support such a unusual request either. As you can imagine, we left the negotiations very frustrated. In the 23rd hour, not only was the run we thought we had batted in taken away from us in the 9th inning, we felt like our entire season had been vacated by commissioners. When we returned to our office that afternoon, we called an emergency meeting of the Urban League and Madison Prep boards. It was in those meetings that we had to make a choice. Do we completely abandon our proposal for Madison Prep after all we had done to see the project through, and after all of the community support and interests from parents that we had received, or do we go forward with our original proposal of a non-instrumentality charter school and let the chips fall where they may with a vote by the Board? At that point, our trust of MMSD and MTI was not very high. In fact, weeks before all of this happened, we were told by Nerad in a meeting with our team and attorneys, and his staff and attorneys, that the Board of Education had voted in closed session to unilaterally withdraw our charter school planning grant from the Wisconsin Department of Public Instruction. They reversed this decision after we informed them we would file a lawsuit against them. We were later told that a certain Board member was pushing for months to have this done. Then, after months of not being able to get certain board members to meet with us, Marj Passman, decided to meet with me alone in my office. During that meeting, she told me that we (ULGM) didn't have the votes for Madison Prep and that we were never going to get the school approved. She the offered to donate her personal funds to Madison Prep, if we pulled our proposal and decided to do a private school instead. I told her that I appreciated her offer, but declined. After finally meeting with all seven board of education members, both the Madison Prep and ULGM boards decided unanimously that we must in good conscience go forward, put the needs and future of our children first, and reintroduce the non-instrumentality proposal to the School Board. You know the rest of the story. Over the next 45 days, we (ULGM) were categorically painted as an anti-union conservative outfit who proposed a flawed school model that divided Madison and threatened to join the Scott Walker effort to eliminate unions. We were made to be the great dividers (not the achievement gap itself) and me, "an Angry Black Man". Lost in the debate were the reasons we proposed the school in the first place - because so many children of color were failing in our schools and there was no effective strategy in place to address it even though the school system has known about its racial achievement gap since it was first document by researcher Naomi Lede for the National Urban League in 1965. That gap has doubled since then. Ironically, two of the people behind the attacks on ULGM were Ben Manski and TJ Mertz. They were uniquely aligned in their opposition to Madison Prep. John Matthews even weighed in on video with his comments against us, but at least he told a story that was 80% consistent with the events that actually transpired. Watch the video and listen to the reason he gave for why he didn't support Madison Prep. He didn't call us union haters or teacher bashers. He knew better. So why all the fuss now? Why have those who knew exactly what went on in these negotiations not told the true story about what really happened with Madison Prep? Why has a charter school proposal been made the scapegoat, or defining lever, in a school board race where there are so many other more important issues to address? If all it takes to win a seat on the school board now is opposition to charter schools, rather than being someone who possesses unique experiences and qualifications to serve our now majority non-white and low-income student body and increasingly challenged schools, we should all worry about the future of our children and public schools. So, for those who were unaware and those who've been misleading the public about Madison Prep and the Urban League, I hope you at least read this account all the way through and give all of the candidates in this school board election the opportunity to win or lose on their merits. Falsehoods and red herrings are not needed. They don't make our city or our school district look good to the observing eye. Let's be honest and accurate in our descriptions going forward. Thank you for reading. We continue to move forward for our children and are more determined than ever to serve them well. Onward. Strengthening the Bridge Between Education and Work Kaleem Caire President & CEO Urban League of Greater Madison Main: 608.729.1200 Assistant: 608.729.1249 Fax: 608.729.1205 www.ulgm.org www.madison-prep.org Invest in the Urban League Urban League 2012 Third Quarter Progress Report
The Memorandum from Kaleem Caire to John Matthews (Madison Teachers, Inc)
MEMORANDUM Date: August 23, 2011 To: Mr. John Matthews, Executive Director, Madison Teachers, Inc. From: Kaleem Caire, President & CEO, Urban League of Greater Madison cc: Mr. Steve Goldberg, President, CUNA Foundation; Mr. David Cagigal, Vice Chair, Urban League of Greater Madison (ULGM); Ms Laura DeRoche-Perez, Charter School Development Consultant, ULGM; Mr. David Hase, Attorney, Cooke & Frank SC Re: Discussion about potential MTl-Madison Prep Relationship Greetings John. I sincerely appreciate your openness to engaging in conversation about a possible relationship between MTI and Madison Preparatory Academy for Young Men. We, ULGM and Madison Prep, look forward to determining very soon what the possibilities could be. Please accept his memo as a means to frame the issues.

The Urban League of Greater Madison initially pursued a non-instrumentality public charter school focused on young men to, first and foremost, eliminate the academic and graduate gaps between young people of color and their white peers, to successfully prepare greater percentages of young men of color and those at-risk for higher education, to significantly reduce the incarceration rate among young adult males of color and to provide an example of success that could become a learning laboratory for educators, parents and the Greater Madison community with regard to successful ly educating young men, regardless of th eir race or socio-economic status.
We are very interested in determining how we can work with MTI while maintaining independence with regard to work rules, operations, management and leadership so that we can hire and retain the best team possible for Madison Prep, and make organizational and program decisions and modifications as necessary to meet the needs of our students, faculty, staff and parents.
MTl's collective bargaining agreement with the Madison Metropolitan School District covers many positions within the school system. We are interested in having MTI represent our teachers and guidance counselors. All other staff would not be represented by MTI.
The collective bargaining agreement between MTI and Madison Prep would be limited to employee wages and benefits. Madison Prep teachers would select a representative among them, independent of Madison Prep's leadership, to serve as their union representative to MTI.

I look forward to discussing this with you and members of our teams, and hearing what ideas you have for the relationship as well. Respectfully, Kaleem Caire, President & CEO CONFIDENTIAL
336K PDF Version
jpg version
Related Links:
Madison Preparatory Academy IB Charter School
(Rejected by a majority of the Madison School Board). Ripon Superintendent Richard Zimman on "
the very public institutions intended for student learning has become focused instead on adult employment.
".
John Matthews
,
Madison Teachers, Inc.
Kaleem Caire
,
Madison Urban League
The rejected
Studio Charter School
.
Union politics
.
2013 Madison School Board Elections
. Update:
Matthew DeFour's article on Caire's message:
Lucy Mathiak, who was on the board in 2011, also didn't dispute Caire's account of the board action, but couldn't recall exactly what happened in the board's closed sessions. "Did (the Urban League) jump through many hoops, provide multiple copies of revised proposals upon request, meet ongoing demands for new and more detailed information? Yes," Mathiak said. "It speaks volumes that Madison Prep is being used to smear and discredit candidates for the School Board and used as a litmus test of political worthiness." Matthews said the problems with Madison Prep resulted from Caire's proposal to hire nonunion staff. "What Kaleem seems to have forgotten, conveniently or otherwise, is that MTI representatives engaged in several discussions with him and several of his Board members, in attempt to reach an amicable resolution," Matthews said. "What that now has to do with the current campaign for Board of Education, I fail to see. I know of no animosity among the candidates or their campaign workers." Passman and other board members who served at the time did not return a call seeking comment.