All over the state, public executives are exercising new authority. Instead of raising teachers' salaries, the Mequon-Thiensville School District, near Milwaukee, froze them for two years, saving $560,000. It saved an additional $400,000 a year by increasing employee contributions for health care, said its superintendent, Demond Means. And it is starting a merit pay system for teachers, a move that has been opposed by some teachers and embraced by others. Ted Neitzke, school superintendent in West Bend, a city of 31,000 people north of Milwaukee, said that before Act 10 his budget-squeezed district had to cut course offerings and increase class sizes. Now, the district has raised the retirement age for teachers and revamped its health plan, saving $250,000 a year. "We couldn't negotiate or maneuver around that when there was bargaining," Mr. Neitzke said. "We've been able to shift money out of the health plan back into the classroom. We've increased programming." James R. Scott, a Walker appointee who is chairman of the Wisconsin Employment Relations Commission, which administers the law regarding public-employee unions, said that "as a result of Act 10, the advantages that labor held have been diminished." He added: "It's fair to say that employers have the upper hand now." In Oshkosh, Mark Rohloff, the city manager, says the law has saved his city $1.2 million a year, largely because employees are now paying more of their pension and health contributions. But he said state aid cuts of $2 million a year left his city with an $800,000 shortfall. Among the city's 560 city workers, union membership has fallen to 225, down from 450. The police and the firefighters, who were exempted from Act 10's restrictions on collective bargaining, make up most of the remaining union members. Mr. Rohloff said his city's police and firefighters have averaged annual raises of 2.5 percent, while the other workers had no across-the-board raises from 2010 to 2012, and received a 1 percent increase in 2013. "Some of the employees who are not represented feel they're second-class citizens compared to other employees," Mr. Rohloff said. Demoralization is the flip side of Act 10. In Oneida County in northern Wisconsin, the county supervisors jettisoned language requiring "just cause" when firing employees. Now, said Julie Allen, a computer programmer and head of the main local for Oneida County's civil servants, morale is "pretty bad" and workers are afraid to speak out about anything, even safety issues or a revised pay scale. "We don't have just cause," she said. "We don't have seniority protections. So people are pretty scared."
Much more on
Act 10, here
.
Following the general wisdom that says, "Leave well enough alone," let's not mess with the basic structure that supports the Wisconsin Technical College System (WCTS). Gov. Walker and the Republican legislature have opened the subject by proposing a property tax cut of more than $400 million through the mechanism of reducing the property tax raised annually for the technical colleges. Note, though, that this return of a projected windfall budget surplus through that channel is a one-time deal. It is not a permanent change to the tax structure that supports the 16 the colleges. Nor should it be. Funding two of our major educational institutions, K-12 and the University of Wisconsin, has been stressful to say the least over the last decade. It will be a major issue in the campaign for governor this year. The funding crunch stems from the fall-off in state tax revenues during the Great Recession and the grudging recovery. Further, Medicaid has chewed up much of the meager growth in the state's sales and income taxes. That under-managed program is crowding out many other priorities, even though the feds pay 60% of the tab.
New York City is worth watching these days as Mayor Bill de Blasio begins his new "progressive" government. His first priority seems to be a political and economic assault on charter schools. The number of charters in New York City grew by over 900% under former Mayor Michael Bloomberg and they now teach some 70,000 kids out of 1.1 million. Stanford University's Center for Research on Education Outcomes has twice found that the city's charter students do better in reading and math than their counterparts at district schools. Manhattan Institute senior fellow Stephen Eide on why forcing New York City charter schools to pay rent will impact educational outcomes. Photo credit: Associated Press. Mr. de Blasio plans to redress this inequity by handicapping charters. His Department of Education has already zeroed out $210 million in funding from its 2015-2019 capital budget for charter construction. The new mayor has also announced a moratorium on co-locations, a policy that allows charters to share facilities with district schools and provides for a more efficient use of space. Twenty-five co-locations approved last year under Mr. Bloomberg may be in jeopardy. Mr. de Blasio explains that kids in district schools may feel like they're getting an inferior education if a charter moves in next door and renovates. Charters are public schools that also raise private money, and state law requires the city to match the private funds on district schools that charters spend on upgrades to prevent a disparity. So by killing co-location Mr. de Blasio can also spend less on district schools.
It's common knowledge that the United States is miles behind other developed countries in STEM (science, technology, engineering, and math) education, and that our economy suffers from, as Bill Gates has put it, "a severe shortfall of scientists and engineers with expertise to develop the next generation of breakthroughs." And we also know that the humanities are in a downward slide, in part because they've been eclipsed by the dire need to focus on STEM. In the towers of higher education and the annals of our culture, we debate which discipline needs our hand-wringing the most. If a recent feature in the Institute of Electrical and Electronics Engineers' magazine, Spectrum, is to be believed, there's no debate to be had: "The STEM Crisis Is a Myth" advances a convincing case that the U.S. is graduating more than enough scientists and mathematicians to satisfy the demands of its workforce. If this is true, it undermines the arms-race rhetoric pouring out of universities--and, more importantly, out of the federal government--about STEM education. In a speech this April, President Barack Obama said our future depends on "lifting up these subjects for the respect that they deserve," and his proposed 2014 budget pledged another $3.1 billion to STEM schooling. If the sciences are not "in crisis," but are in fact doing just fine, it begs the question: Why are we spending so much to revive them?
Madison Metropolitan School District 2013-2014 Budget Update 2 (PDF):
The allocation formulas and processes which determine school based staffing are proving to be one of the most important aspects of our zero-based budget process. During the past two months, we have documented current practice and created a 'design team' to review and propose ways to modify staff allocation practices. These efforts are helping to build a more unified ownership of the staff allocation process and better alignment between budget processes and instructional priorities. The staff allocation process, indeed the budget development process as a whole, can be one of those invisible but rigid structures which make it hard for schools to align resources to best impact student learning. Consider the table below, which reports MMSD's actual 2013-14 allocation of teaching staff at the elementary level:
What's the best way to teach good financial habits to disadvantaged high-schoolers? Well, what about holding a game night at which teens and their parents scramble to pay hypothetical bills with make-believe dollars? Or maybe the students could stay on a college campus for two weeks where they would compete for financial security in a simulated economy. These were two of 73 ideas submitted to a Fidelity Investments competition that challenged nonprofits, think tanks and individuals to come up with an effective means of teaching low-income teenagers the financial skills they need in today's economy. Fidelity says the winning idea will be tested in a pilot program that will receive as much as $100,000 in funding plus support from Fidelity volunteers. It's no secret that many Americans are woefully ignorant of such financial basics as living within a budget and planning for retirement. For young Americans who face a challenging job market and are starting out with more debt than the previous two generations, it's a handicap that is particularly acute.
John Graham, Pat Barnes & Peter Hayes:
Over the past few years, many entities, including The Arizona Republic, along with business and education leaders, have called for significant reforms to our K-12 education system. Central to any reform effort is the development of a quality accountability infrastructure. Prominently featured in Gov. Jan Brewer's fiscal 2015 budget are resources dedicated to the ongoing development and implementation of the Arizona Education Learning and Accountability System, or AELAS, and the development of a new assessment to measure student progress under Arizona's College and Career Ready Standards. Appropriations such as these will establish the cornerstone for even greater reforms. Arizona Superintendent of Public Instruction John Huppenthal deserves much credit for highlighting the need for a strong student/school data system. He has spent countless hours educating policy makers on why better data is at the heart of education reform. Without solid measures to understand how well our districts, public and charter schools, and even individual teachers are progressing, how can we justify spending hundreds of millions of additional taxpayer dollars on the myriad of programs and funding formulas that make up the K-12 structure? The governor has requested a modest one-time state appropriation of $16.5 million, which complements prior appropriations and other funds available to the Arizona Department of Education, to complete Huppenthal's vital work.
Here's what looks like a policy dilemma. To attain the economic growth that it desperately needs, the United States must improve its schools and train a workforce capable of competing in the global economy. Economists Eric Hanushek, Dean Jamison, Eliot Jamison, and Ludger Woessmann estimate that improving student achievement by half of one standard deviation--roughly the current difference between the United States and Finland--would increase U.S. GDP growth by about a full percentage point annually. Yet states and the federal government face severe budgetary constraints these days; how are policymakers supposed to improve student achievement while reducing school funding? In reality, that task is far from impossible. The story of American education over the last three decades is one not of insufficient funds but of inefficient schools. Billions of new dollars have gone into the system, to little effect. Luckily, Americans are starting to recognize that we can improve schooling without paying an additional dime. In fact, by unleashing the power of educational choice, we might even save money while getting better results and helping the economy's long-term prospects. Over the last four decades, public education spending has increased rapidly in the United States. According to the Department of Education, public schools spent, on average, $12,922 per pupil in 2008, the most recent year for which data are available. Adjusting for inflation, that's more than double the $6,402 per student that public schools spent in 1975. Despite that doubling of funds, just about every measure of educational outcomes has remained stagnant since 1975, though some have finally begun to inch upward over the last few years. Student scores on the National Assessment of Educational Progress (NAEP)--the only consistently observed measure of student math and reading achievement over the period--have remained relatively flat since the mid-1970s. High school graduation rates haven't budged much over the last 40 years, either.
Sean Corcoran, Thomas Romer & Howard Rosenthal (PDF):
The operation and financing of primary and secondary public schools in the US is highly decentralized. Most of the budget of each of the 13,000+ school districts comes from a combination of local and state revenues. State constitutions and statutes determine the degree of local district autonomy and scope of taxing power. As part of an ongoing project on the political economy of education finance, this paper reports on some developments in school spending in one state during a time when some of the state's constitutional rules governing local school district taxing powers changed. In part, the paper provides a replication of tests of a model of bureaucratic agenda-setting in the financing of elementary and secondary public education. In that agenda-setting model, a budget-maximizing agenda setter makes a proposal for a locally funded operating levy that must be approved by a referendum. In the basic model, the referendum is modeled as an ultimatum game where the agenda setter makes a take-it-or leave-it proposal to some pivotal voter. If a majority of the electorate rejects the proposal, the levy is an exogenously specified reversion level. The optimal, budget-maximizing proposal makes the pivotal voter indifferent between the proposal and the
Mary Erpenbach (and This story was made possible by supp​ort from Madison Gas & Electric, Summit Credit Union, CUNA Mutual Foundation and Aldo Leopold Nature Center.):
Today, Caire's tone has moderated. Somewhat. "Teachers are not to blame for the problems kids bring into the classroom," he says. "But teachers have to teach the kids in front of them. And Madison teachers are not prepared to do that. Now we have two choices: Make excuses why these kids can't make it and just know that they won't. Or move beyond and see a brighter future for kids." Many parents back him up. And many parents of students of color say that their experience with Madison's public schools--both as students here, themselves, and now as parents--is simply much different and much worse than what they see white students and parents experiencing. "I just always felt like I was on as a parent, like every time I walked through the door of that school I would have to go to bat for my son," says Sabrina Madison, mother of a West High graduate who is now a freshman at UW-Milwaukee. "Do you know how many times I was asked if I wanted to apply for this [assistance] program or that program? I would always say, 'No, we're good.' And at the same time, there is not the same ACT prep or things like that for my child. I was never asked 'Is your son prepared for college?' I never had that conversation with his guidance counselor." Hedi Rudd, whose two daughters graduated from East and son from West, says it has been her experience that the schools are informally segregated by assistance programs and that students of color are more likely to be treated with disrespect by school personnel. "Walk into the cafeteria and you'll see the kids [of color] getting free food and the white students eating in the hall. I walked into the school office one day," she recalls. "I look young and the secretary thought I was a student. She yelled, 'What are you doing here?' I just looked at her and said, 'Do you talk to your students like that?'" Dawn Crim, the mother of a daughter in elementary school and a son in middle school, says lowered expectations for students of color regardless of family income is an ongoing problem. "When we moved to Madison in 1996, we heard that MMSD was a great school district ... and for the most part it has been good for our kids and family: strong teachers, good administrators, a supportive learning environment, and we've been able to be very involved." But? "Regarding lower expectations for kids of color, not just disadvantaged kids, we, too, have experienced the lower expectations for our kids; overall there is a feeling and a sense of lower expectations," Crim says. "And that should not come into play. All of our kids should be respected, pushed, have high expectations and should get the best education this district says it gives." In the meantime, the school district has been running programs in partnership with the Urban League of Greater Madison, UW-Madison, United Way of Dane County, the Boys and Girls Club of Dane County, and other organizations--all designed to lift scholastic achievement, close the gap, and get more kids graduated and on to college. The Advancement Via Individual Determination program known as AVID (or AVID/TOPS, when coordinated with the Teens Of Promise program) is run by the district and the Boys and Girls Club here, and is a standout in a slew of public/private efforts to change the fate of students of color in Madison. ..... At the end of the last school year, a total of four hundred forty-two students did not graduate on time from high school in Madison. One hundred nine were white, eighty-six were Hispanic, thirty-three were Asian and one hundred ninety-one were African American. If the graduation rate for African American students had been comparable to the eighty-eight percent graduation rate of white students, one hundred forty more African American students would have graduated from Madison high schools. But they did not. While it's true that the district actively searches out students who did not graduate on time, and works with them so that as many as possible do ultimately graduate, the black-and-white dividing line of fifty-five/eighty-eight remains for now the achievement gap's stark, frightening, final face. What can be said is that many more Madisonians are paying attention to it, and many people in a position to make a difference are doing their level best to do something about it. ...... "One of the reasons we haven't been as successful as we could be is because we've lacked focus and jumped from initiative to initiative," she (Cheatham) says of the Madison schools.
Related:
notes and links on Mary Erpanbach
,
Jennifer Cheatham
and Madison's
long term disastrous reading scores
. Background articles:
Notes and links on the rejected Madison Preparatory IB Charter School
.
When all third graders read at grade level or beyond by the end of the year, the achievement gap will be closed...and not before (2005)
. Notes and Links on the
Madison K-12 Climate and Superintendent Hires Since 1992
.
My Life and Times With the Madison Public Schools
Latest Madison Schools' 2013-2014 $391,834,829 Budget
.
Stephanie Simon, with help from Caitlin Emma and Libby Nelson
CEOs DEBATE THE ROLE OF PROFIT IN EDUCATION: Top executives from Microsoft, Pearson, Discovery Education, Intel and other firms will gather in Davos, Switzerland today for a roundtable on education during the World Economic Forum. Joined by academics from Harvard and Stanford, the group will mull the risks and benefits of making a profit motive more central to education; swap tips on connecting corporations, schools and governments; and consider how to ensure that ed tech products rise or fall based on their impact in the classroom, not just their marketing budgets. -- The discussion will focus on the concept of "shared value," which posits that companies can address social problems -- and, not incidentally, boost profits -- by intervening in K-12 and higher education. For example, Intel has sent anthropologists into schools to observe students using technology, in hopes of developing new products that drive up both sales and academic achievement. A report outlines other case studies: http://politico.pro/1aPtXpF
The board is being asked to approve the Tech Plan before it sets out the district's annual budget later in the year, which Cheatham said will allow district administration "to move confidently toward implementation planning." "We're confident we can fund major priorities of our district, as outlined in our strategic plan, through our zero-based budgeting process while also funding the Tech Plan, which undergirds those priorities," she said. "We don't believe we will be having to make major trade-offs." The zero-based budget process - new for MMSD - starts from scratch, allowing evaluation of all spending. "We will need to make tough decisions about work we will no longer fund that is not tightly aligned with those priorities," Cheatham said. What those might be, Cheatham said she can't yet say.
As I go around the country talking to different groups about my book on how to make public higher education free, I continue to encounter student debt horror stories, but there is perhaps no story more horrible than the recent Congressional Budget Office report on how the federal government raked in over $50 billion last year in profits from student loans. It turns out that after the feds took over the destructive private loan industry, the result was not to give students the best deal possible, but to cash in on the fact that the government can borrow money at virtually no interest and lend it to students at a much higher rate (of course the government profits go up much higher when students default or are penalized for late payments). In fact, the average student loan defaulter pays a penalty of over 100% of the principal, and the federal government is very good at collecting these debts. Although I do not think it was the intention of the Obama administration to turn indebted students into cash cows, a systemic analysis tells us that the federal government is profiting from the state reduction of funding for public higher education, which in turn has helped to cause the increase in student tuition at public institutions, which increases student debt, and at the same time, increases in the number of students going to high-cost, low-performing for-profit colleges.
In the last month of 2013 we were treated to two celebrations of the enduring public character of UC Berkeley. Not surprisingly Frederick Wiseman's documentary 'At Berkeley', with its portrayal of Cal's senior managers battling against the twin forces of a dis-investing state and a student movement resisting tuition hikes, got all the attention. Yet of arguably greater significance was an article by UC Berkeley's Executive Vice Chancellor and Provost, George Breslauer, that outlined the new common sense and guiding philosophy of Berkeley's senior management at that time and perhaps still now. Wiseman and Breslauer are fiercely critical of a political culture that has enabled the state to disinvest from higher education. According to Breslauer, even after the passage of Proposition 30 state funds now account for just 14% of Berkeley's total budget, down from 30% in 1999 and 70% in 1971. Although, if one includes 'restricted' monies from federal and local government about 40% of Berkeley's revenue comes from public sources, the withdrawal of state funding has indeed been calamitous. Despite this Breslauer's polemic is that Berkeley is now more of a public university than it used to be in the fabled Master Plan era. Breslauer's contention is that UC Berkeley serves California more effectively now: our student population is more representative of its population, while our graduates contribute more to public service and the state's economic growth than ever before. He lacks historical data to substantiate any of these claims. It is not even clear what metrics could be used to establish that Cal graduates, or the research conducted at Berkeley, contribute more to the state's economy and public service than Stanford.
I'm glad to see the apparent focus on doing a few things well. This is the only way forward given the District's disastrous reading results. That said, I was disappointed when the new Superintendent largely continued the "same service" budget approach
during the 2013-2014 financial discussions
. The District's 2x per student spending (above the national average) has supported numerous initiatives, likely preventing a focus on those that are truly meaningful for our students. For example,
Kerry Motoviloff noted that Madison Schools Administration has "introduced more than 18 programs and initiatives for elementary teachers since 2009"
.
Steven Sinofsky's latest
is also worth reading in this context.
A proposal to allow special-needs students to attend private schools at taxpayer expense is being revived, the latest effort by Republicans in the Legislature to give parents more options outside traditional public schools. The proposal is a revamped version of a measure that failed in Gov. Scott Walker's 2013-'15 budget. That measure would have allowed 5% of students with disabilities to attend schools outside their home districts with the help of a taxpayer-funded voucher. As part of a broader compromise, the portion on students with disabilities was dropped in favor of a limited expansion of private school vouchers statewide. The revived Wisconsin Special Needs Scholarship bill is scheduled to be introduced Tuesday by State Sens. Leah Vukmir (R-Wauwatosa) and Alberta Darling (R-River Hills), and Reps. John Jagler (R-Watertown) and Dean Knudson (R-Hudson). The primary concern of those who oppose special-needs vouchers is that private schools are not obligated to follow federal disability laws. They point to examples in other states where -- in their eyes -- underqualified operators have declared themselves experts, opened schools and started tapping taxpayer money.
All students in the Madison School District would have their own tablets or notebook computers by the 2018-19 school year under a five-year, $31 million plan proposed by Superintendent Jennifer Cheatham. If approved, the plan would increase the district's current $1.5 million annual technology budget to $4.2 million in the 2014-15 school year to start upgrading the district's network infrastructure, upgrade or equip classrooms and libraries with new technology or computers, and provide notebook computers to all district teachers and administrators. Elementary teachers also would get tablet computers under the plan. Costs to upgrade are projected to increase each of the five years of the plan for a total of $31 million spent in that time. Afterward, the annual budget for technology would be about $7 million per year going forward. ..... Madison School Board members, who formally received the plan at their meeting Monday, were mostly optimistic about the plan. Board member T.J. Mertz questioned whether the program needed to be as extensive as it's proposed given what he said were other unmet needs in the district and given research that he called "universally disappointing" surrounding such initiatives. Mertz said in an interview after Monday's board meeting that he agrees with the majority of the investments in technology under the plan, "but then there's a third or a quarter where I think it's going overboard." As an example, Mertz said he questions whether every kindergarten student needs their own tablet computer.
Prior to spending any additional taxpayer funds on new initiatives, I suggest that the District consider (and address) the status of past expensive initiatives, including:
Infinite Campus
: is it fully implemented? If not, why? Why continue to spend money on it? "
Standards based report cards
".
Connected Math
.
Small Learning Communities.
And of course, job number one, the
District's long term disastrous reading scores
. Madison already spends double the national average per student ($15k). Thinning out initiatives and refocusing current spending on reading would seem to be far more pressing than more hardware.
D.G. Myers:Tomorrow I will step into a classroom to begin the last semester of a 24-year teaching career. Don't get me wrong. I am not retiring. I am not "burned out." The truth is rather more banal. Ohio State University will not be renewing my three-year contract when it expires in the spring. The problem is tenure: with another three-year contract, tenure becomes an option. In an era of tight budgets, there is neither money nor place for a 61-year-old white male professor who has never really fit in nor tried very hard to. (Leave aside my heterodox politics and hard-to-credit publication record.) My feelings are like glue that will not set. The pieces fall apart in my hands. This...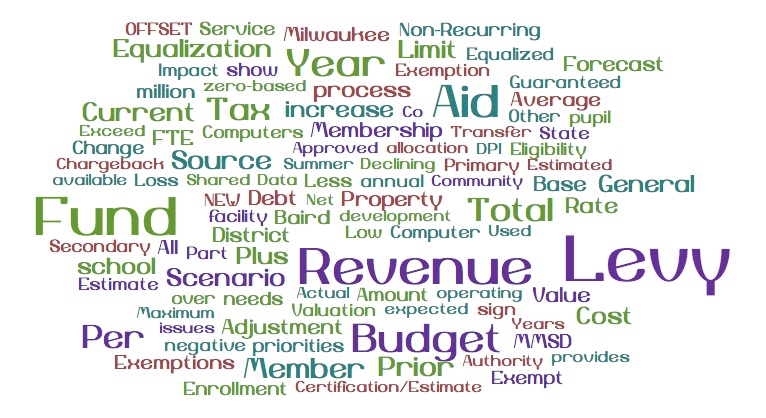 Madison School District (PDF):
This budget forecast and those that will follow are intended to keep the board informed as the budget development process unfolds. The forecasts also provide an opportunity for board discussion and input into important budget development issues. MMSD's Strategic Framework establishes the direction of the school district. The framework is supported by the annual budget, which is simply the resource strategy behind the Strategic Framework. The budget process begins with a thorough review of district priorities, current spending patterns, and outcomes. The zero- based budget process requires a critical examination of all budget practices and how those practices influence resource deployment. Based upon our budget work thus far, we believe there are opportunities to make the staffing process more responsive to individual school needs, to shift non- personnel resources from central office budgets to school budgets, and to improve budget accuracy by clarifying and simplifying account structures. We're excited to explore these and other opportunities throughout the 2014-15 budget process. Zero-based Approach to Budget Development: A zero-based approach is being used to develop the expenditure budget. Unlike an 'historical cost' budget or a 'cost to continue' budget, the zero-based process is intended to go beyond marginal refinements of existing budgets and existing structures. For example, MMSD has used essentially the same staffing allocation process for over ten years under the 'cost to continue' approach, with only minor modifications along the way. While the existing allocation process is uniform and consistent, it can be improved by making it more responsive to the challenges presented by individual schools. The senior leadership team, with input from the principals, is assessing the staffing allocation process this month before any allocation decisions are put into motion in February. The existing staff allocation process consists of a series of departmental layers, with separate staffing allocations for regular education, special education, Title 1, OMGE, pupil services, PBS, etc. We are hopeful that a more integrated and responsive staffing allocation process, beginning this year and refined continuously in subsequent years, will produce a more tailored fit for each school. The zero-based approach is designed to uncover such opportunities. The zero-based process also includes in-depth reviews of each central office department. We are particularly interested in identifying inter-departmental overlaps, gaps, and even redundancies. We are optimistic that this effort will produce new efficiencies and help push resources from the district office into the schools. Strategic Priorities Drive the Budget: The resource decisions contained in the annual budget are subject to continuous review, either directly through the zero-based budget process, or indirectly through the SIP process, district surveys, targeted studies (such as the Principal Pipeline study [PDF] and High School Reform study), and several active advisory committees. These are the sources which inform the budget development process. The Strategic Framework identifies five key priorities which are aimed at providing schools with the tools, processes and resources they need to serve children and their families better than ever before. The five priorities are: (1) Coherent Instruction, (2) Personalized Pathways, (3) Family and Community Engagement, (4) A Thriving Workforce, and (5) Accountability at All Levels. Each of the priorities in the Strategic Framework includes a set of high-leverage actions that have cost implications. A preview of some of the major actions with cost implications, organized by Priority Area, will be developed and refined throughout the budget development process. A preview of the major actions will be presented to the Operations Work Group along with this Budget Forecast.
The word cloud is interesting, particularly in light of the District's job number one,
addressing its long term disastrous reading results
. Related: numerous links on the
District's 2013-2014 budget, here
. Madison spends about twice the national average per student ($15k).
Okay, maybe he's no shrinking violet, but it's worth taking note that almost exactly two years ago today Christie signed A-4394/S-3148, a law that gives school districts the right to bypass school budget votes if they move school board member elections to November. After years of dissent from the New Jersey Education Association and the NJ School Boards Association, the bill, mostly sponsored by Democrats in the Statehouse, passed quietly, forever changing the dynamics of school board politics and fiscal strategy. Final vote tallies were 34-3 in the Senate and 62-11 in the Assembly. Wait: you mean school board elections used to be in April?