Harvard University Pennants A waning number of high school graduates from the Midwest is sparking a college hunt for freshman applicants, with the decline being felt as far away as Harvard and Emory universities. The drop is the leading edge of a demographic change that is likely to ease competition for slots at selective schools and is already prompting concern among Midwestern colleges. "You can't create 18-year-olds in a lab," said Brian Prescott, director of policy research at the Western Interstate Commission for Higher Education in Boulder, Colorado. "Enrollment managers are facing an awful lot of pressure that they can't do much about." Nationally, the high school Class of 2012 ushered in a first wave of declines in the number of graduates, according to a report by the commission. The trend will worsen after 2025, when admissions officers face the impact of a drop in births that began with the 2007 recession. Over the next two decades, the biggest drain in graduates will be in the Midwest and Northeast. The demographic shifts are compounded by economic factors as the cost of higher education continues to rise.
Students in Shanghai have the highest results in international Pisa tests. But what is the state of education for China's rural poor, far away from the showcase cities? Andreas Schleicher, who runs the Pisa tests, went to find out. About 1,900 miles south west of Shanghai is Qiao Tou Lian He elementary school. It's an hour's drive from the town of Tengchong, which might seem a small distance in comparison, but most of the school's children have never made it to Tengchong. Providing an education for children in such sparsely-populated rural areas is one of China's major challenges. While the economic and social development of these rural regions has been remarkable, China's coastal cities are racing ahead at an even faster pace.
Last week's vote by workers at Volkswagen's Chattanooga, Tenn. plant against joining the United Auto Workers union -- despite VW's tacit encouragement -- points up the challenges faced by U.S. organized labor. Even though unions retain much public support, the share of American workers who actually belong to one has been falling for decades and is at its lowest level since the Great Depression. In a Pew Research Center survey conducted in June 2013, about half (51%) of Americans said they had favorable opinions of labor unions, versus 42% who said they had unfavorable opinions about them. That was the highest favorability rating since 2007, though still below the 63% who said they were favorably disposed toward unions in 2001. In a separate 2012 survey, 64% of Americans agreed that unions were necessary to protect working people (though 57% also agreed that unions had "too much power"). As of last year, however, only 11.3% of wage and salary workers belonged to unions, down from 20.1% in 1983, according to the Bureau of Labor Statistics. (At their peak in 1954, 34.8% of all U.S. wage and salary workers belonged to unions, according to the Congressional Research Service.) While the unionization rate among public-sector workers has held fairly steady over that 30-year span (just over a third of government workers are unionized), it's plummeted in the private sector -- from 16.8% in 1983 to 6.7% three decades later. The reasons for that decline are many and heatedly debated -- from the impact of globalization on U.S. manufacturing to intense hostility from businesses to unions' relative lack of success in organizing service- and information-industry workers.
Related:
"Anonymous" On The Battle Of Chattanooga
.
Gabriel Sahlgren and Julian Le Grand:
Put a child of a cleaner from Shanghai or Singapore up against a scion of the western elite in a standardised test and guess who will come out top? According to the latest research, the western kids will trail their Asian counterparts by the equivalent of a whole school year. This prompted another bout of anxiety of a kind that has become increasingly common since 2001, when the global Pisa survey of educational attainment was first published. Parents once drew comfort from steady improvements in school-leaving grades in places such as the UK. Confronted with evidence of how their children's accomplishments compared to those of students in faraway places, many westerners have taken fright. Next week Elizabeth Truss, a British education minister, will lead a fact-finding mission to Shanghai to try to find out what the schools there are doing right. Yet in their rush to copy the winning formula of high-performing countries in east Asia, politicians risk drawing the wrong conclusions. Schools in Shanghai are very different from those in Ms Truss's constituency in southwest Norfolk. But not all of those differences play a role in Shanghai's superior performance. Some are irrelevant. Some may even be harmful. And some will be idiosyncratic features of the school she happens to visit, rather than representative of the system. It is easy to point out how a good school differs from a bad one, and conclude that you have found the secret to high achievement - but it is also lazy, unscientific and wrong.
Although scores on Gallup's Economic Confidence Index improved in most U.S. states in 2013, the index remained negative in all 50. Only the District of Columbia had a positive index. Indexes were least negative in Massachusetts, Minnesota, and California. They were most negative in West Virginia, followed by Alaska.
In the United States, our media are not allowed to report on or discuss exemplary student academic achievement at the high school level. For example, in the "Athens of America," The Boston Globe has more than 150 full pages each year on the accomplishments of high school athletes, but only one page a year on academics--a full page with the photographs of valedictorians at the public high schools in the city, giving their name, their school, their country of origin (often 40% foreign-born) and the college they will be going to. The reasons for this media blackout on good academic work by students at the secondary level are not clear, apart from tradition, but while high school athletes who "sign with" a particular college are celebrated in the local paper, and even on televised national high school games, the names of Intel Science Talent Search winners, of authors published in The Concord Review, and of other accomplished high school scholars may not appear in the paper or on television. Publicity offers encouragement for the sorts of efforts we would like our HS students to make. We naturally publicize high school athletic achievements and this helps to motivate athletes to engage in sports. By contrast, when it comes to good academic work, we don't mention it, so perhaps we want less of it? One senior high school history teacher has written that "We actually hide academic excellence from the public eye because that will single out some students and make others 'feel bad.'" Does revealing excellence by high school athletes make some other athletes or scholar-athletes or high school scholars feel bad? How can we tolerate that? I know there are some Progressive secondary schools which have eliminated academic prizes and honors, to spare the feelings of the students who don't get them, but I don't see that they have stopped keeping score in school games, no matter how the losers in those contests may feel. SAMPLE MEDIA COVERAGE OF HS ATHLETES Atlanta Journal-Constitution's Signing Day Central--By Michael Carvell 11:02 am Wednesday, February 5th, 2014 "Welcome to the AJC's Signing day Day Central. This is the place to be to catch up with all the recruiting information with UGA, Georgia Tech and recruits from the state of Georgia. We will update the news as it happens, and interact on the message board below. University of Georgia's TOP TARGETS FOR WEDNESDAY...AND RESULTS Lorenzo Carter, DE, 6-5, 240, Norcross: UGA reeled in the big fish, landing the state's No.1 overall prospect for the first time since 2011 (Josh Harvey-Clemons). Isaiah McKenzie, WR, 5-8, 175, Ft. Lauderdale (Fla.) American Heritage: This was one of two big surprises for UGA to kick off signing day. McKenzie got a last-minute offer from UGA and picked the Bulldogs because of his best buddy and high school teammate, 5-star Sony Michel (signed with UGA). Hunter Atkinson, TE, 6-6, 250, West Hall: The Cincinnati commit got a last-minute call from Mark Richt and flipped to UGA. I'm not going to say we saw it coming, but ... Atkinson had grayshirt offers from Alabama, Auburn and UCF. Tavon Ross, S, 6-1, 200, Bleckley County: The Missouri commit took an official visit to UGA but decided to stick with Missouri. He's signed. Andrew Williams, DE, 6-4, 247, ECLA: He signed with Auburn over Clemson and Auburn. He joked with Auburn's Gus Malzahn when he called with the news, saying "I'm sorry to inform you..... That I will be attending your school," according to 247sports.com's Kipp Adams. Tyre McCants, WR-DB, 5-11, 200, Niceville, Fla.: Turned down late interest from UGA to sign with USF." This is just the tip of the proverbial iceberg, of course, in the coverage of high school athletes that goes on during the year. I hope readers will email me any comparable examples of the celebration of exemplary high school academic work that they can find in the media in their community, or in the nation generally.
This disturbing article about a rich neighborhood of Baton Rouge, La., that wants to secede so it won't have to share school funding with poorer neighborhoods reminds me of one of my great frustrations with the K-12 education policy debate--the terminology of "public schools." The way the word is used a school is "public" if it is owned by a government entity and thus part of the public sector. But a public school is by no means a school that's open to the public in the sense that anyone can go there. Here in the District of Columbia anyone who wants to wander into a public park is free to do so (that's what makes it public) but to send your kid to a good "public" elementary school in Ward 3 you have to live there. And thanks to exclusionary zoning, in practice if you want to live in Ward 3 you have to be rich. It wouldn't be legal to respond to the very high price of land in the area by building homes on small lots, or building tall buildings full of small affordable apartments. Since D.C. doesn't have Louisiana's political culture, Ward 3 generally doesn't have a problem with its tax dollars subsidizing the schools in Wards 5, 7, and 8, but if you proposed randomly assigning students to schools to produce integrated instructional environments, you'd have an epic battle on your hands.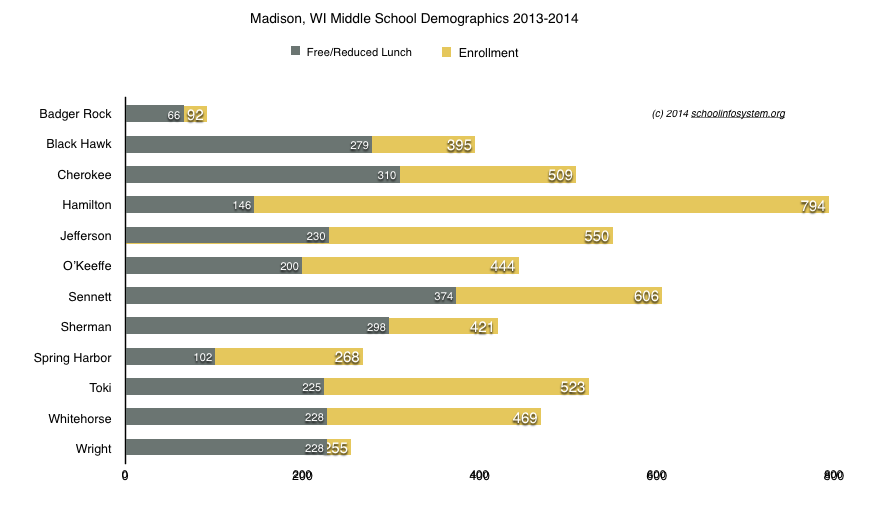 Madison has long supported a wide variation in school demographics. The chart above, created from
2013-2014 Madison School District middle school demographic data
, illustrates the present reality, with the largest middle school - near west side Hamilton - also featuring the smallest percentage low income population.
Mary Erpenbach (and This story was made possible by supp​ort from Madison Gas & Electric, Summit Credit Union, CUNA Mutual Foundation and Aldo Leopold Nature Center.):
Today, Caire's tone has moderated. Somewhat. "Teachers are not to blame for the problems kids bring into the classroom," he says. "But teachers have to teach the kids in front of them. And Madison teachers are not prepared to do that. Now we have two choices: Make excuses why these kids can't make it and just know that they won't. Or move beyond and see a brighter future for kids." Many parents back him up. And many parents of students of color say that their experience with Madison's public schools--both as students here, themselves, and now as parents--is simply much different and much worse than what they see white students and parents experiencing. "I just always felt like I was on as a parent, like every time I walked through the door of that school I would have to go to bat for my son," says Sabrina Madison, mother of a West High graduate who is now a freshman at UW-Milwaukee. "Do you know how many times I was asked if I wanted to apply for this [assistance] program or that program? I would always say, 'No, we're good.' And at the same time, there is not the same ACT prep or things like that for my child. I was never asked 'Is your son prepared for college?' I never had that conversation with his guidance counselor." Hedi Rudd, whose two daughters graduated from East and son from West, says it has been her experience that the schools are informally segregated by assistance programs and that students of color are more likely to be treated with disrespect by school personnel. "Walk into the cafeteria and you'll see the kids [of color] getting free food and the white students eating in the hall. I walked into the school office one day," she recalls. "I look young and the secretary thought I was a student. She yelled, 'What are you doing here?' I just looked at her and said, 'Do you talk to your students like that?'" Dawn Crim, the mother of a daughter in elementary school and a son in middle school, says lowered expectations for students of color regardless of family income is an ongoing problem. "When we moved to Madison in 1996, we heard that MMSD was a great school district ... and for the most part it has been good for our kids and family: strong teachers, good administrators, a supportive learning environment, and we've been able to be very involved." But? "Regarding lower expectations for kids of color, not just disadvantaged kids, we, too, have experienced the lower expectations for our kids; overall there is a feeling and a sense of lower expectations," Crim says. "And that should not come into play. All of our kids should be respected, pushed, have high expectations and should get the best education this district says it gives." In the meantime, the school district has been running programs in partnership with the Urban League of Greater Madison, UW-Madison, United Way of Dane County, the Boys and Girls Club of Dane County, and other organizations--all designed to lift scholastic achievement, close the gap, and get more kids graduated and on to college. The Advancement Via Individual Determination program known as AVID (or AVID/TOPS, when coordinated with the Teens Of Promise program) is run by the district and the Boys and Girls Club here, and is a standout in a slew of public/private efforts to change the fate of students of color in Madison. ..... At the end of the last school year, a total of four hundred forty-two students did not graduate on time from high school in Madison. One hundred nine were white, eighty-six were Hispanic, thirty-three were Asian and one hundred ninety-one were African American. If the graduation rate for African American students had been comparable to the eighty-eight percent graduation rate of white students, one hundred forty more African American students would have graduated from Madison high schools. But they did not. While it's true that the district actively searches out students who did not graduate on time, and works with them so that as many as possible do ultimately graduate, the black-and-white dividing line of fifty-five/eighty-eight remains for now the achievement gap's stark, frightening, final face. What can be said is that many more Madisonians are paying attention to it, and many people in a position to make a difference are doing their level best to do something about it. ...... "One of the reasons we haven't been as successful as we could be is because we've lacked focus and jumped from initiative to initiative," she (Cheatham) says of the Madison schools.
Related:
notes and links on Mary Erpanbach
,
Jennifer Cheatham
and Madison's
long term disastrous reading scores
. Background articles:
Notes and links on the rejected Madison Preparatory IB Charter School
.
When all third graders read at grade level or beyond by the end of the year, the achievement gap will be closed...and not before (2005)
. Notes and Links on the
Madison K-12 Climate and Superintendent Hires Since 1992
.
My Life and Times With the Madison Public Schools
Latest Madison Schools' 2013-2014 $391,834,829 Budget
.
It is no surprise, given the stakes, that education reform is now one of the major battles in American politics. Particularly at the municipal and state levels--from Washington, D.C. to Boston to Chicago--it has created upheaval not only in schools, but also in elections, as Democrats and unions have parted ways and new pressure groups have emerged to funnel cash toward candidates who espouse the reform movement's vision. All of this leaves Diane Ravitch, a historian and assistant secretary of education under Presidents George H. W. Bush and Bill Clinton, troubled. In her new book Reign of Error, she mounts a well-documented and generally compelling case against the agenda of the "corporate school reform movement" of the last twenty-five years. She takes on its advocacy of testing and accountability as a means of raising the quality of low-performing schools; its promotion of for-profit, nonprofit, and cyber charter schools; its urge to replace professional educators with inexperienced college graduates and swap school board members, superintendents, and principals for corporate executives. These are familiar complaints. Ravitch's particular contribution is to unpack the philosophical assumptions guiding the reform movement. Reformers' goals--higher test scores for all students and a reduced gap in achievement between affluent and poor, white and nonwhite--seem admirable. But Ravitch argues that their achievement comes at the cost of replacing both the ideal and the experience of education as a public good--provided by publicly financed, publicly controlled institutions that aspire to educate future citizens for their public responsibilities and adult lives--with an understanding of education as a private commodity chosen by parents. This commodity, like others, would be produced by rival corporations motivated by profit. Corporations would seek to educate not for the responsibilities of citizenship but for success in competitive markets. The philosophical and ideological commitment to the corporate over the public, Ravitch contends, threatens real damage not only to the education of mostly low-income children, but, more broadly, to our republic and the social compact and civil society on which it rests.
The western world watches China's rise as a formidable world-power with a mixture of awe and apprehension. Sci-fi films depict a futuristic world where Baidu.com is the new Google and Mcdonalds has been replaced by Grandma Wang's Dumpling Emporium. And yet again Shanghai is number one on the Programme for International Student Assessment's (Pisa) 2012 ranking list of international education, and the US is once again at a low rank, this time 36th place. The US is desperate, and naturally the Chinese educational system seems like an answer. But let me tell you - this is not the case. I know; for two years I attended a local Shanghainese high school and this is the truth: they are terrible. The biggest problem with Chinese education? It's medieval. Shanghainese education is just like the stories my grandmother tells about high school in the 1940's. Footage of military parades in Fascist Italy share an unnerving resemblance to the morning assemblies from my school in Shanghai. Chinese education would be a poison for America, not a remedy. The problem is that there are too many Chinese students. Shanghainese classrooms have about 40 students and in the countryside classes have over 60. The most efficient way to organize all these children is by testing, categorizing and grading them - Chinese education is essentially elitist. Students that excel in school are rewarded with prizes and encouragement, but struggling students are abandoned. I once served as a translator for the principal of my school when seven Swedish principals came to visit Shanghai. The Swedes asked what the school did for students with "special needs" and the principal answered:
Kimberly Hefling:The GED test, for decades the brand name for the high school equivalency exam, is about to undergo some changes. On Thursday, an upgraded GED exam and two new competing equivalency tests offered in several states will usher in a new era in adult education testing. The GED (General Educational Development) exam was created in 1942 to help World War II veterans who dropped out of high school use college benefits offered under the GI Bill. This will be its first face-lift in more than a decade. The revamped test is intended to be more rigorous and better aligned with the skills needed for college and today's workplaces. The new test will only be offered on a computer, and...
In 1973, my high school, Acton-Boxborough Regional, in Acton, Massachusetts, moved to a sprawling brick building at the foot of a hill. Inspired by architectural trends of the preceding decade, the classrooms in one of its wings didn't have doors. The rooms opened up directly onto the hallway, and tidbits about the French Revolution, say, or Benjamin Franklin's breakfast, would drift from one classroom to another. Distracting at best and frustrating at worst, wide-open classrooms went, for the most part, the way of other ill-considered architectural fads of the time, like concrete domes. (Following an eighty-million-dollar renovation and expansion, in 2005, none of the new wings at A.B.R.H.S. have open classrooms.) Yet the workplace counterpart of the open classroom, the open office, flourishes: some seventy per cent of all offices now have an open floor plan. The open office was originally conceived by a team from Hamburg, Germany, in the nineteen-fifties, to facilitate communication and idea flow. But a growing body of evidence suggests that the open office undermines the very things that it was designed to achieve. In June, 1997, a large oil and gas company in western Canada asked a group of psychologists at the University of Calgary to monitor workers as they transitioned from a traditional office arrangement to an open one. The psychologists assessed the employees' satisfaction with their surroundings, as well as their stress level, job performance, and interpersonal relationships before the transition, four weeks after the transition, and, finally, six months afterward. The employees suffered according to every measure: the new space was disruptive, stressful, and cumbersome, and, instead of feeling closer, coworkers felt distant, dissatisfied, and resentful. Productivity fell.
Madison's Thoreau Elementary School was originally built with "
open classrooms
".
A week ago I published my list of top ten stories--highs and lows--in higher education in 2013. I was generously rewarded when Powerline picked it as #2 in its list of top ten top lists. But there are still some minutes left in the season of top ten lists, which ought to extend to January 6, the traditional date of Epiphany. Then we have the (lower case) epiphany that it is time to get on with things. My new list is mainly about people who did something original, creative, noteworthy, or surprising in 2013 whose accomplishments deserve a little more attention. I set out to list only positive accomplishments, but unfortunately a few infamies sneaked in. What follows are the top ten best surprises: the gifts you didn't know you wanted until you unwrapped the package. First up: 1. Thug Notes. This YouTube site debuted in June, with Sparky Sweets, Ph.D. explicating Dostoyevsky's Crime and Punishment. Since then, Dr. Sweets has offered his taut plot summaries and explications de texte for Hamlet, The Great Gatsby, Pride and Prejudice, The Sun Also Rises, The Inferno, Heart of Darkness, Moby Dick, and many more canonical works of literature. The intro to each piece is a pastiche of Masterpiece Theater, the camera scanning across a shelf of beautifully bound volumes accompanied by Bach's Brandenburg Concerto 3, then cutting to a book-lined study in which Dr. Sweets sits in a comfortable chair, in gold-chained muscle shirt and do-rag, announcing this week's selection. "What's happening, yo? This week on Thug Notes we get regal with Hamlet by William Shakespeare." This could have been a one-off parody, hitting the two birds of pretentious British TV and mass-marketed cheat sheets with one gangsta, but Dr. Sweets has developed the idea further. His wordplay (Hamlet serves up "Elizabethan hater-ade") is smart and his rapid-fire analyses delivered in character as a street-smart thug really are smart. The series has conferred minor celebrity on Dr. Sweets. He takes what he does seriously, telling one interviewer that he created Thug Notes because "literature is enshrouded by a veil of unnecessarily pedantic terminology and intellectual one-upmanship," and that his calling is to bring it to "people on the opposite side of the social stratum." Dr. Sweets holds that "the gift of literature is universal." 2. Leaked! Harvard's Grading Rubric. A+++ to Nathaniel Stein, who published this satire of Harvard's grade inflation in The New York Times. Presented as a memorandum from the Dean of Harvard College, Leaked! purports to explain the criteria that qualify a term paper for an A+, including the stipulation that the "The paper contains few, if any, death threats." Grades of A++ or A+++ are designated "A+ with garlands." 3. Farewell. College presidents come and go and typically there is there is no reason to celebrate one's leaving. The next is likely to be as bad or worse. But occasionally one comes and stays. And stays. And stays. In June Gordon Gee announced his retirement as president of Ohio State University. Gee became president of West Virginia University in 1981 at age 37, and then served in succession as president of the University of Colorado, Ohio State University, Brown University, Vanderbilt University, and then back to Ohio State again. He distinguished himself mainly by his soaring remuneration, becoming by 2003 the highest paid university president in the U.S. (and no doubt the world) with compensation of over $1.3 million. It would difficult to understate Gee's other accomplishments, though he did manage an uncommonly graceless departure by sneering at Roman Catholics and the University of Notre Dame ("those Damn Catholics") and mocking other colleges. The remarks didn't sit well with the Ohio State board of trustees. But let's let Dr. Gee settle into his well-upholstered retirement. Few men have profited more from higher education than he.
Imagine that North America was somehow flipped, so that East was West and West was East. The continent's West Coast, as we know it, would face the Atlantic and Europe. That would have greatly affected the history of this country. Before the Industrial Revolution, bulk goods such as grain and lumber moved by water or they did not move. People and news also traveled fastest by boat. The East Coast is rich in harbors large and small. Its many rivers are navigable, some for hundreds of miles inland. The Pacific Coast of the U.S. is practically a blank wall, with high mountains that often hug the coastline. It has only three good natural harbors along its entire length--Puget Sound, San Francisco Bay, and San Diego Bay. Only one river that flows into the Pacific, the Columbia, has deep water for more than a few miles inland. Its mouth, however, is blocked by a sand bar that has brought many a ship to grief. Settling along the West Coast would have been difficult, developing a viable economy there equally so. But because of the East Coast's water communications, commerce thrived in the British colonies and the settlements served as bases for exploring and occupying the interior. A further advantage: The wide alluvial plains east of the Appalachians made farming easy.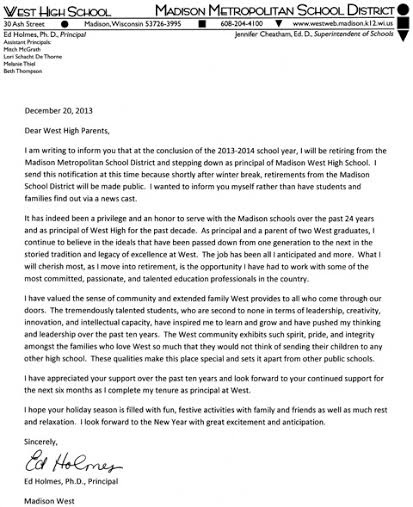 Madison West High School Principal Ed Holmes (PDF), via a kind reader's email. A number of controversial curricular initiatives occurred during Holmes' reign, including the implementation of "one size fits all" English 10, a parent TAG complaint, small learning communities and various "high school redesign" plans.
The high school student's 'Ido in Autismland' is part memoir and part protest, a compelling message to educators on how to teach people such as him. I t-h-i-n-k ... Ido Kedar sits at the dining room table of his West Hills home. He fidgets in his chair, slouched over an iPad, typing. He hunts down each letter. Seconds pass between the connections. ... A-u-t-i-s-m-l-a-n-d ... Advertisement He coined the word, his twist on Alice's Wonderland. "C'mon," says his mother, Tracy. "Sit up and just finish it, Ido. Let's go." He touches a few more keys, and then, with a slight robotic twang, the iPad reads the words he cannot speak. I think Autismland is a surreal place. For most of his life, Ido has listened to educators and experts explain what's wrong with him. Now he wants to tell them that they had it all wrong. Last year, at the age of 16, he published "Ido in Autismland." The book -- part memoir, part protest -- has made him a celebrity in the autism world, a young activist eager to defy popular assumptions about a disorder that is often associated with mental deficiency.
In 2007, when I was 22, I took a position as an aerospace engineer working on the design of NASA's next-generation spacecraft. It was my dream job. I had just received a degree in mechanical engineering, and the only career ambition I could articulate was to work on something space-related. On my first days of work, I was awestruck by the drawings of Apollo-like spacecraft structures, by the conversations about how the heat shield would deflect when the craft landed in water and how much g-force astronauts could withstand. I couldn't believe I wasn't just watching a documentary on the space industry--I was inside it. I was extremely motivated during my first year of work. I got in earlier and stayed later than most, and I tried to learn everything I could from my more experienced colleagues. The work wasn't easy. Our team was trying to re-engineer, with modern technology, something that was designed in the '60s. As a design engineer, I had to integrate the efforts of several different groups that often didn't talk to each other or even get along very well. My deadlines haunted me like a thousand nightmares. Over the course of the next few years, though, I received awards and exceptional performance reviews, and I gained the respect of my colleagues, some of whom had been in the business for about as long as I had been alive.
Three years ago today, parliament voted by a narrow margin to triple tuition fees and cut the educational maintenance allowance. Outside, thousands of students, lecturers and others gathered in the freezing cold to protest against everything the vote represented - the closing off of further and higher education to all but the rich and those prepared to take on thousands of pounds worth of debt for a job that might never come. Riot police charged horses into crowds, lashed out with batons to devastating effect and kettled hundreds for hours on Westminster Bridge. Dozens were later charged with serious public order offences, although juries thankfully didn't buy it, acquitting 18 of the 19 who pleaded not guilty. Three years later, we find the right to protest yet more eroded. Following successful student actions in support of cleaning staff, "occupational-style protests" have recently been the subject of an injunction at the University of London, turning a civil matter criminal, and recent "Cops Off Campus" demos have seen a return of aggressive police tactics in the form of physical violence, kettling and mass police presence. The only thing the police seemed to have "learned" from last time was the short-term impact of mass arrests - as the 286 anti-fascist protesters arrested recently in Tower Hamlets will know. Protesters are loaded into police vans or specially commissioned buses, taken to police stations all over London and sometimes even outside the city, held for hours, released on police bail with ludicrous conditions (not to enter the city of Westminster, or to attend any protests, or to congregate in groups of four), then the charges are dropped many months down the line.
Massive open online courses, or MOOCs, are the latest effort to harness information technology for higher education. While they are still in a nascent stage of development, many in academe are enthusiastic about their potential to be an inexpensive way of delivering an education to vast audiences. Yet one aspect of the MOOC movement has not been fully analyzed: who controls the knowledge. MOOCs are largely an American-led effort, and the majority of the courses available so far come from universities in the United States or other Western countries. Universities and educators in less-developed regions of the world are climbing onto the MOOC bandwagon, but it is likely that they will be using the technology, pedagogical ideas, and probably significant parts of the content developed elsewhere. In this way, the online courses threaten to exacerbate the worldwide influence of Western academe, bolstering its higher-education hegemony. For the most part, MOOC content is based on the American academic experience and pedagogical ideas. By and large, the readings required by most MOOC courses are American or from other Western countries. Many of the courses are in English, and even when lectures and materials are translated into other languages, the content largely reflects the original course. The vast majority of instructors are American. It is likely that more diversity will develop, but the basic content will remain the same.
Most of us watching the looming budget showdown do so with a sense of dread. The last one left congressional approval at 9%, the president's popularity at a new low, and consumer confidence at levels not seen since the 2008 financial crisis. The trouble, of course, is finding common ground on a 10-year budget framework or even on a six-week punt. Hopefully, they will find common ground. If we are committed to evidence, though, there's one area where we ought to be able to agree: early-childhood education. Investments in pre-kindergarten education have among the highest payoffs of any government policy, and whatever budget agreement emerges should restore the country's long-standing commitment to early education. The budget-sequester cuts agreed to in 2011, under the guise of saving money, have knocked as many as 70,000 kids out of such programs. How myopic. It doesn't save money beyond the narrowest definition of the immediate term. Incarceration, special education, teen pregnancy, low earnings--avoiding these outcomes will actually save money, and early education helps achieve that.