A new report from ACT reveals an untapped pool of students who have an interest in STEM areas (science, technology, engineering, and mathematics) but are not planning to pursue a STEM career as they prepare for the future. The data point to a gap between interests and intentions that, if addressed, could help put more students on the path to STEM careers. "The good news is that student interest in STEM is high overall," said Jon Erickson, ACT president of education and career solutions. "The bad news is that a sizable number of students may not be connecting the dots between their innate interests and a potential STEM-related career." The ACT national and state report series, The Condition of STEM 2013, examines the expressed and measured interests of high school graduates in the class of 2013 who took the ACT® college readiness exam. Expressed interest is when students say they intend to pursue a particular major or occupation. Measured interest, in contrast, is derived from students' responses to the ACT Interest Inventory, a battery of questions that measures preferences for different types of work tasks.
Here's what looks like a policy dilemma. To attain the economic growth that it desperately needs, the United States must improve its schools and train a workforce capable of competing in the global economy. Economists Eric Hanushek, Dean Jamison, Eliot Jamison, and Ludger Woessmann estimate that improving student achievement by half of one standard deviation--roughly the current difference between the United States and Finland--would increase U.S. GDP growth by about a full percentage point annually. Yet states and the federal government face severe budgetary constraints these days; how are policymakers supposed to improve student achievement while reducing school funding? In reality, that task is far from impossible. The story of American education over the last three decades is one not of insufficient funds but of inefficient schools. Billions of new dollars have gone into the system, to little effect. Luckily, Americans are starting to recognize that we can improve schooling without paying an additional dime. In fact, by unleashing the power of educational choice, we might even save money while getting better results and helping the economy's long-term prospects. Over the last four decades, public education spending has increased rapidly in the United States. According to the Department of Education, public schools spent, on average, $12,922 per pupil in 2008, the most recent year for which data are available. Adjusting for inflation, that's more than double the $6,402 per student that public schools spent in 1975. Despite that doubling of funds, just about every measure of educational outcomes has remained stagnant since 1975, though some have finally begun to inch upward over the last few years. Student scores on the National Assessment of Educational Progress (NAEP)--the only consistently observed measure of student math and reading achievement over the period--have remained relatively flat since the mid-1970s. High school graduation rates haven't budged much over the last 40 years, either.
In his press conference introducing Carmen Fariña as New York City's next schools chancellor, Mayor Bill de Blasio suggested that he had picked her over several other candidates because she was on the same page with him in opposing Bloomberg-era education reforms. Most of the city's education reporters took the new mayor's spin and ran with it, even though Fariña had served loyally as Michael Bloomberg's second-highest-ranking education official. Daily News columnist Juan Gonzalez predicted that Fariña would now bring "revolutionary" changes to the department of education that she left in 2006. A headline in The Hechinger Report claimed that Fariña wanted DRAMATIC--EVEN JOYFUL--DEPARTURE FROM BLOOMBERG ERA. But that depends on what Bloomberg era you're talking about: during the years that she served in the administration, Fariña was fully on board with its education policies. In fact, considering Fariña's pivotal role during the first Bloomberg term in shaping the Department of Education's radical initiatives, portraying her as a dissident from within seems absurd. Mayor Bloomberg took control of the schools in June 2002, but he knew little about what actually went on in the city's classrooms. He appointed Joel Klein, a corporate lawyer with no background in instructional issues, as his first schools chancellor. Bloomberg and Klein deferred virtually all decision-making on classroom instruction and curriculum to a cadre of veteran progressive educators led by Diana Lam, Klein's first deputy chancellor for teaching and learning. Lam and Fariña convinced Klein to introduce the constructivist "balanced-literacy" reading and writing program, developed by Lucy Calkins of Columbia Teachers College, along with a fuzzy constructivist-math program called Everyday Math, into just about every elementary school classroom in the city. (Klein would eventually realize that adopting balanced literacy was a serious mistake.) In an early 2003 speech presenting his administration's new education reforms, Mayor Bloomberg declared that the "experience of other urban school districts shows that a standardized approach to reading, writing, and math is the best way to raise student performance across the board in all subjects," and therefore that "the chancellor's office will dictate the curriculum." And so it did. Lam soon became embroiled in a nepotism scandal and had to resign. Fariña then took over as deputy chancellor for instruction. She became the DOE's enforcer, making sure that all teachers in the elementary schools toed the line and implemented Calkins's constructivist methods for teaching reading and writing. Teachers received a list of "nonnegotiable" guidelines for arranging their classrooms, including such minute details as the requirement that there must be a rug on the floor for students to sit on in the early grades and that nothing but student work be posted on the walls. Balanced literacy has no track record of raising the academic performance of poor minority children. No independent research study has ever evaluated its methodology. Nevertheless, it was popular in education schools because it promulgated two of progressive education's key commandments: that teachers must abandon deadening "drill and kill" methods and that students are capable of "constructing their own knowledge." Progressives such as Calkins evoked ideal classrooms, where young children naturally find their way to literacy without enduring boring, scripted phonics drills forced on them by automaton teachers. Instead, in a balanced-literacy classroom, students work in small groups and follow what Calkins calls the "workshop model" of cooperative learning. The program takes for granted that children can learn to read and write naturally, with minimal guidance. Calkins rejects E.D. Hirsch's finding (based on an overwhelming consensus in cognitive-science research) that the key to improving children's reading comprehension is grounding them in broad knowledge, which she and other progressives dismiss as "mere facts." Calkins also believes that her model classrooms promote "social justice" for all. In an interview I conducted with her at the time the DOE selected her program, she told me that "It's a great move to social justice to bring [balanced literacy] to every school in the city." That's what Fariña tried to accomplish in the early years of the Bloomberg administration--including the social-justice part. She was instrumental in creating the most centralized, top-down instructional system in the recent history of American public education. Agents of the deputy chancellor (euphemistically called "coaches") fanned out to almost all city elementary schools to make sure that every teacher was marching in lockstep with the department of education's new pedagogical approach. Under the rubric of "professional development," DOE central headquarters launched an aggressive campaign to force teachers to teach literacy and math only one way--the progressive way. Each of the city's 80,000 teachers got a six-hour CD-ROM laying out the philosophy behind the new standardized curriculum and pedagogy. The CD portrayed the world of progressive education writ large, with all its romantic assumptions about how children learn. In addition to inculcating Calkins's balanced literacy, the DOE's training manual celebrated the theories of an obscure Australian education guru--Brian Cambourne of Wollongong University in New South Wales, a leader of the whole-language movement (a cousin of balanced literacy) then dominating Australian public schools. Cambourne's ideas gave city teachers not only more balanced literacy (or whole language) theory, but also a warrant for social-justice teaching. Cambourne claims that as a young teacher, he discovered that many of his poorly performing students were actually quite bright. To his surprise, almost all demonstrated extraordinary competence in performing challenging tasks. The son of the local bookie, for example, "couldn't learn basic math," according to Cambourne, "but could calculate the probability the Queen of Spades was in the deck faster than I could." Cambourne decided that children learn better in natural settings, with a minimum of adult help--a staple of progressive-education thought. Thus the role of the educator should be to create classroom environments that stimulate children but also closely resemble the way adults work and learn. Children should no longer sit in rows facing the teacher; instead, the room should be arranged with work areas where children can construct their own knowledge, much as in Calkins's workshop model of balanced literacy. Such constructivist assumptions about how to teach literacy were enforced with draconian discipline in city schools for several years. Progressives like Calkins, Cambourne, and Fariña don't insist that more learning occurs when children work in groups and in "natural" settings because they've followed any evidence. To the contrary, as much as it tells us anything on this issue, science makes clear that, particularly for disadvantaged children, direct, explicit instruction works best. But under Fariña, reeducation sessions for teachers were meant to overcome dissenting opinion and drive home the progressive party line. To quote the directives to teachers included on the CD: "Your students must not be sitting in rows. You must not stand at the head of the class. You must not do 'chalk and talk' at the blackboard. You must have a 'workshop' in every single reading period. Your students must be 'active learners,' and they must work in groups." As I reported at the time, some brave teachers objected. At Junior High School 44 in Manhattan, a teacher tried to point out to his supervisor, quite reasonably, that some teachers feel more comfortable with and get better results through direct instruction and other traditional methods. The school's literacy coach, sent by the DOE, then responded: "This is the way it is. Everyone will do it this way, or you can change schools." Calkins was grateful for Carmen Fariña's efforts in advancing her instructional agenda, her career, and her organization's bottom line. (Calkins's Readers and Writers Program at Teachers College received over $10 million in no-bid contracts from the city.) Calkins expressed her appreciation in a forward she penned for Fariña's book, A School Leader's Guide to Excellence, coauthored with Laura Koch, Fariña's closest associate and collaborator at the DOE. "When Carmen and Laura took the helm of New York City's school system, teachers, staff developers, and principals across the entire city let out a collective cheer of enthusiasm," Calkins writes. She conjures a glorious history: "Within a week [of Fariña's promotion to deputy chancellor for instruction] our education system began to change. Educators at every level could feel possibility in the air; the excitement was palpable." And because of Fariña's magic, "sound practices in the teaching of reading and writing became the talk of the town--the subject of study groups and hallway conversations in every school . . . The entire city began working together afresh to meet the challenge of improving education for all children." In reality, though, the balanced-literacy advocates failed in this task. The city's eighth-grade reading scores on the National Assessment of Educational Progress (NAEP) tests barely budged over 12 years, despite a doubling of education spending--from $12 billion to $24 billion. There was no narrowing of the racial achievement gap. (In sounding his tale of two cities theme, Mayor de Blasio makes no accounting for the failure of progressive education programs to reduce the academic achievement gap between poor and middle-class children.) Recognizing balanced literacy's meager results, Chancellor Klein reverted to a system of more autonomous schools, giving principals far more discretion over instructional matters. Klein apparently came to believe that he had been misled by Fariña and Calkins. The chancellor then became a supporter of Hirsch's Core Knowledge curriculum, with its focus on direct instruction and the teaching of broad content knowledge. He set up a three-year pilot program, matching ten elementary schools using the Hirsch early-grade literacy curriculum against a demographically similar cohort of ten schools that used balanced literacy. The children in the Core Knowledge schools significantly outperformed those in the schools using the Calkins approach. Still opposing the direct teaching of factual knowledge, Fariña recently shrugged off the pilot study, saying that not enough schools were involved. But if Fariña is serious about that criticism, she now has an opportunity to run a much larger evaluation of Core Knowledge. As a result of the city's adoption of the Common Core State Standards and of aligned curricula emphasizing the "rich content knowledge" that the standards require, 71 elementary school principals have chosen to use Hirsch's Core Knowledge literacy program in their schools. Let Fariña visit and study those schools over the next year. If she really is committed to changing the tale of two cities, as she and the new mayor claim to be, one way to start would be to cast aside ideology and judge whether those Core Knowledge classrooms, drenched in "mere facts," are actually the key to narrowing the devastating knowledge gap between middle-class kids and poor children, who begin school with little knowledge of the world and with a stunted vocabulary. She might also find that there is at least as much "joy" in classrooms in which children get taught explicitly about the world around them as there is in classrooms in which children "construct" their own knowledge.
The test results aren't good. Get different tests. That may sound like a kill-the-messenger response to why American kids keep getting unsatisfying results on standardized tests. Tests don't give wrong answers -- kids do. But that's one way of looking at the huge changes afoot for testing, including in Wisconsin. At the same time, criticism of testing is gaining momentum and may have an effect I would not have expected even recently. There is a chance we could see, in Wisconsin and nationwide, a much better, more insightful world of standardized tests soon. And there is a chance we're heading toward a colossal testing mess. "I think the country is at a moment of truth on testing, a really important one," Marc Tucker, CEO and president of the National Center on Education and the Economy and a major figure in national efforts to raise education standards, said last week. Tucker spoke in response to release of a high-profile round of international tests that showed no progress for American kids in reading and math and a growing number of nations doing better than the United States. The building heat around testing has several big themes. For one, it is the partner issue with the controversies over the Common Core standards that are being implemented in 90% of states, including Wisconsin, and which are drawing increasing criticism. Standards are goals for what children should learn. Broad-scale tests are the way to find out how they're doing and compare kids in, say, your school or state with kids in another school or state. But that is valid only if the tests are worthy of the task -- which is where a lot of debate lies.
PISA 2012 is the programme's 5th survey. It assessed the competencies of 15-year-olds in reading, mathematics and science (with a focus on mathematics) in 65 countries and economies. Around 510 000 students between the ages of 15 years 3 months and 16 years 2 months participated in the assessment, representing about 28 million 15-year-olds globally. The students took a paper-based test that lasted 2 hours. The tests were a mixture of open-ended and multiple-choice questions that were organised in groups based on a passage setting out a real-life situation. A total of about 390 minutes of test items were covered. Students took different combinations of different tests. They and their school principals also answered questionnaires to provide information about the students' backgrounds, schools and learning experiences and about the broader school system and learning environment.
Laura Waters:
Among the 34 OECD countries, the United States performed below average in mathematics in 2012 and is ranked 26th...Performance in reading and science are both close to the OECD average. The United States ranks 17 in reading, (range of ranks: 14 to 20) and 21 in science (range of ranks: 17 to 25). There has been no significant change in these performances over time. Mathematics scores for the top-performer, Shanghai-China, indicate a performance that is the equivalent of over two years of formal schooling ahead of those observed in Massachusetts, itself a strong-performing U.S. state. While the U.S. spends more per student than most countries, this does not translate into better performance. For example, the Slovak Republic, which spends around USD 53 000 per student, performs at the same level as the United States, which spends over USD 115 000 per student. Just over one in four U.S. students do not reach the PISA baseline Level 2 of mathematics proficiency - a higher-than-OECD average proportion and one that hasn't changed since 2003. At the opposite end of the proficiency scale, the U.S. has a below-average share of top performers. Students in the United States have particular weaknesses in performing mathematics tasks with higher cognitive demands, such as taking real-world situations, translating them into mathematical terms, and interpreting mathematical aspects in real-world problems. An alignment study between the Common Core State Standards for Mathematics and PISA suggests that a successful implementation of the Common Core Standards would yield significant performance gains also in PISA.
Dana Goldstein:
:
While these results always make news, this year there is an added tempest in the teapot of the education policy world: The OECD and the Obama administration worked in advance with a selected group of advocacy organizations to launch a media campaign called PISA Day. Which organizations? The College Board, ACT, America Achieves, and the Business Roundtable--all key architects of the Common Core, the new national curriculum standards whose increased rigor and standardized tests have led to a much-publicized protest movement among some parents, teachers, and kids. Groups that support the Core have an interest in calling attention to low American test scores, which today they will use to argue that the Core is the solution not only to our academic woes, but also to reviving the American economy. Happy PISA Day! But the truth is that the lessons of PISA for our school reform movement are not as simple as they are often made out to be. PISA results aren't just about K-12 test scores and curricula--they are also about academic ability tracking, income inequality, health care, child care, and how schools are organized as workplaces for adults.
Julia Ryan:
Not much has changed since 2000, when the U.S. scored along the OECD average in every subject: This year, the U.S. scores below average in math and ranks 17th among the 34 OECD countries. It scores close to the OECD average in science and reading and ranks 21st in science and 17th in reading. Here are some other takeaways from the report: America Is Struggling at Math The U.S. scored below the PISA math mean and ranks 26th out of the 34 OECD countries. The U.S. math score is not statistically different than the following countries: Norway, Portugal, Italy, Spain, Russian Federation, Slovak Republic, Lithuania, Sweden, and Hungary. Do American Schools Need to Change? Depends What You Compare Them To On average, 13 percent of students scored at the highest or second highest level on the PISA test, making them "top performers." Fifty-five percent of students in Shanghai-China were considered top performers, while only nine percent of American students were.
Stephanie Banchero:
For the last few years, many U.S. educators and policy makers have looked to Finland, noting its high test scores and laser-like focus on attracting and retaining the best teachers. Although Finland still posts high scores, they have slid in the past few years. Poland, on the other hand, has seen sharp improvement. The only European country to have avoided the recession, Poland undertook a host of education overhauls in 1999, including delaying by one year the system that places students into academic or vocational tracks, and crafting better systems to identify struggling students and get them help. "Poland launched a massive set of reforms and, while we cannot say for sure they caused the improvement, they certainly are...a sort of plausible explanation," said Andreas Schleicher, deputy director for education and skills at the OECD. In Massachusetts, educators and policy makers credit the good showing, in part, to a 1993 effort that boosted spending and ushered in rigorous standards and achievement tests that students have to pass to graduate.
Related:
www.wisconsin2.org
isconsin State Superintendent of Instruction Tony Evers used the platform of his annual State of Education speech Thursday to respond to skeptics of Common Core standards, whose ranks Republican Gov. Scott Walker joined just a few days earlier. "We cannot go back to a time when our standards were a mile wide and an inch deep, leaving too many kids ill prepared for the demands of college and a career. We cannot pull the rug out from under thousands of kids, parents and educators who have spent the past three years working to reach these new, higher expectations that we have set for them. To do so would have deep and far reaching consequences for our kids, and for our state," Evers said in remarks at the State Capitol that also touched on accountability for voucher schools. "We must put our kids above our politics. And we owe it to them to stay the course." Evers signed on to national Common Core curriculum standards for reading and math in 2010, making Wisconsin one of the first states to adopt them. School districts across the state, including Madison Metropolitan School District, are in the process of implementing them. Madison schools Superintendent Jennifer Cheatham has called Common Core standards "pretty wonderful," and says they are about critical thinking and applying skills to practical tasks. Walker had been pretty low-key about Common Core until a few days ago, when he issued a statement calling for separate, more rigorous state standards. Republican leaders of both houses of the state Legislature quickly announced special committees to weigh the Common Core standards, and public hearings on not-yet-adopted science and social studies standards will be held, according to one report.
Related:
Wisconsin's oft-criticized WKCE assessment
and
wisconsin2.org
Across the nation, students and teachers are headed back to school. Teachers, such as myself, are furiously preparing their classrooms to welcome students and planning new lessons to ensure that this year is an educational one. For many across the country, the planning and preparation has taken a new turn with the official adoption of the Common Core education standards - President Obama's replacement for No Child Left Behind. The Common Core includes new definitions for school success as well as new national standards for core subjects such as reading, writing and math. Before the Common Core, states had the ability to create their own standards, meaning a student in Illinois might be held to one level of expectations while a student in Arkansas might be held to another. This caused many problems in education, especially when students moved from state to state. The Common Core now unites all of the participating states with the same standards that are both rigorous and skills-based with a focus on utilizing technology in the classroom. In many ways, this is a great thing both for students and for teachers. Main subject classes have long been behind the curve when it comes to utilizing technology in the classroom. Being technologically competent is now considered a vital life skill, not to mention something today's students need if they are ever going to be employable. English classes in particular have been a little lost in the digital age; when we English teachers went to school, we had been taught to teach literature as an art form for the sake of the appreciation of beauty. Now, with fewer and fewer students going on to study the humanities, we have been tasked with making our classes relevant to the masses. The Common Core's skills based standards could help us do just that. With the focus no longer on content, we can teach whatever pieces we want in our classroom, as long as students are being taught how to read, write, and think critically.
Ben Velderman The Match Education organization has developed a reputation over the past 12 years for operating several high-quality charter schools throughout the Boston area. Now the organization is garnering national attention for its approach to training future teachers. It all began in 2008, when Match officials opened a two-year teacher training program for graduate students, known as Match Teacher Residency (MTR). The MTR program only recently graduated its fifth group of students, but it already has a reputation among school leaders for producing the best and most effective first-year teachers in the nation. "Their teachers are the best from any graduate school of education in America," says Scott Given, CEO of Unlocking Potential, an organization dedicated to turning around...
IN A small school on the South Side of Chicago, 40 children between the ages of five and six sit quietly learning in a classroom. In front of each of them is a computer running software called Reading Eggs. Some are reading a short story, others building sentences with words they are learning. The least advanced are capturing all the upper- and lower-case Bs that fly past in the sky. As they complete each task they move through a cartoon map that shows how far they have progressed in reading and writing. Along the way they collect eggs which they can use to buy objects in the game, such as items to furnish their avatar's apartment. Now and then a child will be taken aside for scheduled reading periods with one of the two monitoring teachers. The director of North Kenwood-Oakland school says this sort of teaching, blending software with human intervention, helps her pupils learn faster. It also allows teachers at this school--which, like other charter schools, is publicly funded but has some freedom to teach as it likes--to spend more time teaching and less time marking written work and leading pupils through dull drills of words and numbers. On top of that the school gains an accurate, continuous record of each child's performance through the data its various programs collect and analyse. As well as evidence from these schools, the effectiveness of particular bits of software has been studied. The Department of Education spent four years evaluating literacy programs; it concluded that Read 180, a program to help students who have fallen behind in reading, was good at combating adult illiteracy. A randomised control trial of Cognitive Tutor, which helps teachers identify weaknesses and strengths in maths, among 400 15-year-olds in Oklahoma found that children using the program reached the same level of proficiency as the control group in 12% less time. Meanwhile, the Khan Academy, a creator of online tutorials widely used as a form of home tutoring, is beginning to provide hard evidence for why it is considered one of edtech's rising stars. At Oakland Unity, in tough inner-city Oakland, test scores for 16-17-year-olds in algebra and geometry have risen significantly in the two years since Khan courses were introduced. These courses are now being adopted by the Los Altos school district, also in California, which is already one of the best-performing in America. Khan Academy pinpoints the way in which edtech can turn conventional education on its head: in its "flipped classroom" pupils are no longer given lectures in the classroom and set problems as homework, but watch instructional videos at home and work on problems in class, where teachers and peers can help them.
Related:
Madison's long-tem disastrous reading resultsa
The Boy Who Loved Math: The Improbable Life of Paul Erdős is a beautifully written, beautifully illustrated kids' biography of Paul Erdős, the fantastically prolific itinerant mathematician who published more papers than any other mathematician in history. Boy is written by Deborah Heiligman, with illustrations by Leu Pham, and the pair really worked to weave numbers and mathematics through the text, with lively, fun illustrations of a young Erdős learning about negative numbers, becoming obsessed with prime numbers and leading his high-school chums on a mathematical tour of Budapest. They also go to great lengths to capture the upside and downside of Erdős's legendary eccentricity -- his inability to fend for himself and his helplessness when it came to everyday tasks like cooking and doing laundry; his amazing generosity and brilliance and empathy in his working and personal life. Ultimately, this is a book that celebrates the idea of following your weird, wooing the muse of the odd, and playing to your strengths rather than agonizing over your weaknesses. It's an inspiring and sweet tale of one of humanity's greatest mathematicians, and a parable about the magic of passion and obsession.
Much more on
Paul Erdős, here.
Absolutely. In fact, a good fraction of quantitative analysts, traders and developers make the change to finance only in their late twenties or early-to-mid thirties. In this article I'm going to talk about how you can achieve the same thing. Age really isn't a barrier in financial markets. What matters the most is competence, drive and initiative. It is a very meritocratic industry (for better or worse!) in that good performers of all ages are well-rewarded. It is quite common to enter the industry after a stint elsewhere in some other technical field, particularly within the asset management (hedge fund) sector, so don't be put off applying, even if you think you're too senior for the roles. If you're considering a switch to quantitative finance then the first task you must carry out is to make a frank assessment of your background, experience and skill set. Most forms of quantitative finance are highly mathematical and require solid undergraduate experience in linear algebra, calculus (real analysis in the UK!), probability and statistics. If you have gained, or built upon, these skills in subsequent qualifications such as a MSc (science masters program) or quantitative PhD then so much the better. Prospective employers will also prefer you to have made use of such skills in previous roles.
Security Blog "Strife" out of Kings College in London recently published Mattis' words with a short description from the person who found it in her email. Their title for the post: With Rifle and Bibliography: General Mattis on Professional Reading [Dear, "Bill"] The problem with being too busy to read is that you learn by experience (or by your men's experience), i.e. the hard way. By reading, you learn through others' experiences, generally a better way to do business, especially in our line of work where the consequences of incompetence are so final for young men. Thanks to my reading, I have never been caught flat-footed by any situation, never at a loss for how any problem has been addressed (successfully or unsuccessfully) before. It doesn't give me all the answers, but it lights what is often a dark path ahead. With [Task Force] 58, I had w/ me Slim's book, books about the Russian and British experiences in [Afghanistan], and a couple others. Going into Iraq, "The Siege" (about the Brits' defeat at Al Kut in WW I) was req'd reading for field grade officers. I also had Slim's book; reviewed T.E. Lawrence's "Seven Pillars of Wisdom"; a good book about the life of Gertrude Bell (the Brit archaeologist who virtually founded the modern Iraq state in the aftermath of WW I and the fall of the Ottoman empire); and "From Beirut to Jerusalem". I also went deeply into Liddell Hart's book on Sherman, and Fuller's book on Alexander the Great got a lot of my attention (although I never imagined that my HQ would end up only 500 meters from where he lay in state in Babylon).
Kyle Spencer ALONG his block in Newark's West Ward, where drugs are endemic and the young residents talk about shootings with alarming nonchalance, Najee Little is known as the smart kid. He got all A's his sophomore year, breezing through math and awing his English teachers. His mother, a day care worker, and father, who does odd jobs to make ends meet, have high aspirations for him. They want him to earn a college degree. So last year, when Bard College opened an early college high school in Newark for disadvantaged students with dreams of a bachelor's degree, he was sure he'd do well there. He wrote his first long paper on Plato's "Republic," expecting a top grade. He got...
Matt Richtel There is a widespread belief among teachers that students' constant use of digital technology is hampering their attention spans and ability to persevere in the face of challenging tasks, according to two surveys of teachers being released on Thursday. The researchers note that their findings represent the subjective views of teachers and should not be seen as definitive proof that widespread use of computers, phones and video games affects students' capability to focus. Even so, the researchers who performed the studies, as well as scholars who study technology's impact on behavior and the brain, say the studies are significant because of the vantage points of teachers, who spend hours a day observing students. The timing of the studies,...
The invaluable Gotham Schools brings us the news of the possible closure of the United Federation of Teachers Charter School in New York, which was opened with much fanfare back in 2005. There is no mystery about the reason: "But seven years into its existence, the nation's first union-run school is one of the lowest-performing schools in the city. Fewer than a third of students are reading on grade level, and the math proficiency rate among eighth-graders is less than half the city average." I have a few thoughts: 1) The Gotham Schools headline strikes directly to the heart of the matter - "Opened to prove a point, UFT's charter school could be closed." Proving a point is not a firm foundation to build a successful school, particularly a point that is only indirectly connected to student learning. In 2005, the UFT committee tasked to evaluate the charter idea expected the school to "demonstrate to other charter schools the value of organizing" and to "serve as part of the fight against privatization and union-busting." At the time I remarked, "Now there's a mission statement designed to appeal to parents and students!"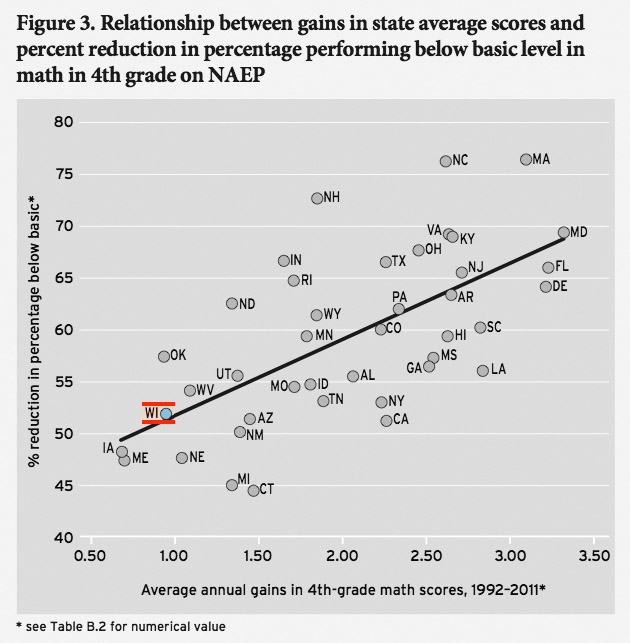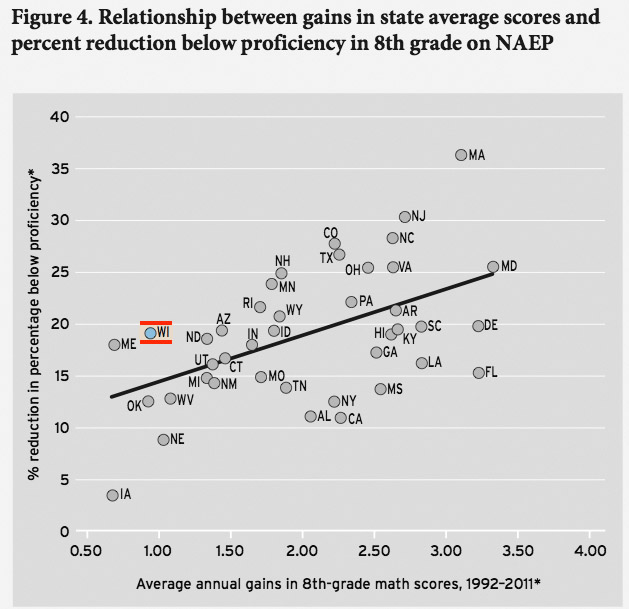 (Tap or click to view a larger version)

Eric A. Hanushek, Paul E. Peterson & Ludger Woessmann
"The United States' failure to educate its students leaves them unprepared to compete and threatens the country's ability to thrive in a global economy." Such was the dire warning recently issued by a task force sponsored by the Council on Foreign Relations. Chaired by former New York City schools chancellor Joel I. Klein and former U.S. secretary of state Condoleezza Rice, the task force said that the country "will not be able to keep pace--much less lead--globally unless it moves to fix the problems it has allowed to fester for too long." The report's views are well supported by the available evidence. In a 2010 report, only 6 percent of U.S. students were found to be performing at the advanced level in mathematics, a percentage lower than those attained by 30 other countries.ii Nor is the problem limited to top-performing students. Only 32 percent of 8th- graders in the United States are proficient in mathematics, placing the United States 32nd when ranked among the participating international jurisdictions. Although these facts are discouraging, the United States has made substantial additional financial commitments to K-12 education and introduced a variety of school reforms. Have these policies begun to help the United States close the international gap? Progress was far from uniform across the United States, however. Indeed, the variation across states was about as large as the variation among the countries of the world. Maryland won the gold medal by having the steepest overall growth trend. Coming close behind, Florida won the silver medal and Delaware the bronze. The other seven states that rank among the top-10 improvers, all of which outpaced the United States as a whole, are Massachusetts, Louisiana, South Carolina, New Jersey, Kentucky, Arkansas, and Virginia. Iowa shows the slowest rate of improvement. The other four states whose gains were clearly less than those of the United States as a whole, ranked from the bottom, are Maine, Oklahoma, Wisconsin, and Nebraska. Note, however, that because of nonparticipation in the early NAEP assessments, we cannot estimate an improvement trend for the 1992-2011 time period for nine states--Alaska, Illinois, Kansas, Montana, Nevada, Oregon, South Dakota, Vermont, and Washington.
Related:
I understand closing the achievement gap is a huge task. But the Madison School District often fails to take the right measures. It is a mistake, for example, to spend more money hiring top-level staff to coordinate meetings and oversee district plans. If we truly want to close the achievement gap, resources need to be on the front lines -- at the schools working with kids. This is not the approach the district is choosing. Recently, the School Board voted to hire a chief of staff for interim Superintendent Jane Belmore. The position will cost $170,000 and last one year. The superintendent said: "We're about doing everything we can to start to close that achievement gap and in order to do that this position is critical." I disagree. I understand the need for staff support and accountability. Overseeing a large school district is a huge undertaking. But hiring more top-level staff who earn six figures will not teach third-graders at Glendale Elementary how to read and write.
Related:
60% to 42%: Madison School District's Reading Recovery Effectiveness Lags "National Average": Administration seeks to continue its use
.
Budget Cuts: We Won't Be as Bold and Innovative as Oconomowoc, and That's Okay
.
Ripon Superintendent Richard Zimman's 2009 Madison Rotary Club speech:
"Beware of legacy practices (most of what we do every day is the maintenance of the status quo), @12:40 minutes into the talk - the very public institutions intended for student learning has become focused instead on adult employment. I say that as an employee. Adult practices and attitudes have become embedded in organizational culture governed by strict regulations and union contracts that dictate most of what occurs inside schools today. Any impetus to change direction or structure is met with swift and stiff resistance. It's as if we are stuck in a time warp keeping a 19th century school model on life support in an attempt to meet 21st century demands." Zimman went on to discuss the Wisconsin DPI's vigorous enforcement of teacher licensing practices and provided some unfortunate math & science teacher examples (including the "impossibility" of meeting the demand for such teachers (about 14 minutes)). He further cited exploding teacher salary, benefit and retiree costs eating instructional dollars ("Similar to GM"; "worry" about the children given this situation).
As for superintendent candidates, someone with the pugnacious edge of our 67-year-old mayor might serve the city well. In a recent interview, Paul Soglin told me he's believed for 40 years that the quality of a school system is the "number one driver" for a city's success. Soglin said Madison's schools are excellent, and, yes, the achievement gap needs attention. But Soglin said it's unfair to expect schools here to shoulder blame for children who arrived only recently. The school district "has not done a good enough job explaining itself," Soglin said. It is hard to disagree. So, in sum, our next school chief should have Soglin-like skills at the big vision and respond to sniping at public schools, be able to boost the morale of embattled teachers and staff, collaborate effectively with a disparate set of civic partners, and bring experience and keen judgment to tackling the achievement gap. Good thing we have some time.
I'm glad that Paul has written on this topic. I disagree, however, regarding "time". The District's singular administrative focus must be on the basics:
reading
and
math
. Those behind the rejected
Madison Preparatory IB charter school
may have a different view, as well.
Children will be introduced to times tables, mental arithmetic and fractions in the first two years of school as part of a back-to-basics overhaul of the National Curriculum. Ministers will this week announce key tasks pupils are expected to master at each age under wide-ranging plans to counter more than a decade of dumbing down in schools. A draft mathematics curriculum suggests that five and six year-olds will be expected to count up to 100, recognise basic fractions and memorise the results of simple sums by the end of the first year of compulsory education. In the second year, they will be required to know the two, five and 10 times tables, add and subtract two-digit numbers in their head and begin to use graphs.
Wisconsin DPI Superintendent Tony Evers via "DPI ConnectED":
1. Common Core Standards - Wisconsin Guidance New DPI publications help Wisconsin educators understand and implement the Common Core State Standards for English language arts and mathematics, as well as the new concept of Literacy in All Content Areas. Wisconsin adopted the standards in 2010, but that was the easy task. Implementing them through engaging instruction coupled with rigorous learning activities and assessment is the hard work. The first step requires that teachers know and understand the standards. The new publications provide guidance on the standards' relationship to Wisconsin's vision of Every Child a Graduate, supporting all students through Response to Intervention systems, and the responsibility that all teachers have for developing reading, writing, thinking, speaking, and listening skills. A distinguishing feature of the Common Core State Standards is their emphasis on disciplinary literacy. To be career and college ready, students must know how to read and write complex informational and technical text. So, instruction in every classroom, no matter the discipline, must focus on both the content and the reading and writing skills students need to demonstrate learning. Wisconsin educators are committed to grasping content and providing high-quality instruction. Combining helpful resources with effective practices used by quality educators leads to success for Wisconsin students.
Much more on the
"Common Core" academic standards, here
.