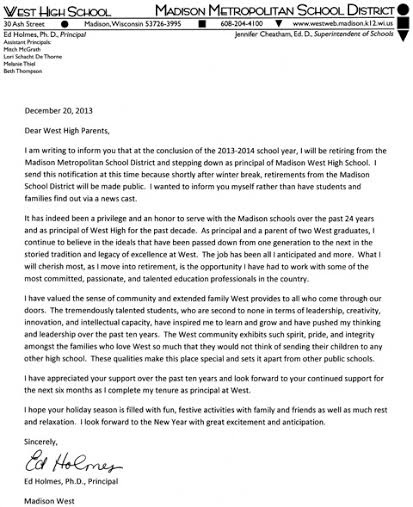 Madison West High School Principal Ed Holmes (PDF), via a kind reader's email. A number of controversial curricular initiatives occurred during Holmes' reign, including the implementation of "one size fits all" English 10, a parent TAG complaint, small learning communities and various "high school redesign" plans.
Janesville School District leaders are retooling the school day and graduation requirements to give students a competitive edge outside the classroom. The initiative is called Project Redesign. Right now Janesville students only need 22.5 credits to graduate from high school. Students in seventh grade this year will be required to earn 26.5 credits during their high school stints to get a diploma. Craig High School's principal, Dr. Alison Bjoin, is one of many who helped design the district's new graduation requirements. "This whole initiative is about making sure that our students leave Craig and Parker high schools ready to compete," Bjoin said. The school will be adding credits in four core areas: science, math, social studies and English. Bjoin said Project Redesign is about giving students the skills to compete after high school. "[They'll be] able to compete in college, in the military, in [careers]," Bjoin said. "Making sure students get additional credits in those core areas is going to help them on that path." The additional credit requirements will be phased in starting in 2014.
Kenneth K. Wong and Francis X. Shen:
Using mayoral governance--in which a city's mayor replaces an elected school board with a board that he or she appoints--as a strategy to raise urban school performance began about two decades ago, when then-Mayor of Boston Raymond Flynn (D) gained control over the city's school district. Boston was soon followed by Chicago, where Mayor Richard M. Daley (D) appointed both the chief executive officer and the entire school board of the school system. Over the past 20 years, mayoral governance of schools has been featured prominently in nearly 20 urban school systems across the country. (see Table 1 in the PDF) Mayoral control and accountability is one of very few major education reforms that aim at governance coherence in our highly fragmented urban school systems. A primary feature of mayoral governance is that it holds the office of the mayor accountable for school performance. As an institutional redesign, mayoral governance integrates school-district accountability and the electoral process at the systemwide level. The so-called education mayor is ultimately held accountable for the school system's performance on an academic, fiscal, operational, and managerial level. While school board members are elected by fewer than 10 percent of the eligible voters, mayoral races are often decided by more than half of the electorate. Under mayoral control, public education gets on the citywide agenda. Governance constitutes a structural barrier to academic and management improvement in too many large urban districts, where turf battles and political squabbles involving school leaders and an array of stakeholders have for too long taken energy and focus away from the core mission of education. Many urban districts are exceedingly ungovernable, with fragmented centers of power tending to look after the interests of their own specific constituencies. Consequently, the independently elected school board has limited leverage to advance collective priorities, and the school superintendent lacks the institutional capacity to manage the policy constraints established in state regulations and the union contract. Therefore, mayoral accountability aims to address the governing challenges in urban districts by making a single office responsible for the performance the city's public schools. Citywide priorities such as reducing the achievement gap receive more focused attention.
Superintendent Jane Belmore (652K PDF):
This information is provided in response to a request for more information made at the January 28th Regular Board of Education meeting regarding the implication of CogAT for the 2012-13 school year. Communication with DPI TAG consultant has occurred on numerous occasions. A Review Committee, with additional members, met twice since January 28 and a survey of options was developed and distributed to the Assessment Review Committee and elementary and middle school principals. Results from this survey, in addition to previous Review Committee information, were used to develop the recommendation. The BOE requested a report on CogAT which is attached to this memo.
A few charts from the report: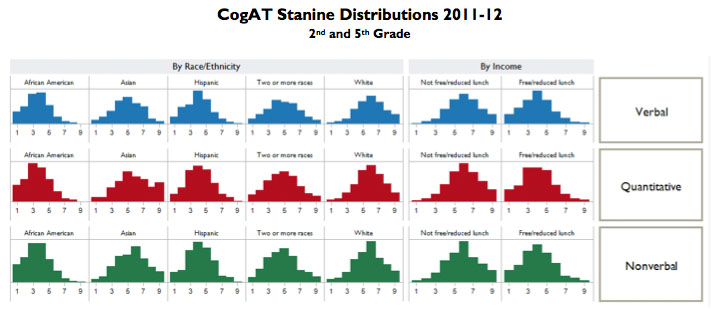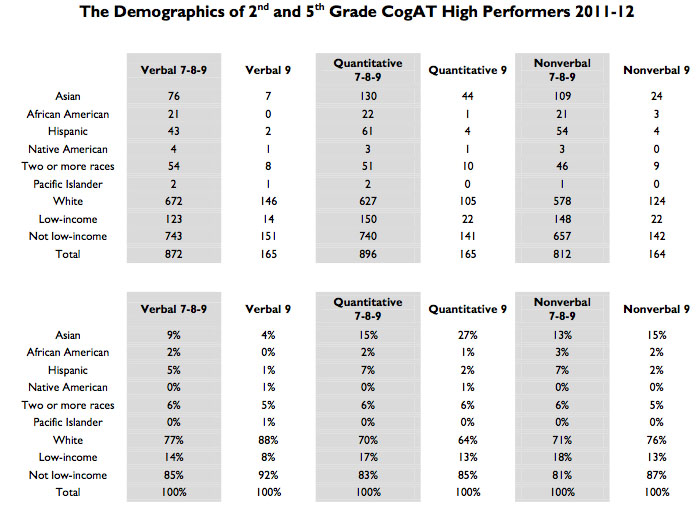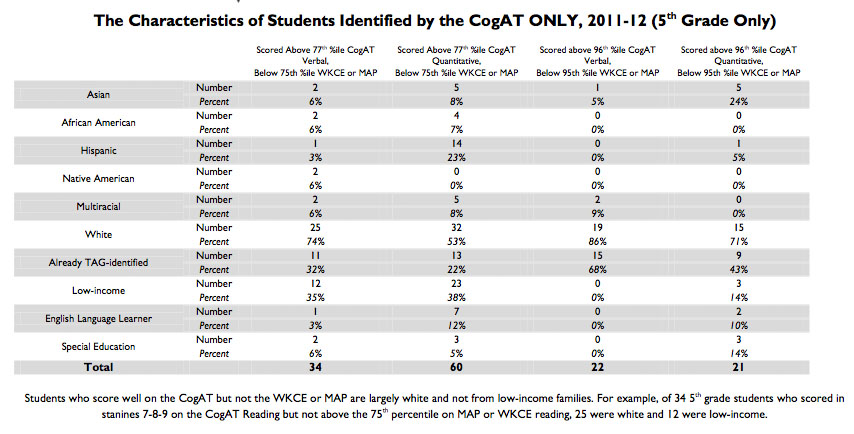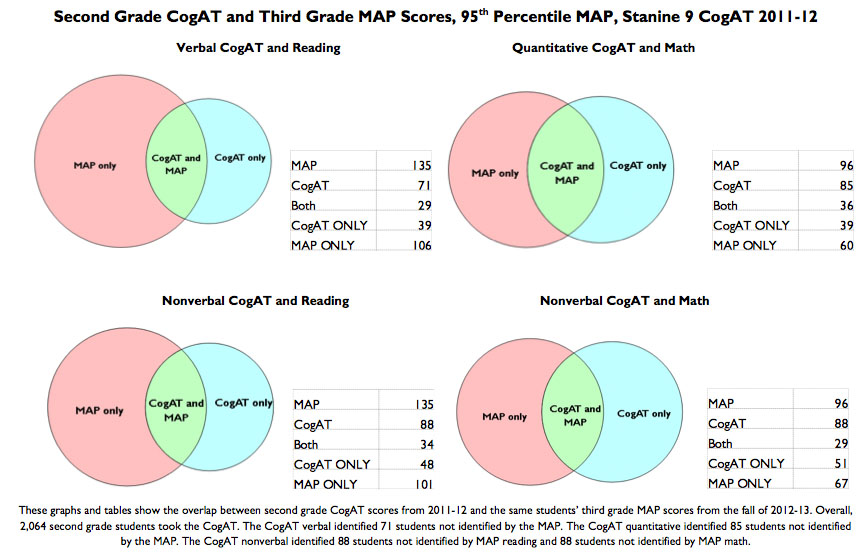 Much more on the
2010 parent complaint on Madison's "Talented & Gifted" program
, here. The move to more one size fits all classes, such as
English 10
a few years ago, reduced curricular options for all students. East High School
"Redesign" halted
.
Patrick Marley & Erin Richards:
"I've been frustrated with the fact that our educational system continues to go downhill even with all the money the Legislature puts into it," he said. Pridemore said he will release more details about his educational agenda in forthcoming policy statements and has several education bills in the drafting phase. Asked if he believed schools should have armed teachers, he said that was a matter that should be left entirely to local school boards to decide. Evers, who has been school superintendent since 2009, is seeking a second term. He has previously served as a teacher, principal, local school superintendent and deputy state schools superintendent. Wisconsin's education landscape has undergone some major changes during his tenure, including significant reductions in school spending and limits on collective bargaining for public workers that weakened teachers unions, which have supported Evers in the past. Evers wants to redesign the funding formula that determines aid for each of Wisconsin's 424 school districts and to provide more aid to schools. Also, he wants to reinvigorate technical education and to require all high schools to administer a new suite of tests that would offer a better way to track students' academic progress and preparation for the ACT college admissions exam.
Don Pridemore
links:
SIS
,
Clusty
,
Blekko
,
Google
and
link farming
. Incumbent
Tony Evers
:
SIS
,
Clusty
,
Blekko
,
Google
and
link farming
.
Matthew DeFour:
School Board president James Howard, the lone incumbent seeking re-election, faces a challenge from Greg Packnett, a legislative aide active with the local Democratic Party. The seats are officially nonpartisan. Two candidates, low-income housing provider Dean Loumos and recently retired Madison police lieutenant Wayne Strong, are vying for Moss' seat. The race for Cole's seat will include a primary on Feb. 19, the first one for a Madison School Board seat in six years. The candidates are Sarah Manski, a Green Party political activist who runs a website that encourages buying local; Ananda Mirilli, social justice coordinator for the YWCA who has a student at Nuestro Mundo Community School; and T.J. Mertz, an Edgewood College history instructor and local education blogger whose children attend West High and Randall Elementary schools.
Proact Services: [1MB PDF Presentation]
Gary Solomon, Chief Executive Officer Gary Solomon was elevated to CEO of PROACT Search in 2009. Previously, Mr. Solomon had founded Synesi Associates and worked in Education for the past twenty years, starting as a high school teacher and administrator in the Chicago suburbs. Gary transitioned from the public to the private sector taking on a position as Vice President of Sales and Marketing for The Princeton Review, and was responsible for rebuilding the sales organization into a senior consultative team focused on creating custom solutions in the areas of assessment, professional development and academic intervention. During his six years with The Princeton Review, where annual revenue goals were exceeded by and average 150%, Solomon was fortunate to do significant business in many of the top 50 urban districts in the country, and work with some of the best and brightest reformers in the K12 space. 

A graduate of the University of Illinois, Solomon holds a Masters in Education Arts from Northeastern University. Thomas Vranas, President Thomas brings an extensive background in educational management in the private sector, as well as numerous start-ups across various industries. He recently served as Vice President at one of the largest publicly traded test preparation companies where he was directly responsible for their sales teams as well as online learning division. Previously Thomas built an urban tutoring program in Chicago to service over 8,000 students with recognition for a quality program from the local and national government. Thomas has also started-up a Wireless Internet company, a Sales and Marketing company as well as a boutique Venture Capital firm. Thomas has been published by the Northwestern Press for his work in political economics and is and active volunteer at many organizations including Habitat for Humanity, Northwestern University and Steppenwolf Theatre. He's been a guest lecturer at Northwestern University, where he earned his B.A. in Economics and Slavic Languages. Phil Hansen, Chief Operations Officer Phil Hansen is a seasoned educator with an impeccable record rooted in Accountability. For fifteen years Phil taught history, before moving on to five years as assistant principal for the Chicago Public Schools (CPS), and then Director of Special Education in the southern suburbs of Chicago. In 1991 Phil took on the role of Principal at Clissold Elementary, a Chicago Public school. In 1995 he became the CPS Director of School Intervention, before moving on in 1997 to take on the position of Chief Accountability Officer, where he served until 2002. At this time Phil was offered a position working as an assistant to the Illinois State Superintendent where he was the liaison between CPS and the Illinois State Board of Education specifically focused on No Child Left Behind (NCLB) implementation throughout the state. Upon his retirement Phil joined The Princeton Review and managed a turnaround project in Philadelphia, transitioning four middle schools to new small high schools. He also separately did consulting work for the School District of Philadelphia, the St Louis Schools Office of Accountability, and the Recovery School District of New Orleans. In the Recovery School District he served as the Interim Chief Academic Officer during the transition of leadership. Upon joining Synesi Associates, as Vice President of Policy and Development he has worked with the State Board of Louisiana and the East Baton Rouge Parish School District. His primary work has been in completing school and district quality reviews followed up by long term support as an external partner. Through Synesi he also continues to work in New Orleans, assisting with the High School Redesign efforts As an active member of his community, Phil has also served as President and Secretary of the Beverly Area Planning Association, and has received rewards for service from both the local community as well as the greater city of Chicago. Most recently Phil was honored as an outstanding City of Chicago Employee and Outstanding Educator from the National Conference for Community and Justice. Stephen Kupfer, Regional President Steve Kupfer serves as Northeast Regional President for PROACT Search and is responsible for executing talent management and support strategies in K-12 education institutions and organizations. He was previously a Senior Consultant in the education practice at Public Consulting Group where he worked alongside district leadership to implement web-based special education and response to intervention (RtI) case management modules in some of the largest school districts in the country, including Miami Dade County Public Schools, The School District of Philadelphia, and the Louisiana Recovery School District. Steve brings practical, district-level experience in organizational development to challenges in K-12 human capital management and support. In his most recent role, he leveraged local leadership to build operational and financial capacity through Medicaid reimbursement programs, mitigating budget shortfalls and sustaining critical student services. Steve has also developed and implemented comprehensive strategies to engage and communicate with key internal and external stakeholders across districts, and has front line experience with the urgency and complexity of the problems school leaders face today. Steve is a proud product of the K-12 public school system. He went on to receive a B.A. in political economy from Skidmore College, where he played baseball and was a member of various chamber music groups. He continued on to receive an M.B.A. from Clark University. Kristin Osborn, Director of Operations Krissi Osborn runs all Operations and Recruitment for PROACT Search. In her role with the company, she has additionally established an award winning internship program exclusively with Northwestern University. Krissi is an active member in her Chicago community, volunteering as an ESL Tutor in Albany Park, as well as on the executive board for a community outreach group. Krissi graduated from Northwestern with a Bachelor's degree in Psychology and History from the Weinberg College of Arts and Sciences.
Ray and Associates:
[
2.6MB PDF Presentation
]
Gary L. Ray, President Christine Kingery, Vice-President William Newman, National Executive Director Ryan Ray, Corporate Director Heidi Cordes, Corporate Associate HeidiAnn Long, Executive Search Assistant Carrie Gray, Executive Search Assistant
Notes, links, audio and video from the 2008 Madison Superintendent Search:
Steve Gallon
,
James McIntyre
and
Dan Nerad
. Notes and links on
Madison Superintendent hires since 1992.
TJ Mertz comments
.
As a kid, I was lucky to have a Dad who was a top-notch book-cover maker, wrapping my school textbooks in brown paper bags that he transformed into precisely folded, sharp cornered, blank canvases. But even Dad's covers couldn't fix everything: Some books showed their age with dog-eared pages, highlights, tears and leftover love notes. Plus, they weighed several pounds each, tugging down my JanSport backpack. This week, I tested a one-stop solution to much of that which ails textbooks: Apple's iBooks 2. This redesigned iPad app offers enhanced educational textbooks that are, for now, focused on high-school students and cost no more than $15 each. Apple's smallest and least expensive iPad can store roughly eight to 10 textbooks, along with other content. (High schoolers have an average of four textbooks a year, according to Apple.) The iPad, itself, weighs just over one pound.
Hartford Business, via a kind Doug Newman email:
First Niagara Bank has pledged $3 million to support a nonprofit group that is representing business interests in Connecticut's education reform debate. The money will go to Hartford's Connecticut Council for Education Reform (CCER), which is led by a group of prominent Connecticut business leaders including former Hartford Financial Services Group CEO Ramani Ayer, and Peyton Patterson, the former chief executive of NewAllinace Bank, which was acquired by First Niagara Bank last year. The Connecticut Council for Education Reform also unveiled Thursday its education agenda for the upcoming legislative session, which includes urging the state to adopt: --Teacher and leader employment and retention policies that attract the highest quality professionals and insist upon effectiveness as defined by their ability to demonstrate improvement in student performance, not seniority, as the measure of success defined by redesigned evaluation systems.
Only about one of every four U.S. classrooms has an "excellent teacher," one who produces enough learning progress to close achievement gaps and help all students leap ahead to higher-order learning. Three-quarters do not. The school models presented here aim to change that. These models use job redesign, technology, or both to help excellent teachers reach more students. Done right, all the models presented here can meet our Reach Extension Principles. Most models can be used for whole schools or single courses. Here's a quick overview: Our primary goal is to enable schools to reach significantly more students with excellent teachers. Every model outlined here identifies the excellent teacher in charge--the person who is truly accountable for learning. In more detailed models coming in 2012, we also indicate what people, technology, and other resources the excellent teacher has authority to choose and change. We organized the models around two key dimensions:
Responding to an increase in violence, drugs and gang activity in and around schools, the Madison School District is considering a broad effort to improve building security, including the use of drug-sniffing dogs in high schools next year. The district also is proposing to lock the main entrances of middle school buildings during the day. Other recommendations include redesigning main entrances at West and Memorial high schools and adding surveillance cameras to all elementary and middle schools, district security coordinator Luis Yudice said. "We are not doing this because we believe we have severe problems in our schools (or) because we experienced a tragedy in our schools," Yudice said. "We don't want to wait until there's a crisis. We want to get ahead of the game."
Christine Campbell, Michael DeArmond:
One of the most important things a school district can do to improve student achievement is ensure that students have effective teachers. Recognizing that human resource management systems are often not up to the task, some urban school districts are reforming how they recruit, hire, develop, and retain teachers by streamlining processes and procedures and aligning them with the district's broader reform strategy. This paper looks at how such reforms are playing out in two portfolio school districts: New York City and Washington, D.C. Though the districts' reform efforts differ, together they highlight four courses of action that portfolio--and perhaps traditional--districts can take to transform talent management from a bureaucratic staffing system into a core leadership function: 1. Assign talent strategy to a senior reform executive 2. Distinguish strategy from routine transactions 3. Redesign policies and practices to support flexibility and performance 4. Change the culture to focus on performance
Four citizens spoke at Monday evening's school board meeting regarding the proposed "high school redesign". Superintendent Art Rainwater's powerpoint presentation and followup board discussion
There are many links in that post.
The parent complaint to DPI over MMSD's failure to comply with WI laws on Talented and Gifted education have combined with administration's recent proposal to create more consistency across the four major high schools, to create a perfect storm of controversy at Madison West. Within the past 24 hours, allegations that the proposal eliminates all electives have spawned a number of calls and e-mails to the Board of Education, a FB page (Walk-out Against MMSD School Reform) promoting a student walk out on Friday, and a YouTube video http://www.youtube.com/watch?v=-Zgjee-GmGI created to protest the elimination of electives. As a board member, I have a somewhat different take largely because I know that allegations that the proposal to standardize core high school curriculum is not a product of the DPI complaint. Anyone who has watched MMSD operate, would probably agree that nothing is put together that quickly (the complaint is less than a month old), especially when it involves a proposal. I also just received the proposal a day or so ago. In full disclosure, I did not take advantage of the briefings conducted for board members who met with the superintendent and assistant superintendent individually or in pairs. I'm a certifiable pain in the neck and thought that any presentations should be made to the board as a whole in an open board or committee meeting, but that is just my issue.) I am just beginning to read and think through what is being proposed, so have no firm opinion yet. More at http://lucymathiak.blogspot.com/2010/10/west-two-issues-in-perfect-storm.html
In search of a quick fix to your school's dropout problem? This spring I visited a low performing high school AKA "dropout factory" that had recently made a lot of progress in improving its graduation rate. I wanted to know what it had been doing to improve. It turns out the biggest factor seemed to be their transition to a block schedule. I have not figured out if this is just a fad or is a trend, but I have since come across more and more high schools serving at risk students that have also recently made this transition. I had always thought that block scheduling was about providing more time for students in core subjects so that they could learn the material at a slower more in depth pass. It turns out that I was wrong and that in many cases the opposite might be happening. Here is how it works. By redesigning the same number of instructional minutes in the school year, these high schools are able to move from offering students 6 courses a year to offering 8 courses a year. Now my initial assumption was that the school must adjust the total number of classes that a student needs to pass during his or her high school career in order to graduate. Not so. With the new block schedule, a student can simply fail more classes, and still graduate.
JOEL I. KLEIN, MICHAEL LOMAX AND JANET MURGUÍA:
In the days following his inauguration, President Obama included a package of educational reforms in his stimulus bill that offered states financial incentives to make dramatic improvements in their education systems. About 10% of the $100 billion allocated for education was used to create competitive grants. States could only win them by drafting comprehensive and aggressive plans to, for example, adopt higher academic standards, turn around chronically low-performing schools, and redesign teacher evaluation and compensation systems. Although it has received much less attention than health care and financial regulatory reform, this measure may ultimately be one of Mr. Obama's most profound and lasting achievements. In just one year, we've already seen more reforms proposed and enacted around the country than in the preceding decade. Yet on July 1, with little warning, the House of Representatives watered down these reform efforts by approving an amendment to the emergency supplemental appropriations bill, proposed by Rep. David Obey (D., Wis.). It takes away $800 million that has already been committed to three critical parts of the president's education reform package--Race to the Top, the Teacher Incentive Fund, and the Charter Schools Program. This breaks a promise to the states, districts and schools that are doing the most important work in America. The funds are to be redirected to a $10 billion "Edujobs" bill to prevent teacher layoffs.
In a class full of aspiring engineers, the big bad wolf had to do more than just huff and puff to blow down the three little pigs' house. To start, he needed to get past a voice-activated security gate, find a hidden door and negotiate a few other traps in a house that a pair of kindergartners here imagined for the pigs -- and then pieced together from index cards, paper cups, wood sticks and pipe cleaners. "Excellent engineering," their teacher, Mary Morrow, told them one day early this month. All 300 students at Clara E. Coleman Elementary School are learning the A B C's of engineering this year, even those who cannot yet spell e-n-g-i-n-e-e-r-i-n-g. The high-performing Glen Rock school district, about 22 miles northwest of Manhattan, now teaches 10 to 15 hours of engineering each year to every student in kindergarten through fifth grade, as part of a $100,000 redesign of the science curriculum.
In recent years, high schools that are configured to provide students the opportunity to earn both a high-school diploma and a college associate's degree or up two years of credit toward a bachelor's degree have grown in popularity. The Early College High School Initiative, a private partnership made up of 13 member organizations, has started or redesigned more than 200 such schools since 2002. In addition, the National Center on Education and the Economy is spearheading a similar initiative. Dozens of public schools in eight states next fall will adopt a program that lets 10th-grade students test out of high school and go to community college. The first generation of these schools targeted low-income, minority students who were likely to be the first in their family to attend college.
New Jersey Department of Education, 3MB PDF:
In New Jersey, we are proud to be ranked among the top 5 NAEP performers in reading, writing, and mathematics. We are proud to have invested so successfully in admired and effective early childhood programs, high-quality charter schools, and high school redesign. We are proud to see the success of our efforts. However, while we are making inroads to close the achievement gap, we also recognize that more work is needed to prepare all of our students for the demands of the global economy. The existing minority achievement gaps and the gaps for economically-disadvantaged and non- disadvantaged students are unacceptable. There is an urgent need for these further reforms. The landmark Abbot decisions over the last three decades in conjunction with the creation of the new school funding formula in 2008 solidified New Jersey's commitment to equitable school resources and ensuring that all student sin the State have access to needed resources. Although this has been a significant step, we have not yet achieved outcomes commensurate with the State's investments in education in all districts. Furthermore, we have not yet solved the problems of how to place great teachers and leaders in struggling schools and districts.
Scott Bauer
:
Eleven Wisconsin school districts want nothing to do with a highly touted federal grant program that could direct thousands of dollars to their classrooms. The districts were the only ones out of 425 that refused to take part in the state's application to receive money under the nearly $4.5 billion Race to the Top grant program. That means if Wisconsin is awarded the $254 million it seeks, the 11 districts won't get a cut, and the money they would have gotten will go to the remaining schools. That's just fine with Mary Dean, administrator of the Maple Dale-Indian Hills School District just north of Milwaukee. She said the requirements under the state's Race to the Top application were too onerous for her 500-student district to comply with, so instead of giving itself the option of declining to take part later, it decided not to participate at all. "We really had too many questions, too many unknowns," she said. "We thought the costs would outweigh the benefits."
Suzanne Tecza had spent a year redesigning the library at Middle School 126 in Williamsburg, Brooklyn, including colorful new furniture and elaborate murals of leafy trees. So when her principal decided this year to give the space to the charter high schools that share the building, Ms. Tecza was furious. "It's not fair to our students," she said of the decision, which gives the charter students access to the room for most of the day. "It's depriving them of a fully functioning library, something they deserve." In Red Hook, Brooklyn, teachers at Public School 15 said they avoid walking their students past rooms being used by the PAVE Academy Charter School, fearing that they will envy those students for their sparkling-clean classrooms and computers. On the Lower East Side, the Girls Preparatory Charter School was forced to turn away 50 students it had hoped to accept because it was unable to find more room in the Public School 188 building. Mayor Michael R. Bloomberg has made charter schools one of his third-term priorities, and that means that in New York, battles and resentment over space -- already a way of life -- will become even more common. He and his schools chancellor, Joel I. Klein, have allowed nearly two-thirds of the city's 99 charter schools to move into public school buildings, officials expect two dozen charter schools to open next fall, and the mayor has said he will push the Legislature to allow him to add 100 more in the next four years.
How many concussions would you allow your child to suffer before you decided that perhaps he or she should retire from the travel soccer team? In the past month alone, I have heard about several dozen injuries to young athletes, both on school and club teams, and I'm starting to wonder how so many families can be obsessed with sports to the point that a child's health suffers. I've actually heard parents talk about their children's soccer concussions as if they were simple headaches: "He had another concussion last week but should be good to go soon." I know one child who has suffered at least three breaks in his hands from high school football and baseball. His parents know there could be long-term health consequences, but that is less important, somehow, than the glory of youth sports. There was a story in The Washington Post this month about companies that have redesigned football helmets to cut down on concussions.