A little over a week ago I ran two panels at a conference called Beyond Academia organized by a group of UC Berkeley PhD students and post-docs. This was a great conference particularly because this is the right time, and the Bay Area is the right place, for people with strong quantitative skills looking for other opportunities outside of academia. The startup-up culture, the high-density of exciting technical work, and the density of a highly educated populous offer a lot of options for people looking. The desire to "jump ship" is further compounded by the terribly poor pay for post-docs and grad students. Most of our pay is set nationally by the NIH and is not adjusted for cost-of-living differences, which means that NIH-funded post-docs in San Francisco (with a median rent of $1363/mo) get paid the same as post-docs in Iowa City (with a median rent of $734/mo). After however many years of education for a PhD my UCSF take-home pay after federal and state taxes, etc. is about $2800/mo. I'm a father; if I wanted to use UCSF daycare and live in UCSF post-doc housing I would be paying $1998/mo for daycare and at least $1099/mo for a studio. Imagine if I was a single parent? This would make my net take-home pay negative $297/mo. Ivory Towers indeed.
A little over a week ago I ran two panels at a conference called Beyond Academia organized by a group of UC Berkeley PhD students and post-docs. This was a great conference particularly because this is the right time, and the Bay Area is the right place, for people with strong quantitative skills looking for other opportunities outside of academia. The startup-up culture, the high-density of exciting technical work, and the density of a highly educated populous offer a lot of options for people looking. The desire to "jump ship" is further compounded by the terribly poor pay for post-docs and grad students. Most of our pay is set nationally by the NIH and is not adjusted for cost-of-living differences, which means that NIH-funded post-docs in San Francisco (with a median rent of $1363/mo) get paid the same as post-docs in Iowa City (with a median rent of $734/mo). After however many years of education for a PhD my UCSF take-home pay after federal and state taxes, etc. is about $2800/mo. I'm a father; if I wanted to use UCSF daycare and live in UCSF post-doc housing I would be paying $1998/mo for daycare and at least $1099/mo for a studio. Imagine if I was a single parent? This would make my net take-home pay negative $297/mo.
New York City is worth watching these days as Mayor Bill de Blasio begins his new "progressive" government. His first priority seems to be a political and economic assault on charter schools. The number of charters in New York City grew by over 900% under former Mayor Michael Bloomberg and they now teach some 70,000 kids out of 1.1 million. Stanford University's Center for Research on Education Outcomes has twice found that the city's charter students do better in reading and math than their counterparts at district schools. Manhattan Institute senior fellow Stephen Eide on why forcing New York City charter schools to pay rent will impact educational outcomes. Photo credit: Associated Press. Mr. de Blasio plans to redress this inequity by handicapping charters. His Department of Education has already zeroed out $210 million in funding from its 2015-2019 capital budget for charter construction. The new mayor has also announced a moratorium on co-locations, a policy that allows charters to share facilities with district schools and provides for a more efficient use of space. Twenty-five co-locations approved last year under Mr. Bloomberg may be in jeopardy. Mr. de Blasio explains that kids in district schools may feel like they're getting an inferior education if a charter moves in next door and renovates. Charters are public schools that also raise private money, and state law requires the city to match the private funds on district schools that charters spend on upgrades to prevent a disparity. So by killing co-location Mr. de Blasio can also spend less on district schools.
High school, where kids socialize, show off their clothes, use their phones--and, oh yeah, go to class. Every once in a while, education policy squeezes its way onto President Obama's public agenda, as it did in during last month's State of the Union address. Lately, two issues have grabbed his (and just about everyone else's) attention: early-childhood education and access to college. But while these scholastic bookends are important, there is an awful lot of room for improvement between them. American high schools, in particular, are a disaster. In international assessments, our elementary school students generally score toward the top of the distribution, and our middle school students usually place somewhat above the average. But our high school students score well below the international average, and they fare especially badly in math and science compared with our country's chief economic rivals. What's holding back our teenagers? One clue comes from a little-known 2003 study based on OECD data that compares the world's 15-year-olds on two measures of student engagement: participation and "belongingness." The measure of participation was based on how often students attended school, arrived on time, and showed up for class. The measure of belongingness was based on how much students felt they fit in to the student body, were liked by their schoolmates, and felt that they had friends in school. We might think of the first measure as an index of academic engagement and the second as a measure of social engagement. On the measure of academic engagement, the U.S. scored only at the international average, and far lower than our chief economic rivals: China, Korea, Japan, and Germany. In these countries, students show up for school and attend their classes more reliably than almost anywhere else in the world. But on the measure of social engagement, the United States topped China, Korea, and Japan. In America, high school is for socializing. It's a convenient gathering place, where the really important activities are interrupted by all those annoying classes. For all but the very best American students--the ones in AP classes bound for the nation's most selective colleges and universities--high school is tedious and unchallenging. Studies that have tracked American adolescents' moods over the course of the day find that levels of boredom are highest during their time in school. It's not just No Child Left Behind or Race to the Top that has failed our adolescents--it's every single thing we have tried. One might be tempted to write these findings off as mere confirmation of the well-known fact that adolescents find everything boring. In fact, a huge proportion of the world's high school students say that school is boring. But American high schools are even more boring than schools in nearly every other country, according to OECD surveys. And surveys of exchange students who have studied in America, as well as surveys of American adolescents who have studied abroad, confirm this. More than half of American high school students who have studied in another country agree that our schools are easier. Objectively, they are probably correct: American high school students spend far less time on schoolwork than their counterparts in the rest of the world. Trends in achievement within the U.S. reveal just how bad our high schools are relative to our schools for younger students. The National Assessment of Educational Progress, administered by the U.S. Department of Education, routinely tests three age groups: 9-year-olds, 13-year-olds, and 17-year-olds. Over the past 40 years, reading scores rose by 6 percent among 9-year-olds and 3 percent among 13-year-olds. Math scores rose by 11 percent among 9-year-olds and 7 percent among 13-year-olds. By contrast, high school students haven't made any progress at all. Reading and math scores have remained flat among 17-year-olds, as have their scores on subject area tests in science, writing, geography, and history. And by absolute, rather than relative, standards, American high school students' achievement is scandalous. In other words, over the past 40 years, despite endless debates about curricula, testing, teacher training, teachers' salaries, and performance standards, and despite billions of dollars invested in school reform, there has been no improvement--none--in the academic proficiency of American high school students. It's not just No Child Left Behind or Race to the Top that has failed our adolescents--it's every single thing we have tried. The list of unsuccessful experiments is long and dispiriting. Charter high schools don't perform any better than standard public high schools, at least with respect to student achievement. Students whose teachers "teach for America" don't achieve any more than those whose teachers came out of conventional teacher certification programs. Once one accounts for differences in the family backgrounds of students who attend public and private high schools, there is no advantage to going to private school, either. Vouchers make no difference in student outcomes. No wonder school administrators and teachers from Atlanta to Chicago to my hometown of Philadelphia have been caught fudging data on student performance. It's the only education strategy that consistently gets results. The especially poor showing of high schools in America is perplexing. It has nothing to do with high schools having a more ethnically diverse population than elementary schools. In fact, elementary schools are more ethnically diverse than high schools, according to data from the National Center for Education Statistics. Nor do high schools have more poor students. Elementary schools in America are more than twice as likely to be classified as "high-poverty" than secondary schools. Salaries are about the same for secondary and elementary school teachers. They have comparable years of education and similar years of experience. Student-teacher ratios are the same in our elementary and high schools. So are the amounts of time that students spend in the classroom. We don't shortchange high schools financially either; American school districts actually spend a little more per capita on high school students than elementary school students. Our high school classrooms are not understaffed, underfunded, or underutilized, by international standards. According to a 2013 OECD report, only Luxembourg, Norway, and Switzerland spend more per student. Contrary to widespread belief, American high school teachers' salaries are comparable to those in most European and Asian countries, as are American class sizes and student-teacher ratios. And American high school students actually spend as many or more hours in the classroom each year than their counterparts in other developed countries. This underachievement is costly: One-fifth of four-year college entrants and one-half of those entering community college need remedial education, at a cost of $3 billion each year. The president's call for expanding access to higher education by making college more affordable, while laudable on the face of it, is not going to solve our problem. The president and his education advisers have misdiagnosed things. The U.S. has one of the highest rates of college entry in the industrialized world. Yet it is tied for last in the rate of college completion. More than one-third of U.S. students who enter a full-time, two-year college program drop out just after one year, as do about one fifth of students who enter a four-year college. In other words, getting our adolescents to go to college isn't the issue. It's getting them to graduate. If this is what we hope to accomplish, we need to rethink high school in America. It is true that providing high-quality preschool to all children is an important component of comprehensive education reform. But we can't just do this, cross our fingers, and hope for the best. Early intervention is an investment, not an inoculation. In recent years experts in early-child development have called for programs designed to strengthen children's "non-cognitive" skills, pointing to research that demonstrates that later scholastic success hinges not only on conventional academic abilities but on capacities like self-control. Research on the determinants of success in adolescence and beyond has come to a similar conclusion: If we want our teenagers to thrive, we need to help them develop the non-cognitive traits it takes to complete a college degree--traits like determination, self-control, and grit. This means classes that really challenge students to work hard--something that fewer than one in six high school students report experiencing, according to Diploma to Nowhere, a 2008 report published by Strong American Schools. Unfortunately, our high schools demand so little of students that these essential capacities aren't nurtured. As a consequence, many high school graduates, even those who have acquired the necessary academic skills to pursue college coursework, lack the wherewithal to persevere in college. Making college more affordable will not fix this problem, though we should do that too. The good news is that advances in neuroscience are revealing adolescence to be a second period of heightened brain plasticity, not unlike the first few years of life. Even better, brain regions that are important for the development of essential non-cognitive skills are among the most malleable. And one of the most important contributors to their maturation is pushing individuals beyond their intellectual comfort zones. It's time for us to stop squandering this opportunity. Our kids will never rise to the challenge if the challenge doesn't come.
Laurence Steinberg
is a psychology professor at Temple University and author of the forthcoming Age of Opportunity: Revelations from the New Science of Adolescence. ---------------------------------- "Teach with Examples" Will Fitzhugh [founder] The Concord Review [1987] Ralph Waldo Emerson Prizes [1995] National Writing Board [1998] TCR Institute [2002] 730 Boston Post Road, Suite 24 Sudbury, Massachusetts 01776-3371 USA 978-443-0022; 800-331-5007
www.tcr.org
; fitzhugh@tcr.org Varsity Academics®
tcr.org/bookstore
www.tcr.org/blog
In Michael Gove and Andrew Adonis's wildest dreams, the academies and free schools their policies ushered into being would be filled with bright students in spotless classrooms, being encouraged to apply to top universities. When the failures of the Al-Madinah and Discovery free schools dominated the headlines last year, that vision seemed the stuff of a madman's hallucination. But not in Stratford, where in the shadow of the deconstruction of the 2012 Olympic venue the free school project finally had a gold medal winner in the London Academy of Excellence. On Monday Gove will give his stamp of approval by delivering a speech on education reform at the LAE's unprepossessing home, a 1980s former council office block near Stratford tube station. But the reform Gove is most likely to trumpet is that of LAE itself. A sixth form college funded under the free school programme that opened two years ago, LAE had kept a low profile, thanks in the main to its unfashionable location in Newham. But it made headlines in January with the announcement that six of its first cohort of students had been offered places at Oxford and Cambridge. Robert Wilne, LAE's energetic headmaster, says the school should be judged not on its success at Oxbridge entry but on the route its students took to get there.
All students in the Madison School District would have their own tablets or notebook computers by the 2018-19 school year under a five-year, $31 million plan proposed by Superintendent Jennifer Cheatham. If approved, the plan would increase the district's current $1.5 million annual technology budget to $4.2 million in the 2014-15 school year to start upgrading the district's network infrastructure, upgrade or equip classrooms and libraries with new technology or computers, and provide notebook computers to all district teachers and administrators. Elementary teachers also would get tablet computers under the plan. Costs to upgrade are projected to increase each of the five years of the plan for a total of $31 million spent in that time. Afterward, the annual budget for technology would be about $7 million per year going forward. ..... Madison School Board members, who formally received the plan at their meeting Monday, were mostly optimistic about the plan. Board member T.J. Mertz questioned whether the program needed to be as extensive as it's proposed given what he said were other unmet needs in the district and given research that he called "universally disappointing" surrounding such initiatives. Mertz said in an interview after Monday's board meeting that he agrees with the majority of the investments in technology under the plan, "but then there's a third or a quarter where I think it's going overboard." As an example, Mertz said he questions whether every kindergarten student needs their own tablet computer.
Prior to spending any additional taxpayer funds on new initiatives, I suggest that the District consider (and address) the status of past expensive initiatives, including:
Infinite Campus
: is it fully implemented? If not, why? Why continue to spend money on it? "
Standards based report cards
".
Connected Math
.
Small Learning Communities.
And of course, job number one, the
District's long term disastrous reading scores
. Madison already spends double the national average per student ($15k). Thinning out initiatives and refocusing current spending on reading would seem to be far more pressing than more hardware.
In the field of higher education, reality is outrunning parody. A recent feature on the satire website the Onion proclaimed, "30-Year-Old Has Earned $11 More Than He Would Have Without College Education." Allowing for tuition, interest on student loans, and four years of foregone income while in school, the fictional student "Patrick Moorhouse" wasn't much better off. His years of stress and study, the article japed, "have been more or less a financial wash." "Patrick" shouldn't feel too bad. Many college graduates would be happy to be $11 ahead instead of thousands, or hundreds of thousands, behind. The credit-driven higher education bubble of the past several decades has left legions of students deep in debt without improving their job prospects. To make college a good value again, today's parents and students need to be skeptical, frugal and demanding. There is no single solution to what ails higher education in the U.S., but changes are beginning to emerge, from outsourcing to online education, and they could transform the system. Though the GI Bill converted college from a privilege of the rich to a middle-class expectation, the higher education bubble really began in the 1970s, as colleges that had expanded to serve the baby boom saw the tide of students threatening to ebb. Congress came to the rescue with federally funded student aid, like Pell Grants and, in vastly greater dollar amounts, student loans.
Related:
UW Law School 2013 Graduation Speech by Judge Barbara Crabb
.
An Oakland public school created to serve African American males will shut down in January, just 18 months after it opened. The 100 Black Men of the Bay Area Community School, a public charter school, struggled financially and suffered administrative turnover as well as loss of enrollment during its three semesters of operation. Its last day will be Jan. 24. The school, located at the former Thurgood Marshall Elementary campus in the city's southeast hills, had 120 students at the start of this school year and 75 this week. Short of funds "Our problem is a lack of money, not a mismanagement of funds," said Dr. Mark Alexander, a member of the school's board of directors. "This is the responsible thing to do." Alexander believes the closure will be a hiatus to give the school time to reorganize, determine what went wrong and reopen in the next year or two. "It's a setback for us," he said. "We've come too far to let this dream go."
Related: The
proposed Madison Preparatory Academy IB Charter School
- rejected by a majority of the Madison School Board.
An educational and enrichment workshop was recently conducted by the Galileo Enrichment Learning Program where the multi-awarded mathematician and Singapore Math advocate Dr. Queena Lee-Chua together with her son Scott, shared with the participants the fundamentals of Singapore Math and demonstrated how this fun learning approach is used to solve word problems. Multi-awarded mathematician and Singapore Math advocate Dr. Queena Lee-Chua shared with the participants the fundamentals of Singapore Math and demonstrates how this fun-learning approach is used to solve word problems. The workshop, held at Nuvali Evoliving AVR, Sta. Rosa City, Laguna, was organized by Galileo Sta. Rosa, attended by parents and their kids, as well as by teachers from different pre-schools and elementary schools in and outside Manila. It was indeed an enlightening and engaging time for everyone as the mother and son tandem proved to the audience that complex mathematical problems can be solved with simple math logic.
Much more on
Singapore Math, here
. Related:
Math Forum Audio/Video
.
The term "autodidact" is usually reserved for those who, like Benjamin Franklin, Abraham Lincoln, Andrew Carnegie, and so on, did not have the advantages of spending much time in school or the help of schoolteachers with their education. I would like to suggest that every student is an autodidact, because only the student can decide what information to accept and retain. Re-education camps in the Communist world, from Korea to Vietnam to China, no doubt made claims that they could "teach" people things whether they want to learn them or not, but I would argue that the threat of force and social isolation used in such camps are not the teaching methods we are searching for in our schools. And further, I would claim that even in re-education camps, students often indeed reserve private places in their minds about which their instructors know very little. My main point is that the individual is the sovereign ruler of their own attention and the sole arbiter of what information they choose to admit and retain. Our system of instruction and examination has no doubt persuaded many sovereign learners over the years to accept enough of the knowledge we offer to let most of them pass whatever exams we have presented, but the cliché is that after the test, nearly all of that information is gone. Teachers have known all this from the beginning, and so have developed and employed all their arts to first attract, and then retain, the attention of their students, and they have labored tirelessly to persuade their students that they should decide to attend to and make use of the knowledge they are offering. One of the best arguments for having teachers be very well-grounded in the subjects they are teaching is that the likelihood increases that they will really love their subject, and it is easier for teachers to convince students of the value of what they are teaching if they clearly believe in its value themselves. It should not be forgotten, however, that the mind is a mercurial and fickle instrument, and the attention of students is vulnerable to all the distractions of life, in the classroom and out of it. I am distressed that so many who write about education seem to overlook the role of students almost entirely, concentrating on the public policy issues of the Education Enterprise and forgetting that without the attention and interest of students, all of their efforts are futile. It seems strange to me that so little research is ever done into the actual academic work of students, for instance whether they ever read a complete nonfiction book, and whether they every write a serious academic paper on a subject other than themselves. For many reformers, it seems the only student work they are interested in is student scores on objective tests. Sadly, objective tests discover almost nothing about the students' interest in their experiences of the complexity of the chemistry, history, literature, Chinese, and other subjects they have been offered. There was a time when college entrance decisions were based on essays students would write on academic subjects, and those could reveal not only student fluency and knowledge, but something of their attachment to and appreciation for academic matter. But now, we seem to have decided that neither we nor they have time for extended essays on history and the like (except for the International Baccalaureate, and The Concord Review), and the attractions of technology have led examiners to prefer tests that can be graded very quickly, by computer wherever possible. So, when the examiners show no interest in serious academic work, it should not surprise us that students may see less value in it as well. The Lower Education teachers are still out there, loving their subjects, and offering them up for students to judge, and to decide how much of them they will accept into their memories and their thoughts, but meanwhile the EduPundits and the leaders of the Education Enterprise [Global Education Reform Movement = GERM, as Pasi Sahlberg calls it], with lots of funding to encourage them, sail on, ignoring the control students have, and always have had, over their own attention and their own learning. ------------------------------- "Teach by Example" Will Fitzhugh [founder] The Concord Review [1987] Ralph Waldo Emerson Prizes [1995] National Writing Board [1998] TCR Institute [2002] 730 Boston Post Road, Suite 24 Sudbury, Massachusetts 01776-3371 USA 978-443-0022; 800-331-5007 www.tcr.org; fitzhugh@tcr.org Varsity Academics® tcr.org/bookstore www.tcr.org/blog
Release of the numbers last month, amplified by an attention-getting analysis authored by retired UC Berkeley Vice Chancellor John Cummins and graduate student Kirsten Hextrum, has sent shock waves around the campus. The department of athletics and its friends are playing full-court damage control. Sandy Barbour, Berkeley's director of athletics, acknowledged the problem and promises to turn things around. Early indicators of academic progress in the past year are encouraging, she says, "But, we need to do better." A year ago she fired football coach Jeff Tedford, in part, say her friends, because he failed to do enough to help his players succeed academically. In the sports world, the explanation was simpler: Tedford's three losing seasons. Barbour told me it was some of both: "downward trends" both on the field and in the classroom. But in the eyes of some Berkeley professors and administrators - and for many beyond the campus - the attention given the new numbers about athletes' graduation rates seems to raise the specter of older and more fundamental issues.
John Cummins and Kirsten Hextrum (PDF):
This white paper is based on a larger project being conducted with the Regional Oral History Office at the Bancroft Library. The purpose of the research is to explore the history of the management of Intercollegiate Athletics at UC Berkeley from the 1960s to the present. The project began in 2009 and will include, when completed, approximately 70 oral history interviews of individuals who played key roles in the management of intercollegiate athletics over that period of time - Chancellors, Athletic Directors, senior administrators, Faculty Athletic Representatives, other key faculty members, directors of the Recreational Sports Program, alumni/donors, administrators in the Athletic Study Center and others. The interviews are conducted by John Cummins, Associate Chancellor - Chief of Staff, Emeritus who worked under Chancellors Heyman, Tien, Berdahl and Birgeneau from 1984 - 2008. Intercollegiate Athletics reported to him from 2004 - 2006. A publication of the results is underway and will be co- authored by Cummins and Kirsten Hextrum, a PhD student in the Graduate School of Education, a member and two-time national champion of Cal Women's Crew from 2003 - 2007, and a tutor/adviser in the Athletic Study Center since 2009. This paper addresses administrative and management issues that typically concern those responsible for the conduct of a Division I-A intercollegiate athletics program. It assumes that such a program will continue for many years to come and that it provides important benefits for the Cal community. Its focus is principally with the market driven, multi-billion dollar phenomenon of the big-time sports of Men's football and basketball, their development over time and their intersection with the academic world. The Olympic or non-revenue sports at UC Berkeley more closely resemble the amateur intercollegiate ideal with high graduation rates and successful programs. Even these sports programs, however, are gradually being pulled into the more highly commercialized model. In the spring of 1999, a Professor in Ethnic Studies provided passing grades to two football players who did little or no work for his course. The NCAA cited Cal for academic fraud and a lack of institutional control, and placed the department on probation for five years. These kinds of incidents exact an emotional toll on the AD and the senior administration. They are a major embarrassment for the campus and remain so. In the NCAA's own accounting of schools by major violations in its history, Cal, along with a few other schools including UCLA, with 7, ranks just behind Oklahoma (8) and Arizona State and Southern Methodist University (9). Stanford has none. Future work by these authors will investigate the nature of these violations, the culture that led to them and suggest efforts to mitigate further infractions. This paper primarily addresses the academic issues. ..... Kasser did complete the Haas Pavilion during his watch despite the conflicts and difficulties associated with it, unquestionably a major accomplishment. He made great strides in addressing the inequities between the Men's and Women's programs. He upgraded the coaching in some of the Olympic Sports and his appointment of Ben Braun as the Men's Basketball coach, who brought an inclusive, team oriented approach to management boosted the morale of the department. Kasser valued the Rec Sports program as part of the merged department and was an excellent public ambassador for Cal. ..... The graduation rate for UC Berkeley's revenue generating teams are the lowest in the department. Men's basketball went four years with none of their scholarship student athletes graduating. This brought down their average to a 58% graduation rate over this eight year period. Football also has sub-par graduation rates. Over the past eight years, football graduation rates have ranged from a high of 72% to a low of 31%. Football has the lowest average team graduation rate with only 50% of their scholarship athletes graduating. The numbers are even more grim when broken down by race. In particular, the black scholarship football players, many of whom are special admits, have gone from a high of 80% to a low of 18%. The NCAA also tracks graduation rates by compiling four-year averages to even-out any anomalies. In this data set, the black graduation rates range from a high of 63% to a low of 30%. Three of the seven four-year averages mark the black graduation rate in the 30s. ..... With a new Chancellor, a new football coach, a new stadium and high performance center, a larger and more monied conference, the present surely marks a transitional period for intercollegiate athletics at UC Berkeley. These changes all signal Cal's continued escalation as a Big-Time sports program, and the difficult dilemmas campus administrators face. To fund an intercollegiate program of this magnitude they cannot alienate a substantial donor base. The recent blowback after the elimination, and subsequent reinstatement of five varsity sports, makes the possibility of cutting sports again as a cost saving measure extremely remote for years to come. Further, the athletic deficit places enormous pressures to win. This increases the temptation to gain an extra edge on the competition whether through newer facilities, higher-paid coaches, or longer practices. All this must be achieved on the backs of student athletes who are enrolled in a full-time course load at one of the most prestigious academic universities in the world. Rather than resolving the dilemma of how to maintain a nearly $70 million per year athletic enterprise while still providing a world-class education for the participants, campus administrators continue to muddle through.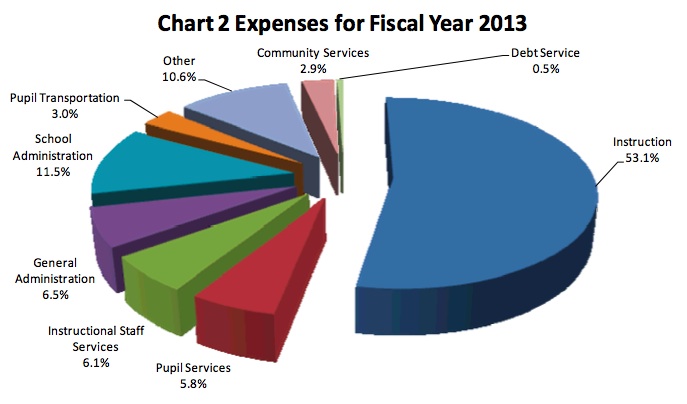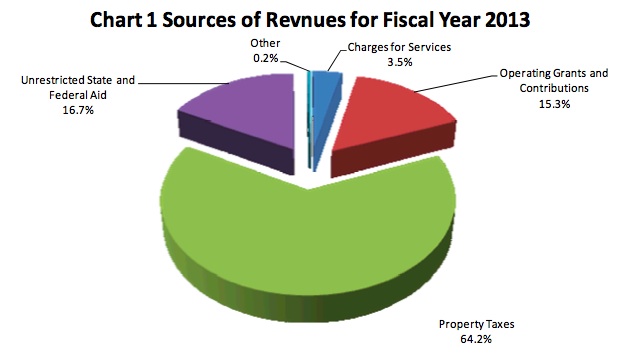 "Management's Discussion and Analysis" (PDF):
Page 30: As provided in applicable negotiated contracts, certified District employees meeting a minimum age and length of service requirement may participate in the District's group health and insurance program upon retirement. The District bears the cost of the employee's participation up to the maximum amount it pays for active employees. For the year ended June 30, 2013, there were 1,138 participants and expenditures on a pay-as- you-go basis were $4,288,615. The District's sick leave liability at June 30, 2013 was $77,017,949, which represents $47,848,809 for currently active employees and $29,169,140 for retirees. As provided in applicable negotiated contracts, certified District employees meeting a minimum age and length of service requirement are eligible to receive early retirement benefits of 19% of the employee's salary for three years. For the year ended June 30, 2013, there were 352 participants and expenditures on a pay-as-you-go basis were $3,547,011 After applying a discount rate of 3%, the present value of the District's early retirement liability at June 30, 2013 was $7,054,700. The District contributes 100% of the current year premium for teachers and non- administrative employees electing coverage and all other nonadministrative employees covered under one of three health plans. Administrators contribute 10% to the plans. The net OPEB obligation at June 30, 2013 was $8,471,005. Page 36: The Food Service Fund had an excess of actual expenditures over budget for the year ended June 30, 2013 of $455,570. The Capital Projects Fund had an excess of actual expenditures over budget for the year ended June 30, 2013 of $4,019,807 due to QZAB and Energy Efficiency financing and related capital expenditures. Special Revenue funds were in excess of budget by $374,390. Page 44: Administrator's Retirement Plan The District has an administrators' retirement plan which covers eligible administrators with over 10 years of experience with the District. The plan requires contributions by administrators electing to participate in the plan. The District is required to make a defined contribution ranging from $30,000 to $36,000 annually to the plan upon the administrators' retirement for administrators with at least 15 years of service. The District contributed $181,446 to the plan for the year ended June 30, 2013.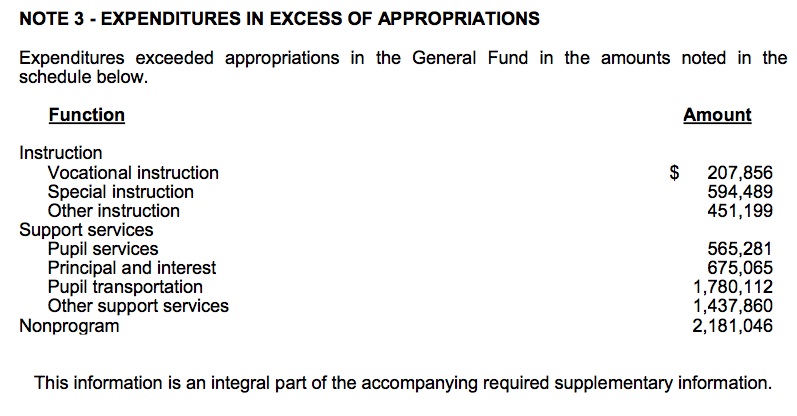 2012-13 External Financial Audit Presentation (PDF)
.
"Using a Zero Based Budget Process" (PDF)
Madison Teachers, Inc. Solidarity Newsletter, via a kind Jeannie Kamholtz email (PDF):
Last Monday's Supreme Court hearing, scheduled for 90 minutes, went almost four hours, given numerous comments and questions from the Justices - all seven participating to some degree. The resultant responses caused tension, such as Attorney General Van Hollen's response to Justice Ann Walsh Bradley's comment, "aren't the parties' arguments like ships passing in the night?" Van Hollen retorted that the two ships, "... are on a collision course" and "the State has a bigger ship and we shall win!" As The Progressive editor Ruth Conniff wrote of the exchange, "That pretty much sums up the Walker Administration's attitude toward the teachers, janitors, clerks, and municipal employees it seeks to disempower through Act 10. The state is bigger and stronger, Walker, Van Hollen, and their allies argue, and will not be deterred by public outcry, mass protests, or even the courts." MTI legal counsel Lester Pines, when presenting the Union's argument resurrected the ship analogy, telling Van Hollen that, "The Titanic was a big ship too, compared to the relatively small iceberg that caused it to sink." Pines added that the administration's Act 10, like the Titanic, has hit an iceberg, and that the iceberg in this case is the Wisconsin Constitution. In his argument, Pines told the Court that the fundamental argument came down to Constitutional rights. Pines' claim led to Van Hollen claiming, "There is no constitutional right to collective bargaining."
In its first year operating free of a state-imposed enrollment cap, Racine's private school voucher program saw enrollment more than double to 1,245 students, according to fall enrollment figures released by the state Department of Public Instruction. Growth in the Milwaukee private-school voucher program continued its steady climb, increasing by about 3.6% from last year to 25,820 students, up from 24,941 last September. Including the 512 students using a voucher to attend a private school in a new statewide program, the traditional third Friday of September head count reveals a total of 27,577 students using public dollars to attend 148 private, mostly religious schools in the state in the 2013-'14 school year. Participating private school leaders and voucher-school champions celebrate the growth, saying they're meeting a parent need and offering more children an opportunity to pursue a quality education. "I think the community has responded very positively," said Frank E. Trecroci, the founder and administrator of Mount Pleasant Renaissance School in Racine, which more than tripled its number of voucher students to 280 this fall, up from 89 voucher students in September 2012. But many public-school advocates see the growth of voucher programs as a threat, and those concerns are now coming from a chorus of voices outside Milwaukee. "I struggle with the wisdom of moving in this direction," Patricia Deklotz, the superintendent of the Kettle Moraine School District in Waukesha County, said Thursday. "We're building a dual system of funding here."
Total revenue for the Wisconsin Education Association Council, the largest union in the state, dropped from $26 million in 2011 to $20 million in 2012. WEAC, which represents 80,000 teachers across the state, has for years been a great force for the Democratic Party, providing millions of dollars on attack ads against Republicans on top of legions of volunteers. The next largest public sector union, American Federation of State, County and Municipal Employees, has also taken a financial hit. AFSCME Council 40, which represents county and municipal workers outside of Milwaukee County, reported its gross revenue dropping from $6.7 million in 2011 to $4.5 million in 2012. Reports for some of the other large AFSCME Councils, including Council 24, which represents state employees, are not yet available online. Revenue for the American Federation of Teachers, which in Wisconsin largely represents academic staff at the state's universities as well as a number of white-collar state employees, dropped from just under $4 million in 2011 to $2.6 million in 2012. The Service Employees International Union (SEIU) Local 150 -- which represents many public sector healthcare professionals -- saw its revenue drop from $937,000 to $783,000. Fortunately for that union, many of its members, including nurses at Meriter Hospital, are in the private sector, and are thus unaffected by Act 10. The decrease in union money could spell serious trouble for Democrats as they try to recapture the governorship and gain seats in the state Legislature next year. Third-party ads in favor of Democrats are largely funded by labor, whether from individual unions or union-funded groups such as the Greater Wisconsin Committee or We Are Wisconsin. With the largest unions bleeding dues, it will be hard for Democratic forces to compete with corporate-funded players on the right, such as Wisconsin Manufacturers & Commerce, which has already dumped $1 million into an ad buy celebrating Walker's record as governor.
Related:
WEAC: $1.57 million for Four Wisconsin Senators
.
New York Sen. Charles Schumer today called on the Justice Department to develop a program that would allow for voluntary tracking of children with autism or other developmental disorders. Devices could be worn as wristwatches, anklets, or clipped onto belt loops or onto shoelaces, Schumer said in a letter to Attorney General Eric Holder. Schumer's request comes one month after 14-year-old Avonte Oquendo (left) disappeared from his Queens, New York school. The teen, who suffers from autism and does not speak, was seen on surveillance cameras leaving his school on Oct. 4. New York authorities have mounted an extensive campaign to find him, but he remains missing. Those with information about Avonte should call 1-800-577-TIPS, while anyone who spots him should call 911 immediately. "The sights and sounds of NYC and other busy places can be over-stimulating and distracting for children and teens with Autism, often leading to wandering as a way to escape. Voluntary tracking devices will help our teachers and parents in the event that the child runs away and, God forbid, goes missing," Schumer said in a statement. "DOJ already funds these devices for individuals with Alzheimer's and they should do the same for children with Autism Spectrum Disorder. Funding this program will help put school systems and parents of children and teens with Autism at ease knowing where their children are." In related news, AT&T announced today that it will sell the Amber Alert GPS, a 3G device that kids can carry in their pockets or backpacks and features two-way calling and among other features.
This is a very bad idea.... The data will flow
as we continue to learn.
It isn't often that the Koch brothers' political advocacy group gets involved in a local school board race. But this fall, Americans for Prosperity is spending big in the wealthy suburbs south of Denver to influence voters in the Douglas County School District, which has gone further than any district in the nation to reshape public education into a competitive, free-market enterprise. The conservatives who control the board have neutered the teachers union, prodded neighborhood elementary schools to compete with one another for market share, directed tax money to pay for religious education and imposed a novel pay scale that values teachers by their subjects, so a young man teaching algebra to eighth graders can make $20,000 a year more than a colleague teaching world history down the hall. Conservatives across the U.S. see Douglas County as a model for transforming public schools everywhere. But with four of seven seats on the board up for grabs in Tuesday's election, reformers find themselves fending off a spirited challenge from a coalition of angry parents and well-funded teachers unions. The race has been nasty and pricey, too; spending from all parties is likely to hit at least $800,000.
Quick! Name the Ohio school-choice program that has provided students the opportunity to attend a school not operated by their resident school district for the longest period of time. Charter schools? Nope, strike 1. The Cleveland voucher program? Try again, strike 2. Unless you guessed open enrollment, that's strike 3. Before heading back to the dugout, read on to learn more about this established school-choice program. Open enrollment, first approved by the legislature in 1989, allows school districts (if they choose) to admit students whose home district is not their own. Perhaps against conventional wisdom, it has become a popular policy for districts. We even analyzed the trend in an April 2013 Gadfly. According to Ohio Department of Education records, over 80 percent of school districts in the state have opted to participate in some form of open enrollment. There are 432 districts that have opened their doors to students from any other district in the state, and another sixty-two districts have allowed students from adjacent districts to attend their schools. This year's budget bill (HB 59) created a task force to study open enrollment. The task force is to "review and make recommendations regarding the process by which students may enroll in other school districts under open enrollment and the funding mechanisms associated with open enrollment deductions and credits." The task force's findings are to be presented to the Governor and legislature by the end of the year.
Much more
on Open Enrollment here
.
The Board of Education must adopt a tax levy by November 6, 2013. We recommend a total tax levy for all Funds of $257,727,292. This is a 3.38% increase over the prior year, and a 1.09% decrease over the levy estimate included in the August 2013 preliminary budget. The Board's 'unused' levy authority, which can be preserved and carried forward, is $8.9 million. We also recommend that the Board adopt a Fall Budget for 2013-14 which will replace the preliminary budget approved in August. The Fall Budget has been updated to reflect the latest information regarding funding, grants, and actual staffing levels. A review of all budget line items was included in the update process, with adjustments made wherever necessary to improve the accuracy of the budget. The materials included in this packet provide multiple layers of detail concerning the budget and tax levy, from the concise 'DP! recommended budget format' to more detailed views of the budget and levy.
The current 2013-2014 budget spends $391,834,829 for 27,186 pk-12 students or $14,413/student. Note that per student spending is not linear for pre-k plus full time students. Related:
Madison's Planned $pending & Property Tax Increase: Does it Include $75/Student "Unrestricted" State Budget Increase (Outside of Revenue Caps)?
,
45% (!) Increase in Madison Schools' Fund 80 Property Taxes from the 2011-2012 to 2012-2013 School Year; No Mention of Total Spending
,
Madison Schools' 2013-2014 Budget Charts, Documents, Links, Background & Missing Numbers
and
Madison's disastrous reading results
.
A cynic would be forgiven for wondering whether the press conference Minneapolis mayoral candidate Mark Andrew held Monday afternoon, flanked by five members of the school board, was at least partly an exercise in damage control. At the session, held in the library at Windom Dual Immersion School in southwest Minneapolis, Andrew announced a three-pronged education agenda. At its center: a promise to convene a collaborative headed by education advocates with divergent philosophies, Mike Ciresi and Louise Sundin. "The conversation about improving educational outcomes for kids of color has gotten extremely polarized and increasingly heated in the past several years," Andrew explained in the plan. "The reformers vs. unions dichotomy is unproductive, and doesn't serve the best interests of our children or find Minneapolis solutions to the problems in Minneapolis' schools."
Minneapolis plans to spend $524,944,868 (
PDF budget book
) during the 2013-2014 school year for 34,148 students or 15,364 per student, about the
same as Madison
. Yet, property taxes are substantially lower in Minneapolis
where a home currently on the market for $279,900
has a 2013 property tax bill of
$3,433
. A
$230,000 Madison home pays $5,408.38 while a comparable Middleton home pays $4,648.18 in property taxes.
Madison
plans to increase property taxes 4.5% this year
, after
a 9% increase two years ago
, despite a substantial increase in redistributed state tax dollar receipts. Yet, such history is
often ignored during local tax & spending discussions
. Madison Superintendent Cheatham offers a single data point response to local tax & spending policy, failing to mention
the substantial increase in state tax receipts the year before
:
When we started our budget process, we received the largest possible cut in state aid, over $8 million," Cheatham said. "I'm pleased that this funding will make up a portion of that cut and help us accomplish what has been one of our goals all along: to reduce the impact of a large cut in state aid on our taxpayers."
A bit more
background
.