IN 2012, after 244 years in print, Encyclopedia Britannica became online-only. Now a group of German fans of Wikipedia, an online, user-generated encyclopedia, are raising money for a move in the opposite direction. A print version of the English Wikipedia--1,000 bulky volumes and 1,193,014 pages--will be on show at a gathering of Wikipedians later this year. A world tour will probably follow: a global victory lap for the internet's most impressive crowd-sourced creation. The books will be instantly out of date; several times a second an article is amended online. But that is not the point. Wikipedia, which was founded in 2001 by Jimmy Wales and Larry Sanger, has a right to show off. With articles on subjects as diverse as Spaghetti code ("a pejorative term for source code") and SpaghettiOs ("an American brand of canned spaghetti"), it has 1,600 times as many articles as the Encyclopedia Britannica. It is the world's fifth most popular website, with editions in 287 languages. (The English one is the biggest, with 4.4m articles.) On any given day 15% of all internet users visit it, amounting to 495m readers a month.
Is standardized testing anti-student? Many educators and commentators believe so, vehemently. No more "drill and kill," some detractors demand. Kids are not robots goes another refrain. Others argue that standardized testing is a soul-sapping exercise in rote learning that devalues critical thinking and favors students of higher-income parents who can afford test-prep classes or private tutors. On the contrary: Testing is good for the intellectual health of students. It is also an excellent way for teachers to better understand the particular academic challenges their students face. First, standardized tests are a critical thinker's dream. Multiple-choice questions often ask students to evaluate evidence and make inferences. Consider a sample multiple-choice question for the New York State English Language Arts test, which is administered in the public schools. It asks students to identify the tone of a paragraph excerpted from Andrew Carnegie's "The Gospel of Wealth" (1889).
For several months running, the Bill and Eva Show has been the talk of New York City politics. He is the new mayor, Bill de Blasio, an unapologetic old-school liberal Democrat, scourge of the rich and of public charter schools. She is Eva Moskowitz, fellow Democrat and educational-reform champion who runs the city's largest charter network. How did Ms. Moskowitz, a hero to thousands of New Yorkers of modest means whose children have been able to get a better education than their local public schools offered, end up becoming public enemy No. 1? She is the city's most prominent, and vocal, advocate for charter schools, and therefore a threat to the powerful teachers union that had been counting the days until the de Blasio administration took over last month from the charter-friendly Mayor Michael Bloomberg. Assailed by Mayor de Blasio and union leaders, Ms. Moskowitz is fighting back with typically sharp elbows. "A progressive Democrat should be embracing charters, not rejecting them," she says. "It's just wacky." As she reminds every audience, the 6,700 students at her 22 Success Academy Charter Schools are overwhelmingly from poor, minority families and scored in the top 1% in math and top 7% in English on the most recent state test. Four in five charters in the city outperformed comparable schools.
[The Prentice Hall Common Core literature textbook for the tenth grade:] ....Teachers may (or may not) ask interested students (two, four, or half a dozen?) to read a segment of the book (presumably a brief one only describing the monster) that will lead to two silly compare-and contrast-assignments, one involving "similar novels they have read." (Have they read any? They haven't read Frankenstein yet.) What about the students who are not "advanced readers"? What is being done to help them become better readers? And why should even the advanced readers read only a few pages out of this classic? What should students be doing if not reading Frankenstein? According to the notes in the margins of the Teacher's Edition, they should begin by offering to the class "classic examples of urban myths, tales of alien abductions, or ghost stories. (Examples include stories of alligators in the sewers, a man abducted for his kidneys, and aliens landing in Roswell, New Mexico)." (The word "classic" is being used very loosely.) To reinforce the findings of this "brainstorming activity," students should also "write a paragraph based on one of these modern urban myths." The class will also discuss Mary Shelley's introduction in various ways. Helping out, Elizabeth McCracken offers several more "scholar's insights," including one informing us of another ghost story about a man who buried his murder victim at the base of a tree "only to find that the next year's apples all had a clot of blood at the center of them." On the following page, we learn that Elizabeth McCracken did read the book, which she found better than the movie because, she tells us, in the book the monster can actually talk. Teachers are prompted to ask students why they think the film version would choose to keep the monster silent. Since the class will not be diverted enough with all this talk of movies, the Teacher's Edition also recommends that talented and gifted students "illustrate one aspect of Shelley's imaginings that is especially Gothic in its mood" and "display their Gothic art to the rest of the class." Do the editors realize that all this extraneous discussion of monsters and ghosts only serves to preserve the silly Halloween caricature of Frankenstein? Apparently this caricature is what they want. On page 766, students are encouraged to "write a brief autobiography of a monster." The editors point out that monster stories are usually told from the perspective of "the humans confronting the monster." The editors of The British Tradition want to turn the tables and have students ask themselves "what monsters think about their treatment." Now there's a great exercise in multiculturalism! Those poor, misunderstood monsters. Thus, students are being asked to write a monster story. What good could come from this? Without reading the novel Frankenstein itself (which does in fact tell much of the story from the monster's perspective), students have no way of knowing how human this Gothic tale really is. After a mere three and a half pages of Mary Shelley's introduction, the book offers a series of questions under various headings: Critical Reading, Literary Analysis, and so forth. Some of these questions are steeped in two-bit literary criticism. Others require students to delve into the moral realms of science and creation. One is a question asking students to interpret a modern cartoon about Frankenstein--funny, but out of place in this literature book. Notwithstanding whether the questions are good or bad, the enterprise is as false as the worst Hollywood versions of Frankenstein. The questions offer the façade of learning without genuine learning having taken place. That is for a very simple reason. My wife, the former English teacher who recognizes pretense when she sees it, took one look at these pages and put it very simply: "They (the editors) are requiring students to have opinions on something they know nothing about." Moore, Terrence (2013-11-29). The Story-Killers: A Common-Sense Case Against the Common Core (pp. 176-177). Kindle Edition. ------------------------- "Teach by Example" Will Fitzhugh [founder] The Concord Review [1987] Ralph Waldo Emerson Prizes [1995] National Writing Board [1998] TCR Institute [2002] 730 Boston Post Road, Suite 24 Sudbury, Massachusetts 01776-3371 USA 978-443-0022; 800-331-5007 www.tcr.org; fitzhugh@tcr.org Varsity Academics® tcr.org/bookstore www.tcr.org/blog
Karthik Muralidharan & Venkatesh Sundararaman (PDF):
We find that private school teachers have lower levels of formal education and training than public-school teachers, and are paid much lower salaries. On the other hand, private schools have a longer school day, a longer school year, smaller class sizes, lower teacher absence, higher teaching activity, and better school hygiene. After two and four years of the program, we find no difference between the test scores of lottery winners and losers on math and Telugu (native language). However, private schools spend significantly less instructional time on these subjects, and use the extra time to teach more English, Science, Social Studies, and Hindi. Averaged across all subjects, lottery winners score 0.13 σhigher, and students who attend private schools score 0.23 σhigher. We find no evidence of spillovers on public-school students who do not apply for the voucher, or on students who start out in private schools to begin with, suggesting that the program had no adverse effects on these groups. Finally, the mean cost per student in the private schools in our sample is less than a third of the cost in public schools. Our results suggest that private schools in this setting deliver (slightly) better test score gains than their public counterparts, and do so at substantially lower costs per student.
A new report from ACT reveals an untapped pool of students who have an interest in STEM areas (science, technology, engineering, and mathematics) but are not planning to pursue a STEM career as they prepare for the future. The data point to a gap between interests and intentions that, if addressed, could help put more students on the path to STEM careers. "The good news is that student interest in STEM is high overall," said Jon Erickson, ACT president of education and career solutions. "The bad news is that a sizable number of students may not be connecting the dots between their innate interests and a potential STEM-related career." The ACT national and state report series, The Condition of STEM 2013, examines the expressed and measured interests of high school graduates in the class of 2013 who took the ACT® college readiness exam. Expressed interest is when students say they intend to pursue a particular major or occupation. Measured interest, in contrast, is derived from students' responses to the ACT Interest Inventory, a battery of questions that measures preferences for different types of work tasks.
The enthusiasm was sincere. But the ad hoc appearance as a humanities lecturer also supported his strong commitment to cross-disciplinary work and his defence of the virtues of a broad liberal arts education. "Just as we wouldn't want a student in engineering to graduate never having read a Shakespeare play . . . .we also don't want a student graduating in history or English literature who doesn't know something about technology," he says, in his office in a corner of Stanford's Main Quad. The book-lined room is itself a small shrine to the university's scope: his scientific medals sit near a wig given to him by US Supreme Court justice (and alumna) Sandra Day O'Connor; a low-cost infant-warmer developed by the university's social entrepreneurs; and a pair of sneakers decorated with pictures of Stanford. From outside, though, the fight to maintain Stanford's breadth may look like an uphill battle, led by the wrong person. Many students see Stanford as a springboard into Silicon Valley and Prof Hennessy, himself a founder of two technology companies, is an example of precisely the sort of success to which they aspire.
An article on the Education Bureau's website claiming "Cantonese is not an official language" has been removed after criticism. The article was posted on the website's Language Learning Support section on January 24. It aimed to promote the importance of bilingualism and trilingualism as the city "develops alongside the rapidly growing China" and "the daily usage of Mandarin [in Hong Kong] becomes common". It said: "Although the Basic Law stipulates that Chinese and English are the two official languages in Hong Kong, nearly 97 per cent of the local population learn Cantonese (a Chinese dialect that is not an official language) as their commonly used daily language." The article was removed yesterday. The webpage is now "being updated". Education sector lawmaker Ip Kin-yuen said the bureau had "done wrong" because it was not its business to define what language was official. But he commended it for quickly removing the article and apologising.
The FT Global MBA ranking and the English football Premier League have one thing in common. Pundits may argue about who will head the table, but most years there is little doubt about the top five. So it is for 2014: Harvard Business School fended off competitors and kept the crown it regained last year. This is the fifth time Harvard has topped the rankings since they began in 1999. Stanford Graduate School of Business remained second, while London Business School leapfrogged the Wharton school at the University of Pennsylvania, pushing the latter into fourth place. Columbia Business School and Insead are joint fifth. The FT ranking is based on two surveys of the business schools and their alumni who graduated in 2010. MBA programmes are assessed according to the career progression of their alumni, the school's idea generation and the diversity of students and faculty. Harvard leads the field for idea generation, coming first for research and second for its doctoral programme. The school's alumni also boast the second-highest average salary three years after graduation (behind Stanford) and above-average salary increase. Harvard is also among the top schools for career progression and its MBA was the most highly commended by graduates from other schools.
Heather Mac Donald may be the Ida Tarbell of our age: a writer who combines a meticulous eye for facts, intellectual brilliance, a sure sense of the historical moment, and deep moral seriousness. Tarbell is famous for her History of the Standard Oil Company, serialized in McClure's Magazine between 1902 and 1904, and is celebrated today by the Left for her having struck a blow against Big Business. She even merited her own postage stamp in 2002, along with three other women journalists. It may be a while before Mac Donald wins such philatelic immortality. Like Tarbell, she is a deft expositor of the excesses of large enterprises that have grown unaccountable and corrupt. But Mac Donald's preferred topics are big city government and, increasingly, academia. The Left has a hard time coming to grips with the prospect that the latter day equivalent of Standard Oil may be the University of California. Witness the splenetic rage of Rebecca Schuman writing on Slate. The occasion was the republication in The Wall Street Journal of an essay that Mac Donald first published in City Journal: "The Humanities Have Forgotten Their Humanity." Mac Donald offered a fer instance of why students across the country are forsaking majors in the humanities and minimizing the number of courses they take in the traditional humanistic departments. Her essay explains what happened at UCLA in 2011, when the English Department deep-sixed its requirements in "the cornerstones of English literature" in favor of some theory-besotted junk. Schuman's rebuttal takes the form of a series of snotty rhetorical questions meant to imply that Mac Donald is a cultural ignoramus.
The district provided a comprehensive extended learning summer school program, K-Ready through 12th grade, at ten sites and served 5,097 students. At each of the K-8 sites, there was direction by a principal, professional Leopold, Chavez, Black Hawk and Toki, and oral language development was offered at Blackhawk and Toki. The 4th grade promotion classes were held at each elementary school, and 8th grade promotion classes were held at the two middle school sites. Students in grades K-2 who received a 1 or 2 on their report card in literacy, and students in grades 3-5 who received a 1 or 2 in math or literacy, were invited to attend SLA. The 6-7 grade students who received a GPA of 2.0 or lower, or a 1 or 2 on WKCE, were invited to attend SLA. As in 2012, students with report cards indicating behavioral concerns were invited to attend summer school. Additionally, the summer school criterion for grades 5K-7th included consideration for students receiving a 3 or 4 asterisk grade on their report card (an asterisk grade indicates the student receives modified curriculum). In total, the academic program served 2,910 students, ranging from those entering five-year-old kindergarten through 8th grade. High school courses were offered for credit recovery, first-time credit, and electives including English/language arts, math, science, social studies, health, physical education, keyboarding, computer literacy, art, study skills, algebra prep, ACT/SAT prep, and work experience. The high school program served a total of 1,536 students, with 74 students having completed their graduation requirements at the end of the summer. All academic summer school teachers received approximately 20 hours of professional development prior to the start of the six-week program. Kindergarten-Ready teachers as well as primary literacy and math teachers also had access to job embedded professional development. In 2013, there were 476 certified staff employed in SLA.
Jennifer Cheatham:
Key Enhancements for Summer School 2014 A) Provide teachers with a pay increase without increasing overall cost of summer school. Teacher salary increase of 3% ($53,887). B) Smaller Learning Environments: Create smaller learning environments, with fewer students per summer school site compared to previous years, to achieve the following: increase student access to high quality learning, increase the number of students who can walk to school, and reduce number of people in the building when temperatures are high. ($50,482) C) Innovations: Pilot at Wright Middle School and Lindbergh Elementary School where students receive instruction in a familiar environment, from a familiar teacher. These school sites were selected based on identification as intense focus schools along with having high poverty rates when compared to the rest of the district. Pilot character building curriculum at Sandburg Elementary School. ($37,529) D) Student Engagement: Increase student engagement with high quality curriculum and instruction along with incentives such as Friday pep rallies and afternoon MSCR fieldtrips. ($25,000) E) High School Professional Development: First-time-offered, to increase quality of instruction and student engagement in learning. ($12,083) F) Student Selection: Utilize an enhanced student selection process that better aligns with school's multi-tiered systems of support (MTSS) so that student services intervention teams (SSIT) have time to problem solve, and recommend students for SLA. Recommendations are based on student grades and standardized assessment scores, such as a MAP score below the 25th percentile at grades 3-5, or a score of minimal on the WKCE in language arts, math, science, and social studies at grades 3-5. (no cost) Estimated total cost: $185,709.00 Summer School Program Reductions The following changes would allow enhancements to summer school and implementation of innovative pilots: A) Professional development (PD): reduce PD days for teachers grades K-8 by one day. This change will save money and provide teachers with an extra day off of work before the start of summer school (save $49,344.60). B) Materials reduction: the purchase of Mondo materials in 2013 allows for the reduction of general literacy curricular materials in 2014 (save $5,000). C) Madison Virtual Campus (MVC): MVC is not a reimbursable summer school program as students are not in classroom seats. This program could be offered separate from summer school in the future (save $18,000). D) Librarians: reduce 3 positions, assigning librarians to support two sites. Students will continue to have access to the expertise of the librarian and can utilize library resources including electronic equipment (save $12,903.84). E) Reading Interventionists: reduce 8 positions, as summer school is a student intervention, it allows students additional learning time in literacy and math. With new Mondo materials and student data profiles, students can be grouped for the most effective instruction when appropriate (save $48,492). F) PBS Coach: reduce 8 positions, combining the coach and interventionist positions to create one position (coach/interventionist) that supports teachers in setting up classes and school wide systems, along with providing individual student interventions. With smaller learning sites, there would be less need for two separate positions (save $24,408). G) Literacy and Math Coach Positions: reduce from 16 to 5 positions, combining the role and purpose of the literacy and math coach. Each position supports two schools for both math and literacy. Teachers can meet weekly with literacy/math coach to plan and collaborate around curriculum and student needs (save $27,601.60). Estimated Total Savings: $185,750.04 Strategic Framework: The role of the Summer Learning Academy (SLA) is critical to preparing students for college career and community readiness. Research tells us that over 50% of the achievement gap between lower and higher income students is directly related to unequal learning opportunities over the summer (Alexander et al., 2007). Research based practices and interventions are utilized in SLA to increase opportunities for learning and to raise student achievement across the District (Odden & Archibald, 2008). The SLA is a valuable time for students to receive additional support in learning core concepts in literacy and math to move them toward MMSD benchmarks (Augustine et.al., 2013). SLA aligns with the following Madison Metropolitan School District (MMSD) Strategic Framework goals: A) Every student is on-track to graduate as measured by student growth and achievement at key milestones. Milestones of reading by grade 3, proficiency in reading and math in grade 5, high school readiness in grade 8, college readiness in grade 11, and high school graduation and completion rate. B) Every student has access to challenging and well-rounded education as measured by programmatic access and participation data. Access to fine arts and world languages, extra-curricular and co-curricular activities, and advanced coursework.
When Yadir Sanchez arrived in this San Joaquin Valley agricultural town at age 5, she joined a well-traveled path to academic failure that children of other Mexican farmworkers had been on for years. Students like Sanchez - poor, Hispanic and barely bilingual - routinely fell through the cracks in the Sanger Unified School District, which had one of the worst records in the state. Lacking basic math and English skills, students were pushed into trades or allowed to drop out. Sanchez appeared to be no different, speaking only Spanish in kindergarten and struggling with English until fifth grade. But something remarkable happened that lifted the fortunes of Sanchez and so many like her. The district reinvented itself, making huge strides by shaking up the way teachers worked with students, parents and each other. In 2012, the district graduated 94 percent of its Hispanic students, 20 percentage points higher than the state average and similar districts. Its Hispanic dropout rate was just 3 percent, compared to 18 percent statewide. Sanger's success is still the exception across California. While Latinos are poised to become the state's largest ethnic group in 2014, they continue to score lower on standardized tests, graduate at lower rates and drop out more often than other students. Gov. Jerry Brown recently signed legislation that will funnel more money to help poorer schools, but Sanger's success serves as a model for how a district made vast gains despite budget cuts.
Mark Arax
Take Sanger Unified, for one. Six years ago, the achievement gap between whites in Sanger and whites in Fresno stood at 57 points on the API test. Today, the gap has widened to 78 points. Whites in Sanger score 892 points on the API compared to 814 points for whites in Fresno. The gap between Latinos, by far the majority population in both districts, is even wider. Latinos in Sanger score 811 on the API compared to 708 for Latinos in Fresno. The most stunning gap -- a gulf really -- can be seen in the black community. Blacks in Sanger score 821 while blacks in Fresno score 665. That's a 156-point difference in two districts whose headquarters sit a few miles apart.
Sanger will spend $
80,795,175
for
11,000 students
during the 2013-2014 school year (
PDF Budget document
), or $7,345 per student. That is about h
alf the amount Madison spends per student (!)
and
similar to the national average
. Sanger's "
Academic Performance Index
". Demographic comparison:
Sanger
|
Madison
.
Sanger high school offers 14 AP courses
. Madison's substantial per student spending continues,
despite long term disastrous reading results.
In 2011, the University of California at Los Angeles wrecked its English major. Such a development may seem insignificant, compared with, say, the federal takeover of health care. It is not. What happened at UCLA is part of a momentous shift that bears on our relationship to the past--and to civilization itself. Until 2011, students majoring in English at UCLA had to take one course in Chaucer, two in Shakespeare, and one in Milton--the cornerstones of English literature. Following a revolt of the junior faculty, however, during which it was announced that Shakespeare was part of the "Empire," UCLA junked these individual author requirements. It replaced them with a mandate that all English majors take a total of three courses in the following four areas: Gender, Race, Ethnicity, Disability and Sexuality Studies; Imperial, Transnational, and Postcolonial Studies; genre studies, interdisciplinary studies, and critical theory; or creative writing. In other words, the UCLA faculty was now officially indifferent to whether an English major had ever read a word of Chaucer, Milton or Shakespeare, but the department was determined to expose students, according to the course catalog, to "alternative rubrics of gender, sexuality, race, and class."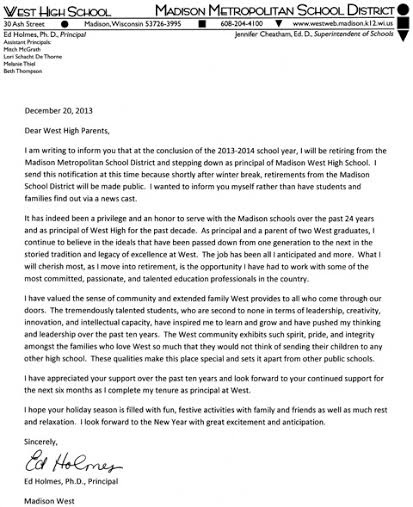 Madison West High School Principal Ed Holmes (PDF), via a kind reader's email. A number of controversial curricular initiatives occurred during Holmes' reign, including the implementation of "one size fits all" English 10, a parent TAG complaint, small learning communities and various "high school redesign" plans.
Shannon Gibney is a professor of English and African diaspora studies at Minneapolis Community and Technical College (MCTC). When that's your job, there are a lot of opportunities to talk about racism, imperialism, capitalism, and history. There are also a lot of opportunities to anger students who would rather not learn about racism, imperialism, capitalism, and history. I presume MCTC knows that; they have an African diaspora studies program. Back in January 2009, white students made charges of discrimination after Gibney suggested to them that fashioning a noose in the newsroom of the campus newspaper--as an editor had done the previous fall--might alienate students of color. More recently, when Gibney led a discussion on structural racism in her mass communication class, three white students filed a discrimination complaint because it made them feel uncomfortable. This time, MCTC reprimanded Gibney under their anti-discrimination policy. Elevating discomfort to discrimination mocks the intent of the policy, but that's not the whole of it. By sanctioning Gibney for making students uncomfortable, MCTC is pushing a disturbing higher-education trend. When colleges and universities become a market, there is no incentive to teach what customers would rather not know. When colleges are in the business of making customers comfortable, we are all poorer for it.
Massive open online courses, or MOOCs, are the latest effort to harness information technology for higher education. While they are still in a nascent stage of development, many in academe are enthusiastic about their potential to be an inexpensive way of delivering an education to vast audiences. Yet one aspect of the MOOC movement has not been fully analyzed: who controls the knowledge. MOOCs are largely an American-led effort, and the majority of the courses available so far come from universities in the United States or other Western countries. Universities and educators in less-developed regions of the world are climbing onto the MOOC bandwagon, but it is likely that they will be using the technology, pedagogical ideas, and probably significant parts of the content developed elsewhere. In this way, the online courses threaten to exacerbate the worldwide influence of Western academe, bolstering its higher-education hegemony. For the most part, MOOC content is based on the American academic experience and pedagogical ideas. By and large, the readings required by most MOOC courses are American or from other Western countries. Many of the courses are in English, and even when lectures and materials are translated into other languages, the content largely reflects the original course. The vast majority of instructors are American. It is likely that more diversity will develop, but the basic content will remain the same.
If they are to make progress, children should start learning early. But Mandarin is very different from European languages and harder for an English speaker to learn than French or German. Also, in the race to learn other languages, the Chinese are way ahead in learning English. Although the English-language component of the Chinese university entrance exam has been reduced, there are 50,000 English-language teaching companies in the country. Internationally-minded companies regard English as important. Lenovo, the Chinese computer company, has made it its official language. Throughout Europe, English is now essential for anyone wanting to reach a senior corporate position. It is a given, a background skill like knowing how to create a PowerPoint presentation or find your way to the office. That will be the case in China too. Foreign Mandarin speakers may establish better contacts and win business. But if China follows the European pattern, its future young executives will listen as their anglophone counterparts struggle a while in their school-learnt Mandarin and they will then switch to English because it wastes less time.
Reminders of Best Practice Current Practice Data from MMSD Review input from Focus Groups Examine Implications for Policy Examine Implications for Practice
Related:
Parent talented & gifted complaint
,
MAP Assessment results
,
English 10
, credit for
non-Madison school district courses
and
outbound open enrollment
.
A new report urges state lawmakers to proceed with plans to introduce the Smarter Balanced exam as a replacement for the Michigan Educational Assessment Program, saying it remains the only viable option for the 2014-15 school year. Michigan education officials released the 23-page report Monday outlining options for a new state assessment tool to be used as early as next year to test K-12 students under Common Core state standards. State schools administered the MEAP for what is supposed to be the last time this fall. The report, requested by lawmakers in late October after they removed a funding block for implementation of Common Core, examines 12 test options in the marketplace. The report provides summaries on the cost of each test, scoring and reporting methods, test security transparency and overall design. Of the 12 options, only Smarter Balanced and two other tests were aligned to Common Core, a more rigorous set of standards adopted by the State Board of Education in 2010 for math and English. The other exams aligned to the standards are Measured Progress and PARCC.
Education: Parents pay a fortune to send their kids to big-name colleges, and they expect strong scholarship in return. More and more, what they're getting ranges from drivel to leftist indoctrination. Manhattan Institute scholar Heather Mac Donald shocked a New York City audience at the 2013 Wriston Lecture this month with some examples of what leftist academics have done to the American college curriculum. "Until 2011," she noted, "students majoring in English at UCLA had been required to take one course in Chaucer, two in Shakespeare, and one in Milton -- the cornerstones of English literature.