Elizabeth Phillips I'D like to tell you what was wrong with the tests my students took last week, but I can't. Pearson's $32 million contract with New York State to design the exams prohibits the state from making the tests public and imposes a gag order on educators who administer them. So teachers watched hundreds of thousands of children in grades 3 to 8 sit for between 70 and 180 minutes per day for three days taking a state English Language Arts exam that does a poor job of testing reading comprehension, and yet we're not allowed to point out what the problems were. This lack of transparency was one of the driving forces that led the teachers at my...
Is standardized testing anti-student? Many educators and commentators believe so, vehemently. No more "drill and kill," some detractors demand. Kids are not robots goes another refrain. Others argue that standardized testing is a soul-sapping exercise in rote learning that devalues critical thinking and favors students of higher-income parents who can afford test-prep classes or private tutors. On the contrary: Testing is good for the intellectual health of students. It is also an excellent way for teachers to better understand the particular academic challenges their students face. First, standardized tests are a critical thinker's dream. Multiple-choice questions often ask students to evaluate evidence and make inferences. Consider a sample multiple-choice question for the New York State English Language Arts test, which is administered in the public schools. It asks students to identify the tone of a paragraph excerpted from Andrew Carnegie's "The Gospel of Wealth" (1889).
For several months running, the Bill and Eva Show has been the talk of New York City politics. He is the new mayor, Bill de Blasio, an unapologetic old-school liberal Democrat, scourge of the rich and of public charter schools. She is Eva Moskowitz, fellow Democrat and educational-reform champion who runs the city's largest charter network. How did Ms. Moskowitz, a hero to thousands of New Yorkers of modest means whose children have been able to get a better education than their local public schools offered, end up becoming public enemy No. 1? She is the city's most prominent, and vocal, advocate for charter schools, and therefore a threat to the powerful teachers union that had been counting the days until the de Blasio administration took over last month from the charter-friendly Mayor Michael Bloomberg. Assailed by Mayor de Blasio and union leaders, Ms. Moskowitz is fighting back with typically sharp elbows. "A progressive Democrat should be embracing charters, not rejecting them," she says. "It's just wacky." As she reminds every audience, the 6,700 students at her 22 Success Academy Charter Schools are overwhelmingly from poor, minority families and scored in the top 1% in math and top 7% in English on the most recent state test. Four in five charters in the city outperformed comparable schools.
Here I attempt to write the abstract for my thesis, 'A Partially-automated Approach to the Assessment of Mathematics in Higher Education', "using only the ten hundred words people use the most often". Katie Steckles pointed out via the latest Carnival of Mathematics that quantum computer scientist Scott Aaronson posted an explanation of his research using only the 1000 most common words in English, inspired by the xkcd comic 'Up-Goer Five', which did the same for a labelled diagram of the Saturn V rocket (the 'Up-Goer Five'). Scott's post links to The Up-Goer Five text editor, a fabulous innovation that allows typing in a box and highlights when a word isn't on the same list of words used in the xkcd diagram. I used this to write a version of my thesis abstract. Beyond what the text editor wanted, I also voluntarily adjusted some terms that are on the list, but presumably not in the way I mean them. Particularly, 'deep learning' and 'open-ended questions' didn't get highlighted. I've gone for a fairly close, word-by-word translation, though clearly some parts could be rewritten completely to be clearer. My thesis abstract (the version I handed in) is in a previous blog post, if you want to view it for comparison. Here's my Up-Goer Five version.
The FT Global MBA ranking and the English football Premier League have one thing in common. Pundits may argue about who will head the table, but most years there is little doubt about the top five. So it is for 2014: Harvard Business School fended off competitors and kept the crown it regained last year. This is the fifth time Harvard has topped the rankings since they began in 1999. Stanford Graduate School of Business remained second, while London Business School leapfrogged the Wharton school at the University of Pennsylvania, pushing the latter into fourth place. Columbia Business School and Insead are joint fifth. The FT ranking is based on two surveys of the business schools and their alumni who graduated in 2010. MBA programmes are assessed according to the career progression of their alumni, the school's idea generation and the diversity of students and faculty. Harvard leads the field for idea generation, coming first for research and second for its doctoral programme. The school's alumni also boast the second-highest average salary three years after graduation (behind Stanford) and above-average salary increase. Harvard is also among the top schools for career progression and its MBA was the most highly commended by graduates from other schools.
The district provided a comprehensive extended learning summer school program, K-Ready through 12th grade, at ten sites and served 5,097 students. At each of the K-8 sites, there was direction by a principal, professional Leopold, Chavez, Black Hawk and Toki, and oral language development was offered at Blackhawk and Toki. The 4th grade promotion classes were held at each elementary school, and 8th grade promotion classes were held at the two middle school sites. Students in grades K-2 who received a 1 or 2 on their report card in literacy, and students in grades 3-5 who received a 1 or 2 in math or literacy, were invited to attend SLA. The 6-7 grade students who received a GPA of 2.0 or lower, or a 1 or 2 on WKCE, were invited to attend SLA. As in 2012, students with report cards indicating behavioral concerns were invited to attend summer school. Additionally, the summer school criterion for grades 5K-7th included consideration for students receiving a 3 or 4 asterisk grade on their report card (an asterisk grade indicates the student receives modified curriculum). In total, the academic program served 2,910 students, ranging from those entering five-year-old kindergarten through 8th grade. High school courses were offered for credit recovery, first-time credit, and electives including English/language arts, math, science, social studies, health, physical education, keyboarding, computer literacy, art, study skills, algebra prep, ACT/SAT prep, and work experience. The high school program served a total of 1,536 students, with 74 students having completed their graduation requirements at the end of the summer. All academic summer school teachers received approximately 20 hours of professional development prior to the start of the six-week program. Kindergarten-Ready teachers as well as primary literacy and math teachers also had access to job embedded professional development. In 2013, there were 476 certified staff employed in SLA.
Jennifer Cheatham:
Key Enhancements for Summer School 2014 A) Provide teachers with a pay increase without increasing overall cost of summer school. Teacher salary increase of 3% ($53,887). B) Smaller Learning Environments: Create smaller learning environments, with fewer students per summer school site compared to previous years, to achieve the following: increase student access to high quality learning, increase the number of students who can walk to school, and reduce number of people in the building when temperatures are high. ($50,482) C) Innovations: Pilot at Wright Middle School and Lindbergh Elementary School where students receive instruction in a familiar environment, from a familiar teacher. These school sites were selected based on identification as intense focus schools along with having high poverty rates when compared to the rest of the district. Pilot character building curriculum at Sandburg Elementary School. ($37,529) D) Student Engagement: Increase student engagement with high quality curriculum and instruction along with incentives such as Friday pep rallies and afternoon MSCR fieldtrips. ($25,000) E) High School Professional Development: First-time-offered, to increase quality of instruction and student engagement in learning. ($12,083) F) Student Selection: Utilize an enhanced student selection process that better aligns with school's multi-tiered systems of support (MTSS) so that student services intervention teams (SSIT) have time to problem solve, and recommend students for SLA. Recommendations are based on student grades and standardized assessment scores, such as a MAP score below the 25th percentile at grades 3-5, or a score of minimal on the WKCE in language arts, math, science, and social studies at grades 3-5. (no cost) Estimated total cost: $185,709.00 Summer School Program Reductions The following changes would allow enhancements to summer school and implementation of innovative pilots: A) Professional development (PD): reduce PD days for teachers grades K-8 by one day. This change will save money and provide teachers with an extra day off of work before the start of summer school (save $49,344.60). B) Materials reduction: the purchase of Mondo materials in 2013 allows for the reduction of general literacy curricular materials in 2014 (save $5,000). C) Madison Virtual Campus (MVC): MVC is not a reimbursable summer school program as students are not in classroom seats. This program could be offered separate from summer school in the future (save $18,000). D) Librarians: reduce 3 positions, assigning librarians to support two sites. Students will continue to have access to the expertise of the librarian and can utilize library resources including electronic equipment (save $12,903.84). E) Reading Interventionists: reduce 8 positions, as summer school is a student intervention, it allows students additional learning time in literacy and math. With new Mondo materials and student data profiles, students can be grouped for the most effective instruction when appropriate (save $48,492). F) PBS Coach: reduce 8 positions, combining the coach and interventionist positions to create one position (coach/interventionist) that supports teachers in setting up classes and school wide systems, along with providing individual student interventions. With smaller learning sites, there would be less need for two separate positions (save $24,408). G) Literacy and Math Coach Positions: reduce from 16 to 5 positions, combining the role and purpose of the literacy and math coach. Each position supports two schools for both math and literacy. Teachers can meet weekly with literacy/math coach to plan and collaborate around curriculum and student needs (save $27,601.60). Estimated Total Savings: $185,750.04 Strategic Framework: The role of the Summer Learning Academy (SLA) is critical to preparing students for college career and community readiness. Research tells us that over 50% of the achievement gap between lower and higher income students is directly related to unequal learning opportunities over the summer (Alexander et al., 2007). Research based practices and interventions are utilized in SLA to increase opportunities for learning and to raise student achievement across the District (Odden & Archibald, 2008). The SLA is a valuable time for students to receive additional support in learning core concepts in literacy and math to move them toward MMSD benchmarks (Augustine et.al., 2013). SLA aligns with the following Madison Metropolitan School District (MMSD) Strategic Framework goals: A) Every student is on-track to graduate as measured by student growth and achievement at key milestones. Milestones of reading by grade 3, proficiency in reading and math in grade 5, high school readiness in grade 8, college readiness in grade 11, and high school graduation and completion rate. B) Every student has access to challenging and well-rounded education as measured by programmatic access and participation data. Access to fine arts and world languages, extra-curricular and co-curricular activities, and advanced coursework.
In 2011, the University of California at Los Angeles wrecked its English major. Such a development may seem insignificant, compared with, say, the federal takeover of health care. It is not. What happened at UCLA is part of a momentous shift that bears on our relationship to the past--and to civilization itself. Until 2011, students majoring in English at UCLA had to take one course in Chaucer, two in Shakespeare, and one in Milton--the cornerstones of English literature. Following a revolt of the junior faculty, however, during which it was announced that Shakespeare was part of the "Empire," UCLA junked these individual author requirements. It replaced them with a mandate that all English majors take a total of three courses in the following four areas: Gender, Race, Ethnicity, Disability and Sexuality Studies; Imperial, Transnational, and Postcolonial Studies; genre studies, interdisciplinary studies, and critical theory; or creative writing. In other words, the UCLA faculty was now officially indifferent to whether an English major had ever read a word of Chaucer, Milton or Shakespeare, but the department was determined to expose students, according to the course catalog, to "alternative rubrics of gender, sexuality, race, and class."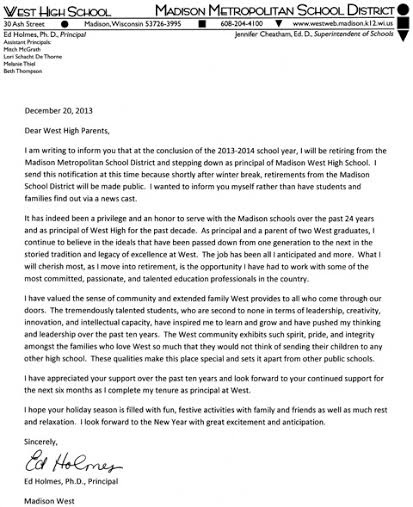 Madison West High School Principal Ed Holmes (PDF), via a kind reader's email. A number of controversial curricular initiatives occurred during Holmes' reign, including the implementation of "one size fits all" English 10, a parent TAG complaint, small learning communities and various "high school redesign" plans.
Earlier this fall semester, Dr. Anne-Marie Womack (Tulane), a colleague from my graduate institution, and I had a piece about the academic job market in English published in the Chronicle of Higher Education. In the piece, we make the argument that departments should strive to make the first round of job applications free of cost for candidates. The idea for this piece arose when we were on a flight together to campus visits and we got into a discussion about how much money we had spent on Interfolio during the job search "season". Both of us had applied to more than 100 jobs, and for myself the Interfolio cost alone was north of $600. For those of you who may be unfamiliar with Interfolio, it is a dossier service that allows a candidate to put his or her materials together, including confidential letters of recommendation, and send them as one package to the hiring committee responsible for the job search. The minimum cost for sending a dossier through Interfolio is $6, and in the case of print materials, the price increases as the page count goes up. For most jobs I applied to, the committee required at minimum a CV, three confidential letters of recommendation, a teaching philosophy, a writing sample, and a job letter in the first round of application. Due to the volume of this type of application, the cost for a single Interfolio dossier could go as high as $20. Given such a high cost to applicants, most often graduate students, adjuncts, and postdoctoral fellows, and the fact that many jobs in English had as many as 500 applicants in the first round, we argued that departments and schools should work to make the process free to applicants by requiring only an electronic submission of a CV and job letter in the first round. We further argued that this system would also provide feedback and reassurance to applicants advanced to the next round of the search by contacting them for materials like the writing sample and confidential letters of recommendation. Requesting more materials from a short list, we claimed, "would also alert us of our success and would mark a significant personal accomplishment in what can be a very anonymous process."
Reminders of Best Practice Current Practice Data from MMSD Review input from Focus Groups Examine Implications for Policy Examine Implications for Practice
Related:
Parent talented & gifted complaint
,
MAP Assessment results
,
English 10
, credit for
non-Madison school district courses
and
outbound open enrollment
.
Lately the question "Is College Necessary?" has been under debate. One factor sparking the debate is the record 85 percent of recent college grads living with their parents. While economists and academics argue about the benefits of a college education and the loan debt incurred by many students, what are recent college grads thinking, especially those who can't find jobs or if they do, cannot support themselves? In this guest post, Cristina Schreil, a 2011 graduate of New York University who majored in English Literature and Journalism, investigated how her generation feels about the expectations they had and what they feel now--diplomas in hand. Like many of her peers, she admits, "in no way am I supporting myself 100 percent, but I am still pursuing the goal of working in journalism full time. I think it's going to be a long journey." Here is what Cristina learned about her peer's attitudes and struggles:
A new report urges state lawmakers to proceed with plans to introduce the Smarter Balanced exam as a replacement for the Michigan Educational Assessment Program, saying it remains the only viable option for the 2014-15 school year. Michigan education officials released the 23-page report Monday outlining options for a new state assessment tool to be used as early as next year to test K-12 students under Common Core state standards. State schools administered the MEAP for what is supposed to be the last time this fall. The report, requested by lawmakers in late October after they removed a funding block for implementation of Common Core, examines 12 test options in the marketplace. The report provides summaries on the cost of each test, scoring and reporting methods, test security transparency and overall design. Of the 12 options, only Smarter Balanced and two other tests were aligned to Common Core, a more rigorous set of standards adopted by the State Board of Education in 2010 for math and English. The other exams aligned to the standards are Measured Progress and PARCC.
Middle schools and high schools often offer an array of classes and programs in order to serve students with a variety of educational needs. They include talented and gifted, special education, honors and advanced placements, career and technical education and basic courses. ProPublica is investigating whether these courses have also become a means of segregating students by race. Help us investigate this issue by filling out the form below. We promise any personally identifying information will remain confidential. If you'd rather, you can also reach out to reporter Nikole Hannah-Jones directly at Nikole.Hannah-Jones@propublica.org
Related:
English 10
.
The Madison School District (PDF):
BOARD POLICIES and PROCEDURES represent the BOARD's vision for the DISTRICT and set the general direction for the DISTRICT. It is an essential function of the BOARD to establish BOARD POLICIES and the BOARD PROCEDURES necessary to eaffect those POLICIES and PROCEDURES. In order to carry out this function in an effective, efficient, consistent and transparent manner, the BOARD believes it is imperative to have a well-defined procedure for creating, maintaining and modifying such POLICIES and PROCEDURES as needed. ... Beginning in the 2014-2015 school year, except for POLICIES and PROCEDURES that are reviewed on an annual basis, see IV.H, below, the SUPERINTENDENT or his/her designee shall review all BOARD POLICIES and PROCEDURES shall be reviewed pursuant to the following three-year review cycle: Year 1: Chapter 4000 (Pupils), Chapter 5000 (Auxiliary Services), Chapter 6000 (Operations) Year 2: Chapter 2000 (Administration), Chapter 3000 (Instruction), Chapter 7000 (Community Relations), Chapter 10000 (Charter Schools) Year 3: Chapter 1000 (Board of Education), Chapter 8000 (Personnel), Chapter 9000 (Ethics) Following said review, the SUPERINTENDENT shall present his/her recommendations at a WORK GROUP meeting for review and approval by the BOARD. The review cycle does not preclude the BOARD from taking action on any POLICY determined to be in need of revision. During the course of the three-year review cycle, all 3 Formatted: Indent: First line: 0" Formatted: Indent: Left: 1.5" Formatted: Normal POLICIES and PROCEDURES shall be translated into Spanish and additional languages, as possible. Translated POLICIES and PROCEDURES shall be subject to the same revisions as their English-language counterparts.
Wisconsin Reading Coalition (PDF), via a kind email:
he National Center for Education Statistics has released the 2013 scores from the National Assessment of Educational Progress, sometimes called the "Nation's Report Card." While the press has rightly focused on Wisconsin's scores for black students (lowest in the country) and the black-white gap (largest in the country), the data indicates many other areas of concern. Here are some major takeaways from the critical 4th grade reading performance:

Wisconsin's average score (221) in 2013 is identical to 2011, and is statistically unchanged from our first NAEP score (224) in 1992.While we have remained stagnant, many other jurisdictions have seen statistically significant increases.
Wisconsin ranked 31st out of 52 jurisdictions that participated in NAEP this year. In 1994, we ranked 3rd.
Since 2007, the number of jurisdictions scoring significantly lower than Wisconsin has shrunk from 21 to 11. The number scoring significantly higher has grown from 8 to 15. Wisconsin sits in the lower half of the "middle" group of 26 jurisdictions.
Only 8% of Wisconsin students scored at the advanced level, while 32% were below basic, the lowest level.
Compared to their peer groups nationwide, Wisconsin's white, black, Hispanic, Asian, low income, and disabled students all scored below their respective national averages.
Wisconsin had the lowest scores for black students in the nation.
Wisconsin had the largest gap between white and black students in the nation.

How will Wisconsin respond? Social and economic disadvantages affect achievement for many students, but other states do better at mitigating those realities. Wisconsin must look within the education system itself for improvement opportunities, starting with teacher preparation. Beginning in 2014, the Foundations of Reading exam will require prospective teachers to understand the science of reading that is woven through the Common Core State Standards and that is necessary for successful intervention with struggling readers. As DPI revises the regulations governing educator licensure and preparation program approval, it will be important to align them with the only comprehensive guidelines available, the Knowledge and Practice Standards for Teachers of Reading (Moats, Carreker, Davis, Meisel, Spear-Swerling, Wilson, 2010), and to encourage independent, objective program reviews for campuses. Equally important, our state and districts need to provide practicing teachers with that same knowledge of language structure and reading acquisition, and to track the impact of professional development on student performance outcomes. Programs like LETRS from Sopris Learning and the online coursework and coaching offerings from the Science of Reading Partnership deserve attention. Only then can we hope to see student outcomes begin to reflect the efforts of our dedicated educators. The pie charts below show the breakdown of proficiency levels of Wisconsin students as a whole and broken into sub-groups. The line graphs show the trend over time in Wisconsin scores compared to Massachusetts, Florida, and Washington, D.C., where the science of reading has found a greater acceptance in education, as well as the changes in national ranking for Massachusetts, Florida, and Wisconsin.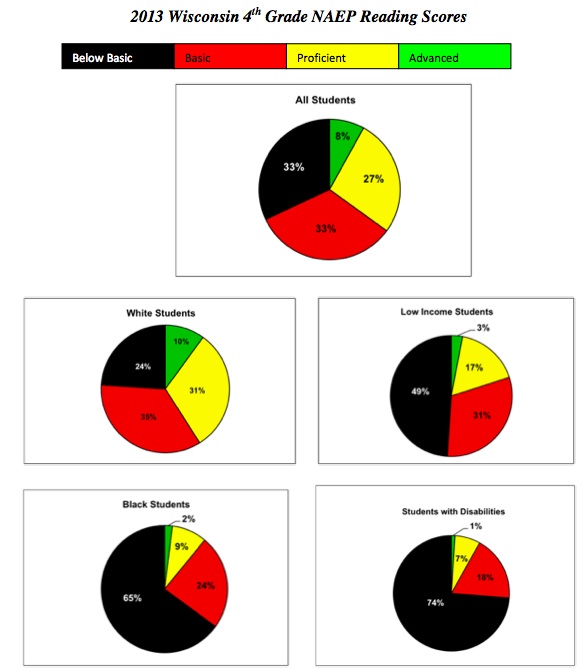 Related:
Madison's disastrous reading results
and Wisconsin adopts
the MTEL-90 (Massachusetts) elementary teacher English content knowledge requirements
.
The state Board of Regents fleshed out proposals to reduce and reform testing in New York schools at their regular meetings Monday and Tuesday, including a plan to shorten math and English exams. The state plans to cut down the amount of time students spend taking math exams by 20 minutes in all grades and will also cut the number of questions to relieve concerns about students not being able to finish. In grades five through eight, the state will reduce questions on English exams, but maintain the maximum testing time, giving students more time for each question. The state is moving forward seeking a federal waiver to relieve eighth graders in advanced Algebra from taking both the eighth-grade and the high school-level assessments. While about 57,000 students would be affected by that change, the state is expanding the waiver request to include another 2,000 students, including seventh graders who are also taking the algebra course as well as eighth graders who are taking high-school geometry.
Paul Gu is the winner of a Thiel Fellowship-a two-year $100,000 grant designed to encourage teenagers to skip college and pursue scientific or entrepreneurial projects in the real world. He is also the founder of Upstart, a human capital contract firm that allows investors to fund an individual's education in exchange for a share of their future earnings. Gu spoke with reasonintern Michael Bruschini in August about his experience with the Thiel fellowship, his start-up, and the future of higher education. Q: You came here from China at six without any knowledge of English. How did you climb the ladder to attend Yale and become a Thiel Fellow? A: I developed a streak for independent thinking early on and generally preferred to try beating the system instead of doing what I was told. I loved my time at Yale, but after two years, it was obvious to me that I was more of a self-learner and was getting impatient to get in the "real world." So when I saw the Thiel opportunity come along, it was a no-brainer for me.
Florida made small gains over the last NAEP cycle, but how does its growth compare over the long haul? Pretty good. If you go all the way back to the beginning of NAEP time (which can vary from 1990 to 2003 depending on the grade, subject and sub-group), Florida's gains since then best the national gains in 38 of 40 categories. If NAEP gains were heavyweight boxing, Florida's career record would be 38-2 with 11 KO's (beating the average by 10 or more points). Florida's average gain per category is 21.5 points (about two grade levels worth of advancement). Its average spread over the national gain is 7.1 points (nearly a grade level). One caveat: In the two areas where Florida was beat by the national average (4th grade math by English Language Learners (ELL) and 8th grade math by low-income Hispanics) the results may be biased because so few states had enough ELL and Hispanic students to compare.
Time was put on hold in South Koreaon Thursday as financial markets and public offices opened late to ensure calm when more than 650,000 students sat the annual university entrance exam. Success in the test is critical to millions of young students' career and marriage prospects. Trading at the Korea Stock Exchange and the country's foreign exchange market began at 10am, an hour later than usual, to keep roads clear while aircraft will be grounded in the afternoon during the English listening test. About 65 commercial flights have been rescheduled to avoid take-off or landing for 30 minutes from 1.05pm. Classes at primary and secondary schools started an hour later than usual while civil servants and most employees in the private sector were also asked to go to work an hour later than usual to ease traffic congestion to ensure that students arrive at their exam sites on time. The university entrance exam is one of the most critical annual events for young people in the country - where seven out of every 10 high school students go on to higher education - as a diploma from top schools is widely regarded as a ticket to success in Asia's fourth-largest economy. An almost cult-like devotion to learning has been among the driving forces behind the country's rapid economic development over the past half century, creating one of the world's most highly educated workforces.
Sarah R. Cohodes, Elizabeth M. Setren, Christopher R. Walters, Joshua D. Angrist & Parag A. Pathak:
Boston charter schools have had many reasons to tout their performance in 2013. Research reports and MCAS scores have shown exceptional progress by charter students. But while we were buoyed by these findings, the Boston Foundation and NewSchools Venture Fund sought to better understand in more detail not only how well charters are working, but for whom. The answer--or at least the beginnings of it--is described in this report by a team of researchers from MIT's School Effectiveness and Inequality Initiative (SEII). This is the third in a series of studies examining charter and Boston Public Schools (BPS) student performance. The first, released in 2009, was groundbreaking in its use of individual student data, its research design--which incorporated an observational study--and a lottery analysis. The second report, released in May 2013, examined Boston's charter high schools and found gains in their students' MCAS, Advanced Placement and SAT scores compared to their peers in the Boston Public Schools. This report updates the 2009 study and uses a similar methodology. It examines the performance of all students enrolled in Boston's charter schools as well as that of important subgroups of high-needs students, including those whose first language isn't English or who have special needs. Importantly, this report also examines demand and enrollment patterns and finds a changing student population that includes more of these subgroups. Like earlier studies, this report finds that attending a charter school in Boston dramatically improves students' MCAS performance and proficiency rates. The largest gains appear to be for students of color and particularly large gains were found for English Language Learners. At the same time, it is important to note that the analysis showed that charter school students are less likely to have special needs or to be designated as English Language Learners. While that gap has narrowed since the passage of education reform in 2010, the charters' success with high-needs students should provide an even greater impetus to connect those student populations with charter schools. In addition, the research team found that charter schools continue to be a popular option for Boston families. As the number of available seats grows, so too does the number of applicants. Nonetheless, the report finds that the odds of receiving a charter offer are roughly comparable to a student receiving his or her first choice through the BPS school-assignment process. Readers of this report will draw many different conclusions, but the takeaway for us is clear: charters work for their students. It's not only evident that we need more of these schools, but we must also redouble our efforts to ensure that students who have the most to gain are afforded greater access to them.