Months ago, the Green Bay Press-Gazette published salaries of public school teachers, but the management personnel weren't included in the disclosures. Here's what the public record has shown in recent years about the Green Bay School District and advantages. After veteran schools Superintendent Daniel Nerad took a promotion out of the area, the School Board hired a replacement at a 24 percent increase in salary. That unprecedented jump in pay created the incentive for Greg Maass to leave his old superintendent position in Fond du Lac during their flood damage crisis. He stayed with Green Bay public schools long enough for his salary increase to raise his retirement payout and then left early to head a district on the East Coast.
Rafael Gomez, viaa kind email: If you are interested to have a dinner for Dr. Nared contact Rafael Gomez at filosistema@yahoo.com Laura Houser:
It's official: the Birmingham Board of Education passed a resolution Tuesday night officially hiring Daniel Nerad at the district's next superintendent. School Board President Susan Hill said Nerad -- the current superintendent of the Madison (WI) Metropolitan School District -- signed a contract with the district earlier Tuesday, with an official start date of July 1. The school board selected Nerad, 60, as the next superintendent on June 11 after a two-month search process. Nerad was one of two finalists after five semifinalists interviewed in late May and early June.
Much more on
departing Madison Superintendent Dan Nerad, here
.
If you judge the process by the questions, it would appear Dr. Daniel Nerad has the edge in being offered the job as the next superintendent for Birmingham Schools. Nerad is the Madison School District superintendent in Wisconsin and one of two finalists for the Birmingham job. The other person is Robert Shaner, executive director of instruction and technology at the Warren Consolidated district. Nerad has been superintendent for Madison Schools since 2008. Before that, he spent seven years as the superintendent for the Green Bay Area Public Schools. Shaner has less than a year of administrative experience.
How does a school district know when it has an effective program? This can be a struggle for school districts, Nerad said, but programs need to be evaluated over time, districts need effective ways to collect data, and there needs to be systems in place that allow teachers to collaborate around data and solve problems. What is the role of principals, the school board and superintendent in terms of innovation and curriculum development? According to Nerad, the school board ensures there are enough resources for curriculum development and innovation, the superintendent is responsible for outlining what that curriculum will look like, while schools have the responsibility to implement curriculum in the way that's best for each building. What is your budgeting process and how would you go about cutting money from Birmingham's budget? Budgeting has to be a year-round process, Nerad said, and should he be hired, he would go to district stakeholders -- whether they be parents, teachers or community members -- and ask: what are your priorities? How would you engage the rest of the Birmingham community, including the local business community? Nerad said he would work with the district public relations office to focus heavily on engagement and outreach. "I do believe in putting a face on the superintendency," he said. How did you build consensus on an important issue? When trying to reach consensus on tough issues, Nerad said he uses voting procedures and works to ensure people are heard. "My whole life has been dedicated to those kinds of practices." How do you judge whether a school board is doing a good job? According to Nerad, the school board should be a model for the entire district. "I believe if the superintendent evaluates the board, the board should evaluate itself," Nerad said. "If we want our staff to grow, we have to model that kind of commitment. It's about the whole organization getting better, from the superintendent to the board to teachers to support staff."
Much more on
outgoing Madison Superintendent Dan Nerad, here
. A quick comparison of
Birmingham and Madison schools
.
The Madison School District 3.5MB PDF, via a kind reader's email:
Dear Community Members, The preliminary plan to eliminate achievement gaps provided a framework around which to engage members of the community in a discussion about what we need to do to address the achievement gaps. To gather input, we held community input sessions, met with community organizations, and talked with our staff. Summaries and an analysis of session feedback are listed in the plan and at mmsd.org/thefuture. That input served as our guide in developing these recommendations. Then, we also considered educational research, the new federal mandates of the Response to Intervention (RtI) program, cost, and logistics, as well as community input. We reviewed what has worked in our school district, in our community, and in other districts across the country. I believe that if we are going to do better by our children, we must invest. But I also believe we have a responsibility to balance the needs of our community and leverage resources for the greatest impact on student achievement. The final recommended plan is reduced from a financial perspective. This was done to ensure greater sustainability from a fiscal perspective. The revised plan maintains the six original areas of focus. These six chapters illustrate the landscape of education today - areas that are critical to closing achievement gaps. They also represent areas where leverage exists to eliminate our achievement gaps. Any successful plan to close student achievement gaps must employ a combination of strategies. If there were one simple answer, it would have been employed a long time ago and replicated in districts across the country. Our reality calls for many solutions at many levels of the organization. Our problem is a complex one. Our solutions must be equally complex in their approach. The good news is that research on what works has been going on for years. Although there is no one right way to teach all students, the research is solid on increasing student performance through an aligned curriculum, effective instruction, frequent monitoring of progress, research-based decision making before a child experiences failure, having interventions in place to help learners, and involving the entire community in support of children. To address this last point, this plan also asks for a commitment from the community to join MMSD using elements of the Strive Model (Kania, John and Kramer, Mark. (2011). "Collective impact." Stanford Social Innovation Review, Winter 2011) to develop a network which links services to schools through a collaborative district approach as well a school-based grass roots "community school model" approach based on each school's need. This concept is elaborated where appropriate in each chapter and in the conclusion of this document. The recommendations within this plan focus on academic rigor, expectations, accountability, response to behaviors, professional development, cultural competence,3 parents as partners, hiring for diversity, and establishing a new relationship with our community. It also is a plan that supports the federal mandates of Response to Intervention (RtI), which is the practice of providing high-quality instruction, interventions, and progress monitoring which is matched to student needs to make decisions about changes in instruction, and analyzing student response data decisions through collaboration. These final recommendations reflect some effective work already under way that needs additional focus in order to meet student needs and RtI requirements, some promising practices, and some new ideas. These recommendations are all based on research and are a call to action to our staff, our families, and our community. Some recommendations from the preliminary plan have been made more cost effective, and others have been elaborated upon. The following items are either new, have been eliminated, or have been revised to allow further planning during the 2012-13 school year: New Initiative: Ensure all K-12 Students Demonstrate Proficiency in the Standards for Mathematics Practice New Initiative: Drop-Out Recovery New Initiative: Increase Options for Restorative Practices in the MMSD Student Conduct and Discipline Plan Eliminated: PEOPLE Program for Elementary Students Eliminated: Youth Court Expansion to Middle School Eliminated: Implement 21st Century Community Learning Centers in the Highest Need Elementary Schools Eliminated: Professional Development - Technology Coach Eliminated: Collaborate with the Community to Implement the Parent-Child Home Program Further Planning: Extend the School Day This final recommended plan, Building our Future, was developed to eliminate our achievement gaps. As a school district, we know we need to take new action. We also know we must work with you, members of this great community, to better address the needs of our children. We now look forward to discussing this final proposed plan with the Board of Education. Let's work together to make a difference for our children. Sincerely, Daniel A. Nerad, Superintendent
Pages 117 to 123 describe the baseline metrics.
Matthew DeFour has more
.
The Madison Metropolitan School District Board reviewed the almost $373 million budget proposed by Superintendent Dan Nerad Monday night. If the superintendent's budget is approved, Madison property taxes could increase more than four percent, about a $100 tax increase on the average home in Madison. The estimate does not include a proposed $12.4 million put aside to help the achievement gap in Madison schools. The budget already poses an estimated $12.4 million deficit.
Related:
Singapore vs. Madison/US Schools: Do We (Americans) Put Money into Our Children?
Daniel A. Nerad, Nancy Yoder, Sally Schultz:
To meet the goal of "100 percent graduation," the Madison Metropolitan School District (MMSD) provides a mix of educational choices as diverse as the students and families it serves. The Alternative Education system is designed to give a wider range of appropriate education options to students. These alternatives provide a continuum of choices that allows students to develop skills and successfully transition to their next learning environment, whether that is a regular education classroom, another alternative setting, a post-secondary program, or an adult work setting. Students with disabilities are eligible to attend any of the MMSD Alternative Programs. These students must meet eligibility criteria like any other student and go through the appropriate referral processes. An IEP [blekko clusty google] committee must recommend a change of placement before the student can attend. Some programs are designated for special education students, for students involved in the court system, for students in a specific high school attendance area or for students who meet
The push to raise achievement for minority and low-income students in Madison Metropolitan School District remains "a work in progress," said Superintendent Daniel Nerad. Work has been done on Nerad's watch, such as drafting a new strategic plan and a multifaceted, $106 million proposal for programs aimed at shrinking test score gaps between students of different races and income levels. As for results, Nerad and Madison school board member Ed Hughes say there hasn't been enough progress. "We certainly haven't seen, overall, the kind of improvement that we would like to see in reducing the achievement gap," Hughes said. "But we need to look at whether the steps are being put in place that would give us some hope or confidence that we will see those gaps narrowing in the future." Hughes thinks Madison is on the right track.
Related:
In my view, the status quo approach to Madison's long lived reading challenges refutes Mr. Hughes assertion that the
District
is on the right track.
Matt DeFour's article
:
Overall student performance improved in math and dipped slightly in reading across Wisconsin compared with last year, while in Madison scores declined in all tested subjects.
Perhaps
change is indeed coming, from a state level initiative on reading
. A look at the numbers: Omaha spends substantially less per student than Madison. The Omaha
2011-2012 adopted budget will spend 468,946,264
for 46,000 students: $10,194.48/student. Madison's 2011-2012 budget spends $369,394,753 for 24,861 = $14,858.40/student, 31.4% more than Omaha.... Green Bay (Superintendent Nerad's former position)
spent about 10% less than Madison, per student
.
Kaleem Caire, via email:
Kaleem Caire, President/CEO February 21, 2012 Dear Friends & Colleagues. I read yesterday's article by Paul Fanlund of the Capital Times titled, "On School Gap Issue, there's also a Gap between Leaders." In his article, he addresses the perception of a gap that exist between Madison School's superintendent, Dr. Daniel Nerad, and myself. Is there a gap? Yes. So far as our proposal for Madison Preparatory Academy is concerned, there is a gap. Dr. Nerad did not support the proposal. I do. I still believe, as thousands of others do, that Madison Prep would benefit children and our public schools, and should be supported. However, beyond Madison Prep, the only gaps that may exist between Dr. Nerad and me are our different personal and professional backgrounds and experiences; his full silver top and my emerging grey hairs; my love for old school hip hop, break dancing and the cupid shuffle, and his love for disco, the mashed potato and the electric slide; and perhaps our respective views about how innovative and aggressive we should be in pursuing change in public education. Although, I did see Dr. Nerad bobbing his head to some Jay-Z, Nas and Kanye West tunes while driving down Park Street last week. We actually might not be that far apart after all (smile). But these are authentic differences that can be mitigated and parlayed into a powerful and effective partnership, which is something that I am very interested in. More importantly, our mutual concerns outweigh our differences, and that is where we, the media and the public need to focus our attention. What's immediately concerning is that this summer, we will learn that another 350 Black, 200 Latino and 50 Southeast Asian teenagers stopped attending school this year. Our children cannot wait any longer. They need transformation change in our schools and community right now. They need Madison to empower them, their families and embrace their cultural differences. They need Madisonians to support and inspire them, not quietly complain about which neighborhood in Chicago they might come from. Can Dr. Nerad and I work together? Of course we can; and, we do. This week, we will announce that our organization has secured private funding to partner with MMSD to operate 14 College Readiness Academies between March and December 2012. These academies will provide four-weeks of free ACT prep classes, test preparation and academic skills development to 200 MMSD high school juniors and seniors. We will also announce the hiring of the Project Director for the South Madison Promise Zone Initiative that we are spearheading. This initiative will address the need for a comprehensive and collaborative approach to addressing the multifaceted needs of children and their families within a specific geographic region of South Madison, with the ultimate goal being the creation of an environment where all children are ready for college. MMSD is a partner in this initiative, too. Additionally, our agency operates the Schools of Hope Initiative, serving more than 1,300 students in several MMSD middle and high schools in partnership with the United Way of Dane County and other agencies and community partners. We have also worked over the last 2 years to identify federal and national funding to support the work of MMSD and its students, and have helped the District think through some its diversity hiring strategies. Beyond these things, we are exploring partnerships to expand our children's involvement in recreational sports and the arts; to give them opportunities to have fun and be kids. We are also planning a new, major annual fall event aimed at building broad community support for our children and schools and restoring fun and inspiration in public education. "School Night" will be an entertaining celebration that recognizes the unsung heroes in our schools, classrooms and community who are going above and beyond the call of duty to provide quality educational experiences for kids. What About Dr. Nerad's Plan? We look forward to sharing our thoughts and suggestions in the coming weeks. However, don't expect a thoughtless or categorical critique of Dr. Nerad's plan. Instead of adding more divisive discourse to public education and highlighting where we disagree with Dr. Nerad's plan, our proposal will flesh out "how" MMSD could, in a cost effective manner, identify and manifest the level of system-wide changes and improvements that we believe are needed in order to eliminate the achievement gap and stop the flow middle class families out of our community and public schools. Yes, Madison Prep will be included as one valuable strategy, but only because we believe there is much to be gained from what the school can accomplish. In the end, regardless of our differences, I believe Dr. Nerad and I want the same thing. We want our children and schools to succeed, and we want to keep dancing and having fun for as long as our knees will allow. I remain ready and willing to do whatever it takes to ensure that we achieve these aims. Onward! Kaleem Caire President & CEO Urban League of Greater Madison Phone: 608-729-1200 Fax: 608-729-1205 www.ulgm.org
Much more on
the proposed Madison Preparatory IB charter school, here
.
Kaleem Caire, via email:
February 6, 2011 Greetings Community Member. This evening, at 6pm at the Fitchburg Library, Madison Metropolitan School District Superintendent Daniel Nerad will present his plan for eliminating the racial achievement gap in our public schools to the Board of Education. We anticipate there will be many citizens in the audience listening in. While we are pleased that our advocacy over the last 19 months has resulted in the District developing a plan to address the gap, we are also mindful of history. Our organization has pushed hard for our public school system to embrace change, address the gap and expand educational opportunity many times before. In the 1960s, Madison learned that a wide gap existed between black and white students in reading, math and high school completion in Madison's public schools. In the 1970s, the Urban League of Greater Madison reported that just 60% of black students were graduating from the city's public high schools. In the 1980s, ULGM released a widely reported study that found the average GPA for a black high school student attending the city's public high schools was 1.58 on a 4.00 scale, with 61% scoring below a 2.0 GPA. It also found that a disproportionate number of black students were enrolled in remedial math and science classes, and that black students were significantly over-represented in special education and school suspensions. Then, in the 1990s, the Wisconsin Policy Research Institute issued a report that stated there were two school districts in MMSD, one that poorly served black children and one that served everyone else. Today, just 48% of black and 56% of Latino students are graduating from high school. Just 1% of black and 7% of Latino high school seniors are academically ready for college. Nearly 40% of all black boys in middle school are enrolled in special education, and more than 60% of black and 50% of Latino high school students earn below a 2.0 GPA. Over the years, several district-wide efforts have been tried. Unfortunately, many of these efforts have either been discontinued, unevenly implemented, ineffective, lacked the support of parents/community/teachers, or failed to go far enough to address the myriad needs of students, families, teachers and schools. Madison also has a well-documented history of not heeding the advice of leaders and educators of color or educational experts, and not investing in efforts to codify and replicate successful strategies employed by its most effective educators. MMSD also has not acted fast enough to address its challenges and rarely looks beyond its borders for strategies that have proven effective elsewhere in the country. The stakes are higher now; too high to continue on our present course of incrementalism rooted in our fear of the unknown, fear of significant change, and fear of admitting that our view of Madison being the utopic experience of the Midwest and #1 city in the U.S. doesn't apply to everyone who lives here. We no longer have the luxury of time to figure out how to address the gap. We cannot afford to lose nearly 300 black, 200 Latino and an untold number of Southeast Asian and underprivileged white students each year from our public schools. And we cannot afford to see hundreds of students leave our school system each year for public and private schools outside of the Madison Metropolitan School District. We must embrace strategies that work. We must also behave differently than we have in the past, and can no longer afford to be afraid of addressing intersection or race and poverty, and how they are playing out in our schools, social relationships and community, and impacting the educational success of our kids. Furthermore, we need all hands on deck. Everyone in our community must play a role in shaping the self-image, expectations and outcomes of our children - in school, in the community and at home. Some children have parents who spend more quality time with their career and coworkers than with their family. Some children have a parent or relative who struggles to raise them alone. Some have parents who are out of work, under stress and struggling to find a job to provide for their family. And unfortunately, some children have parents who make bad decisions and/or don't care about their well-being. Regardless of the situation, we cannot allow the lack of quality parenting to be the excuse why we don't reach, teach, or hold children accountable and prepare them for the future. As we prepare to review the Superintendent's plan, we have developed a rubric that will allow for an objective review of his proposal(s). The attached rubric, which you can access by clicking here, was developed and informed by members of the staff and Board of Director of ULGM, business and community leaders, and teachers and leading experts in the field of K-12 and higher education. The tool will be used by an independent Community Review Panel, organized by the Urban League. pver the next several weeks to vet the plan. The intent of this review is to ensure MMSD has an optimal plan for ensuring that all of the children it serves succeed academically and graduate from high school prepared for college and work. Specifically, our reasons for establishing this rubric and a Community Review Panel are four-fold:

Develop an objective and comprehensive understanding of the plan and its many elements;
Objectively review the efficacy of the plan, its goals and objectives, and desired outcomes;
Formally communicate thoughts, concerns and ideas for supporting and/or improving the plan; and
Effectively engage the Madison community in supporting and strengthening its public schools.

We have high expectations of the Superintendent's plan. We hope for a bold, transformational, aggressive and concise plan, and stand ready to assist the Superintendent and his team in any way we can. We hope you will be standing their with us, with your arms outstretched and ready to uplift or babies - the next generation. All Hands on Deck! Onward. Team Urban League of Greater Madison Phone: 608-729-1200 Fax: 608-729-1205 www.ulgm.org www.madison-prep.org Urban League of Greater Madison 2012 Agenda
via email:
Below is a letter from Dr. Daniel Nerad, Superintendent of the Madison Metropolitan School District. Please show up on Monday, February 6 to learn about his plan and register to participate in an input session. We need you to exercise your voice, share your view and speak to our children's needs. In the words of Dr. Martin Luther King, Jr.: We will have to repent in this generation not merely for the hateful words and actions of the bad people but for the appalling silence of the good people. -- "Letter from Birmingham Jail," April 16, 1963 February 2, 2012 RE: Invitation to attend Board of Education meeting on Monday, February 6, 2012 Dear Community Leader: As you may know, this Monday, February 6, 2012, we are poised to present to the Board of Education a significant and system-wide plan to close the achievement gaps in the Madison Metropolitan School District. Building Our Future: A Plan for Eliminating Gaps in MMSD Student Achievement We invite you to attend Monday's Board of Education workshop at the Fitchburg Public Library, 5530 Lacy Road in Fitchburg beginning at 6:00 p.m. This workshop is for presentation purposes only. Members of the public will not have the opportunity to speak. However, Monday's workshop marks the beginning of a two-month, community-wide engagement process. We invite parents, students, and residents concerned about the future of our children to join one or more of the many sessions held throughout Madison to learn about the achievement gaps in the MMSD and discuss and provide input into the plan. I have greatly appreciated your concern, commitment, and willingness to challenge us to provide the kind of education that every child deserves and is due. Together, we must eliminate our achievement gaps. The Board of Education workshop on Monday, February 6th is just the beginning. Please consider participating in one of the upcoming information and input sessions. To register for a session, go to: www.mmsd.org/inputsession Beginning Tuesday, February 7, go to: www.mmsd.org/thefuture to read more about the Plan. Sincerely, Daniel A. Nerad Superintendent of Schools Reprinted from a letter sent to community leaders today by Superintendent Nerad. We are sharing this to inform you and help the Madison Metropolitan School District get the word out. We have not yet seen the plan and therefore, this email should not viewed as an endorsement of it. We will reserve judgment until after the plan is released, we have had a chance to review it, and the public has responded.
Kaleem Caire, via email
December 2, 2011 Greetings Madison Prep. Tomorrow afternoon, we are expecting to learn that MMSD's Administration will inform the Madison Metropolitan School District Board of Education that Madison Prep should not be approved. A possible reason we expect will be MMSD's concern that the current collective bargaining agreement between the District and Madison Teachers Inc. (MTI) has a "work preservation clause" which the teacher's union advocated for long ago to ensure that it was the only game in town to represent public school teachers in Madison. Below, is the cover note that I forwarded to Ed Hughes of the Board of Education and copied to a number of others, who had asked a thoughtful question about our proposal to establish Madison Prep as a non-instrumentality charter school, we hope, in fall 2012. Also see the letter attached to this email. ---------------------------------------- -------------------------------------------------------------------------- December 2, 2011 Greetings Ed. Attached, please find a letter that contains the answer to your question referenced in your email below. The letter contains the explanation of a path to which Madison Prep could be established as a non-instrumentality public charter school, under Wisconsin law, and in a way that would not violate the current collective bargaining agreement between MMSD and Madison Teachers Inc. We look forward to answering any questions you or other members of the Board of Education may have. Thank you so much and Many blessings to you and your family this holiday season. Onward. cc: Daniel Nerad, MMSD Superintendent Dylan Pauly, MMSD Legal Counsel MMSD Board of Education Members ULGM Board of Directors Madison Prep Board of Directors Godfrey & Kahn, S.C. Steve Goldberg, CUNA Mutual Foundation
PDF letter:
This letter is intended to respond to your November 78,207I email and to suggest that there is a viable option for moving forward with Urban League's proposal for the Madison Preparatory Academy ("Madison Prep") that: [i) will reduce cost; and (ii) will not sacrifice the union security provisions of the Collective Bargaining Agreement "Agreement" or "Contract") between the Madison Metropolitan School District ("MMSD" or "District") and Madison Teachers, Inc. ("MTI"). Your email asks for a response to a question concerning how the school district could authorize Madison Prep as a non-instrumentality charter without thereby violating the terms of the District's Agreement with MTI. Your email references a provision in the MTI Agreement that provides "that instructional duties where the Wisconsin Department of Public Instruction requires that such be performed by a certifìcated teacher, shall be performed only by'teachers."' .See Article I, Section 8.3.a. In addition you note that "the term 'teacher' refers to anyone in the collective bargaining unit." See Article I, Section 8.2. You conclude your email by stating that "it appears that all teachers in MMSD schools -- including non-instrumentality charter schools - must be members of the MTI bargaining unit." The Urban League is aware of the Agreement's language and concedes that the language, if enforceable, poses an obstacle as we look for School Board approval of the plan to open and operate a "non-instrumentality" school. Under an instrumentality charter, the employees of the charter school must be employed by the school board. Under a non-instrumentality charter, the school board may not be the employer of the charter school's staff. See S 118.40(7)(a). Thus, the statement in your email that all teachers, including those in a non-instrumentality charter school - "must be members of the MTI bargaining unit" and, presumably, employed by the school board is not permitted under Wisconsin law. Under Wisconsin's charter school law the School Board has the exclusive authority to determine whether a school is an instrumentality or not an instrumentality of the school district. .See S 118.40(7)(a). That decision is an important decision reserved to the School Board alone. The effect of that decision drives whether teachers and staff must be, or cannot be, employees of the School Board. The language of the Contract deprives the School Board of the decision reserved to it under the statute and that language cannot be harmonized to give effect to both the statute and the Agreement. Alternatively the Contract language creates a situation whereby the School Board may exercise its statutory authority to approve a non-instrumentality charter but it must staff the school with school district employees, a result clearly prohibited under the statute. In our view the law trumps the Contract in either of these situations. The situation described above could likely only be resolved in a court of law. The Contract includes a "savings clause" that contemplates that where a court invalidates a provision in the Agreement, the invalid provision is deleted and the remainder of the contract remains intact. See Article VIII, Section E. The Urban League is, however, mindful that litigation is both expensive and time consuming. Moreover it is clear that the Contract language will become a prohibited subject of bargaining in the near future when the current Agreement expires. Unfortunately, the children we seek to serve, do not have the time to wait for that day. Our second purpose in writing is to make you aware of a possible solution to a major obstacle here. One of the major obstacles in moving forward has been the cost associated with an instrumentality school coupled with MTI's reluctance to work with the District in modifying the Contract to reduce costs associated with staffing and certain essential features of Madison Prep, like an extended school day, As we understand it MTI does not want to modify the Contract because such a modification would result in an earlier application of 2077 Wisconsin Act L0 to the District, members of the bargaining unit and to MTI itself. We understand MTI's reluctance to do anything that would hasten the application of Act 10 in the school district, With the passage of 2011. Wisconsin Act 65, that concern is no longer an obstacle. Act 65 allows the parties to a collective bargaining agreement to enter into a memorandum of understanding that would run for the remaining term of the collective bargaining agreement, for the purpose of reducing the cost of compensation or fringe benefits in the collective bargaining agreement, The Act also provides that entering into such a memorandum would not be considered a "modification" of the collective bargaining agreement for the purposes of Act 10. Act 65 was published on November 23,2077 and took effect the following day. The law allows the parties to a collective bargaining agreement to enter into such a memorandum no later than 90 days after the effective date of the law. The Urban League believes that Act 65 gives the Board and MTI the opportunity to make changes that will facilitate cost reductions, based in compensation and fringe benefits, to help Madison Prep move forward. And, the law allows the parties to do so in a way that does not adversely impact the teachers represented by MTI or the union security provisions of the Collective Bargaining Agreement. For example, the parties could agree to reduce the staffing costs for Madison Prep, The parties could also agree that a longer school day would not have to cost more. And, the parties could agree that the work preservation clause referenced in the first part of this letter does not apply where the School Board has determined a charter school willbe a non-instrumentality of the District, a move that would also most certainly reduce costs. These changes would not be forced upon any existing MTI represented teacher as teachers would apply for vacancies in the school. We hope that the School Board will give serious consideration to the opportunity presented by Act 65. 0n behalf of the Urban League of Greater Madison and Madison Preparatory Academy, we thank you for your support of Madison Prep.
Much more on the proposed
Madison Preparatory IB charter school, here
.
The movie event, including the popcorn, was sponsored by Vos, who co-chairs the Legislature's Joint Finance Committee -- and owns a popcorn company. Co-sponsors were Education Committee Chairs Sen. Luther Olsen, R-Ripon, and Rep. Steve Kestell, R-Elkhart Lake. Olsen is one of the lead sponsors of the charter authorizing bill, introduced in the Legislature last spring and currently before the Joint Finance Committee. Panelists for the discussion included Gov. Scott Walker's policy director, Kimber Liedl; the president of Milwaukee-based St. Anthony School, Zeus Rodriguez; the Urban League of Greater Madison's charter school development consultant, Laura DeRoche-Perez; and a former president of Madison Teachers Inc., Mike Lipp, who is currently the athletic director at West High School. There were also a number of panelists who were invited but did not attend, including state Superintendent Tony Evers, Madison Superintendent Daniel Nerad, state Rep. Sondy Pope-Roberts and a representative from WEAC, the state's largest teachers union.
Madison School District Superintendent Daniel A. Nerad 215K PDF Presentation
During the annual conference the team of students engaged in. 1. College planning including a tour of Missouri University 2. Participated in Achievement Gap Readings including discussions and student action planning 3. Shared their ideas about how to motivate students to succeed and how their school could be made a meaningful and interesting place 4. Developed plans of action to implement these strategies for change and report these valuable messages to the academic leaders of their schools and districts (See Attached- MSAN Students Conference Agenda)
Several major impediments facing the proposed Madison Prep charter school appear closer to resolution after a series of meetings and communications Friday between Urban League CEO Kaleem Caire, district Superintendent Daniel Nerad and John Matthews, executive director of Madison Teachers Inc. The changes are just in time for a public hearing on the Urban League-backed school on Monday, Oct. 3 at 6 p.m. at the Doyle Administration Building, 545 W. Dayton St. In a major shift, the proposed charter school will now be what's called an "instrumentality" of the Madison Metropolitan School District. That means a significant portion of the school's staff will be covered by the contract the district has with the local teachers union, Madison Teachers Inc. The contract runs through the end of June 2013
Matthew DeFour and Gayle Worland
:
On the eve of a public hearing for Madison Preparatory Academy -- a proposed charter school with single-sex classrooms focused on raising the academic performance of minority students -- backers of the school agreed to employ union staff, eliminating a potential hurdle to approval of the school. A budget plan for Madison Prep, proposed by the Urban League of Greater Madison, also was released late Friday. It estimates the Madison School District would spend $19.8 million over five years on the school, or about $2,000 less per student than it spends on other secondary-school students. In lengthy meetings Friday, Urban League officials hammered out an agreement with Madison Teachers Inc., the union that represents Madison school teachers. MTI executive director John Matthews said the union, which previously opposed creation of Madison Prep, will remain neutral on whether the school should be approved.
Fascinating. It will be interesting to see the substance of the arrangement, particularly its implications for the current MMSD schools and Madison Prep's curriculum and operating plans.  A friend notes that the change is "stunning" and that it will likely "cost more" and perhaps "gut" some of Madison Prep's essential components.
Kaleem Caire, via email:
September 7, 2011 Dear Friends & Colleagues, On Thursday, August 25, 2011, leadership of the Urban League of Greater Madison, the Wisconsin Department of Public Instruction and the Madison Metropolitan School District met at DPI's Madison offices to discuss how the Urban League and MMSD would address DPI's concerns that a comparable option to Madison Prep's charter school for boys also be available to girls at the same time the boys' school would open in August 2012. During that meeting, all three parties discussed ways "comparability" could be achieved. DPI suggested and the Urban League agreed that starting the girl's campus at the same time as the boy's campus would be the best way to achieve comparability and sufficiently comply with state law and federal Title IX regulations that address single-sex public schools. Initially, the Urban League planned to wait 12-24 months to start the girls' campus of Madison Prep. However, given DPI's concerns, we saw this as the perfect opportunity and argument to serve girls right away, and subsequently adjusted our plans to include a girls' campus of Madison Prep last week. You can review a copy of the proposal we submitted last week to DPI and MMSD that explains how we'll adjust our plans and add the girls' campus in 2012 by clicking here. We have also attached the document to this email here. Today, we were excited to learn from a DPI official, Mr. Bob Soldner, that our proposal for adding the girls' campus now satisfies DPI's concerns that a comparable option would be available for boys and girls at the same time. Mr. Soldner also said he was awaiting a response to our plan from the Madison Metropolitan School District before releasing our $225,000 charter school planning grant, which DPI put on hold two weeks ago. I just learned 2 hours ago from MMSD Superintendent, Dr. Daniel Nerad, that the Board of Education decided today to hold an executive session tomorrow at 4:30pm at the Doyle Administration Building to "discuss the legal implications of Madison Prep and the potential for litigation." Dr. Nerad said that immediately following their executive session, the Board of Education would also hold a "special public meeting" to discuss Madison Prep. Unfortunately, the Urban League of Greater Madison and the Board members of Madison Prep will not be able to attend the public meeting on Madison Prep tomorrow as we are attending a long-scheduled fundraiser for the school at the same time tomorrow - 5:30pm. This will be the first major fundraiser for the school, and is being hosted by four prominent leaders and advocates for children in Greater Madison. We hope that those of you who support Madison Prep and are not attending our fundraiser tomorrow night will be available to attend the public meeting of the Board of Education tomorrow to express your support for our proposal to establish Madison Preparatory Academy campuses for boys and girls. We assume a critical decision regarding our charter school grant application will be decided tomorrow. You can find the agenda for the Board of Education's meeting by clicking here. For more information about tomorrow's Board of Education meeting, please contact the Madison Metropolitan School District's Board of Education at board@madison.k12.wi.us or 608-204-0341. For more information about our updated Madison Prep proposal, please contact Ms. Laura DeRoche Perez at Lderoche@ulgm.org or 608-729-1230. We intend to host our own public forum on Madison Prep in the near future. More details and information will be shared with you soon. Thank you so much. It's all about the future of our children. Onward! Kaleem Caire President & CEO Urban League of Greater Madison Phone: 608-729-1200 Fax: 608-729-1205 www.ulgm.org
Much more on
the proposed Madison Preparatory Academy IB Charter School, here
. The
Madison Urban League's 9.2.2011 memorandum to the Madison School District 311K PDF
.
Matthew DeFour:
A Madison charter school geared toward low-income, minority students would include single-gender classrooms for both boys and girls in 2012 under a revised proposal for Madison Preparatory Academy. The new proposal from the Urban League of Greater Madison would nearly double the contribution required by the Madison School District in the fifth year -- from $4.8 million in the original plan to $9.4 million -- but the net cost to the district remains unclear. The Urban League submitted the proposal to the school district and the state Department of Public Instruction on Friday, and it was made public by the district Wednesday. The revision came after DPI withheld support for a $225,000 planning grant for an all-boys charter school that the Urban League had discussed creating for more than a year. State officials said that such a school would discriminate against girls and that if they open an all-male school, they must open a similar school for girls at the same time. The Madison School Board has scheduled two meetings for Thursday, one in closed session at 4:30 p.m. to discuss legal issues related to the new proposal and the second in open session at 5:30 p.m., Superintendent Dan Nerad said.
Daniel A. Nerad, Superintendent:
In Winter 2011, the Center for Applied Linguistics conducted a comprehensive evaluation of the dual language immersion (DLI) programs in the Madison Metropolitan School District, including a charter school with DLI implemented K-5, three elementary schools just beginning implementation, and one middle school site with DLI in sixth grade. The goal of the evaluation was to gather sufficient information for strategic planning to adjust any program components that are in need of improvement, and to strengthen those areas of the programs that are already in alignment with best practices. This report provides feedback on student outcomes, things that are going well, and recommendations for the short-, mid-, and long-term.



March 25, 2011 Dear Friends & Colleagues, On Monday evening, March 28, 2011 at 6pm, the Madison Metropolitan School District's (MMSD) Board of Education will meet to vote on whether or not to support the Urban League's submission of a $225,000 charter school planning grant to the Wisconsin Department of Public Instruction. This grant is essential to the development of Madison Preparatory Academy for Young Men, an all-male 6th - 12th grade public charter school. Given the promise of our proposal, the magnitude of longstanding achievement gaps in MMSD, and the need for adequate time to prepare our final proposal for Madison Prep, we have requested full support from the school board. Monday's Board meeting will take place at the Doyle Administration Building (545 West Dayton Street) next to the Kohl Center. We hope you will come out to support Madison Prep as this will be a critical vote to keep the Madison Prep proposal moving forward. Please let us know if you'll be attending by clicking here. If you wish to speak, please arrive at 5:45pm to register. Prior to you attending, we want to clarify misconceptions about the costs of Madison Prep. The REAL Costs versus the Perceived Costs of Madison Prep Recent headlines in the Wisconsin State Journal (WSJ) reported that Madison Prep is "less likely" to be approved because of the size of the school's projected budget. The article implied that Madison Prep will somehow cost the district more than it currently spends to educate children. This, in fact, is not accurate. We are requesting $14,476 per student for Madison Prep's first year of operation, 2012-2013, which is less than the $14,802 per pupil that MMSD informed us it spends now. During its fifth year of operation, Madison Prep's requested payment from MMSD drops to $13,395, which is $1,500 less per student than what the district says it spends now. Madison Prep will likely be even more of a savings to the school district by the fifth year of operation given that the district's spending increases every year. A March 14, 2011 memo prepared by MMSD Superintendent Daniel Nerad and submitted to the Board reflects the Urban League's funding requests noted above. This memo also shows that the administration would transfer just $5,541 per student - $664,925 in total for all 120 students - to Madison Prep in 2012-2013, despite the fact that the district is currently spending $14,802 per pupil. Even though it will not be educating the 120 young men Madison Prep will serve, MMSD is proposing that it needs to keep $8,935 per Madison Prep student.



Therefore, the Urban League stands by its request for equitable and fair funding of $14,476 per student, which is less than the $14,802 MMSD's administration have told us they spend on each student now. As Madison Prep achieves economies of scale, reaches its full enrollment of 420 sixth through twelfth graders, and graduates its first class of seniors in 2017-18, it will cost MMSD much less than what it spends now. A cost comparison between Madison Prep, which will enroll both middle and high school students at full enrollment, and MMSD's Toki Middle School illustrates this point.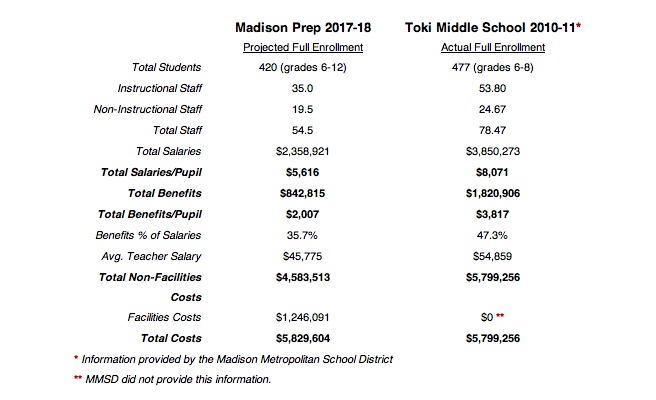 We have also attached four one-page documents that we prepared for the Board of Education. These documents summarize key points on several issues about which they have expressed questions. We look forward to seeing you! Onward! Kaleem Caire President & CEO Urban League of Greater Madison Main: 608-729-1200 Assistant: 608-729-1249 Fax: 608-729-1205 Website: www.ulgm.org





Kaleem Caire, via email. Madison Preparatory Academy Brochure (PDF): English & Spanish. DPI Planning Grant Application: Key Points and Modifications. Update: Madison School Board Member Ed Hughes: What To Do About Madison Prep:
In order to maintain Madison Prep, the school district would have to find these amounts somewhere in our budget or else raise property taxes to cover the expenditures. I am not willing to take money away from our other schools in order to fund Madison Prep. I have been willing to consider raising property taxes to come up with the requested amounts, if that seemed to be the will of the community. However, the draconian spending limits the governor seeks to impose on school districts through the budget bill may render that approach impossible. Even if we wanted to, we likely would be barred from increasing property taxes in order to raise an amount equal to the net cost to the school district of the Madison Prep proposal. This certainly wouldn't be the first time that budgetary considerations prevent us from investing in promising approaches to increasing student achievement. For example, one component of the Madison Prep proposal is a longer school year. I'm in favor. One way the school district has pursued this concept has been by looking at our summer school model and considering improvements. A good, promising plan has been developed. Sadly, we likely will not be in a position to implement its recommendations because they cost money we don't have and can't raise under the Governor's budget proposal. Similarly, Madison Prep proposes matching students with mentors from the community who will help the students dream bigger dreams. Effective use of mentors is also a key component of the AVID program, which is now in all our high schools. We would very much like to expand the program to our middle schools, but again we do not have the funds to do so.
Mr. Hughes largely references redistributed state tax dollars for charter/virtual schools - a portion of total District per student spending - the total (including property taxes) that Madison Prep's request mentions. I find Madison Prep's fully loaded school based cost comparisons useful. Ideally, all public schools would publish their individual budgets along with total District spending.
Testimony at the Capitol over a controversial bill that would strip control over charter schools from locally elected officials and place it in the hands of a politically appointed state-wide authorizing board drew hundreds on Wednesday to a standing-room-only Senate education committee hearing. Senate Bill 22, authored by state Sen. Alberta Darling (R-River Hills) would also fund independent charter schools ahead of traditional public schools. I wrote about the bill on Tuesday and it's generated a robust conversation. Madison Superintendent Daniel Nerad testified in opposition to the bill, and so did local school board member Marjorie Passman. Kaleem Caire, president and CEO of the Urban League of Greater Madison and a strong proponent of the proposed boys-only Madison Preparatory Academy for minority students, testified in support of the bill. Madison Prep, if approved, will be a publicly funded charter school in Madison.
Matthew DeFour & Gena Kittner:
The Madison School District and others across the state are scrambling to issue preliminary layoff notices to teachers by Monday due to confusion over Gov. Scott Walker's budget repair bill and the delay of the state budget. Madison may issue hundreds of preliminary layoff notices to teachers Monday if an agreement with its union can't be reached to extend a state deadline, school officials said Thursday. The School Board plans to meet at 7 a.m. Friday in closed session to discuss the matter. The Wisconsin Association of School Boards this week urged local school officials to decide on staff cuts by Monday or risk having potential layoffs challenged later in court. "It's hugely important and hugely upsetting to everyone," said Craig Bender, superintendent of the Sauk Prairie School District, which will issue preliminary notices to 63 of its roughly 220 teachers. "It has a huge effect on how schools can function and how well we can continue to educate all kids." Bender said the preliminary notices reflected "a guess" about the number of teachers who could lose their jobs because the state budget has not been released.
Related:
Providence plans to pink slip all teachers Due to Budget Deficit
Amy Hetzner & Erin Richards
:
The first tremors of what could be coming when Gov. Scott Walker releases his 2011-'13 budget proposal next week are rippling through Wisconsin school districts, where officials are preparing for the worst possibilities and girding for fiscal fallouts. "I'm completely nervous," Cudahy School District Superintendent Jim Heiden said. "Walking into buildings and seeing teachers break into tears when they see you - I mean, that's the level of anxiety that's out there." For the past two weeks, protests in Madison have been the focus of a nation, as angry public-sector workers have descended on the Capitol to try to stop Walker's proposal to roll back most of their collective bargaining rights, leaving them with the ability to negotiate only limited wage increases. Next week, the demonstrations could move to many of the state's 425 school districts, the first local entities that will have to hash out budgets for a fiscal year that starts July 1.
Susan Troller
:
Gov. Scott Walker's secrecy and rhetoric regarding his budget plans are fueling rumors and anxiety as well as a flurry of preliminary teacher layoff notices in school districts around the state. In Dane County, the Belleville school board voted to send layoff notices to 19 staff members at a meeting on Monday. Both the Madison and Middleton Boards of Education will meet Friday to determine their options and if they will also need to send out layoff notices, given the dire predictions of the governor's budget which will be announced March 1. In Madison, hundreds of teachers could receive layoff notices, district officials confirmed. Superintendent Daniel Nerad called it an option that would provide "maximum flexibility under the worst case scenario" in an e-mail sent to board members Thursday evening. Most districts are bracing, and planning, for that worst case scenario.