Scott Wilkinson & Benoit Felton:
I have been collaborating with Benoit Felton, a Yankee Group analyst based in Paris, and others on a map of FTTP (fiber to the premises) sites worldwide. For now, I'm doing most of the U.S. sites as time permits. There are still quite a few to add, since the U.S. FTTP deployments tend to be local municipal or utility networks, with the notable exception of Verizon's successful FiOS service.

It's pretty impressive, and is something to think about when your local telecommunications provider claims that you should be happy with your 1Mbps DSL connection.
The "video competition bill" - largely pushed by AT&T was a major miss for Wisconsin
.
Larry Lessig



I have my doubts - unfortunately - that Obama will be much better on the crucial broadband issue for two reasons:
AT&T, very good at spreading the love money, or the king of telco lobbying is sponsoring the Democratic convention
Our own Democratic Governor - Jim Doyle, recently signed a AT&T supported "Video competition bill" into law - maybe useful for AT&T, but hardly good for citizens.
BRODY MULLINS and ELIZABETH WILLIAMSON:
When the Democratic Party holds its convention the week after next, members of Congress will be able to hear singer Kanye West at an all-expenses paid party sponsored by the recording industry. They can play in a poker tournament with Ben Affleck, courtesy of the poker industry. They can try to hit a home run at Coors Field, home of the Colorado Rockies, thanks to AT&T Corp. Free drinks and cigars will be on offer at a bash thrown by the liquor industry. The corporate largesse is on tap despite new ethics laws and rules that both chambers of Congress adopted in 2007, aimed at weakening the links between lawmakers and lobbyists. Spearheaded by the Democratic Party, the ethics effort included an attempt to ban corporations and lobbyists from throwing lavish parties for members at the national political conventions. But in the months since the new rules took effect, lawmakers have watered down the guidelines, and Capitol Hill and K Street have teamed up to find ways around the guidelines as written. Politicians and lobbyists are now preparing about 400 of the biggest parties -- both at the Democratic gathering in Colorado and when Republicans convene the following week in St. Paul -- that conventioneers have ever seen.
Verizon, AT&T, and their regulated cohorts love to blab how the "free market" and "competition" will keep prices low for consumers. According to California, it's a big fat expensive lie. The cost of basic phone service has soared since the Public Utilities Commission lifted price controls in 2006, leading the agency to conclude: "There is no indication of any change in the near future regarding the current state of competition. Market forces have not yet met the challenge of controlling price increases."
AT&T is "carefully considering" monitoring the Web-surfing activities of customers who use its Internet service, the company said in a letter in response to an inquiry from the House Committee on Energy and Commerce. While the company said it hadn't tested such a system for monitoring display advertising viewing habits or committed to a particular technology, it expressed much more interest in the approach than the other big Internet providers who also responded to the committee's letter. AT&T did however promise that if it does decide to start tracking its customers online, it will "do so the right way." In particular, the advertising system will require customers to affirmatively agree to have their surfing monitored. This sort of "opt-in" approach is preferred by privacy experts to the "opt-out" method, practiced by most ad targeting companies today, which records the behavior of anyone who doesn't explicitly ask to not to be tracked.
Fios also has helped future-proof Verizon's network. While its cable competitors buckle under the pressure of peer-to-peer traffic on their networks, Verizon has enough capacity in its network, thanks to its fiber upgrades, to weather the storm unscathed and work on its own timetable to find more efficient ways to handle peer-to-peer traffic. Mark Wegleitner, Verizon's senior vice president of technology in charge of broadband and consumer services, has helped develop and drive Verizon's fiber strategy. I sat down with him at the Nxtcomm trade show in Las Vegas last week to talk about a wide variety of topics, including the controversy over Comcast's treatment of BitTorrent traffic, faster speeds for Fios, and what the company plans to do next when it reaches its 2010 goal of passing 18 million homes with fiber.
The Madison area is stuck with an aging telco infrastructure. Neither AT&T, nor TDS have any plans to upgrade their networks to the home. Not good.... Verizon
FIOS Deployment Map
.
co Systems (NSDQ:CSCO) is set to deliver its TelePresence high-definition videoconferencing technology to the home market within the next 12 months, said the company's top executive this week. The technology will be available via the channel, including via retailers the likes of Best Buy (NYSE:BBY) and Wal-Mart and service providers such as AT&T (NYSE:T), said Cisco Chairman and CEO John Chambers at the Cisco Live conference in Orlando, Fla. "It will probably evolve. At first we'll do it ... where we're very careful on how the channel sells TelePresence and very careful that the rooms are set up right and the cameras are set up right," Chambers said. "Having said that, I think that you will see a combination of distribution points." Chambers expects pricing of Cisco's home-use TelePresence units to come in below $10,000 depending on what functionality the user wants.
Promising, particularly as the air travel experience continues to deteriorate.
A reader forwarded this full page, color advertisement paid for by large telco (AT&T, etc.) front group TV4us. The advertisement appeared in this morning's Wisconsin State Journal. The State Journal supports the AT&T "video competition bill".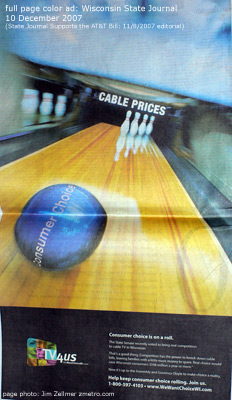 Click to view a larger version

Brian Clark has more:
Vergin said he's pleased he'll only have to get one state franchise, instead of having to deal with the 33 different municipalities in his service area. "That's a big benefit for us and what I think the bill is all about," he said. Vergin said his company's prices won't be any lower than Charter's. But he's convinced his firm will be able to offer better service and options to bundle cable, phone and wireless service. He said he was opposed to proposed rules that would have required his company to serve entire communities. He also rejected suggestions telecommunications firms should be ordered to run fiber optic to homes and businesses. "The 100 requirement would limit us," he said. "And we are running fiber optic to new construction, but not existing buildings. I just don't think the government should tell us what technology we should use. The market should decide that. I also think have 50 percent of any area covered is better than none." ..... (Charles) Higley (Citizen's Utility Board Executive Director) said he, too, would have liked to have seen a requirement that companies build fiber optic cable. "We've had promises to build it before and it didn't come," he said. "In the future, if not already, broadband is an essential service like telephone and electricity. We think government should require essential services."
The
Governor
and
Legislature
appear to have obtained nothing while giving away significant regulatory changes. A disaster for Wisconsin business, schools residents and public agencies. What a deal for the large telcos: spend money on lobbying and advertising but not fiber to the home. Classic
rentier
approach: milk the slow copper network that we've paid for many times over as long as possible. Keep in mind
Verizon's FIOS
, a fiber to the home product installed in many communities [
Service Map
] - none in Wisconsin. I recently had the opportunity to use basic FIOS service while on travel. The service was symmetrical - that is, upload and download speeds are the same. Local dsl services are not symmetrical - AT&T and TDS limit upload speeds to a very slow 768kpbs. This archaic approach is awful for those of us creating, uploading and backing up media (photos, videos and music, not to mention data heavy scientific applications). FIOS provides at least 5 to 50X the speeds of the fastest dsl service generally available in the Madison area. Slow networks limit entrepreneurial opportunities, particularly emerging home based businesses. Finally, I spoke briefly some years ago with then Gubernatorial candidate Jim Doyle at a campaign event. I mentioned Wisconsin's very poor broadband infrastructure. He said he understood these issues but could not address them in his first term but hoped to in a second. Will Doyle leave a legacy of aging, slow copper networks? I put a call into
Susan Goodwin
, Chief of Staff, for an update. ------- A bit of sugar for AT&T. This giant organization is fully capable of implementing a modern, high quality, fast fiber network. They simply need to make the strategic decision, as Verizon has, to upgrade their network. How much longer must we pay for the old, old copper lines? I've received excellent, economical service from
AT&T's cell network
. Background:
His first inkling that something was amiss came in summer 2002 when he opened the door to admit a visitor from the National Security Agency to an office of AT&T in San Francisco. "What the heck is the NSA doing here?" Mark Klein, a former AT&T technician, said he asked himself. A year or so later, he stumbled upon documents that, he said, nearly caused him to fall out of his chair. The documents, he said, show that the NSA gained access to massive amounts of e-mail and search and other Internet records of more than a dozen global and regional telecommunications providers. AT&T allowed the agency to hook into its network at a facility in San Francisco and, according to Klein, many of the other telecom companies probably knew nothing about it. Klein is in Washington this week to share his story in the hope that it will persuade lawmakers not to grant legal immunity to telecommunications firms that helped the government in its anti-terrorism efforts.
Perhaps our elected officials might consider this matter vis a vis
AT&T's flawed video "competition" bill
.
unlikely
Some residents of New York, Connecticut, and New Jersey who live inside the boundaries of Verizon's FiOS network will be the first to be able to take advantage of Verizon's new 20/20 FiOS service. As the name implies, 20/20 FiOS is a symmetrical 20Mbps connection (same speed in both directions), and it's one of the first symmetrical services to target the consumer market. Available today, 20/20 will cost $64.99 per month and will include Verizon's Internet Security Suite and 1GB of online backup (up to 50GB can be purchased at "competitive rates"). Susan Retta, the company's VP of Broadband Solutions, was quick to compare the new plan to cable. "For more than a decade, the Internet has been defined by how quickly you can download content," Retta said. "Our 20/20 FiOS service changes everything by creating an entirely new category of US broadband where 'fast' means fast in both directions."
We're a long way from this type of service, unfortunately. AT&T sells us slow copper internet services.
How do I say it more clearly? Honestly, folks, we need better leadership than this in the seats of media power, and until that happens, we'll just continue to miss the point, over and over and over again. At an anti-piracy summit in Washington Wednesday, NBC's Jeff Zucker actually called for AT&T and other Internet-service providers to install filtering software to, and get this, "weed out pirated content and unclog networks." This is one of the most dangerous and desperate things I've ever heard come out of the mouth of someone who, among other things, is charged with certain responsibilities vis-a-vis the First Amendment. And the REAL PROBLEM is that this line was likely penned by the Telcos, not Zucker or his writers. I mean, come on! "Unclog networks?" Where have we heard that before? AT&T would LOVE to filter the Web.
The Economist: RARELY if ever has a company risen so fast in so many ways as Google, the world's most popular search engine. This is true by just about any measure: the growth in its market value and revenues; the...
Apple's iPhone has received no shortage of hype since it was announced earlier this year. From a technology perspective, I find the multi-touch interface most interesting. It cleanly addresses many small screen issues, including navigation and zoom in/out. Having said that, I believe the real paradigm shift is the activation process. Years ago, while replacing a dead phone, I stood at the usual cell phone counter for quite some time while the customer in front of me went through a long activation process with Verizon's representative. What a waste of time. Apple has dramatically simplified (assuming it works) the activation process by baking it into iTunes. Buy the phone via bricks and mortar or online, sync and activate with your mac or pc and get on with it. In many ways, Apple has pulled an identity-ectomy (identiectomy?) on AT&T. They are selling phones via AT&T's channels, but the user experience (and therefore brand and stock price leverage) is all Apple. AT&T will get the fumes, but this is Apple's win. I'm no fan of AT&T [rss]. Finally, two years ago, while on travel, I spoke with someone who should/would know. This person told me that the iPhone was due later that summer (2005). I wonder if Apple scrapped an early version and decided to wait for the right time and place in terms of technology and software? If so, that takes guts, particularly given the pieces that need to be in place for a launch.
Cringely makes some useful points regarding the business relationship between Apple and AT&T:
What could AT&T be praying for? Plenty of things, but the most obvious theme I see is how to compete with Verizon, Comcast, and all the national cell phone providers. With Verizon, AT&T has to defend its decision to stick with a copper broadband infrastructure instead of the more expensive optical fiber Verizon has picked. With Comcast, AT&T has to defend its copper plant against Comcast's copper plant, which is about to gain a LOT more bandwidth thanks to new modems using more advanced modulation techniques. And against the other mobile operators, AT&T has to defend its decision not to go full 3G with the iPhone.

Are you noticing a trend here? AT&T is facing a potential bandwidth crisis when it comes to customer perception and it is logical to assume that Apple helped create that crisis. After all, the iPhone could easily have been made to work with 3G. Since AT&T HAS a 3G network, the decision not to use it was probably complicated and some of that complication may have come from Steve Jobs saying, "We don't need it. The iPhone will be insanely great with G2.5, thanks."
AT&T clearly prefers to spend money on lobbying and advertising, rather than substance (fiber to the home).
James Granelli: AT&T Inc. has joined Hollywood studios and recording companies in trying to keep pirated films, music and other content off its network — the first major carrier of Internet traffic to do so. The San Antonio-based company started...
David Isenberg: A recent article chronicles the telcos' slow start in cable TV. I don't think the telcos stand a chance of succeeding in cable TV. Instead, if they're to succeed at all, they'll probably buy or form alliances with...
An hour or so ago the Vermont House and Senate both gave final approval to a bill designed to make Vermont the nation's first e-state. As defined in Vermont, e-stateness means cellular and adequate broadband coverage – fixed and mobile – everywhere in the state by 2010. The initial definition of adequate fixed broadband is 3 megabits per second service in at least one direction; but the bill contains a mechanism for ratcheting that up as requirements escalate. It is estimated that this requirement may be as high as 20 megabits in both directions by 2013. Although the bill passed the Vermont House with an overwhelming 132-2 vote more than a month ago, it was by no means assured of passage. Vermont's citizen legislature is hoping to adjourn for the year sometime tonight. There was a danger that the Senate would not have the time it needed to consider all aspects of this very large bill. But they did!
Quite a contrast to Wisconsin's process,
where AT&T's stagnant infrastructure (and more importantly, their lobbying prowess) carries the day
. Gotta love our forward thinking politicians.
AT&T's lobbying efforts to change Wisconsin's cable TV regulations has generated a refreshing amount of commentary. 5 years ago, during Governor Doyle's first Gubernatorial campaign, I had a chance to briefly talk with him after a debate with Scott McCallum....
AT&T, parent of troubled Cingular Wireless, continues to invest in non-network related initiatives, as this article by Steven Walters illustrates:AT&T doles out $54,000 ahead of cable bill debate Doyle, lawmakers say money won't affect stands on deregulation legislation Communications giant...

Where to begin?
Prior to a recent Asia trip, I needed to obtain a SIM Card for my old Cingular (AT&T) phone that would work while on travel. (I now use a Verizon phone due to our experience with Cingular's poor network coverage - dropped calls on John Nolen Drive, for example).
I called Cingular and explained my requirements: a prepaid SIM Card that would work for 30 days while on travel overseas. The telesales representative explained their different services, including data, worldwide calling and various monthly minute plans.
I provided my credit to close the transaction and a few days later, the Cingular SIM card arrived. I also requested the codes to "unlock" my old phone. Unfortunately, despite our prior long term Cingular arrangement, they insisted that I had to use the phone for 90 days before they would provide the unlock keys. This would prove to be a problem when I found that the SIM card Cingular sold me did not, in fact, work internationally.
Fortunately, a friend let me use an old phone, which would accept any SIM Card - easily purchased in most countries.
I called Cingular upon my return to express my disappointment. Farrah in Halifax was as helpful as could be expected, given their organization. She phoned their "sales" department to see if I could obtain a refund. The "sales" person told her that they "don't sell SIM Cards"! I mentioned that while I'm unhappy with Cingular, I'm glad she had that experience with sales, particularly while I was on the line.
Bottom line: If you are looking for a world phone, look elsewhere. I've heard good things about T-mobile, though your mileage may vary.