A Senate committee has laid out the evidence. Now the Justice Department should bring criminal charges. They weren't murderers or anything; they had merely stolen more money than most people can rationally conceive of, from their own customers, in a few blinks of an eye. But then they went one step further. They came to Washington, took an oath before Congress, and lied about it. Thanks to an extraordinary investigative effort by a Senate subcommittee that unilaterally decided to take up the burden the criminal justice system has repeatedly refused to shoulder, we now know exactly what Goldman Sachs executives like Lloyd Blankfein and Daniel Sparks lied about. We know exactly how they and other top Goldman executives, including David Viniar and Thomas Montag, defrauded their clients. America has been waiting for a case to bring against Wall Street. Here it is, and the evidence has been gift-wrapped and left at the doorstep of federal prosecutors, evidence that doesn't leave much doubt: Goldman Sachs should stand trial. This article appears in the May 26, 2011 issue of Rolling Stone. The issue is available now on newsstands and will appear in the online archive May 13. The great and powerful Oz of Wall Street was not the only target of Wall Street and the Financial Crisis: Anatomy of a Financial Collapse, the 650-page report just released by the Senate Subcommittee on Investigations, chaired by Democrat Carl Levin of Michigan, alongside Republican Tom Coburn of Oklahoma. Their unusually scathing bipartisan report also includes case studies of Washington Mutual and Deutsche Bank, providing a panoramic portrait of a bubble era that produced the most destructive crime spree in our history -- "a million fraud cases a year" is how one former regulator puts it. But the mountain of evidence collected against Goldman by Levin's small, 15-desk office of investigators -- details of gross, baldfaced fraud delivered up in such quantities as to almost serve as a kind of sarcastic challenge to the curiously impassive Justice Department -- stands as the most important symbol of Wall Street's aristocratic impunity and prosecutorial immunity produced since the crash of 2008.
Newspaper chain Lee Enterprises Inc. is on the verge of saving itself from bankruptcy--and many of its debt holders are livid. Lee, weighed down by about $1 billion of debt, has long been high on the list of potential bankruptcies. But thanks to the roaring market for debt of risky companies, Lee is preparing to sell junk bonds that would enable it to pay off its obligations and give it a new shot at survival. But what is good news for the company has thwarted the plans of a flock of "vulture" investors--Monarch Alternative Capital, Alden Global Capital, Marblegate Asset Management and a unit of Goldman Sachs Group Inc.--which have been buying Lee's loans. The group had been betting the company would default, and that they could turn their holdings into an ownership stake, giving them access to the company's assets, which include St. Louis Post Dispatch and the Arizona Daily Star newspapers. ..... Lee incurred much of its debt in 2005 when it paid top-dollar to buy Pulitzer Inc., a chain of 14 newspapers including the St. Louis Post-Dispatch. The combined company would have been a particularly valued prize because, unlike many of the other publishers that went bankrupt in recent years, the company generates over $100 million of free cash flow despite its debt load. The publisher's focus--running small and midsize papers and keeping a rein on costs--has insulated it from the worst of the decline in subscriptions and advertising affecting newspapers in metropolitan markets.
Lee owns half of Capital Newspapers
, publisher of the Wisconsin State Journal.
For sheer, toe-curling embarrassment, it's hard to choose between last year's populist attack on Goldman Sachs by the US Securities and Exchange Commission and this week's cringe-worthy response from the investment bank. Last April, when the SEC filed suit against Goldman, the bank could have fought back. The suit complained it had sold fancy mortgage securities without disclosing that a hedge-fund manager, John Paulson, was betting that those same securities would blow up. To which Goldman could have answered: so what? Any time an investment bank sells any derivative, it should be obvious to the buyer that somebody somewhere must be taking the other side. The SEC's assertion that Goldman had misled customers about the nature of Paulson's involvement was potentially more damaging, except that the SEC produced no evidence to make this charge stick. It was surely not beyond the wit of Goldman's publicists to communicate these simple points. Banks cannot be held responsible for the profits or losses of their clients, since middle-men necessarily have customers who lose as others win. But after one vain attempt to explain market making at a belligerent Senate hearing, Goldman's boss, Lloyd Blankfein, gave up. He settled with the SEC, even though most lawyers think he could have beaten the charges. Then he ordered up an elaborate cleansing ritual to relaunch the firm of Goldman Sachs. Several months later, the fruits of Goldman's sun salutations are out. A 67-page manifesto of self-purification proclaims that "our clients' interests always come first," and that "if we serve our clients, our own success will follow." But these pieties misrepresent the true nature of an investment bank just as surely as the SEC did.
Sunshine doesn't hurt after all. Bank shares leapt Wednesday despite the Federal Reserve's detailed disclosure of who got $3.3 trillion of emergency lending during the crisis. That is hardly what investors might have envisaged, given dark warnings from the Fed that such disclosure could endanger financial institutions. The central bank released the data only because of a provision in the Dodd-Frank financial-overhaul bill. True, it will take time for investors to comb through all the gory details of about 21,000 transactions by multiple emergency Fed lending facilities. And some details may leave firms with egg on their face: Goldman Sachs, which insisted it would have survived the crisis without government assistance, tapped one special Fed facility 84 times to borrow nearly $600 billion in overnight money. Morgan Stanley tapped the facilities more than 200 times. Even if individual details of the programs aren't that surprising, the breadth of companies that accessed them is notable. The disclosure shows how far the Fed went in attempting to prop up just about every part of the financial markets, with users ranging from the biggest U.S. and international banks to small firms that peddled complex and often toxic securities, as well as industrial companies such as General Electric, Harley-Davidson and Verizon.
Matt Taibbi: Congress looked serious about finance reform – until America's biggest banks unleashed an army of 2,000 paid lobbyists. t's early May in Washington, and something very weird is in the air. As Chris Dodd, Harry Reid and the...
Under other circumstances, this would have been a year to savour in the long, rapid ascent of Lloyd Blankfein. Goldman Sachs, the investment bank he has led for three years, not only navigated the 2008 global financial crisis better than others on Wall Street but is set to make record profits, and pay up to $23bn (€16bn, £14bn) in bonuses to its 31,700 staff.

For Mr Blankfein, a scholarship boy from the Bronx whose first financial job at Goldman was selling gold coins in its commodities trading arm, has prospered to an extent that was implausible even 10 years ago, when it became a public company. Its influence has spread throughout the world, from New York and London to Shanghai and São Paulo.

A good slice of its success is attributable to Mr Blankfein, a tough, bright, funny (everyone remarks upon his unpretentious, wisecracking manner) financier who reoriented Goldman. Under his leadership, trading and risk-taking have pushed to the fore, reducing the influence of its investment banking advisers.

In 2009, however, Wall Street faced a wave of public anger at how banks that survived only with the assistance of taxpayers seemed unchanged and unrepentant. Goldman's profitability, and suspicions that its deep links with governments around the world give it unfair advantages, made it a symbol of Wall Street greed and excess. It was described by the Rolling Stone writer Matt Taibbi as "a great vampire squid wrapped around the face of humanity".
Cast your mind back to that SigTarp report, published last month.

Readers will recall there's been a persistent stink over whether the efforts of the Federal Reserve and the US Treasury to prop up AIG had the effect of bailing out Goldman Sachs — its largest trading partner. Goldman Sachs always denied that idea, saying its exposure to AIG was collateralised and hedged against the mega-insurers' fall. Others, were not so sure.

Last week the Wall Street Journal continued that particular line of thought with an article titled "Goldman fueled AIG gambles", which examined GS's role in acting as a middleman between the insurer and other banks. In short, Goldman offered banks protection on some of their investments (for instance on CDOs of home loans), which it in turn hedged with AIG in the form of CDS.
Madison is truly blessed to have such a fine facility, courtesy of Jerry Frautschi's landmark $200M+ gift. However and unfortunately, the financial spaghetti behind its birth is complicated and controversial, particularly at this moment when Overture's parent lacks liquidity to fund the project's remaining debt.

Yet, the facility is simply stunning. Have a look at these panoramic views.

Overture Hall Lobby:


MMOCA:


In an effort to preserve the pre-Overture scene, we shot panoramic images in 1999 and again, after construction in 2006.

I do have one financing suggestion. Give Goldman Sachs Lloyd Blankfein a call. After all, Goldman Sachs' record bonuses are a direct result of massive taxpayer intervention to prop up certain banks and other "too big to fail" entities such as AIG. GS is well connected at the very top of our Government.
Francesco Guerrera, Justin Baer and Tom Braithwaite :
Goldman Sachs apologised for its role in the financial crisis on Tuesday and pledged $500m over five years – or about 2.3 per cent of its estimated bonus and salary pool for 2009 – to help 10,000 US small businesses recover from the ­recession. The moves come as the bank tries to defuse a political and public backlash over its plans to share billions of dollars among top dealmakers after rebounding sharply from the turmoil and earning record profits in the first nine months of the year.

Lloyd Blankfein, Goldman's chief executive, told a corporate conference in New York that the bank regretted taking part in the cheap credit boom that had fuelled the pre-crisis bubble. "We participated in things that were clearly wrong and have reason to regret," said Mr Blankfein. "We apologise."

Mr Blankfein also told the conference he wished he had not told the UK's Sunday Times newspaper that Goldman did "God's work" – a remark that was seized upon by the bank's critics – and said it had been meant as a joke.

Mr Blankfein spoke hours before Goldman revealed plans to invest $500m over five years in business education, technical assistance and venture capital to help 10,000 small businesses across the US. The yearly amount of about $100m to be spent on the initiative – which will be overseen by a panel co-chaired by Warren Buffett, a Goldman investor – is equivalent to a good trading day at Goldman. In the third quarter, the bank had 36 days in which traders made more than $100m.

Mr Buffett told the Financial Times that the small business programme was not a response by the bank to recent criticism. "This is a big initiative," he said. "This is not a one-day or one-year wonder. It's a continuous programme."
A few weeks ago, shortly after Goldman Sachs reported its latest blowout quarter, the firm's chief executive, Lloyd Blankfein, spoke at a Fortune magazine breakfast.

In normal times, Mr. Blankfein might have been forgiven for bragging a bit about the just-reported quarter — over $3 billion in profit on $12 billion in revenue. It had generated some $6 billion just in one division: fixed income. It had more than $160 billion in cash or cash equivalents on its balance sheet. And of course it had long since repaid, with interest, the $10 billion it had accepted from the Treasury Department during the darkest days of the crisis.

But of course those weren't the numbers the media and the public had focused on in the wake of Goldman's earnings. Instead, people were fixated on the $5.3 billion the firm had set aside for its executives' year-end bonuses. Added to first and second quarter set-asides of $4.6 billion and $6.6 billion, the firm had put aside $16 billion so far this year for employee bonuses. Nearly 50 percent of the firm's revenue was going toward compensation. And there was still one more quarter to go!

Was it fair, commentators kept asking, that barely a year after the taxpayers had essentially saved the financial system, this firm that took government capital should now be paying multimillion-dollar bonuses? Was it right? Which, not surprisingly, is what Fortune's managing editor, Andrew Serwer, asked Mr. Blankfein within minutes of taking the stage.

In private, Goldman executives are scornful of the sentiment behind this question. Their view, in essence, is that they should be applauded for being able to pay such big bonuses, because it means their business is successful. People who want them to pay less, they believe, want them to fail.

But Mr. Blankfein, a charming, funny man who has been Goldman's boss since 2006, is far too smart to say that out loud. Nonetheless, what he did say was revealing. Treasury's original decision to use the Troubled Asset Relief Program to shore up the banks' capital, Mr. Blankfein said, "was a sensible thing to do at the time."
It will be business as usual for Goldman Sachs this morning. The bank will annoy a lot of people.

Goldman, the institution that came through last year's financial crisis best – arguably the only pure investment bank left standing – will say how much money it made in the third quarter (a lot) and how many billions it has stored for bonuses (about $5.5bn towards a likely 2009 bonus pool of $23bn).

For believers in Goldman's ethical standards and way of doing business, these are difficult times. Although it avoided the mistakes that brought down Bear Stearns and Lehman Brothers, forced Merrill Lynch into Bank of America's arms, and prodded Morgan Stanley further into lower-risk retail broking, Goldman has become a whipping boy.

There is outrage that, having taken government money to survive the crash, Goldman is in such rude health that it will hand out billions in bonuses. Matt Taibbi, a Rolling Stone writer, caught the mood memorably by describing Goldman as "a giant vampire squid wrapped around the face of humanity".

Such is Goldman's importance to Wall Street and regulation that I am devoting a pair of columns to it. Today, I will discuss the Goldman problem (different and less egregious to what Mr Taibbi believes, but still a problem). Next week, I will suggest what should be done about it by regulators and the bank itself.

Goldman executives were wounded by how seriously Mr Taibbi's piece was taken despite their riposte that vampire squids are small creatures that present no danger to humanity. He accused it of profiting from bubbles such as the US internet and housing booms, and of repeatedly "selling investments they know are crap" to retail investors.
The reports on the evidence given by the Vice Chairman of the Federal Reserve Board, Don Kohn, to the Senate Banking Committee about the Fed's role in the government's rescue of AIG, have left me speechless and weak with rage. AIG wrote CDS, that is, it sold credit default swaps that provided the buyer of the CDS (including some of the world's largest banks) with insurance against default on bonds and other credit instruments they held. Of course the insurance was only as good as the creditworthiness of the party writing the CDS. When it was uncovered during the late summer of 2008, that AIG had nurtured a little rogue, unregulated investment banking unit in its bosom, and that the level of the credit risk it had insured was well beyond its means, the AIG counterparties, that is, the buyers of the CDS, were caught with their pants down.

Instead of saying, "how sad, too bad" to these counterparties, the Fed decided (in the words of the Wall Street Journal), to unwind ".. some AIG contracts that were weighing down the insurance giant by paying off the trading partners at the full value they expected to realize in the long term, even though short-term values had tumbled."

An LSE colleague has shown me an earlier report in the Wall Street Journal (in December 2008), citing a confidential document and people familiar with the matter, which estimated that about $19 billion of the payouts went to two dozen counterparties between the government bailout of AIG in mid-September and early November 2008. According to this Wall Street Journal report, nearly three-quarters was reported to have gone to a group of banks, including Société Générale SA ($4.8 billion), Goldman Sachs Group ($2.9 billion), Deutsche Bank AG ($2.9 billion), Credit Agricole SA's Calyon investment-banking unit ($1.8 billion), and Merrill Lynch & Co. ($1.3 billion). With the US government (Fed, FDIC and Treasury) now at risk for about $160 bn in AIG, a mere $19 bn may seem like small beer. But it is outrageous. It is unfair, deeply distortionary and unnecessary for the maintenance of financial stability.

Don Kohn ackowledged that the aid contributed to "moral hazard" - incentives for future reckless lending by AIG's counterparties - it "will reduce their incentive to be careful in the future." But, here as in all instances were the weak-kneed guardians of the common wealth (or what's left of it) cave in to the special pleadings of the captains of finance, this bail-out of the undeserving was painted as the unavoidable price of maintaining, defending or restoring financial stability. What would have happened if the Fed had decided to leave the AIG counterparties with their near-worthless CDS protection?

The organised lobbying bulldozer of Wall Street sweeps the floor with the US tax payer anytime. The modalities of the bailout by the Fed of the AIG counterparties is a textbook example of the logic of collective action at work. It is scandalous: unfair, inefficient, expensive and unnecessary.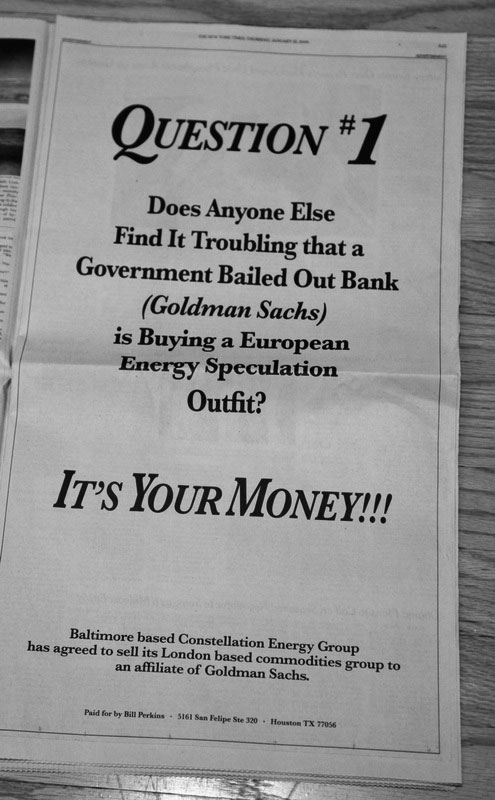 Bill Perkins is at it again in the New York Times. More Bill Perkins activism on the bailout/splurge, here.
A former chief executive officer of Goldman Sachs Group Inc. does not mingle with boat dealers; he mingles with investment bankers; and the first rule, before handing out taxpayer money, is to have mingled with the people you want to hand it to.(That way they know whom they owe). I admire your ability to recognize your "circle of competence" and live within it.

Still, I do feel that in me, and my little literary business, there is opportunity for you, and your $700 billion. Allow me to explain why.

Be Fair

1) By giving the money to me, instead of someone less deserving, you will make the world a fairer place.

As much as I admire all of your decisions I can't help but notice that the main qualification of the bankers to whom you have been giving money, so that they might make smart loans, is that they have gone almost bankrupt by making stupid loans.

As your mind is subtle, I can only assume that you secretly believe that the American economy right now needs not smart loans, but more stupid ones -- and thus that you have targeted the bankers who have proven they can make them.

I, unfortunately, have not flirted with bankruptcy, or made any stupid loans. But here's my point: I haven't been given the chance! Allow me to prove my financial ineptitude to you. I swear to you that when I return for my second round of assistance I will have proven myself fully qualified to receive it.
Anyone who caught even a sliver of yesterday's hearings in the U.S. Senate on the proposed Treasury bailout of the mortgage-backed securities market knows that the current financial crisis is far from over. Suddenly all sorts of previously unthinkable catastrophes seem possible. The total collapse of the global financial system is one thing -- everyone at Davos in January saw that coming. But the shrinkage of the Goldman Sachs Group Inc. bonus pool is another. Whatever else the Treasury achieves it must know that if the employees of Goldman suffer any sort of pay cut, it will be judged to have failed. And our country may never recover. Last year Goldman paid its employees $20 billion, 44 percent of the firm's revenue. Chief Executive Officer Lloyd Blankfein took home $68.5 million, and many otherwise ordinary human beings took home $10 million or mor
One of life's rules is that there's bad in good and good in bad. The total collapse of the U.S. financial system is no exception. Even in the midst of the current financial despair we can look around and identify many collateral benefits. A lot of attractive office space seems to be opening up in midtown Manhattan, for instance, and the U.S. government is now getting paid to borrow money. (And with T-bills yielding 0 percent, they really ought to borrow a lot more of it, and quickly.) And so as Morgan Stanley Chief Executive Officer John Mack blasts short sellers for his problems, and Goldman Sachs CEO Lloyd Blankfein swans around pretending to be above this little panic, we ought to step back and enjoy the positives.
Michael Idov: You can't live in New York—arguably, you can't spend an hour in New York—and remain oblivious to the machinery of profit pumping away under every surface. This city makes money, loses money, houses money; lately, with luxe condos...
Barry Ritholtz:BP readers correctly pointed out to the change in the Goldman Sachs Commodity Index (GSCI) (Here, here and of course, here). Tim Iacono did a nice job on the details the following month. That mid-year halving of the gasoline...
Atlanta (ouch!) based Rayovac is expected to announce a $476M acquisition of closely held United Industries, a consumer-products maker of such brands as Cutter insect repellant, Sta-Green fertilizer, and Eight in One Pet supplies, according to Dennis BermanThe move is...