Rolling Over for AT&T: "Video Competition" Bill is a Major Missed Opportunity for Wisconsin
A reader forwarded this full page, color advertisement paid for by large telco (AT&T, etc.) front group TV4us. The advertisement appeared in this morning's Wisconsin State Journal. The State Journal supports the AT&T "video competition bill".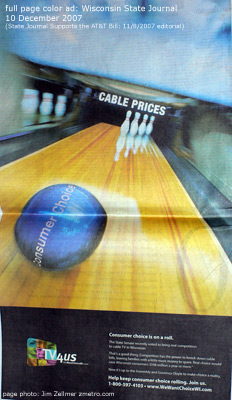 Click to view a larger version

Brian Clark has more:
Vergin said he's pleased he'll only have to get one state franchise, instead of having to deal with the 33 different municipalities in his service area.

"That's a big benefit for us and what I think the bill is all about," he said.

Vergin said his company's prices won't be any lower than Charter's. But he's convinced his firm will be able to offer better service and options to bundle cable, phone and wireless service.

He said he was opposed to proposed rules that would have required his company to serve entire communities. He also rejected suggestions telecommunications firms should be ordered to run fiber optic to homes and businesses.

"The 100 requirement would limit us," he said. "And we are running fiber optic to new construction, but not existing buildings. I just don't think the government should tell us what technology we should use. The market should decide that. I also think have 50 percent of any area covered is better than none."

.....

(Charles) Higley (Citizen's Utility Board Executive Director) said he, too, would have liked to have seen a requirement that companies build fiber optic cable.

"We've had promises to build it before and it didn't come," he said. "In the future, if not already, broadband is an essential service like telephone and electricity. We think government should require essential services."
The
Governor
and
Legislature
appear to have obtained nothing while giving away significant regulatory changes. A disaster for Wisconsin business, schools residents and public agencies. What a deal for the large telcos: spend money on lobbying and advertising but not fiber to the home. Classic
rentier
approach: milk the slow copper network that we've paid for many times over as long as possible.
Keep in mind Verizon's FIOS, a fiber to the home product installed in many communities [Service Map] - none in Wisconsin.
I recently had the opportunity to use basic FIOS service while on travel. The service was symmetrical - that is, upload and download speeds are the same. Local dsl services are not symmetrical - AT&T and TDS limit upload speeds to a very slow 768kpbs.
This archaic approach is awful for those of us creating, uploading and backing up media (photos, videos and music, not to mention data heavy scientific applications). FIOS provides at least 5 to 50X the speeds of the fastest dsl service generally available in the Madison area. Slow networks limit entrepreneurial opportunities, particularly emerging home based businesses.
Finally, I spoke briefly some years ago with then Gubernatorial candidate Jim Doyle at a campaign event. I mentioned Wisconsin's very poor broadband infrastructure. He said he understood these issues but could not address them in his first term but hoped to in a second. Will Doyle leave a legacy of aging, slow copper networks? I put a call into Susan Goodwin, Chief of Staff, for an update.
-------
A bit of sugar for AT&T. This giant organization is fully capable of implementing a modern, high quality, fast fiber network. They simply need to make the strategic decision, as Verizon has, to upgrade their network. How much longer must we pay for the old, old copper lines? I've received excellent, economical service from AT&T's cell network.
Background:
Posted by James Zellmer at December 10, 2007 6:52 PM | Subscribe to this site via RSS:


Posted to Broadband | Politics | Taxes