Snowblower Zeitgeist, or the Best Urban Snowblower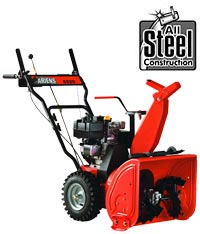 I've manually moved snow for the past 14 years - my entire post UW time in Madison. Always thinking that the act was a bit of exercise until a neighbor mentioned his back difficulties and said "it's not worth it".
Last spring's deluge, a particularly wet and heavy snowstorm, was the impetus to turn over the shovel, fire up my browser and shop for a snowblower.
My first stop was Ariens' website. Ariens is a classic family owned Wisconsin based firm that manufactures snowblowers and lawn mowers.
Most serious snowblowers, defined as two stage models from the likes of Ariens, John Deere, Honda and Toro among many others are at least 24" wide (Toro has a 22" model). That width is a problem for small garages like mine.
Ariens offered a useful 20" model that featured a multiple speed transmission - perfect for a variety of snow conditions and available at a reasonable price. Conveniently, their website offers online ordering which made it simple for me to enter a bit of information and a few days later the snowblower arrived at my home. Ariens customer service was great, as was their local dealer - Middleton Power Center.
About the snowblower zeitgeist. The owner of a working, somewhat powerful snowblower on a day like today (crunchy, heavy snow) quickly has the opportunity to converse with the neighbors. Typical conversations include:
"Can I pay you to clear my driveway (no, if I have enough gas and time, I'll be happy to)
"My snowblower won't start."
"I attempted to purchase a snowblower yesterday, but just before I said that I'll take the last one, someone else grabbed it."
or, Chaplin moments when a neighbor is somberly pondering the large, heavy pile of snow recently deposited by the City plow in his driveway as I'm clearing another neighbor's walks and driveway.
There you have it. Living in a cold climate subject to snow, we should never turn away from neighborhood social opportunities. Buy a (two-stage) snowblower.
I would be remiss if I did not point out the powerful prose at work marketing such machines. Arien's description of their model 624E:
624E Compact

After 9 months of hibernation, this compact monster, has an appetite for the cold and crystallized.

When the white and fluffy flakes begin to fall; the corners of the 24" clearing width begin to salivate. The 120 volt electric start quickly awakens the 6HP Snow King® OHV Engine. You fear nothing! Snow fears this trusted Sno-Thro® midsized monster. Keep the snow afraid and out of your way.
Posted by James Zellmer at December 2, 2007 4:19 PM | Subscribe to this site via RSS:


Posted to Culture | Current Events | Weather