Planes, Trains & Automobiles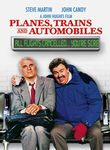 This weekend's
snowstorm
and the ongoing airline turmoil provides a perfect background to check out the John Candy/Steve Martin 1987 film:
Plains, Trains and Automobiles
. This film is full of laughs and strangely prescient for a nearly 20 year old movie. I'm
not optimistic
that air travel will improve a whole lot the next few years.
Posted by James Zellmer at January 22, 2005 9:07 PM | Subscribe to this site via RSS:


Posted to Movies