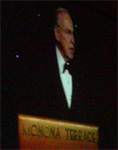 Apollo and Gemini astronaut Jim Lovell spoke last night at an American Family Children's Hospital Fund Raiser at Monona Terrace VR Scene.
There aren't too many places Jim Lovell hasn't been. (Google) (All The Web) (Teoma) (Yahoo Search)
The 71-year-old former astronaut has made two trips to the moon — the historic first lunar orbit flight, December 1968's Apollo 8, and the aborted Apollo 13 mission in April 1970.
I posted some photos here.