My Case for Amateur Snorkeling: Maui Sea Turtle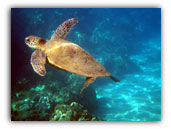 Floating in about 4m of water off Makena, Maui, I was startled by the sudden appearance of a sea turtle, swimming out from nearby coral. He was less than 1 meter in front of me, as this 7MB Quicktime movie shows.
I was later told that some people feed them hot dogs, which unfortunately explains his proximity. I was advised to keep an eye on my fingers. Screen saver jpeg sea turtle image (215K). The images were captured with a Canon S70 digital camera and a WP-DC40 underwater case.
Posted by James Zellmer at December 27, 2004 12:10 AM | Subscribe to this site via RSS:


Posted to Photography | Travel